Floral trends 2023 – the best beautiful blooms, as revealed by the experts
Explore our collection of 2023 floral trends to find inspiring new ways to bring the beauty of the outdoors, indoors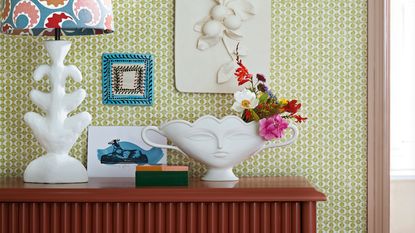 (Image credit: Jon Day Photography)
Sign up to the Homes & Gardens newsletter
Decor Ideas. Project Inspiration. Expert Advice. Delivered to your inbox.
Thank you for signing up to Homes & Gardens. You will receive a verification email shortly.
There was a problem. Please refresh the page and try again.
Flowers are an exquisite and easy way to add life and natural beauty to your interior space, and the latest floral trends for 2023 see a diverse mix of styles; from rick pink palettes and wild, rustic arrangements, to calming all white bouquets.
Decorating with flowers really can transform the look of a room, brightening a space with beautiful color, inviting scent and eye-catching natural texture. From a simple, small vase of flowers set down on a console table in an entryway, to a grand floral tablescape in a dining room, flowers are not only a key decorating tool, they can make us feel happy and relaxed, too.
So, what do the 2023 floral trends have in store for us? Whether you're a lover of all things simple and sustainable, or a fashion-forward thinker that craves bold statement designs, discover the most fashionable floral trends set to enrich our interiors in 2023.
Our 7 favorite Floral trends for 2023
With key insight from experts at Bloom & Wild, 1800 Flowers and the Flower Council, explore the favored floral trends for 2023 below.
1. A palette of pinks
With 'Viva Magenta' revealed as Pantone's color of the year, expect to see palettes of deep, rich pinks take interior industries by storm in 2023.
The color is described by Pantone as, 'a shade rooted in nature descending from the red family and expressive of a new signal of strength. It is a new animated red that revels in pure joy, encouraging experimentation and self-expression without restraint, an electrifying, and a boundaryless shade that is manifesting as a stand-out statement.'
What better way to celebrate this joyous new color than with the pink and red flowers that inspired its very creation.
Jo Reason, director of brand & creative at Bloom & Wild supports this and says, 'we have already seen an increase in people searching for more vibrant pinks versus traditional pastel blush roses and predict the all-pink Barbiecore trend to surface around the middle of next year.'
2. An eclectic mix of flowers
Expect to see floral displays embody a rustic and wild character throughout 2023, created through a diverse mix of different flower varieties, unique shapes and contrasting colors, establishing a more unrefined and asymmetrical feel.
The experts at the Flower Council have termed this more eclectic floral trend as 'Vintage Folklore' and say that this trend, 'represents the attention for diversity and a product's useful life. Its motto is not to throw out, but to repair and patch up with love. In this trend, bouquets (and flowers) are mostly wild and colorful. Plants are also cherished, even the misfits.'
Key flowers to use to achieve this look include:
Hyacinth
Chrysanthemum
Delphinium
Stocks
Kalanchoë
Tulip
3. '70s inspired psychedelics
We have seen a big 70s influence across interior trends in 2022, from stunning sunken living rooms to vibrant patterns on upholstery, and this style is set to continue well into 2023, on everything from flowers to furniture and fashion.
Inspired by colorful prints and the joyful Flower Power movement, this floral trend will see a resurgence of unapologetically loud and impactful color combinations with a retro feel.
4. Soft & soothing colors
We not only love flowers for their gorgeous natural beauty, but how they make us feel, with many of us filling our homes with beautiful floral displays and houseplants to make our spaces feel more calming, grounding and relaxing, just like being in the great outdoors.
Our interior spaces not only need to look beautiful, they need to make us feel good, too, and now more than ever were are styling and designing our homes to be more comfortable and cozy. 2023 will see a rise in floral trends that enhance these feelings of comfort and wellbeing in the home, with a focus on soft and soothing color combinations.
Trend forecasters WGSN + Coloro predict 'therapeutic' lavender will be Color of the Year 2023, and have labelled this shade as, 'Digital Lavender'. They say, 'purple will return as a key color for 2023, representing wellness and digital escapism. Digital Lavender will connect to this focus on wellbeing, offering a sense of stability and balance.'
Lead florist, Caroline Grimble, at Bloom & Wild supports this and says, 'lavender is really growing in popularity, and there's a chance it'll take over from gypsophila as the wedding go-to. It has a similar ethereal feel with small blossoms but a more interesting and on-trend color – and the added bonus of an amazing scent.'
5. Pretty pressed flowers
Decorating with dried flowers has been hugely popular over the last few years, with lovely dried bouquets sitting beautifully in homes all year round, and they are set to continue in 2023 as a floral trend, but with a focus on pretty pressed designs.
Once you know how to press flowers, the creative possibilities are endless! From elegant framed displays, to adding them to homemade cards and decorations, it is a truly wholesome activity.
Florist Caroline Grimble says at Bloom & Wild, 'we noticed an uplift in people sharing ways to preserve their wedding bouquets on Pinterest this year, but this trend will hit the mainstream in 2023, with flower presses no longer reserved for crafters.'
This also ties in perfectly with what The Flower Council are calling, 'Collecting Memories', a floral trend that focuses on, 'soothing products that help create a home in which fond memories can be stored and cherished.'
From meaningful wedding bouquets, to flowers received from friends and family, keeping and pressing these sentimental displays can add an elegant touch to an interior space that comes with a story.
6. Orchids
The experts at 1800 Flowers have revealed the beautiful orchid as their 2023 flower of the year.
'As we head into 2023, we strive for greater connection with others and to find deeper, more engaging relationships. One way to do that is to rally around things that bring us together. The elegant orchid is one such thing.
The qualities of unity, beauty, and love that the orchid embodies are much needed in today's world, and they permeate any household that this unmistakable flower inhabits.'
Adding an ethereal, elegant beauty to a space, orchids make wonderful gifts, and there are thousands of varieties to choose from.
7. Serene all-white displays
Jo Reason, director of brand & range at Bloom & Wild says, 'in 2022, white was our top selling flower color, and we expect the demand for all-white bouquets to increase in the new year, in line with interior and cultural trends.'
A beautifully enduring trend, white flowers can establish a serene and calming atmosphere in the home. White flowers can effortlessly integrate into spaces of all styles, and the layering of different varieties, such as hydrangeas, lily's, baby's breath and carnations, can make just as big an impact as a bright and bold, colorful display.
Are florals in for 2023?
A timeless trend, florals are definitely in for 2023.
Flowers and floral room decor ideas have always been a huge part of interior design, from patterns and prints for the very latest fabric trends, to providing beautiful inspiration for paint ideas, and, of course, you cannot beat the beauty of a vase of fresh flowers on display.
2023 will see bright, bold and eclectic blooms filling our homes, mirroring the adventurous leaps many of us are taking for the style of our spaces. It will also see flower trends of calming color palettes and more rustic, organic looks that feel beautifully natural, calming and elegant.
Sign up to the Homes & Gardens newsletter
Decor Ideas. Project Inspiration. Expert Advice. Delivered to your inbox.
Ruth Doherty is an experienced digital writer and editor specializing in interiors, travel and lifestyle. With 20 years of writing for national sites under her belt, she's worked for the likes of Livingetc.com, Standard, Ideal Home, Stylist and Marie Claire as well as Homes & Gardens.