How to beat the Blue Monday Blues - the H&G team share their weekend plans
Feeling down? Here's what we're doing this weekend to lift our spirits and combat the Blue Monday Blues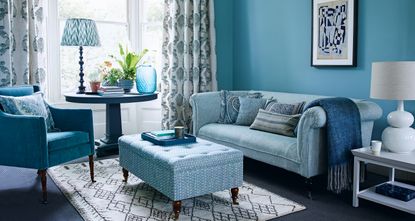 (Image credit: Future/Simon Bevan)
Monday 18th January is so-called Blue Monday, apparently the most depressing day of the year.
Following the celebrations of Christmas and New Year, people's moods naturally experience a bit of a slump in January, and after the year we've just had together with the fact that next few months are set to continue with more of the same, it almost feels like 2021 may experience the most dismal Blue Monday on record.
On the whole, the H&G team are glass-half-full people so we've decided to share our plans for today to ensure we keep in good spirits for the dreariest day of the year.
Personally, I spend so much time indoors during the week that the weekend is when I try and get as much fresh air as possible. As there's no rain forecast today, we'll jump on our bikes for an adventure cycle down the canal where I live in West London. We'll wrap up warm and bring some hot chocolate in a flask (with extra marshmallows, naturally) and when our six-year-old starts moaning about having sore legs, that's when we know to turn back!
So whether reorganising your pantry gives you joy or tending to your house plants floats your boat, hopefully, hearing what we have planned can give you further ways to bounce back from the inevitable boredom and gloom.
Lucy Searle, H&G's Editor in Chief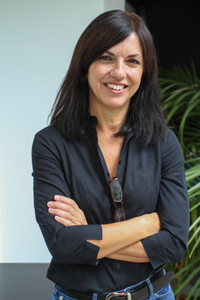 'This weekend, like many others in lockdown, we, as a family will be accessing our fancy dress cupboard, which is bursting with possibilities, and dressing up. Every time we do it, we choose a theme, and do full make up - I have two teenage girls so that makes it fun for them and easy for me. Wigs are involved too.
'We then usually video call some friends - who haven't participated and don't know what we're planning - and have drinks and nibbles with them.
'We then put some disco tunes on and have a dance. Both my husband and I used to teach Latin dance so we throw a lesson in for the girls too. It gets us through the long, lockdown weekends and the buzz lasts past Monday well into the week beyond.
'Oh, and we'll get outside with the dog – always a spirit-lifter – and no doubt clear out yet another drawer or cupboard. Decluttering is, after all, said to be good for mental health!'
Laura Crombie, H&G's Brand Development Director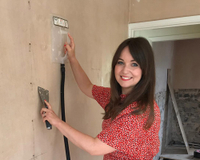 'I'll be making time for DIY. I spend my life in front of a computer, so doing something where I get to move about and zone out a bit makes me feel so much better. Stripping wallpaper is my mindfulness for me...'
Amy Cutmore, H&G's Digital Editor in Chief, Homes Audience
'My first instinct would be to reach for a decent bottle of red and a good book... OK, a trashy book. However, for some bonkers reason I've decided to "do" Dry January this year, so I'm finding new ways to entertain myself.
'Top of the list this weekend is to borrow my friend's dog AKA The Best Dog in The World™ and walk up to Sharpenhoe Clappers. And yes, that is a real place. The views are incredible, it's literally on my doorstep and – like much of Bedfordshire – few people know it's there!
'Hubby and I would normally take a flask of boiling water in which to cook hot dog sausages (if you haven't done it, try it!) plus supplies of fried onions and buns. Lockdown rules permitting. If that's scuppered, we'll be ordering takeout from our local pub... one of chef Sam's casseroles has the power to lift anyone's spirits.'
Jennifer Ebert, H&G's Digital Editor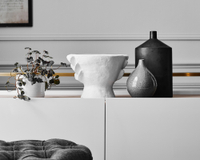 'This weekend, I will be trying my hardest to beat the lockdown blues by letting my creativity run wild with a pottery kit from Sculpd.
'In recent years – especially during this pandemic – pottery has seen something of a renaissance. Whether buying ceramic pots made by experts or taking to the wheel to create your own piece, it seems that pottery is the craft du jour that we just can't seem to get enough of. Though I imagine my creation will end up looking rather more phallic than functional...!'
Jo Bailey, H&G's News & Shopping Editor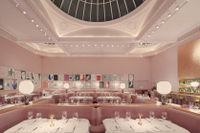 'Ah yes, I know Blue Monday all too well, unfortunately. It's my birthday this weekend, so as a treat, we've ordered a three-course meal for two from Sketch London.
'Our kitchen isn't as impressive - nor as pink! - as India Mahdavi's The Gallery dining room, however, once we're a couple of Negroni's deep, I'm not sure I'll notice...'
Thea Babington-Stitt, H&G's News & Features Editor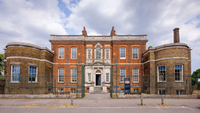 'Keeping cheerful in January? Not the easiest. But I'm locked down with my sister who has her birthday this weekend which was definitely a reason - as if we needed one - to pour all the bubbles and indulge in some of our favourite Ottolenghi recipes.
'Keeping distracted from the world at the large helped, too, so I've binged the oh-so-stressful The Serpent and am getting ready to finally indulge in Bridgerton. And there will be more bubbles, naturally.'
Jennifer Spaeth, Group Chief Sub-Editor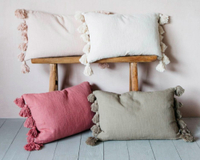 'I definitely won't be buying into the Blue Monday blues! I'm going to start the day with a walk around the local park in the pink New Balance trainers I got from Santa Claus - they make me very happy.
'Then I'll continue to do things I love throughout the day so I'll grab a takeaway coffee at the local cafe at lunchtime, and I might buy something else pink to treat myself. I have my eye on this lovely cushion from Graham & Green...'
Teresa Conway, H&G's Gardens Editor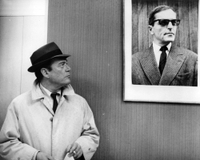 'Rather than fighting the impulse to reach for the remote to cheer me up, I've decided to embrace it. But instead of doing the easy thing and clicking on the recommended content, I'm going to spend some time researching my choice properly.
'The BFI has compiled a list of films that they recommend from Amazon Prime and Netflix, which makes it easy to pick out quality films to watch. I'll be making it a group activity by deciding with a friend and tuning in at the same time so we can discuss it together afterwards like true critics.'
Emma Williams, Group Creative Director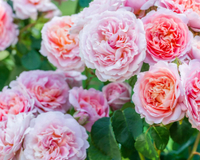 'I plan to give myself 30 minutes (the minimum, undisturbed!) to indulge myself in looking at the David Austin website. I may not even buy anything - simply looking at the palest pink roses and feeling the joy...'
Elisa Roche, Food Director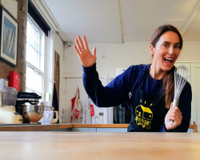 'I'Il be keeping up my spirits by singing Bob Marley's Stir It Up into my whisk and having a kitchen disco!'
Ginevra Benedetti is Associate Editor on the Homes Content Team at Future. She has been writing about interiors for the past 16 years on the majority of Britain's monthly interiors titles, such as Ideal Home, Country Homes & Interiors and Style at Home, as well as Livingetc and of course, Homes & Gardens. This naturally lead her into writing for websites like HomesandGardens.com.