7 innovative sleep products – to reinvent your nights
Tech, gadgets and innovative sleep products to make falling asleep, staying asleep, and waking up a little easier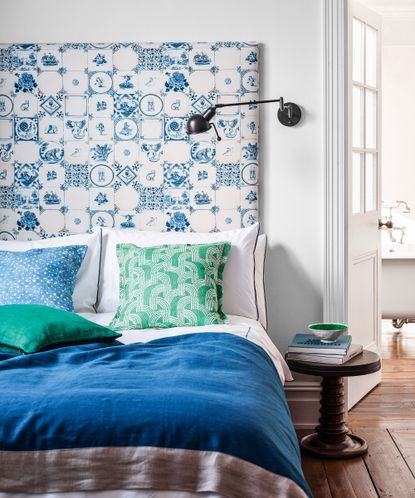 (Image credit: Future / Jake Curtis)
Our sleep is vital to our health and wellbeing. Insomnia, night sweats and stress are just a few of the many issues that can disrupt it. In fact, according to research from the National Library of Medicine, up to 30% of adults may suffer from insomnia, with that number increasing among older adults and women.
To cope, you may have already found the best mattress for better pressure relief and layered your bed with the best pillows to complement your sleep position, but if you're still having trouble falling or staying asleep, we found innovative sleep products that can reinvent your sleep experience.
They're designed to provide valuable insight into your sleep, keep you from waking up groggy, or regulating body temperature to minimize sleep disruptions. From a dual-side comforter for couples who like to sleep at different temperatures to sleep trackers that can also turn off the lights in your room... just by getting into bed, the technology seems to get more cutting edge by the day. Neat, right?
1. This all-in-one sound machine with a bedside lamp and sunrise alarm clock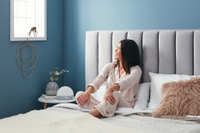 The Hatch Restore is not your average sound machine. Outfitted with a sound machine that also serves as a bedside lamp, the real star of the show is its brilliant wake-up alarm that uses gentle light that mimics a sunrise before your chosen alarm sounds. This gradual exposure to light prompts your brain to release cortisol, the hormone for a more gentle wake-up experience.
It's works simultaneously with the Hatch Sleep app, bringing an additional element of smart tech into your sleep experience, and allows you to personalize a sleep routine designed comprised of tips and breathing exercises to help you fall asleep faster, stay asleep, and wake up feeling refreshed. Through the Hatch app, you can also set light brightness and colors, choose sounds, and even access a content library of meditation and sleep soundtrack content.
2. A triple threat weighted blanket that reduces stress, sleeps cool and is made sustainably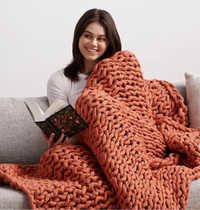 Bearaby Tree Napper | $269
Weighted blankets seem to be everywhere right now. We already know about their stress-relieving, sleep-inducing properties but few can tout a sustainable construction, breathable design, and on-trend design.
Enter, the Bearaby Tree Napper, a plant-based, cooling weighted blanket handmade from silky-soft, natural eucalyptus fibers, or Tencel. Rather than using micro-plastics or glass beads for filling, layers upon layers of fabric create the weight. Also, the on-trend open weave isn't just stylish, it's designed to keep you cool. It's truly a blanket you'll want to keep on display and within easy reach for blissful relaxation.
3. A cooling mattress pad made with NASA-approved temperature regulating technology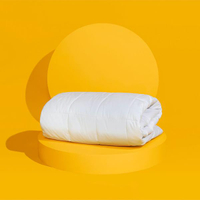 Nightsweats or overheating the source of your inability to fall and stay asleep? What about not feeling warm enough? Slumbercloud's Core Mattress Pad uses technology built for NASA spacesuits, but for your bed. Using what Slumbercloud calls Outlast technology, the mattress pad absorbs heat when you're too hot and releases it back when you're too cold, while the top layer provides additional temperature-regulation.
Even better, it's generously sized to fit beds up to 20" deep, can just be tossed in the washing machine with the rest of your linens, and is available in sizes from Twin to Split King.
4. This high-tech pad that can provide insights into your sleep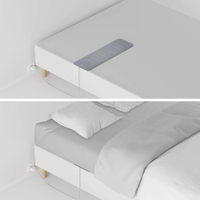 Smartwatches are great for tracking activity and your heart rate, but few offer insights into your sleep like the Withings Sleep Pad. Plus, you don't have to wear or remember to charge it. Just insert it underneath your mattress, around where your chest lays, and you'll soon receive daily stats on your sleep. The Withings Sleep Pad offers sleep cycle analysis (deep, light, and REM) with a numeral sleep score, heart rate tracking and snore detection that can be analyzed via its accompanying app. A new feature tracks breathing, for early detection of sleep apnea.
And if you're all about smart home automation, the Sleep Mat can connect to your other smart hubs over wifi. That means that the simple act of getting into bed can automatically turn off the lights or adjust the thermostat.
5. A comforter for couples who like to sleep at different temperatures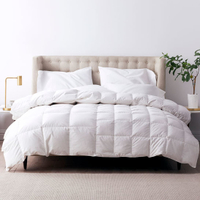 LaCrosse™ Dual Down Duvet Insert | $339-$399 at The Company Store
Well, this still can't solve a hogging the blanket situation, but for couples who like different sleeping warmths, The Company Store's dual-sided down duvet insert will solve any debates over a blanket's warmth. If you seek to be ultra warm and cozy while your partner wants to sleep cooler, this will be a gamechanger for you.
Choose from a half Lightweight and half Medium Warmth option or a half Medium Warmth and Extra Warmth design. The lighter layer has the smaller baffle box, construction, while the heavier side has the larger squares to differentiate between the sides. Both sides are filled with various fills of RDS Certified Down.
6. A natural sleep aid that will help you fall asleep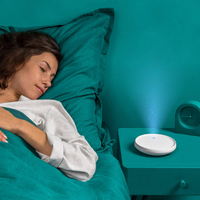 The Dodow | $59.90 at Amazon
If it takes you hours to fall asleep at night, for whatever the reason, the Dodow uses a metronome with a light system that teaches you how to fall asleep naturally. It's said to help you fall asleep 2.5 times faster.
The eight or 20-minute cycles project a light at the ceiling and emphasize following breathing techniques. Taking into account aspects of sleep science, the Dodow takes you gradually from 11 to 6 breaths per minute as a way to occupy your mind before leading you to slumber.
7. A sleep system that will help you stop snoring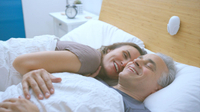 Smart Nora | $339
Forget wearable contraptions aimed to reduce snoring, the Smart Nora yields almost immediate results at stopping snoring, so both the snoring party and his or her partner can find rest and quiet. Smart Nora listens for snoring using a pebble-shaped pod installed above your bed.
Once a snore is detected, a pad placed under the pillow is gently inflated, which stops the snoring before it gets loud enough to wake your partner, enabling both sleepers to sleep through the night and wake up more rested.
Sign up to the Homes & Gardens newsletter
Decor Ideas. Project Inspiration. Expert Advice. Delivered to your inbox.