5 Joanna Gaines-approved ways to spring into style this New Year
According to Joanna Gaines, these five perfect pieces will instantly elevate your home décor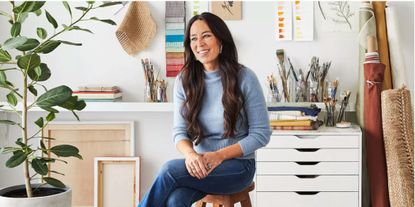 (Image credit: Target Corporate)
Whether you're looking to upgrade your home furniture or find the trendiest throw of them all, there is only one name that comes to mind, and that is interior designer Joanna Gaines.
The Fixer Upper star is synonymous with style, and for anyone looking to give their homes a much-needed makeover this new year, she's the go-to design guru to help you — or at least, her Hearth & Hand collection (opens in new tab) is.
Created exclusively for Target in collaboration with Magnolia — the home and lifestyle brand by Chip and Joanna Gaines — this collection is perfect for anyone looking to wipe their slate clean and seamlessly insert a sense of renewal into their homes.
From soft bedding and towels to throw pillows and throws, and (yes) even furniture and home fragrances, all of which have a clear focus on clean, universal pieces that can easily fit into any home or aesthetic.
5 Joanna Gaines-approved ways to elevate your home
So if your New Year's resolution was to invest in your home, you're in luck. We've rounded-up five perfect pieces that not only earned Joanna Gaines' stamp-of-approval but will instantly elevate any room on the fly.
1. A woven plate charger
3" Woven Plate Charger - Hearth & Hand with Magnolia (opens in new tab) for $11.99, at Target
From serving everyday meals to the family to entertaining guests, bring some warmth and texture to your table decor with this woven plate charger. (opens in new tab) Crafted from 100% lampakanay, this round woven charger offers a natural look and will look très chic with any table setting or fixtures!
2. An on-trend throw pillow
Vertical Stripe Throw Pillow - Hearth & Hand with Magnolia (opens in new tab) for $20, at Target
If you're looking to create a contemporary look within your seating area, this vertical-stripe throw pillow (opens in new tab) will be sensational in any (or every) of the available three shades. Crafted with a breathable cotton exterior and soft-fill interior; this decorative throw pillow is equal parts supportive and comfortable, providing year-round comfort in the chicest of ways.
3. An accent piece
Shaker Accent Table or Stool - Hearth & Hand with Magnolia (opens in new tab) for $69.99, at Target
Whether you're completing a reading nook or adding functional style to your living room, this accent piece (opens in new tab) is everyone's perfect pick. Built with longevity in mind, the solid rubberwood frame is as striking as it is sturdy, and both of the available hues are sensational. Use it as a stool in any living room or bedroom, or place it under your breakfast nook, it works anywhere and everywhere you place it.
4. This glass vase
Glass Décor Bud Vase - Hearth & Hand with Magnolia (opens in new tab) starting at $4.99, at Target
Sure, this glass vase (opens in new tab) may be simple, but when filled with flowers, stems, or branches (for a fresh touch!), it's the stylish centerpiece you'll need in every single room. Set it atop your mantelpiece, console table, sideboard, or shelf with other accent pieces to decorate your space.
5. A napkin set
4pk Textured Thin Stripe Napkin Set Faded Blue with Yellow Trim - Hearth & Hand with Magnolia (opens in new tab) for $10, at Target
Are you in the market for a new set of napkins? Turn your attention to this 4-piece set (opens in new tab) that is both pretty and practical. The charming design features faded blue textured stripes and paired with a hint of yellow color on the trim for a pop of contrast. The 100% cotton napkins can be machine washed for easy care and cleaning, while the easy-yet-elegant design makes them versatile when in use.
Brittany Romano wrote for Homes & Gardens as a U.S. Shopping Editor. A graduate of New England College, Brittany started her career as a freelance fashion market assistant at Marie Claire. She later joined AMI, where she designed a highly profitable commerce vertical. Noted for her award-winning content, she's covered everything from celebrity beauty hacks to the most lavish home decor.