6 last-minute personalized gift ideas –make 'meh' marvellous
Turn any present into a meaningful and personalized gift with these upgrading extras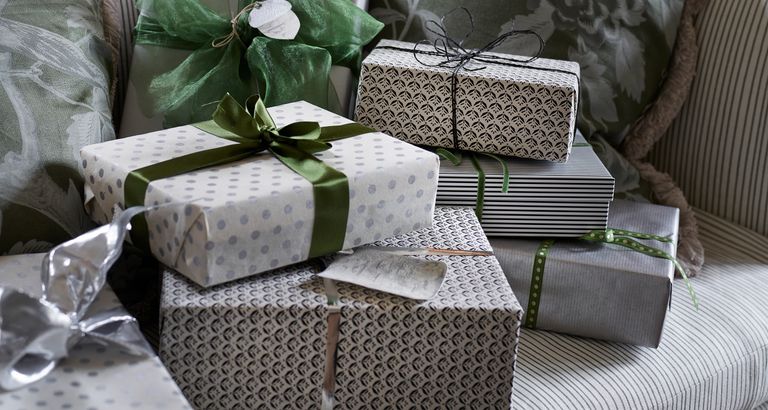 (Image credit: Future)
It's all too easy these days to get caught up in the fast-paced way to sort holiday gifts for friends and family. We search, we find, we click, we buy.
While there's certainly nothing wrong with this approach, you can upgrade even the most simple of gifts you find online into something super special and bespoke-feeling.
By choosing an extra, complementary present to accompany the main event, you're personalizing your gift for the recipient in a thoughtful way that not only suggests effort but love.
Here are five of our favorite last-minute personalized gift ideas – they'll make someone's Christmas.
1. For the cocktail lover
The holiday season is nothing if not cocktail season. For your most fabulous friend you enjoys hosting soirées and mixing up the perfect Negroni, you might look to a new bar set or cocktail shaker.
Give this gift a personalized twist by adding in fancy cocktail napkins or even a bottle of their favorite tipple.
Kate Spade Nolita Cocktail Set - $100, Macy's
This stylish selection will be an upgrade on whatever they're currently using.
Made from metal and on-trend lucite, this 5-piece set adds a contemporary touch to any bar cart. View Deal
Lips Cocktail Napkins - Was $48 Now $38.40*, Jonathan Adler
Elevate any home bar with a set of luxe linen cocktail napkins.
We love these iconic red lip designs, which add an extra layer of chic elegance.
*With Code GETGIFTYView Deal
2. For the book worm
The trickiest part abut buying a holiday gift for your reading-obsessed friend is finding a tome they haven't yet picked up.
Choose a personal favorite of yours if it's missing from their bookcases, or the book of the year that they haven't checked out yet. Make this extra special by including a bookmark or a new Kindle case, if they prefer e-readers.
Such a Fun Age by Kiley Reed - Was $26 Now $10.33, Amazon
A debut novel with serious thought-provoking punch, this New York Times bestseller is a must-read for any book lover.
Telling a tale of race and privilege, the story focusses on a young black babysitter and her employer.View Deal
Sprout Bookmarks by Fred & Friends - $7.95, Barnes & Noble
Never lose your place again by sowing your seeds.
This set of six whimsical silicone bookmarks will plant a little seed of joy in whoever you gift them to.View Deal
3. For the caffeine addict
Coffee lovers are in luck - with working from home the new norm for many, there are more options than ever for perfecting the perfect brew in our own abodes.
We love gifting a chic French Press or a milk frother to upgrade our friends' hot drink time. Double up with a packet of their go-to blend, or a sleek new travel mug for coffee on the go.
French Press, From $50, Le Creuset
A little Le Creuset is loved by everyone.
Add a rustic elegance to every morning with this stoneware French Press, available in several colors.View Deal
Holiday Coffee - $31.90, Nordstrom
If you're gifting coffee this Christmas, then why not make it right on the nose with a Holiday Blend.
These ethically sourced beans has a rich and spicy aroma, and create a smooth drinking experience once ground and pressed.View Deal
4. For the self-care guru
For the friend who loves nothing more than drawing hot baths, applying face masks and pressing play on a meditation app, you can easily create a lovely personalized gift set.
Our go-to would be a gorgeously fragranced new candle for their collection, or perhaps a new incense holder. Double up by including a super-chic match striker or jar of extra-long fireside matches.
Moroccan Mint Tea Candle, Medium - $85, Jayson Home
Allow your friend to transform their space into a Moroccan riad with a fresh mint candle.
Created from natural soy wax, and French perfumes, this candle sits within a hand-thrown Moroccan Tamegroute jar.View Deal
Milk Bottle Match Striker - $40, One Kings Lane
Strike a light in style with a rustic striker.
This pretty option is crafted into a lovely mini milk bottle design.View Deal
5. For the binge-watcher
We all have that friend who watched the latest season of The Crown in a weekend, and has already lined up Bridgerton for Boxing Day viewing.
Treat the Netflix-lover with a uber-cozy blanket to snuggle up in on the sofa. If their viewing method is laptop-based, a laptop tray table would be appreciated. Add that extra-something with a pair of Blue Light-blocking glasses, to help them drift off after a viewing marathon.
Barefoot Dreams In The Wild Throw - $180, Bloomingdale's
Is there anything more cozy than a Barefoot Dreams blanket.
Give the gift of ultimate softness with this cool leopard print throw from the iconic brand.View Deal
FEIYOLD Blue Light Blocking Glasses - Was $29.98 Now $21.98, Amazon
Proven to help stop blue light from filtering into your eyes, blue light glasses are perfect for anyone looking at screens into the evening.
This pack of two is perfect for gifting, with two colorways included.View Deal
6. A subscription to Homes & Gardens magazine
We had to mention it – but actually if you subscribe to Homes & Gardens for someone special and match it to any of the gifts above, you have yourself the perfect package...