These are Monty Don's favorite tender annuals – and his top tips to succeed in growing them
Gardening guru Monty Don shares his top picks of colorful tender annual plants – and wise tips for growing them well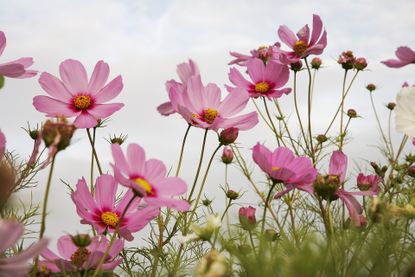 (Image credit: Getty Images)
Growing tender annuals is richly rewarding if you like plenty of vibrant color in the garden. Gardening guru Monty Don has long advocated planting up garden borders with these pretty and varied plants. They may only last one season, but they make a dramatic difference to your garden – and are amongst our favorite summer garden ideas.
Below, Monty shares a few firm favorites to plant together – and handy tips for growing tender annuals successfully.
What are tender annuals?
Tender annuals include a wide variety of plants, including begonias, zinnias, cosmos, impatients, and many others. One thing tender annuals have in common is that they will not come back the next summer unless you reseed them or regrow them from cuttings. They will die down after the first frost.
According to the University of Illinois, tender annuals 'need both warm soil and warm air temperatures to grow well. These do not tolerate any frost and if put out too soon into cold soil, tend not to do much growing until temperatures warm.'
See: Flower bed ideas – beautiful ways to create floral displays in your garden
Monty Don's favorite tender annuals for a flowering border
Monty has been planting tender annuals in his garden for years. In an episode of Gardener's World, he demonstrates planting a new season batch of salvias, zinnias, cosmos, callas – 'you can buy all of these from the garden center' but you can also raise them yourself from cuttings, seeds, or division of existing plants.
See: How to grow zinnias – brighten up your garden with these summer flowers
Monty also specially recommends tithonia or Mexican sunflower for the intensity of its bright orange color. 'It'll go on flowering from July right until the first frost', says Monty of this beautiful annual flower. 'Use that orange to set off all the purples and and the blues in your garden,' Monty says.
Cosmos 'Dazzler' is another favorite, as it is 'easy to raise from seed as long as it has some sunshine' and will give you 'an intense magenta color' all the way into the fall. Monty's favorite salvia is Salvia guaranitica – a purple flower that will 'contrast vibrantly with the orange of the tithonia'.
Once you've created your flowering border, be patient, advises Monty: 'they will look like nothing for a few weeks', but will be 'kicking with color' before long.
In a recent blog post, Monty also shares his top tip for making annuals look more natural in the garden: 'I like to use tender annuals both in containers and borders and in the latter I do not use them as bedding but to enrich the general tapestry of the overall planting. So I place them in groups so they make drifts and clumps rather than straight lines.'
Monty's top tip for growing tender annuals
You're probably already getting a sense that it has to do with being patient. Monty urges gardeners to harden off their tender annuals before planting them out – even if you've bought your plant in a garden center.
'Hardening off is important and will mean much faster growing and longer-lasting flowers – so if you buy any of these annuals from a garden center over the coming weeks, do not plant them out immediately but put them in a sheltered place for a week to acclimatize to your garden, as they will probably have been kept sheltered for best retail display.'
Sign up to the Homes & Gardens newsletter
Decor Ideas. Project Inspiration. Expert Advice. Delivered to your inbox.
Anna K. Cottrell is now a freelance writer, having previously been a Content Editor for Future's homes titles. She writes about interior design, property, and gardening. On H&G, she specialized in writing about property – buying, selling, renting – sustainability and eco issues.