Monty Don shares the common plant pot mistake that is turning your house plants brown
The Gardener's World presenter explains how to keep house plants in perfect condition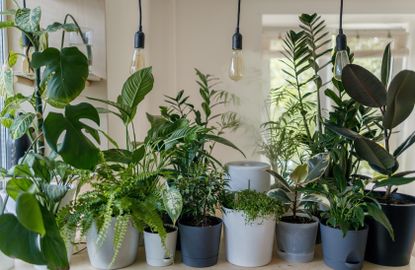 (Image credit: Vadim Kaipov/Unsplash)
Sign up to the Homes & Gardens newsletter
Decor Ideas. Project Inspiration. Expert Advice. Delivered to your inbox.
Thank you for signing up to Homes & Gardens. You will receive a verification email shortly.
There was a problem. Please refresh the page and try again.
Struggling to keep your house plants looking green and healthy? Your choice of plant pot could be to blame, according to this Monty Don house plant watering tip.
Speaking in a video for BritBox, the Gardeners' World presenter explained that if the leaves of your house plant are starting to brown, and the stem has started to shrivel, these are symptoms of overwatering. Even if you are giving your house plants the correct amount of water you can still overwater them if they are in the wrong plant pot.
See: The top 10 house plants – must haves for design lovers
'If I look at the pot, it's got no drainage holes of any kind and what's been happening, I suspect, is they watered it and the water has sat inside what is effectively a jar,' he explained holding up a shriveled house plant.
'It's got too wet and it's showing classic symptoms of an overwatered plant which are drooping leaves that are turning brown. So never keep any house plant in an undrained container unless you let it drain completely.'
Decorative plant pots are a key part of styling a collection of house plants at home. However, many of them don't include drainage holes. Leave your house plants in a container with plenty of drainage holes before putting them inside a decorative plant pot.
When watering, if your plants are small enough, take them out of their decorative pots and water them in the sink so that they are able to drain properly.
See: These are the world's most Instagrammed houseplants
Monty Don pointed out that another cause for your house plants turning brown could be the conditions in your house.
'A lot of house plants, particularly foliage ones like the aspidistra, like dark cool damp conditions,' he says. 'Most houses are too hot and too dry so a mister is an essential piece of kit to combat this.
'If you mist the leaves of house plants, for an awful lot of them, that will make them happier than anything else,' he adds.
Houseplants are a wonderful addition to your home for aesthetic reasons, but can also have an amazing impact on our wellbeing. Look after them carefully and reap the benefits.
How often do you water a house plant?
How often you water a house plant does vary from plant to plant, on their size, the pot they are in, the temperature of the room, their position in the room and their growth rate.
However, most of us are guilty of over-watering them. Most houseplants only need to be watered every week to three weeks – but the best approach is always to only water a house plant when it needs it, not just because you are in the habit of watering house plants on a Saturday, for example.
How do you know if a plant needs water?
Avoid watering to schedule and instead check if your house plant really needs watering to avoid over-watering. The easiest way to do so is to insert your finger into the soil and if the top inch or so feels dry, you can water it. If however, the soil feels damp, leave the watering for another couple of days.
What is the best way to water house plants?
The answer to this is: all around the roots. If you water just one side of the plant (presumably because it's easiest for you to reach), the water will filter down to one side of the house plants roots, and the plant will grow towards the watering direction. So, for a plant that's well-formed all round, turn the pot as you water it to ensure the water is delivered evenly over the roots.
As for how much water to give a house plant, the best measure is to water until it drips out of the bottom of the plant pot. Then you know that you can stop.
Sign up to the Homes & Gardens newsletter
Decor Ideas. Project Inspiration. Expert Advice. Delivered to your inbox.
Rebecca is the News Editor on Homes and Gardens. She has been working as a homes and interiors journalist for over four years. She first discovered her love of interiors while interning at Harper's Bazaar and Town & Country during my Masters in Magazine Journalism at City, University of London. After graduating she started out as a feature writer for Women's Weekly magazines, before shifting over to online journalism and joining the Ideal Home digital team covering news and features. She is passionate about shopping for well-crafted home decor and sourcing second-hand antique furniture where possible.