Nicole Richie's new Etsy collection sees in the holiday season, stylishly
This season, Nicole Richie and Etsy team up to help deck your halls with luxe holiday accents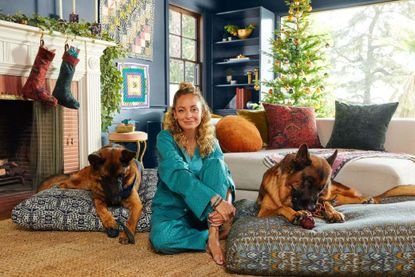 (Image credit: Ren Fuller)
Nicole Richie is known for going all out when it comes to her holiday decorations. This year, the multi-talented designer and Etsy have conjured up an all-inclusive collaboration.
Inspired by the luxe of the 1970s, this collection is an elevated take on festive pieces, full of rich jewel tones, plush velvets, and glimmering gold and crystal accents. There's everything from the best candles to blankets, and something for everyone.
Joining Richie are eight members from the Gee's Bend Quilters – a renowned community of rural, female quilters from Alabama. Most notable for their contributions to American art history, this collection provides shoppers a chance to own a piece of American history.
Using deadstock fabric provided by House of Harlow 1960, this gifted group of artists designed a stunning capsule of elaborate, one-of-a-kind quilted blankets and ornate wall hangings.
5 Nicole Richie x Etsy holiday pieces you can't miss
So, this holiday season, treat yourself or your loved ones to these five Nicole Richie x Etsy (opens in new tab) pieces that are sure to make a stunning statement.
1. Add a vintage touch to mantels
2. Invest in a beautiful quilt
House of Harlow 1960 x Gee's Bend Creator Collab Holiday Quilt (opens in new tab) for $800, at Etsy
Handcrafted following the Gee's Bend traditions dating back three generations, this quilt (opens in new tab) is designed exclusively for the collection. It blends hand-sewn detailing with House of Harlow 1960 upcycled fabrics for a sustainable yet stylish finish.
3. Hang a stylish stocking
4. Upgrade your pet's mattress
House of Harlow 1960 Creator Collab, Indigo Block Print Dog Bed (opens in new tab) starting at $190, at Etsy
Available in sizes ranging from small to XXL, this mattress (opens in new tab) is designed in sturdy cotton denim fabric and features an indigo block printed pattern. With removable and washable covers — featuring a heavy-duty brass zipper with a lip tuck zipper head out of sight — the custom-crafted removable inserts provide supersoft down alternative fiber and maintain their shape over time.
5. Reach for this marble must-have
House of Harlow 1960 Creator Collab, Marble Bookends (opens in new tab) for $350, at Etsy
Selected from rare Rosso Levanto marble, this bookend (opens in new tab) pair features hand-polished surfaces and a unique triangular assembly. The edges are perfectly imperfect, with a slight tactile difference between the perfectly polished surfaces, making each bookend one-of-a-kind. Perfect as a gift or separating the best home fragrance (opens in new tab).
Brittany Romano wrote for Homes & Gardens as a U.S. Shopping Editor. A graduate of New England College, Brittany started her career as a freelance fashion market assistant at Marie Claire. She later joined AMI, where she designed a highly profitable commerce vertical. Noted for her award-winning content, she's covered everything from celebrity beauty hacks to the most lavish home decor.