Nicole Richie is the latest designer tapped for Etsy's Creator Collaboration – and these are our must-see pieces
Nicole Richie showcases her California vibes, sunset shades, and endless possibilities – via Etsy's exclusive House of Harlow 1960 collection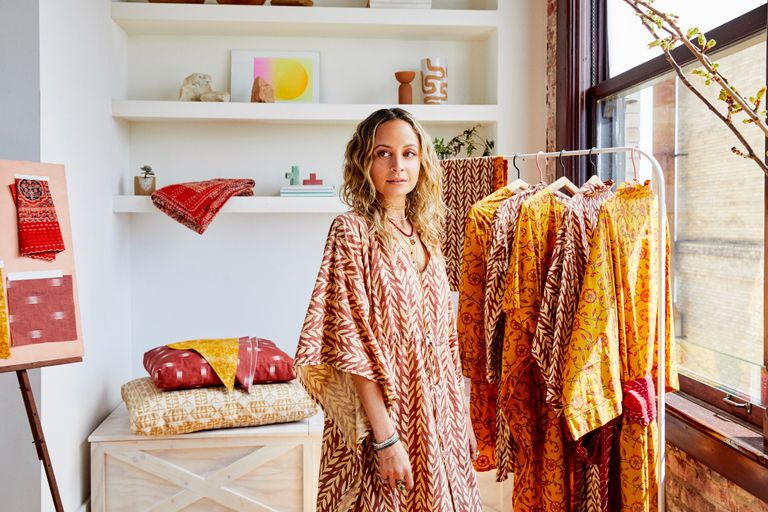 (Image credit: DKCNews/Etsy)
Nicole Richie is California dreaming! Following in the footsteps of fashion designer Prabal Gurung, the second instalment of Etsy's Creator Collaboration has turned to Richie – and her House of Harlow 1960 brand. Together, the two have turned to a curated selection of Etsy sellers and created this limited-edition, exclusive homeware collection.  
Drawing from Nicole's artistic Californian upbringing and the thrill of discovering unique treasures, this collection features bold colors, rich textures, and an eclectic mix of patterns and prints.
'I wanted to capture the feeling of the sun on your body and sand in your hair,' says House of Harlow 1960 Founder Nicole Richie of the inspiration behind the carefree, desert-inspired collaboration. 
'I'm thrilled to finally be putting the "House" in "House of Harlow 1960" in such a meaningful way through this dream interiors collection. My home has always been an extension of my style, and I'm so grateful for the opportunity to collaborate with such a talented, diverse group of artisans on the Etsy platform – several of whom are from my home state of California,' explains Richie. 
The co-designed collection of home decor and accessories brings the brand's signature free-spirited-vintage-inspired aesthetic to life through swoon-worthy handmade pieces like pillows, blankets, home accents, and ceramics. 
With each item speaking to her commitment to champion creative entrepreneurs and BIPOC-owned businesses, the entire line is reminiscent of golden afternoons and bonfire-filled nights.
5 Nicole Richie x Etsy pieces you can't-miss
Now, with so many lust-worthy items up for grabs, we've rounded up our five favorites from Nicole Richie's limited-edition Etsy collection.
1. Turn to this terracotta vase to showcase greenery  
House of Harlow 1960 Creator Collab - Red Ripple Vase with Gold Luster Rim for $130, at Etsy
This one-of-a-kind vase features a unique twisting pattern that lends an elaborate flair to an otherwise minimalist vase. They are unglazed on the outside, which shows off the sandy red clay and slightly visible throw-lines made by my hands while forming the vase on the potter's wheel; while the interior features a clear glaze which makes the vase water-tight and perfect for a bouquet or a sprig or two of dried grass. 
Lastly, the rim of the vase is lined with a gold luster, which contains real 22k gold, and highlights the organic, undulating form of the vase. 
2. Bundle up under this beautiful blanket
3. Highlight the best home fragrance with the help of this haute holder
4. Bring greenery to life with this perfect planter 
5. Tie together every room or tablescape with the help of these chic candles
Brittany Romano joins Future as their U.S. Shopping E-commerce Editor, residing on the Upper East Side in New York City. Originally hailing from Connecticut and a graduate of New England College, Brittany started her career as a fashion market assistant at Marie Claire, later joining AMI, where she designed a highly profitable commerce vertical. Noted for her award-winning content, she's covered everything from celebrity beauty hacks to the most lavish home decor; Brittany has maintained her penchant for the finer things in life. 
If a genie granted Brittany one wish, it would be for Kelly Wearstler to bring her vision to life and transform her living space, but until then? You'll find Brittany continuously evolving her chilled-out sophisticated style, shifting her attention to eclectic pieces (with a hint of retro), grounded by a rich understanding of history, focused on functionality, luxury, and quirkiness.
Find her on Instagram @Rammmyyy