Revealed: Pantone's Color of the Year 2021 – and how to use it in your home
The color authority reveals their selection – and this year there's a twist...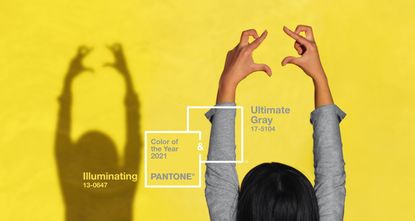 (Image credit: Pantone)
Global color authority, Pantone, this morning announced their selection for Color of the Year 2021 and it's a combination of two. The shades chosen are Ultimate Gray and Illuminating - a rock gray and a sunshine yellow, respectively.
This is only the second time ever that Pantone has made the bold move of naming two Colors of the Year.
'The selection of two independent colors highlight how different elements come together to express a message of strength and hopefulness that is both enduring and uplifting, conveying the idea that it's not about one color or one person, it's about more than one,' says Leatrice Eiseman, Executive Director of the Pantone Color Institute.
See more: Paint trends 2021 – the colors you need for the ultimate wonder walls
For 2021 this combination of colors brings the message of strength and reliability paired with the joy of sunshine filled days to come.
'Practical and rock solid but at the same time warming and optimistic, this is a color combination that gives us resilience and hope,' adds Leatrice. 'We need to feel encouraged and uplifted, this is essential to the human spirit.'
How to use Pantone's Colors of the Year in your home
The gorgeous combination of Ultimate Gray and Illuminating is a wonderful choice for nearly any room.
Here are a few of our favorite ways to include them in your own home.
1. Make an entrance
The two Pantone Colors of the Year create a wonderful combination, but as they are both such striking shades individually, you can have fun using them in varying proportions to highlight one of the other.
One such way to do this is on a front door. Give your guests - and yourself - a bright and warm welcome to your home with an optimistic sunshine yellow entrance. Try including Ultimate Gray on the door knocker, letterbox or the border of the door itself, to ground the area into practicality.
2. Go all out
Turn a room into an ode to this pair of inspiring shades. Bright yellow walls combined with warm gray seating creates a positive and grounding feel. Living rooms and kitchens especially benefit from this burst of energy and enthusiasm.
Home offices, too, can benefit from the Colors of the Year. Ultimate Gray is an ideal and firm foundation to the awareness and intuition prompting Illuminating, leading to both curiosity and resourcefulness.
3. Layer with accessories
Nearly any room in the house can benefit from the solid background of Ultimate Gray, punctuated with pops of Illuminating.
In a bathroom, practical tiles in this gray tone are lifted with splashes of bright yellow through textiles, decor and small necessities. Similarly, a living room can be layered with bright cushions to lift a dependable space.
Thea Babington-Stitt is a Content Editor at Future. She has been an interiors journalist for nearly 10 years and has held positions at LivingEtc, Country Homes & Interiors and Homes & Gardens. Currently, she is writing for Ideal Home and Style At Home's websites and magazines.