Bissell ICONpet cordless vacuum review
I love my pup just as much as every other dog owner, but when it comes to pet hair, I prefer to hide the evidence. The Bissell ICONpet Cordless Vacuum does the trick – and then some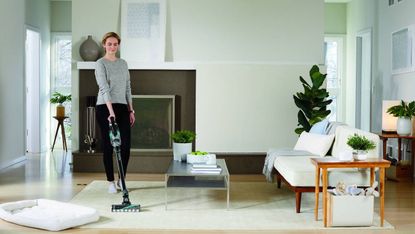 (Image credit: Bissell)
Armed with a powerful 22V rechargeable battery, this model was designed to power through pet hair and dander- on almost any surface. Use upright for large areas, and slide off the handheld attachment for stairs and tight spaces. If you've got furry friends at home, this cordless vacuum is an investment you won't regret.
Reasons to buy
+

Impressive job picking up pet hair and dust

+

LED lights shine bright, preventing left behind debris

+

Practical attachments
Reasons to avoid
-

Top-heavy design becomes uncomfortable

-

Doesn't reach tight corners
You can trust Homes & Gardens. Our expert reviewers spend hours testing and comparing the latest products, helping you choose the best for you. Find out more about how we test.
Bissell is a household name when it comes to the best vacuums, and with good reason. Known for their reliability and longevity, owner satisfaction is high. At Homes & Gardens, you can trust we've done our due diligence before sharing our thoughts, so here it goes:
The Bissell ICONpet model is a clear winner when it comes to the best vacuums for pet hair. Powerful suction traps pet hair and dander, notably great for those with allergies. While it didn't live up to my expectations on the carpet, this cordless vacuum is perfect for hardwood and area rugs.
If you're like me and appreciate versatility, consider the ICONpet your new must-have – you can use this gadget on more than just floors.
Bissell ICONpet: Specifications
Item Model Number: 22889
Maximum power: 22V
Dust capacity: 0.4L
Cordless: Yes
Runtime: 50 minutes
Charge time: 4 hours
Dimensions: 44.25 x 11 x 7.75 inches
Weight: 7lb.
Filter: SmartSeal Allergen System
Warranty: 2 years
Best for: Hardwood, low pile carpet, area rugs, car interiors, pet beds
Attachments: LED Crevice Dusting Brush Combination Tool, Motorized Brush Roll Too
What is the Bissell ICONpet like to use?
Simple set-up
I consider myself handy, but I'm confident my six-year-old son could have assembled the Bissell ICONpet vacuum. With minimal moving parts and super clear instructions, it took less than twenty minutes to put together. Bissell recommends charging the unit for four hours before using, and despite being impatient, I listened. Once the vacuum was ready to roll, I tested it on several surfaces.
Portability
If you have stairs, you know what a pain (literally) it can be lugging a vacuum up and down. At the touch of a button, the Bissell ICONpet transforms into a handheld vacuum. Weighing in under three pounds (yes I weighed it), I can vacuum my stairs in five minutes compared to fifteen. Added bonus? I don't feel it in my back the next morning.
Here at my house, what I'll find in furniture is a guessing game. Most of the time it's leftover breakfast and dog hair, both of which the Bissell sweeps right up! If you have pets or children, the handheld option will save your sanity.
Best ways to use the Bissell ICONpet
I like to think that the Bissell is great for a seemingly limitless number of situations. With that being said, this vacuum is seriously convenient for more than just floors. Pet bed too large for the washer? Pull out the Bissell. Leftover popcorn from movie night found its way into the couch? Go grab the Bissell.
Here's my complete list (all tried and true):
Quick note: I have some pretty plush carpet in my bedroom, and the ICONpet struggled to perform on even the strongest setting. Area rugs and my mom's low-pile carpet? A dream.
Look at the dust the Bissell picked up only hours after using a competitor's vacuum!
Bissell ICONpet: Key Features
Useful LED lighting
Picture this: you just get done cleaning, and put your vacuum away. Moments later, you notice left-behind crumbs, and want to scream. We've all been there, and it's maddening. With the built-in LED lighting, you can kiss those missed spots goodbye. When I tell you the lights are bright, trust me. They light up a path that shows no mercy to pet hair or even, and I'm a little embarrassed to admit this, dust. Did I mention the crevice tool also includes a nifty LED light? Perfect for cleaning couches
Power modes
There are three power modes, thoughtfully designed for different surfaces. Max cleaning, everyday cleaning, and quiet cleaning. Carpet requires a stronger suction than hardwood- so max cleaning is the best option for soft surfaces. Everyday cleaning is the best option for hardwood and area rugs, as well as car interior and furniture. Quiet mode is surprisingly quiet, and I'd recommend using only on hardwood. The suction is minimal, but it does boast the longest run time!
Charging station
The small, easily hidden charging station attaches easily to any wall, and even holds the included accessories.
Tangle-free brush
Pet hair is one thing, but long (human) hair is a whole new ballgame. Bissell's patented Tangle-Free Brush Roll is amazing and prevents hair from wrapping around the brush. Pro tip- when hair gets stuck around a vacuum brush, the vacuum loses suction power and struggles to clean effectively. If you've ever had the dreaded task of cleaning hair from a vacuum, you'll appreciate this feature.
Washable filter
I won't name names, but some vacuums require an engineering degree to remove the bin and filter. I'll let you in on a little secret: Bissell's foam filter can be washed with soap and water and dries in less than an hour. Best part? It's easy to take out, and just as easy to put back in.
Bissell ICONpet Cordless Vacuum: Final thoughts
I'm not sure anyone wakes up in the morning thinking, "I can't wait to vacuum," but this cordless vac makes it a much less painful chore.
If you're sick of lingering pet hair, the Bissell ICONpet cordless vacuum was built for you. It's simple, practical, and it does what the box says. So easy to use, my children may begin moonlighting as housekeepers.
Pet hair is sneaky, but the Bissell's LED lights show no mercy. Pet dander lingers, but it's nothing the Motorized TurboBrush can't handle. Behind my fridge? I'll spare you the details, but it was ugly. Dust for days, and it was swept away in two passes.
I also love that Bissell uses their SmartSeal Allergen System, which does a great job keeping dust inside the vacuum. For allergy sufferers, this is a noteworthy quality of the ICONpet.
Also affordable compared to many competitors, the Bissell ICONpet Cordless Vacuum is a winner in our book.
There are only a few things I didn't swoon over, and they're not dealbreakers. The design is not particularly ergonomic and is top-heavy. It's not too noticeable for quick clean-ups, but if you plan on tackling the whole house, your arm may need a break (or perhaps I should join a gym). Learn from my mistake and don't rely on a wall to hold your vacuum up. It will fall right over, as the Bissell ICONpet is not a free-standing vacuum.
Bissell ICONpet: Where to buy
About this review and our reviewer
Courtney calls herself a sort of a vacuum connoisseur, in addition to the very important titles of writer, entrepreneur and mom of three. She has a collection of vacuums: cordless, robot, wired, high-end, low-end, you name it. She thinks the Bissell ICONpet cordless vacuum is worth the hype, and the price tag. Being able to run this as both a traditional vacuum and handheld is really useful, too.
As with all our reviews the Bissell ICONpet has been tested first-hand in our home, using it just as you would so you know exactly what you are buying.
The products are given to us free of charge and we test them for as long as possible before forming our reviews. In this particular case, we are able to keep the vacuum, which will enable us to continue to use the product and gives us the opportunity to return to our reviews for updating, so you can keep up-to-date with how it's fared over a period of time.
Sign up to the Homes & Gardens newsletter
Decor Ideas. Project Inspiration. Expert Advice. Delivered to your inbox.
Midwestern product tester and writer Courtney Irwin is a working mom of three who loves nothing more than a good deal. Equal parts entrepreneur and family-gal, she believes hard work deserves to be celebrated. Oftentimes in the form of a new gadget or sun-filled vacation! When she's not on the hunt for the next big trend, you can catch her in her kitchen, cooking and testing appliances.