Bissell Multireach Active 21V cordless vacuum review
We tested this lightweight, low priced cordless vacuum – here are our thoughts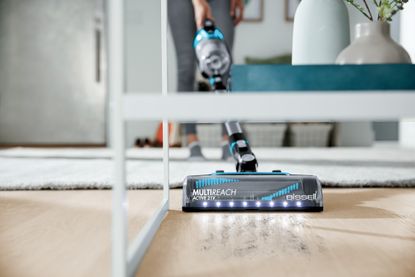 (Image credit: Bissell)
For the price, the Bissell Multireach Active 21V cordless vacuum is a good buy. There are a few drawbacks when compared with other cordless vacuum cleaners – the single, on-body battery that simply stops when it needs to be recharged and the lack of flex in the body for reaching beneath furniture. However, these features usually come with a heftier price tag.
Reasons to buy
+

Comes with a two year guarantee

+

Lightweight (3.6kg)

+

Can stand up on its own

+

Easily stored in a tall but slim space

+

Perfect for wooden floors, carpet, furniture and cars

+

Tangle-free and Advanced Hair Management System

+

Lights on the floor nozzle

+

There is a built in crevice tool

+

Comes with a dusting brush

+

No-touch dirt chamber with a unique sliding mechanism
Reasons to avoid
-

Battery life may not last longer than 15-20 minutes on full power

-

Battery takes 5 hours to charge

-

There is no warning light to indicate low battery

-

There is no option to buy an extra battery in order to have a charged battery ready to go
Why you can trust Homes & Gardens Our expert reviewers spend hours testing and comparing products and services so you can choose the best for you. Find out more about how we test.
When I was asked to review the Bissell Multireach Active 21V cordless vacuum, I was intrigued. We've already tested some of Shark's cordless vacuums and loved them – but at a lower price than its some of its competitor's vacs, the Bissell seemed like a cost-efficient alternative that shouldn't be overlooked.
I'll come clean (no pun intended): I am a big fan of the best cordless vacuums on the market. So much more convenient than hauling a full-size vacuum cleaner out, they are perfect for quick clean ups – but also for a whole house vacuum, assuming their batteries are up to the task.
The downside? I do find that most cordless vacuum cleaners – even the great ones – are best on their maximum power setting if they are to compete with full size vacs, and that, of course, challenges their batteries to last much longer than 15 to 20 minutes.
Bissell Multireach Active 21V cordless vacuum review
Size
The Bissell® Multireach Active 21V cordless vacuum is lightweight at 3.6kg – this is a big plus with cordless vacuum cleaners because they aren't usually designed to stand up on their own, while you move furniture about, for example, unlike most full-size vacuum cleaners. So, if you're picking it up, leaning it, putting it down... you want it to be light.
It's also comparable in size to its cordless competitors – measuring 119cm tall by 27cm wide and 24cm deep – so easily stored in a tall but slim kitchen cabinet or utility space. And, yes, there is a wall-mounted dock for neat storage and charging.
Battery
The Bissell® Multireach Active 21V has a decent, 21-volt Li-ion battery, which will run for up to 30 minutes before needing recharging – which typically takes 5 hours.
A warning to newbies to cordless vacuum cleaners: this one, like others, doesn't fade in power as the battery runs down; instead, it will simply stop when the battery is run down – note: there is no warning light.
The battery is recharged on the body of the vac – and there is no option to buy an extra so that you always have a fully charged battery ready to go. That does mean that you will want to ensure your battery is fully charged – or at least half-charged – if you are planning to whizz round the whole house.
Performance
It goes without saying that this vacuum can deal efficiently with both carpets and hard floors – and because it's a cordless, furniture and cars, too. But what about the extras?
There are two power settings – the lower setting is what will give you the run time of 30 minutes of battery life; the higher setting is what I prefer to use to match a full-size vac more comparably – but will cut battery life down to around 15 minutes. For me, this is the setting you need to use to match the performance of a plug-in vac. If it's quick spills you're looking to pick up, the lower setting is fine; if you want thoroughness, you'll need full power.
The low profile, swivel floor nozzle has a brush roll that is sold as 'tangle-free', with an 'Advanced Hair Management System'. What that translates to is a motorized brush roll that doesn't get stuck as the brush roll/comb separates and removes hair, sucking it up into the dust cup – this stops your cleaning rhythm being spoilt by constantly having to unclog the vacuum. That said, we still found that the vacuum had to be occasionally unclogged as the anti-hair wrap technology is not 100% effective.
There are LED lights on the floor nozzle, which are really bright. This is an added extra I really love – it makes vacuuming under furniture so much easier simply because you can see where to aim, and where you've been.
This vacuum converts easily to a handheld, with a touch of a button. There's a built in crevice tool, so there's no need for an attachment for those hard-to-reach spaces. A dusting brush is also provided.
Emptying
As you might hope, the Bissell is easy to empty and clean – the Easy Empty™ and Clean Slide Technology features a no-touch dirt chamber with a unique sliding mechanism which collects and then traps dust, debris, allergens and hair.
What didn't I like?
As I said at the top, we have tried various other cordless to handheld vacuum cleaners. What this vacuum lacks that the Shark Vertex Cordless Stick Vacuum in particular does have is the duster crevice tool features with a flippable brush which means you can reach beneath furniture without bending forwards.
This isn't a big thing, but it did cross my mind as I prostrated myself on the floor of the living room to reach under the sofa with the Bissell – the Shark simply folds in the middle to allow for the user to do nothing more than bend forward to reach beneath furniture.
However – and this is the major difference between them – the price of the Bissell is what makes up for this lack of feature. It is cheaper.
Lola Houlton is H&G's long-term intern. Currently student of Psychology at the University of Sussex, she began writing content for Real Homes around the subjects of children's and teenagers' bedroom, in particular covering the psychology of teens and their approach to tidiness. From there, Lola expanded her knowledge of a broad range of subjects and now writes about everything from organization through to house plants while continuing her studies.