Eufy HomeVac H30 Mate review: a mighty powerful small vacuum
Our large appliances editor put the Eufy HomeVac H30 Mate to the test. Here's how she got on...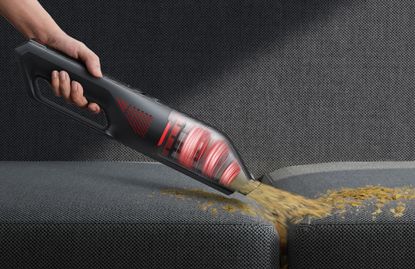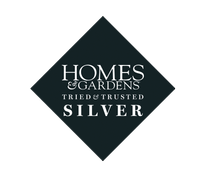 (Image credit: Eufy by Anker)
The Eufy HomeVac H30 Mate is a good-looking, easy-to-use and powerful small vacuum, but for something so compact it is rather loud and performance is effected as the bin tops up
Reasons to buy
+

Compact

+

Lightweight

+

Impressive suction

+

Useful attachments
Reasons to avoid
-

Loud for a small vacuum

-

Suction depletes when bin is almost full
You can trust Homes & Gardens. Our expert reviewers spend hours testing and comparing the latest products, helping you choose the best for you. Find out more about how we test.
Car owners and parents, listen up: the Eufy HomeVac H30 Mate is a handheld vacuum that you'll want to have close by at all times to help keep on top of lifes little messes. Since I'm both a car owner and a (new) parent, I was looking forward to getting my hands on one of these since I keep finding rice crispies everywhere. In fact, not only is there this cereal to constantly vacuum away but there's also small stones, mud, hair and dust and then some to contend with on an unfavourably daily basis.
Just as with the best handheld vacuum out there, the Eufy HomeVac H30 Mate has certainly been challenged. I've giving it a run for it's $179.99 / £169.99 price tag in my home for the past few weeks. Keep scrolling to find out how it got on.
---
What's in the box?
1. Main body
2. Charging base
3. 2-in-1 crevice tool
4. Multi-surface tool
5. Lithium-ion battery
6. AC adaptor
---
Product spec:
Speed settings: 2
Suction power: 80 AW / 16kPa
Run time: up to 20 minutes
Charge time: 3.5 hours
Dust cup: 250ml
Noise level: 78dB
Weight: 1.78lbs / 808g
Who will it suit?
Everyone and anyone who drives a car, has children and / or are pet owners. It's a useful bit of kit which will quickly vacuum up little spills and messes.
Delivery, unboxing and set up
Arriving within 24 hours of requesting to review the Eufy HomeVac H30 Mate (thanks to Amazon) I couldn't want to see what was inside the delivery box. What was unveiled was like a gift box. Honestly, it's a really smart-looking box so if you're looking to gift a beloved something useful then this could be just what you're looking for. As I unravelled what felt to be like layers – slipping off the top box, removing the carefully arranged segments and taking the components out of the protective plastic packaging – it very quickly became obvious that there way barely, if any, setting up required.
What I always do when testing the best vacuums is to give the vac in hand a full charge. There was some juice in the Eufy HomeVac H30 Mate but only two-out-of-the-three battery indicator lights were lit up so I thought to give it a fair shot, I would wait until all three of the lights were illuminated before taking it out on a test run.
As it was charging I read through the instruction manual (which never hurts) and secured the attachments onto the charging base so it was all kept together in one neat, safe place. I put the charging base itself on the floor next to a nearby socket but if you can, I'd advise putting it on a shelf or worktop of some sort so it's out of the way from friendly four-legged friends and inquisitive little hands.
Performance
This is a really good small vacuum to have around the household. Being cordless, I would go as far to say that it's one which would work really well in tandem with the best cordless vacuum you already have (if cordless is your thing). It'll equally suit if you prefer a corded, bagged or bagless vacuum cleaner. Why? Because it's small enough to get into tight, awkward spaces and powerful enough to suck up pretty much anything.
Using on the... floor
I used just the main body, no attachments, to vacuum up daily messes. It was no match against cereals accidentally and deliberately split on the floor. And vacuuming knocked-over indoor compost was equally no challenge for the Eufy HomeVac H30 Mate.
I found that it was able to tuck it round and underneath furniture which our main vacuum cleaner would struggle to reach, even if using it as a smaller handheld. There was a visible circle of where the debris used to be when I switched on the vac, too, so the suction kicked in with immediate effect upon switching it on. There are two modes to use but to clean the floor, I used the 'eco' mode which was more than suffice for what I needed to vacuum on a daily basis and I also was aware of the high decibels so opted to not wake up the sleeping baby or neighbours.
Furniture..
I just used the main body of the vac on our highchair, too, which is always littered with various food types. Again, this was no match for Eufy HomeVac H30 Mate.
To vacuum the sofa I slotted the mini motorized pet brush to the main body so I could banish some biscuit crumbs. It did the job, and also lifted some hair - we don't have pets so this was my hair, but I didn't realize it was even there. The brushbar on this attachment did get these few strands of hair wrapped around it so, if you have pets, you may find that you'll be de-tangling stray hairs more frequently than you would perhaps want to.
And inside the car
The 2-in-1 crevice tool was the most useful attachment out in the car but I did also just use the main body for vacuuming the car mats, for example. If you have pets then you may as well also take out the mini motorized pet brush for cleaning the boot of the car, too – it's light enough and will certainly give it its best shot at taming that pet hair. The vac managed to get into all the awkward and tight spots so, as a car vacuum, it was useful.
Anything else?
You don't need to hold down the power button to keep the vacuum running. And before embarking on any vacuuming task with this vac, I would advise ensuring that it is fully charged so you don't run out of battery half-way on a job, especially if you want to use the 'Boost' mode because this will more than halve your standard 20 minute runtime.
Also keep an eye on how full the bin is getting. Even if it is half or three-quarters full, this will effect the suction so for the best results, I would advise emptying this after each cleaning task.
Design
The Eufy HomeVac H30 Mate is slim, lightweight and intuitive to use. It measures just 425 x 90 x 73mm / 16.7 x 3.5 x 2.9in and the main body weighs 808g / 1.78lbs. The attachments are equally lightweight so if you think you may need to chop-and-change between them both, they'll be easy enough for you to carry both with you.
The 250ml dust cup is small, yes, but this is to be expected with such a small vacuum and if you empty it after each use then it won't effect the performance or usage. The LED headlight is a notably useful feature which comes in handy when vacuuming around or underneath furniture
Cleaning and maintenance
There is very little cleaning and maintenance with this small vacuum cleaner. Aside from emptying it after each cleaning job, or as often as you can, Eufy by Anker advise that you clean the filter on a weekly basis – I did this just using running tap water, and it's surprising how grubby it gets.
To clean the filter you remove the bin as you would when going to empty it; unlock the silver-colour filter housing by turning anti-clockwise and pull out the filter using the handle. It's best to do this outside to avoid the debris from going back onto the floor. I didn't take a photo of this because it was so clogged up so it's good to keep on top of the regular cleans.
If you have pets and are frequently using the motorized pet brush then you'll want to remove any tangled pet hair. There's a little purple brush which is supplied with your vac which can help to free the hair a little, but you may find that you're reaching for the scissors to cut it away quicker.
It can be charged either in situ on the base, or off the base – there's port options on each. The base can also be mounted so it's out of harms reach, and won't cause any harm if bumped in to.
Homes & Gardens verdict: should you buy the Eufy HomeVac H30 Mate?
If you don't have much space and are in need of a compact, lightweight small vacuum cleaner then absolutely yes. It'll also be mega useful to have around if you have pets and / or children because it's easy to grab hold of and quickly tidy up any messes. The suction is really good although the noise is a little overwhelming and feels a little exaggerated.
The dust cup is small which will need emptying frequently, otherwise it'll effect performance. If you're wanting a larger capacity then there are other (still) small vacuum cleaners which may better fit your bill.
About this review – and our reviewer
Jennifer (Jen) Oksien is our large appliance editor who has reviewed too many home appliances and mattresses to count over the years. She was sent this product to review at home to find out how it performed on floors, furniture and in the car.
We are not given any compensation for our reviews, but we may be gifted the product meaning that we can test it over a greater length of time, and update our reviews if required. We also receive affiliate commission for some products brought through our site.
Sign up to the Homes & Gardens newsletter
Decor Ideas. Project Inspiration. Expert Advice. Delivered to your inbox.
Jennifer (Jen) is our resident Large Appliance Editor who looks after the content you see about appliances (big and small). She reviews whatever appliance she can easily fit through the front door, which is mainly vacuum cleaners; corded, cordless and robotic. As well as writing for Homes&Gardens, she has written for John Lewis & Partners, Ideal Home, Real Homes, Gardeningetc and Livingetc. When she is not bringing the best in-class products to your attention, Jennifer can be found going for walks in the Somerset countryside with her husband and daughter or enjoying some tea and cake with a magazine when she has a quiet moment.