We tried Instant's new Dual Basket air fryer – here's why we love this appliance
Our first-look review of the new Instant Vortex Plus Dual Basket Air Fryer, complete with how it makes fish and the crispiest fries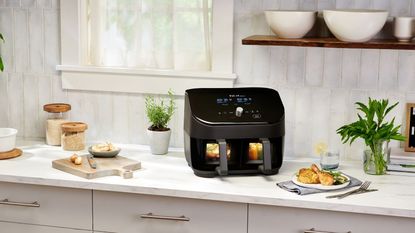 (Image credit: Instant)
If you've got the space, the new Instant Vortex Plus Dual Basket Air Fryer is the latest kitchen gadget you need to try. Watch your food as it air fries with transparent drawers, and sync your meal when cooking two elements at once.
Reasons to buy
+

Easy to use

+

Removable inserts

+

See-through drawers

+

Sync to cook

+

Match your finish time when cooking whole meals
Reasons to avoid
-

Very large

-

Quite noisy

-

Packaging could be more sustainable
You can trust Homes & Gardens. Our expert reviewers spend hours testing and comparing the latest products, helping you choose the best for you. Find out more about how we test.
The Instant Vortex Plus Dual Basket Air Fryer is the latest air fryer to hit the market, and we've been very excited to try it. With fun new features such as a ClearCook window to see your food as it cooks, we've got a feeling that this could jump straight into our guide to the best air fryers.
There are six cooking modes: air fry, roast, broil, bake, reheat, and dehydrate. These can be combined across the two drawers with the SyncCook and SyncFinish functions.
As Homes & Gardens' small appliances and cooking editor, I've been busy putting the Instant Vortex Plus Dual Basket to the test for the past week. I've tried dozens of air fryers from Instant, Ninja, Philips, and more top brands, so I know what to look for when picking the best of the best. My first-look verdict? It's a very capable air fryer with some of the speediest cooking I've seen.
Instant Vortex Plus Dual Basket Air Fryer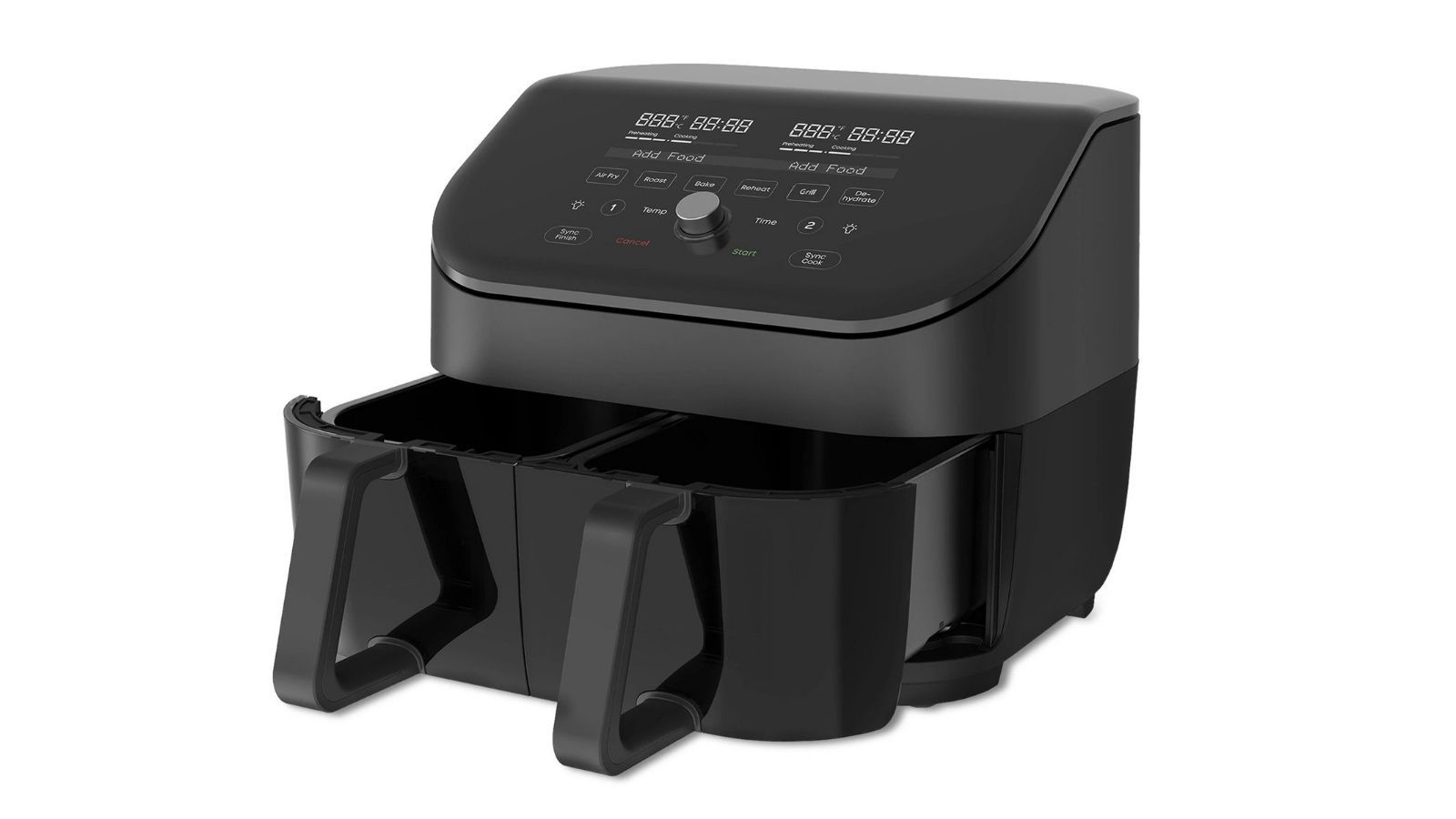 Capacity: 8 quart
Cooking modes: Air fry, roast, broil, bake, reheat, and dehydrate
Cooking functions: SyncFinish, SyncCook
Size: 17.8 x 17.5 x 14.8 inches
Weight: 19.65 pounds
Cleaning: Nonstick trays and basket, dishwasher-safe inserts
Temperature: 95-400° F (35-204° C)
First impressions
The Instant Vortex Plus Dual Basket Air Fryer comes in a large and hefty box. Once I removed it from the packaging it became a lot lighter, but this is still not the kind of air fryer you'd want to buy if you're short on space or would struggle to lift it in and out of storage. It's also pretty large, which is to be expected of an air fryer with two baskets.
I was disappointed by the single-use packaging the Instant Vortex Plus Dual Basket Air Fryer came in. I'm increasingly conscious of the waste that comes with buying new products, and the polystyrene the air fryer came in will likely go straight in the trash, which is a shame when brands like Dyson are finding new ways to make their packaging recyclable. From the brand behind the best Instant Pots, it would be great if they could innovate a new way to package their products more sustainably.
Overall though, the sleek, modern finish of the Instant Vortex Plus Dual Basket Air Fryer will be an attractive feature in any kitchen. You can choose from silver and black panels as well, so there's an option to pair the air fryer with your existing appliances.
Another modern feature I was impressed with was the ClearCook window. Simply press the light buttons above either drawer to illuminate the inside as it cooks, and then you can look into the air fryer and see how your food is coming along. The window is a little obscured by the handles, but it makes a nice change from having to open the drawers to check on your progress.
Cooking fries
No air fryer review is complete without making some homemade fries. I cut my potatoes into wedges, added some mixed herbs and seasoning, and tossed them in some olive oil before adding them to the air fryer basket. I then turned on the air fry mode, which came up with an automatic temperature.
I increased the automatic timer to 25 minutes (which is how long it takes most air fryers to make fries from scratch) and the air fryer started cooking immediately. It's quite noisy, and the panel shows the pre-heat as it warms up. After it's warm, the cooking process will start and the timer will begin.
I prefer air fryers with removable inserts. They allow you to cook at the bottom of the air fryer without any slats to elevate your food, which is great for baking dishes or cooking more sauce-based foods.
The inserts in the Instant Vortex Plus Dual Basket Air Fryer are non-stick, as are the inside of the drawers, and it lifts out with no trouble thanks to the hook that makes it easy to pull.
I checked on my fries after the first 10 minutes and I was impressed to see that my fries were already crisping. I needed to give them a shake because the fries at the bottom of the drawer were not cooking as fast as the ones on top, but after I did this I had no issues with uneven cooking.
The light and ClearCook panel makes it easy to check on your food periodically as it cooks, but I did have to bend slightly to see inside. The windows do not cover the entire drawers, but they offer a decent space to peek.
At the end I had very crisp fries, and next time I make them from scratch I may even cook them for less than 25 minutes. This is one of the fastest air fryers I've ever tried.
Cooking fish
The perk of the dual drawer design is that I could cook two elements of a meal at once. I opted for some frozen breaded fish, and set the second drawer to finish at the same time as my fries with the SyncFinish mode.
I was able to fit two large fish fillets into the drawer, but it was a bit of a squeeze. The drawers are quite narrow and deep, which is well suited to one or two servings of a dish but would struggle with a family portion. The good news is, I could've cooked two fish in each drawer for a family of four, and the SyncCook mode would made sure they were cooked evenly.
In a regular oven I'd cook fish from frozen for around 25 minutes, but in the Instant Vortex Plus Dual Basket Air Fryer I needed only 18 minutes. My fish came out crisp and cooked through, but the bottom was less crisp, so I'd have been best off turning the fish halfway through.
Instant has included a new reminder sound with the DualBasket. I loved the Instant Vortex Plus, but the alarm noise was a little jarring. The new one is a lot more lively and less of a beeping sound.
Ninja Dual Zone vs Instant Dual Basket
The Ninja Foodi Dual Zone air fryer came out over a year ago, popularizing simultaneous air frying in one machine. I really enjoyed the Dual Zone when I tried it, but I found the sync and match finish modes quite confusing to get the hang of.
Because the control panel of the Instant Vortex Plus Dual Basket Air Fryer is digital, it only comes up with relevant buttons or settings as you're getting started. This makes it easier to select SyncFinish (which will cook across both baskets with different timings and temperatures, but with the same finishing time) and SyncCook (which will apply the settings you've selected for one basket to the other basket) without getting confused.
Both air fryers look great, but I do prefer the look of the Ninja. The smaller control panel is less prone to smudges, although it does make the controls a little more fiddly.
It's hard to pick a clear winner on cooking. Both are great, but the Instant Dual Drawer does have the ClearCook doors that make it easy to peek inside. The inserts are also marginally easier to remove.
Should you buy the Instant Vortex Plus Dual Basket Air Fryer?
While it's a little bulky for smaller kitchens, the Instant Vortex Plus Dual Basket Air Fryer is more than worth the investment if you're hoping for a new air fryer to speed up your evening meals. The controls are easier to get the hang of than alternatives from Ninja, and it's one of the fastest machines I've ever used when making homemade fries. If you're in the market for a new dual cooker air fryer to cook meals for couples or large portions for families, this five-star option gets my vote.
About this review, and the reviewer
Millie Fender is the small appliance and cooking editor at Homes & Gardens. She has reviewed dozens of air fryers and some of the best toaster ovens from her own home, and that includes the Instant Vortex Plus Dual Basket Air Fryer.
Millie lives in South London in a sunny top-floor flat. She only has a small kitchen to work with, so if she likes an appliance enough to hang onto it, you know it's worth the hype.
Sign up to the Homes & Gardens newsletter
Decor Ideas. Project Inspiration. Expert Advice. Delivered to your inbox.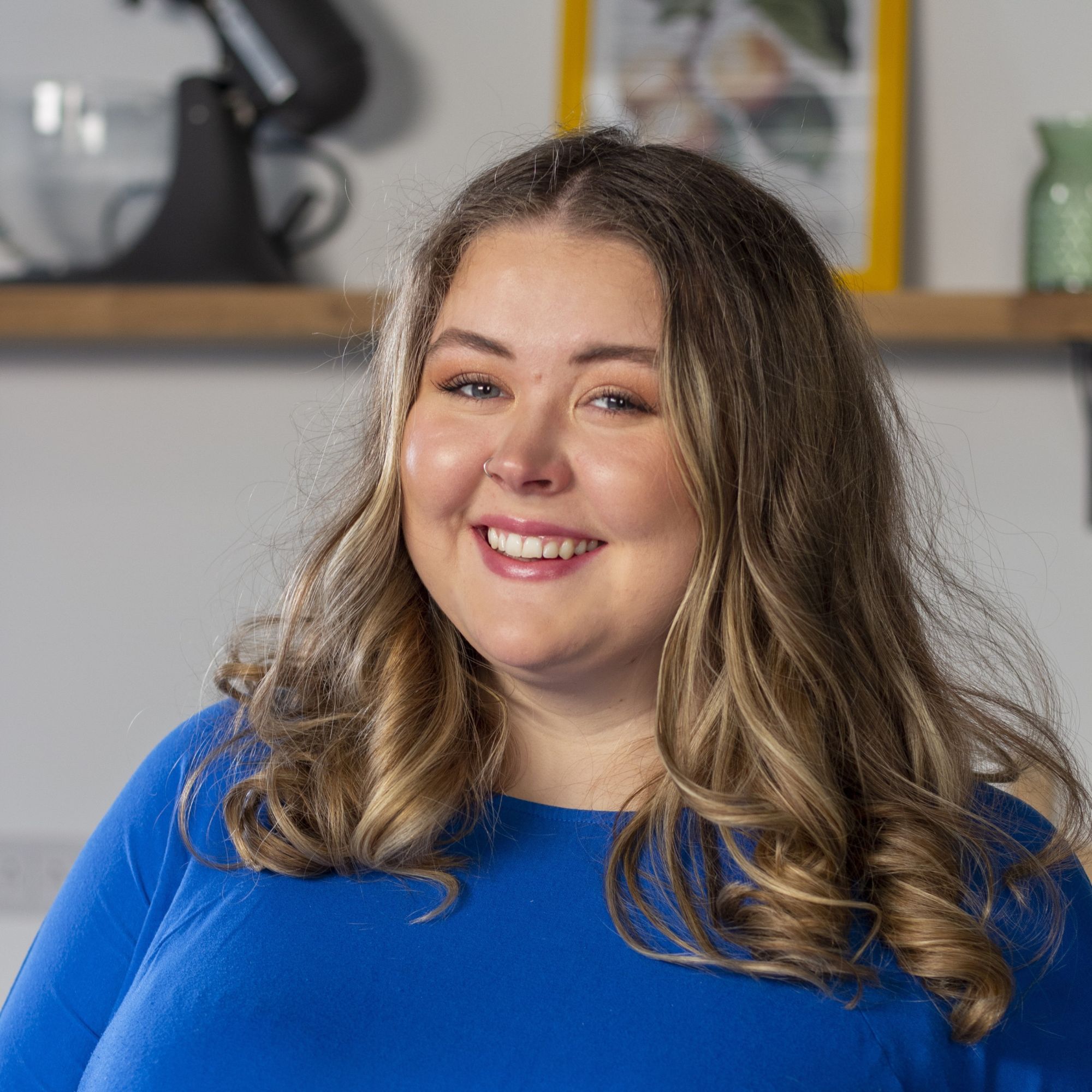 Millie Fender is Head of Reviews on the Homes and Gardens Ecommerce team. She specializes in cooking appliances, such as the best kettles, and also reviews outdoor grills and pizza ovens. Millie loves to bake, so she will take any excuse to review stand mixers and other baking essentials. When she's not putting products through their paces in our dedicated testing kitchen, Millie's reviews are conducted at home, meaning she uses these products in her own day-to-day life.