Black Friday came early – there's hundreds of dollars off at Wayfair
Wayfair customers can snag serious savings on everything from KitchenAid cookware to LG appliances. Better act fast – these deals are here today and gone tomorrow.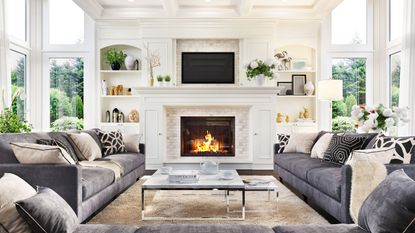 (Image credit: Getty Images)
Way Day is finally here. From October 25-26, Wayfair customers can save big money on a whole host of home goods. You can find top-quality kitchenware, furniture, and large appliances for a fraction of the price.
There are deep discounts on a wide range of goods, from the best KitchenAid stand mixers to the Kelly Clarkson Home collection. Wayfair has also cut prices on Joss & Main, Birch Lane, and All Modern pieces, as well as items from their own Wayfair Basics range. There are even discounts on Christmas decor to help you get ready for the holidays.
With tens of thousands of deals to sift through, it can be difficult to know where to start. That's why I've done the searching for you. I'm a shopping writer, and I've spent hours scouring the Wayfair website to bring you the very best deals.
These are my favorite finds for every room in your house. I've found the best deals on bedroom, bathroom, and living room furniture, as well as kitchenware, large appliances, and vegan leather goods.
Living room deals
There are thousands of living room furniture pieces for sale this Way Day, and most of them are seating. You can choose between cozy couches and Chesterfield sofas, or shop for sofa sections to make your own seating arrangements. There are accent chairs and armchairs, as well as loveseats made for two. You can also browse smaller, well-curated collections of cabinets, chests, bookcases, console tables, and even fireplaces.
Large appliance deals
From Dyson fans to Frigidaire freezers, you can shop for big-name brands at lower prices on Way Day. There are thousands of large appliances on offer. If you don't have time to sift through them all, or you know exactly what you're looking for, then you can search by category. You'll find top-of-the-range fridges and freezers, as well as a wide range of what Wayfair calls 'Home Comforts', including air conditioners and space heaters.
Bedroom deals
Wayfair is one of the best places to buy bed frames. Whether you're shopping for a brand new bed with plenty of storage or an adjustable frame with lumbar support, you can bag it at a bargain price on Way Day. There are discounted mattresses and nightstands, too, as well as bedroom sets that offer the lot for half the price. You'll get the best deals on bigger items, though you can still save dozens of dollars on quilts and comforters.
Bathroom deals
Whether your bathroom is traditional, modern, or shaker-style, you'll find complementary fittings and fixtures at cut prices. The best bathroom vanities can cost upwards of $5000. They're selling for less than half-price on Way Day. You can save big money on bathroom accessories such as hampers, stools, and freestanding cabinets. Renovators and room flippers, take note: there are even discounts on moisture-resistant wallpaper.
Kitchen deals
The Way Day Kitchen Deals page has something for everyone. Home cooks will appreciate the wide selection of state-of-the-art appliances from brands like Cuisinart and KitchenAid. Designer cookware can be pricey, so it's good to bag a bargain where you can. You can shop for sixty-piece flatware sets to feed the whole family or curate your own collection. Anyone planning a whole room redesign should search through the subcategories for custom kitchen cabinets and fixtures.
Vegan Leather Goods Deals
None of that cheap plastic here: this is the good stuff. The best vegan leather has the look and feel of the real thing, without the economic or environmental concerns. This Way Day, you'll find deep discounts on a whole host of vegan leather goods, from sectional sofas to counter stools. Many of these pieces are set on wooden legs and decorated with deep button tufting, just like real leather goods.
Way Day FAQs
What is Way Day?
Way Day is one of the biggest online home sales events of the year. It's like the Wayfair version of Amazon Prime Day. If you know when and where to look, you can save hundreds of dollars on home furniture and décor.
There are thousands of pieces for sale, from couches to curtains to coffee makers, all at cut prices. You can save on Wayfair Basics, as well as big-name brands such as KitchenAid, Dyson, and LG.
When is Way Day?
Way Day is running from October 25-26, right between Prime Day and Black Friday. If you didn't find what you were looking for on Amazon, and you don't want to wait another month, you can make some serious savings on Wayfair.
Final thoughts
Wayfair isn't the only home store running seasonal sales events. There's still time to buy some last minute Anthropol