Body pillows - expert advice and everything you need to know
These unsung bedding accessories can be a game changer if you're pregnant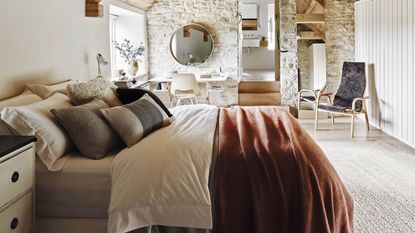 (Image credit: Future)
Sign up to the Homes & Gardens newsletter
Decor Ideas. Project Inspiration. Expert Advice. Delivered to your inbox.
Thank you for signing up to Homes & Gardens. You will receive a verification email shortly.
There was a problem. Please refresh the page and try again.
Wake up feeling like you've hardly rested? There's plenty of reasons you're struggling to get a refreshing snooze, such as late-night TV, hot temperatures or the wrong mattress. However, it could be down to the fact your bedding isn't helping you stay in a comfy position all night long.
While normal pillows are vital for a good night's sleep, they're only really useful for supporting the head and neck. Body pillows, however, support your whole body. These longer pillows are could be the game-changer your sleep so desperately needs.
Body pillows are useful if you're a side sleeper, as they give you something to hug as you sleep and support your legs and arms. They're especially handy if you're pregnant, as they give you somewhere soft and supportive to rest your bump. Sometimes the best mattress isn't enough, and a good body pillow is the only thing that can help you get a good night's rest.
If you're new to the world of body pillows or are unsure how one might benefit you, I've asked the experts to provide a rundown of whether it could help you snooze better. I'll take you through what exactly they are, the key perks to consider and who would do best to grab onto this easy bedroom upgrade.
What is a body pillow?
Think of a regular pillow, but much, much longer. 'A body pillow is a long, oversized pillow designed to provide support and comfort for the entire body during sleep,' explains Theresa Schnorbach, a sleep scientist who works with sleep company Emma. They're usually made from the same material as regular pillow.
Depending on your height, they can be the length of your entire body. 'Body pillows are typically longer than a standard pillow and can range in length from about 122cm to 137cm or more,' continues Schnorbach. 'They are often shaped like a large cylinder or can be rectangular.' If you're pregnant, you can also find horseshoe-shaped pillows that curl around your entire body. How you snuggle up to it is then entirely up to you, although many people choose to hug it with one leg over (think of a koala gripping a tree).
However, given that a body pillow will take up a little more space in your bed, it's worth thinking first about whether it will actually boost your sleep.
Theresa Schnorbach is a psychologist and sleep scientist specializing in Clinical Psychology and Cognitive Neuropsychology. She has completed post-graduate training in Cognitive Behavioural Therapy for Insomnia (CBT-I) with the German Sleep Society (Deutsche Gesellschaft für Schlafforschung und Schlafmedizin (DGSM)), endorsed by the European Research Society.
Provides extra comfort
'Using a body pillow is great for added support for your back, hips and spine,' explains Parima Ijaz, sleep expert and founder of bedding brand Pure Parima. 'This is especially the case for side sleepers, and helps ensure their body is aligned correctly.' Indeed, placing a body pillow between the knees and legs will help support the hips and alleviate potential strain on the lower back. This in turns provides a more comfortable night's sleep and reduces the likelihood of aches, pains and other discomfort the next day.
Parima created Pure Parima to bring back real luxury bedding based on their transparency and your valued trust. They hold themselves to the highest standard by sourcing certified raw materials and producing timeless designs to bring back quality bedding that's truly luxurious.
Supports new moms
Body pillows are often favored by those expecting a baby or who have recently welcomed one. 'They can help support pregnant women by offering relief to the abdomen, back and hips, helping to relieve pressure and discomfort during sleep,' explains Schnorbach. 'They can also be used for nursing support after childbirth.' This is especially important since the pre- and post-natal period can be hard for women to get enough sleep.
Helps ease symptoms
'Additionally, body pillows can help reduce joint and muscle pain by minimizing pressure points and offering targeted support, making them ideal for individuals with conditions such as arthritis or recovering from injuries,' reveals Schnorbach. They can be particularly helpful for those suffering back, spine or neck pain, by encouraging them to snooze in a better sleeping position.
Reduces nightly snoring
It is estimated that around 40 percent of adult men and 24 percent of adult women are frequent snorers. A body pillow is just one of the small easy changes to your bedding that can help. 'By elevating the upper body, they can assist in reducing snoring and symptoms of sleep apnea by opening the airways and improving breathing,' notes Schnorbach.
Body pillow recommendations
While we haven't yet tested body pillows as we have the best pillows, here's a few options from trusted brands and retailers.
Great value
This inexpensive body pillow is a smart choice if you want to try a body pillow but don't want to spend too much. The cover is hypoallergenic, and it's similar dimensions to a lumbar pillow, so you can easily make it part of your bedspread.
Premium performance
Tempur-Pedic Tempur-Body Pillow
If you know you want to invest in a top body pillow, this is perhaps your best bet. On test, we loved the Tempur-Adapt memory foam topper, and if this the same material, it will be incredibly comfortable.
Pregnancy pillow
Queen Rose Pregnancy Pillow
This U-shaped body pillow is designed for pregnancy. It has a cooling cover so that you don't overheat, and part of it is detachable, so you can adjust it exactly as you need. Available in 15 colors and three different sizes, it has tens of thousands of 5-star reviews.
What are the drawbacks of a body pillow?
Body pillows are useful to have, but they're pretty big, so incorporating them into the design of your bedspread can be tricky. If you share a bed with your partner, they can get in the way in the night.
This size also means they're difficult to store. If you're only using a body pillow during maternity, this is especially frustrating, as you're stuck with a pillow you don't need when you aren't pregnant.
Who will a body pillow suit best?
'Depending on your specific needs, you can use a body pillow in different ways to help better support your body and aid sleep,' says Schnorbach. As mentioned above, this can include side sleepers and snorers, as well as pregnant women and those suffering from back pain.
However, you don't need to be suffering from a particular sleep issue to harness the perks of a body pillow. Ijaz adds: 'Anyone can benefit from a body pillow as it can be contorted to fit your body the way you need it to and lessen any unwanted strain.'
Body pillow FAQs
Can body pillows be washed?
Yes, you can wash most body pillows. It varies by pillow, so you'll have to check the laundry symbols, but most body pillows can be cleaned in a washing machine just like regular pillows.
Are body pillows good for side sleepers?
Body pillows are great for side sleeps. In fact, they're best for side sleepers. If you sleep on your front, a body pillow may not be right for you.
---
Not sure whether to dive in just yet? Try out the concept by enlisting the help of lots of regular pillows. 'Body pillows are specifically designed to provide comprehensive support and comfort, but it's worth noting that you can achieve similar effects with a combination of regular pillows,' she points out Schnorbach. 'While a body pillow offers full-body support, you can use regular pillows strategically to provide support in specific areas.'
Sign up to the Homes & Gardens newsletter
Decor Ideas. Project Inspiration. Expert Advice. Delivered to your inbox.
Lauren Clark is a freelance writer and editor with more than eight years of digital and print journalism experience. She covers all aspects of lifestyle, specialising in health and wellness topics, and her work has previously been published in titles such as Women's Health, The Times, Daily Telegraph, Stylist, Woman & Home, Grazia and Dazed.