7 home organization secrets – these will change your life
Put an end to clutter once and for all with these home organizing secrets from those in the know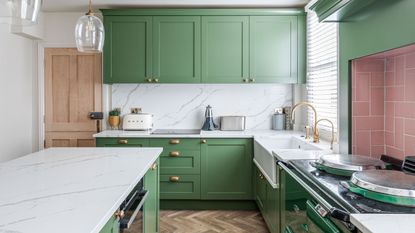 (Image credit: Armac Martin)
Sign up to the Homes & Gardens newsletter
Decor Ideas. Project Inspiration. Expert Advice. Delivered to your inbox.
Thank you for signing up to Homes & Gardens. You will receive a verification email shortly.
There was a problem. Please refresh the page and try again.
You don't need to be a professional to organize your home efficiently, but getting the inside track on some of their top home organization secrets can make the process a whole lot easier, perhaps even enjoyable, too.
If you're not familiar with home organizing ideas, the prospect of overhauling your home can be pretty overwhelming. The last thing you want is to make life more difficult for yourself, so we've quizzed the experts on the best (and simplest) ways to get the job done – no task is too big when you're in on these secrets!
Home organization secrets
'The goal of organizing your home is not to create perfectly staged Instagram-worthy rooms, although that's a nice byproduct! Organization is meant to simplify and streamline your life. If you have that in place, the rest takes care of itself. As for the secret, it all comes down to how you and your family work together. There's no one size fits all approach – it has to work for you,' says Bonnie Borromeo Tomlinson, author of Stop Pushing Perfection: & just create a home you can actually keep neat, available at Amazon.
Ultimately, it all comes down to a little bit of trial and error. Yes, clear surfaces are recommended when organizing a bedroom, but if you like to keep a lot on your nightstand, that's fine. Similarly with organizing kitchen countertops – cutting back might not work for you, but instilling a few extra kitchen storage ideas might, for example. Experiment a little!
1. Planning ahead is essential
Getting stuck straight in might feel like a productive method, but it usually has the opposite effect, leaving you feeling completely overwhelmed. Thinking about what you want to achieve – and how you're going to achieve it – means you can get yourself fully prepped ahead of time, and a written to-do list means you can tick things off as you go which is so satisfying. Start by considering the areas of your home you want to tackle and make a list in order of priority.
'Always think about items that might help with the decluttering and organizing process and make sure you've got everything in before you begin – there's nothing worse than having to stop mid-way because you've run out of bin bags!' says interiors expert Elaine Penhaul, director of home staging company, Lemon & Lime Interiors.
2. You don't have to do it all at once
Organizing an entire house is a massive undertaking for anyone. Trying to tackle it all at once will only result in overwhelm, and you'll likely give up before you've even started. The real secret to achieving an orderly home is to break things down.
'Pushing ourselves to declutter our entire house in one day is definitely not the best way forward. Breaking it down into smaller chunks, a room for example, will keep you motivated and avoid those feelings of failure from creeping in,' says August Gawen, founder of Minimalist Living.
If finding the time is a problem for you, try setting aside a chunk of time each day, say 20-30 minutes dedicated to the task at hand. It may not be the best approach if you're looking to declutter fast, but you're far more likely to actually finish the job, which is arguably the better goal!
3. Decluttering before organizing is a must
While decluttering and organizing go hand in hand, it's important to acknowledge they're not the same thing. Decluttering before you start organizing is essential if you want to ensure a sensible, streamlined system at the end. After all, organized clutter is still clutter.
While we're on the subject, Bonnie Tomlinson shares another secret to help you maintain a clutter-free home going forwards.
'I stand by 'ABD'… that is, Always Be Downsizing. Look at things with a critical eye and take items away that you don't really need, want, or are of no use to you. Put them into a box or bag, and when it's full, drop them at a donation location. Follow this practice at least monthly.
If you're going shopping, say for clothes, purge your closet first and then limit your shopping to the same number of items you donated,' she adds.
4. Always begin with the easiest tasks
It's tempting to tackle your home's biggest organizational challenges first to get them out of the way, but according to the pros, starting with the easier tasks is a better bet – particularly if you're someone who finds it hard to declutter when you're feeling overwhelmed.
'The idea of completing small projects with boundaries is that you're setting yourself up for a win, which will motivate you to keep working on smaller chunks until eventually your entire space is organized!' says Lucy Milligan Wahl, owner of the boutique organizing company, LMW Edits.
5. Investing in storage should be the last thing you do, not the first
We're all guilty of falling for a pretty basket (or three) regardless of where we are in the organization process. Storage is always useful, right? Wrong.
'We often see people buying "stylish" storage solutions as a first step to getting organized, however, if you don't end up needing or using them, they simply become clutter. And costly clutter, at that. Make a plan first. Edit your belongings, decide how the space will be used, take measurements, and then start shopping for what you need', says professional organizer Shannon Krause, co-founder of Tidy Nest.
Shannon Krause is a Certified Professional Organizer who holds a specialist certificate in Brain-Based Conditions from the National Association of Productivity and Organizing Professionals (NAPO) and is a Certified Reiki Master which she incorporates into her work with clients. Tidy Nest has helped dozens of clients bring order into their lives and has won local awards recognizing their work.
6. Space-savvy organizers make all the difference
Whether you're organizing a small space or not, any expert will tell you; efficient organization means making the most of every inch. Integrating additional organizers into your storage is a great way of utilizing its potential, from baskets and bins, shelf risers and carousels, to over-the-door hanging racks – be sure to measure up first so you're not left with any dead space.
7. The simpler your organizational system, the better
'It's one thing to organize, but the secret to staying organized lies in creating simple, sustainable systems that are tailored to your lifestyle. It's not about perfection, but about making your daily life more efficient and comfortable,' says cleaning and organization expert Colin Matthiesen of PR Cleaners.
The bottom line, if it's too complicated, you're unlikely to stick to it, and clutter will soon start to build. Children even less so; something to bear in mind when organizing toys, or organizing a playroom.
FAQs
What is the secret to being organized?
The secret to being organized is to find a system that works for you. There are thousands of organizational tips out there with high success rates, but if they don't suit your lifestyle and routine, they're not for you. Everyone is different. Take what you like on board, and don't be afraid to ditch the rest.
Whatever systems you do decide upon, keep it simple. The fewer steps involved, the more likely you are to maintain organization going forwards, which is the whole point really, isn't it?!
How do you organize your home when you are overwhelmed?
There's no doubt about it, organizing your home can be extremely overwhelming, especially if it's not something you've tackled before. While going into it head first might seem sensible, biting off more than you can chew is only going to intensify feelings of overwhelm; you're far better off scaling back.
Work through your home room by room, taking on one job at a time. Oh, and start with the easiest ones. It may only be a sock drawer or a medicine cabinet, but ticking them off the list will motivate you, giving you the confidence you need to tackle the rest of your home – you've got this!
---
While these top tips might work for the pros, it's important to remember that there's really no 'right' way to organize your home. Hold onto the solutions that you like best, and feel free to drop the rest. Don't worry, we won't tell anyone – it can be our little secret!
Sign up to the Homes & Gardens newsletter
Decor Ideas. Project Inspiration. Expert Advice. Delivered to your inbox.
For 10 years, Tara King worked as a Content Editor in the magazine industry, before leaving to become freelance, covering interior design, wellbeing, craft and homemaking. As well as writing for Ideal Home, Style at Home, Country Homes & Interiors, Tara's keen eye for styling combined with a passion for creating a happy – and functional – family home has led to a series of organization and cleaning features for H&G.