What is a pastry blender? Why you need one in your kitchen
This handy tool could take you choux to the next level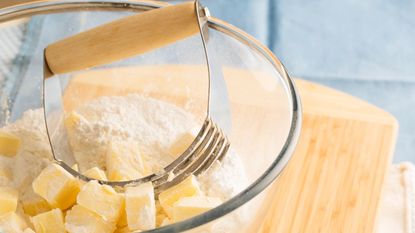 (Image credit: Getty Images)
Pastry blenders, also known as pastry cutters, are an essential if you're striving for pastry perfection. Any baker will know that you have to keep butter as cold as possible when cutting it into flour. The tricky dance between speed and thoroughness is not a task for your hands; it's why you need a pastry cutter.
If you've never seen one before, a pastry blender looks like collection of stainless steel U-shapes. There's a unique elegance to this industrious kitchen tool, because it will not only meticulously make perfectly textured pastry, but it can effortlessly mash potato and shred meats too. Most pastry blenders are manual, but there are attachments available for stand mixers and food processors too.
Whilst there are alternatives to a pastry blender, it's an implement that should be in any keen baker's toolkit. I've spoken to experts to find out more about the best pastry blenders on offer as well as how they should be used.
What is a pastry blender?
You'll have heard the terms pastry blender and pastry cutter used interchangeably, because they're the same tool. Pastry blenders cut cold butter into small pieces, whilst coating them in flour. Madhuram Prabhakar, founder of Eggless Cooking, says 'this U-shaped gadget is incredibly useful because a pastry blender allows fats such as lard and butter to be distributed evenly in flour without it being melted by the warmth of your hands'. This is what gives pastry its signature flaky texture.
Most pastry blenders are handheld, but some brands, including KitchenAid, use pastry beater accessories to save you the work. They're useful for a range of pastry bakes, including empanadas, choux pastry, and crusts for pumpkin pies. In short, if you're looking to make beautifully flaky pastry with rich, crumbly crusts, a pastry blender will be incredibly useful.
Food writer
Food writer
Madhuram Prabhakar
Madhuram is the founder of Eggless Cooking, a place where she writes about all things baking, especially following eggless recipes.
How do I use a pastry blender?
Pastry blenders are straight forward. Always start using cold butter; don't let it sit on the side, because it will warm up and your pastry will have a leathery texture. Cut your cold butter into inch cubes and then add them to the flour mix. If you have a pastry blender, push and churn the butter and flour until you are happy with your dough.
Most baking experts recommend using a rocking motion as you push and churn, maximizing the full length of the U. If you use a stand mixer, you don't need to lift a finger. Just be careful not to let the mixer overwork your dough.
The good news is that pastry blenders are useful for so much more than basic butter cutting. Plenty of people use theirs to mash potatoes, avocados, make applesauce, and shred meats.
Crafted from stainless steel, this pastry blender is an efficient and essential tool for all your mashing needs It's machine washable and comes from Martha Stewart's iconic collection. It's highly recommended online.
Farberware Pastry Blender
This is Walmart's most popular pastry blender. The soft grip is easy to hold, whilst the stainless steel blades will quickly and efficiently slide through even the coldest butter. It's dishwasher-safe, too.
Substitute appliances for pastry blenders
Whilst a pastry blender is the easiest, most straightforward utensil for crafting perfect pies, there are other options. If you're making pastry and you need a substitute right now, there are plenty of home utensils which will help you to make buttery, flaky pastry.
The most common substitute is a knife or fork. In fact, my grandma used to swear by using a fork to make pastry and I've never tasted a pie better than hers. If you choose to use a fork, you can mash the butter into the flour until you've created a pastry dough. This process is more time and energy consuming, plus you need to work quickly so that the butter doesn't warm too much, but it's better than using your hands. Similarly, if you have knives, cross them and draw them across the bowl in different directions. This method takes the name pastry cutter very literally.
When making puff pastry, lots of people recommend using a cheese grater tower like this one from Wayfair, so it's no surprise that this is a popular generic pastry blender substitute. Use the medium side of the cheese grater and then toss the butter shavings in flour. The cheese grater method is particularly brilliant, because you can use really cold butter, even frozen sticks, making rich flaky pastry. The is that you'll be handling the butter a lot, so it will warm up quickly.
Given the name, it's no surprise that people use food processors and blenders. We would recommend the Vitamix A3500 blender, which has a range of speeds. Having variable speeds, including pulse functions, are useful for making pastry, because they ensure that you don't overwork or overheat the dough.
FAQs
What does a pastry blender do?
Pastry blenders cut butter into small chunks whilst covering them in flour. Using a tool to cut butter, rather than your hands, ensures that your pastry dough stays cooler, meaning that when it bakes the butter will melt, leaving delicate, flaky, deliciously buttery pastry behind.
What can I use instead of a pastry blender?
There are plenty of ways to cut butter without a pastry blender. You can use knives, a fork, a cheese grater, and even a food processor. These methods need you to pay closer attention to the dough and do come with their own drawbacks, but they're good home hacks.
Is a pastry blender necessary?
Pastry blenders are incredibly useful if you want to make perfect pastry. Not only do they keep your hands clean, they also ensure that your butter stays cold and in small pieces, helping to create a delicious, flaky, buttery texture.
Final thoughts
If you're an avid baker, it's worth investing in a pastry blender. These are useful for a range of kitchen tasks, but, most importantly, they'll elevate your pastry textures beyond belief. These aren't expensive, nor do they take up much room in the cupboards, so it's easy to justify investing in one. However, if you're in a hurry and want to test out pastry blender techniques, you'll have a reasonable alternative in one of your kitchen cupboards.
Sign up to the Homes & Gardens newsletter
Decor Ideas. Project Inspiration. Expert Advice. Delivered to your inbox.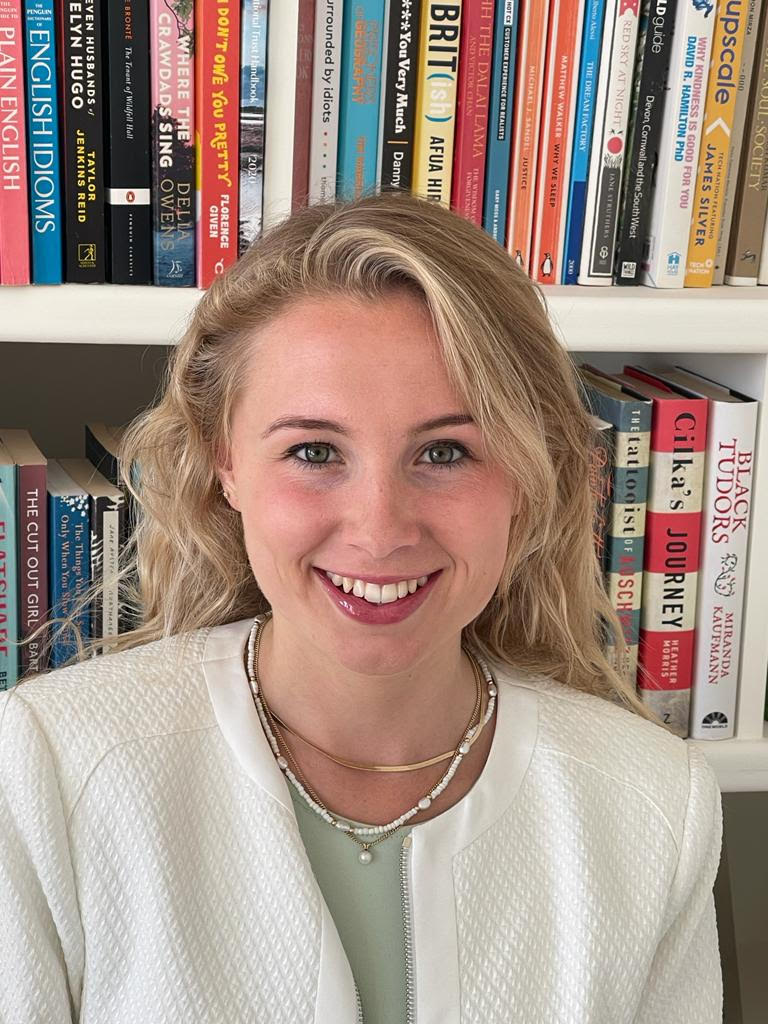 Laura is our eCommerce editor. As a fully qualified barista, she's our expert in all things coffee and has tested over thirty of the best coffee makers on the market. She has also interviewed Q-Graders and world-leading experts in the coffee industry, so has an intimate knowledge of all things coffee. Before joining Homes & Gardens, she studied English at Oxford University. Whilst studying, she trained as a master perfumer and worked in the luxury fragrance industry for five years. Her collection of home fragrance is extensive and she's met and interviewed five of the world's finest perfumers (also known as 'noses'). As a result of this expansive fragrance knowledge, she always puts quality and style over quantity and fads. Laura looks for products which have been designed simply and with thoughtful finishes.