How much does a garden designer cost?
An expert reveals how much you should expect to pay to give your garden a professional glam-over...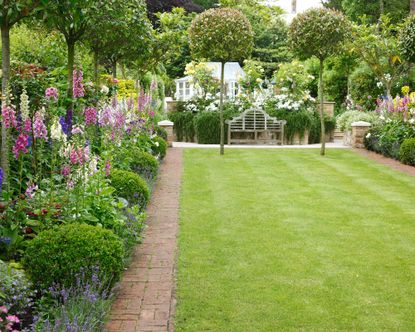 (Image credit: Annaick Guitteny Future)
A professional garden designer is your best option if you are starting over from scratch – but how much does a garden designer cost? It's vital to factor their fee into your garden design budget right from the beginning since it might dictate what you decide to include or exclude.
Garden design costs can be high – but you will be repaid with wonderful garden ideas incorporated into a scheme that is rarely achievable without professionals. Heather Barrigan, gardening expert at MyJobQuote, explains that garden design costs also 'involve planning garden layouts and managing landscape construction projects.'
Garden designer Ed Oddy explains why investing in professional services is a savvy decision. 'A garden designer can design all elements of a garden, from the conceptual side of new layouts, to the technical detailing of the hardscape and of course planting. They will be able to manage the tender process, monitor the contractors on site, order and set out plants, as well as give ongoing advice as the garden matures and develops. '
Below, we look at how much garden designers cost, so that you can ensure your budget is just right.
How much does a garden designer cost?
How much a garden designer costs can vary depending on your project and your budget – and there are different ways to agree a fee.
As a percentage of your garden budget
An average (1,000 sq ft) garden design costs between £5,000 and £10,000, or roughly $14/£10 per square foot. For small gardens, expect the garden designer's costs to be around 20% of your overall budget; medium-sized gardens will represent around 15% of your budget; garden designers will generally charge around 10% of the overall budget as their fee.
By the hour
'The average cost of hiring a garden designer is normally around $80 to $300 per hour (£60 to £200),' says Heather. This can include design work, drawings, planning, the survey (see more on this below), planting plans and even project management – or just a few of these options. 'Rates may vary depending on a specific project, as more straightforward garden designs are more affordable than large garden renovations,' says Heather.
Garden survey costs
Factor in the cost of a garden survey, too, which ranges from $350 for an average-sized garden and up to $1,000 for larger landscapes (£250 to £750). This fee is sometimes included in the overall cost of the garden design – effectively refunded when the garden designer is booked.
Extra costs
'The labor cost takes up around 20% of the cost, which involves surveys, planning, design and drawing work, and any construction management.'
Is garden design expensive?
Garden design can be expensive, but it needn't be – the cost of your garden design project will vary depending on your specifications and size of the job.
Heather explains: 'The cost of garden design can vary depending on numerous factors, such as the size and shape of the garden, along with the actual design and plants. The more complex the garden design is, the more you should expect to pay.'
It's worth remembering though that garden designer costs can be seen as savings, which they can work into your design in all sorts of clever ways. Plus, it's likely their fee will be minimal compared to the potential value they can add to your home.
How much does a garden survey cost?
'A garden survey is an essential part of garden design, as it helps designers understand the layout of the garden, including buildings, trees, water features, overground or underground facilities,' explains Heather.
'A garden survey will also cover any potential issues which may affect the final design. This should be completed by a professional surveyor and typically ranges from $350 for an average-sized garden and up to $1,000 for larger landscapes (£250-£750).'
Ed agrees a survey is essential, adding: 'They will accurately plot the boundaries, existing features and ground levels of the current garden to ensure the plans work on site, which is very important when the garden build is underway.'
What are the benefits of a garden designer?
A garden designer can expertly guide you through the whole process. They can use their specialist knowledge to add real value to the process and help avoid common problems.
Ed says: 'A garden designer will have an extensive 'black book' of specialist industry contacts, from reputable landscape contractors to plant nurseries and suppliers, that can be called upon to realize your plans.
'A designer can help you maximize the potential of your outdoor space, making it an extension of your home and a reflection of you as an individual. Commissioning a professional to guide you through the process is well worth it as you will be investing a sizeable amount of money and you will want to spend it wisely. In most cases you will only complete this kind of project once, so you will want to get it right first time.'
Sign up to the Homes & Gardens newsletter
Decor Ideas. Project Inspiration. Expert Advice. Delivered to your inbox.
Ruth Doherty is an experienced digital writer and editor specializing in interiors, travel and lifestyle. With 20 years of writing for national sites under her belt, she's worked for the likes of Livingetc.com, Standard, Ideal Home, Stylist and Marie Claire as well as Homes & Gardens.