How to plant a cottage garden border
Classic rustic style is back on the agenda for gardens – so we went to the experts for advice on how to plant a cottage garden border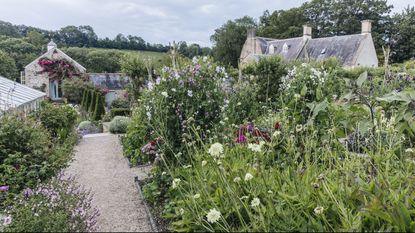 (Image credit: Design Libby Russel. Photo Evan Nemeth)
Cottage garden borders are easy to grow, beautiful to look at, useful and often edible – so it's no wonder that they're a popular look. Garden designer Tracy Foster MSGD claims that 'the resulting symphony of shape, texture, color and scent can bring bucolic charm to any plot, even one in the heart of a city.'
We agree – so read on to find out how to go about creating your perfect cottage garden border, no matter where you are or what size your space is. Our experts have covered plant choices, material considerations as well as other additions to achieve this coveted look.
See: Cottage garden ideas – pretty ways to embrace rustic style outdoors
Choose authentic Victorian plants
For a truly authentic cottage garden border, there will be a variety of different shapes and forms. Landscape and garden designer Ana Mari Bull MSGD recommends using the past as a guide.
'Where possible look at modern cultivar equivalents of the plants that would have grown in a Victorian cottage garden,' she says. 'Roses are the obvious choice but they must be scented.'
Tracy Foster adds height with hollyhocks, foxgloves and delphiniums. For other flower shapes, try the flat panicles of achillea, ball-shaped inflorescences of globe thistle or cheerful daisy flowers of leucanthemum or rudbeckia.
Ana says, 'The Victorians were also very fond of pelargoniums and would keep pots of brightly coloured flowers as well as those with scented leaves. Probably not to modern tastes, but they were also very fond of the brightly flowered begonias.'
Plant at the correct times of the year
Garden landscape designer Fi Boyle MSGD explains that there are two key times of year to plant. The first is the early autumn when the soil is still warm and not waterlogged. For Fi, the advantage of planting in the autumn is that the plants settle into warm earth and start to establish their roots before the winter months. This means that when spring comes they are ready to get going.
However, if you have missed the autumn window, you can also plant in spring. Bear in mind that you may need to keep a bit more of an eye on your plants at this time of year as in recent years we have had some very dry springs.
Think: right plant, right place
'Always think right plant, right place,' says garden designer Rosemary Coldstream. Your plants have the best start possible when in their ideal soil and sun conditions, so bear this in mind when selecting plants.
From there, Rosemary recommends deadheading regularly to prolong flowering. If your border is either heavy or very dry, mulch it with a good quality compost. When perennials get too big, lift and divide them to grow your plant collection and prevent overcrowding.
Plan your border for the size of your space
Ana Mari Bull told us, 'Cottage style planting can be achieved in both a small and large garden, though personally I think it works best on a smaller scale as it is visually a very "busy" garden, so if I were planning a cottage garden on a larger plot, I would be looking to break up the space by introducing structural elements or creating a garden within a garden or a outdoor room. I would divide a border by either introducing a hedge or a structure on which to attach climbers to create a visual barrier.'
See: Cottage patio ideas – create a pretty spot for relaxing and entertaining
Prepare the soil for optimum growth
Garden designer Tracy Foster suggests 'preparing the bed well before planting is a key to success. I recommend that you remove everything you can, weeds and plants alike and dig the border over adding in well composted organic matter as you go. You can then replant the things you would like to keep once the preparation is done.
'Once stocked with closely packed plants, the lack of bare soil will help to keep weeds at bay, but you may need to thin out overgrown clumps from time to time and remove any self sown seedlings that pop up in places where they aren't wanted.'
Choose plants for height
Libby Russel of Mazzullo + Russell Landscape Design has brought a quintessentially English look to this Somerset space with grand borders packed with herbaceous plants.
Ana Mari Bull shares her plant choices which will give you those tall spires depicted in so many of the romantic, Victorian painting of cottage gardens.
'X Alcalthaea suffrutescens 'Parkfrieden' and X Alcalthaea suffrutescens 'Parkallee' are a hollyhock and mallow cross which have better rust resistance than the traditional hollyhocks, they also flower for longer periods.'
For delphiniums she suggests 'delphinium Blue Lace, which gives a great show of color and if you cut the flower stalks down after the flowers have gone over, you may get another flush. The white delphinium Galahad can be treated in the same way and adds a lovely glow to the night garden. If you haven't got the space for delphiniums, then the more diminutive annual larkspur or consolida will give you a colorful, summer long display.'
Break up cottage garden borders with landscape design elements
For Tracy Foster, cottage garden borders suits an informal garden layout. 'Examples that spring to mind are brick edges to simple gravel paths, crazy paving with self seeded herbs and flowers growing in the cracks, herringbone brick paths, and simple stepping stones running through the planting.
See: Cottage decorating ideas – charming ways to get a characterful look
'The look also lends itself well to narrow paths and flowing curves which is great if you would like a change from the prevailing hard lines of recent design trends, and anything that looks hand crafted or home made will fit in well especially if it is made of local material in a regional style. Woven willow obelisks, cleft chestnut fencing, woven willow or hazel hurdles and dry stone or mellow brick walls are suitable choices.'
Sign up to the Homes & Gardens newsletter
Decor Ideas. Project Inspiration. Expert Advice. Delivered to your inbox.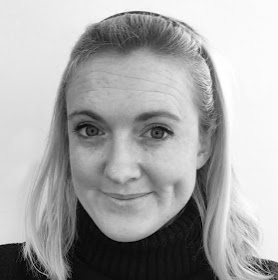 Teresa was part of a team that launched Easy Gardens magazine two years ago and edited it for some time. Teresa has been a Gardens Editor at Homes & Gardens, Country Homes & Interiors and Living Etc magazine since 2020 and has developed close working relationships with some of the top garden designers such as Charlotte Rowe, Butter Wakefield, and has been exposed to an array of rich garden content and expertise.