How to work with an interior designer – everything you need to know
Whether you're updating a single room or an entire house, here's how to find the right interior designer and get the most from your working relationship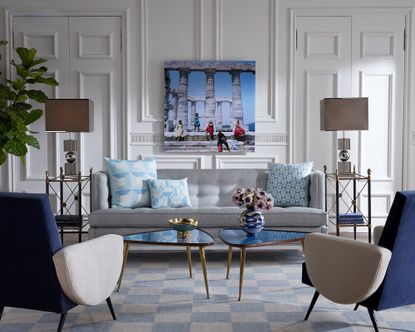 (Image credit: Jonathan Adler)
Working with an interior designer will help you to create rooms that are both beautiful and functional. They will assess your needs and budget, then create room designs that fulfill your brief but also encourage you to be bolder with your decor choices. Interior designers have years of experience and knowledge of a huge variety of products and brands – often available at discounted prices – that will save you both time and money. But it can feel daunting finding a designer who you trust with your home. What if they force a style on you? How much should you be paying? How do you say you don't like something without feeling rude?
We've pulled together this in-depth guide to show you how to work with an interior designer, from the different levels of service on offer to approximate costs, and how to get the most from your working relationship.
Don't forget to take a look at our ultimate interior design ideas and our favorite decorating ideas. All interior designers will want to see examples of rooms, furniture and designs you love, so start a mood board of pictures you love from Homes & Gardens on Pinterest and share it with them.
What are the benefits or working with an interior designer?
An interior designer will help turn your vision into reality by analyzing your requirements and then producing functional and creative solutions to meet them. 'They are there to help you realise your dream and ask all the right questions,' says celebrity interior designer, Kelly Hoppen. 'A good designer has this ability to get into someone's head; helping them to achieve the full potential of the space ensure it's functional, inclusive and, of course, stylish.'
As well as being skilled in pulling together decorative schemes, designers have access to an exhaustive list of suppliers and will often have trade accounts, meaning they can pass on cost savings to you. And while you could spend weeks ordering swatches and samples online or in stores, an interior designer will have fabric, paint and wallpaper sample books for you to look through, or will order relevant samples on your behalf.
But perhaps the most important skill an interior design has is giving an honest and impartial opinion. You can become blinkered in your own home, whereas a designer will look at it with a fresh set of eyes. 'A qualified interior designer will open your eyes to ideas and possibilities you might not have thought of, making the design process inspirational, educational and rewarding,' says Lester Bennett, President of the British Institute of Interior Design (BIID). 'They will provide invaluable and detailed knowledge of ergonomics, spatial planning, technology and the creative arts needed to execute any good design.'
What does an interior designer do?
The amount your interior designer does really depends on you and your budget. You may just want help with mood boards or product suggestions and be happy to source everything and oversee the decorating and styling process yourself.
At the other end of the scale, an interior designer can do everything from creation of CGIs to show you how the finished room will look, to lighting plans, sourcing of materials and furniture, and working with the builders and decorators. 'As a team, we are able to offer an array of services; be it small-scale furniture procurement, all the way through to a complete project starting from the ground up,' says Ottalie Stride, Creative Director of Albion Nord interior design and project management studio.
Essentially, interior designers can be anything from a personal shopper to a complete renovation project manager. If you're planning a major refurbishment, extension or renovation, then your interior designer will work with your architect and builder to ensure your shared vision becomes a reality. Many interior companies, such as kitchen and bathroom suppliers, have in-house interior designers you can use, but if you want your whole house to have a cohesive feel, then it's usually best to work with a freelance designer.
A quick word of warning – interior designs love design and have a passion for interiors. If you simply want validation for your own ideas, then it's not worth wasting your time or money on an interior designer. You'll get the most from your designer if you're open to new ideas and being gently coaxed outside your comfort zone.
How much does an interior designer cost?
Most interior designers will offer free initial consultations – either face to face or via video calls, depending on your location – to get a feel for you and your project. They will then provide a quote outlining the scope of their services, depending on exactly what you require. It means it's best to know exactly what services you want the designer to provide before you get in touch. Do you want them on site styling the finished space? Who will deal with decorators? Will you buy fixtures and furniture yourself?
The cost of design services themselves will vary hugely depending on whether you want a famous name with a proven track record or are happy to put your faith in somebody up-and-coming. As a basis, expect to pay at least 10% of the total budget for your project. So if you plan to spend $20,000 on your space, including building work, finishes, furniture and accessories, you'd expect to pay your interior designer $2,000. Bear in mind that big-name designers can charge far more than this, so be honest about your budget up front.
Some designers will also agree to a fixed fee or an hourly rate. Expect to pay at least $100 an hour. It's normal for an interior designer to request payment in stages throughout the project, this provides them with funds as they go along.
They may also charge you a percentage of the cost of any products they source, which is normally more than 15% of the trade or retail price, so work out whether the savings are worth it or you'd be better off sourcing the items yourself.
How does the interior design process work?
After your initial consultation, the interior design process will vary depending on how much involvement and advice you need. Here's the process the designers at Albion Nord use with clients working on a full house or total room makeover:
Appraisal & Brief – This gives the client an idea of our vision for the project. This usually involves layout ideas and reference imagery for sign off
Concept Design – This is a development of the appraisal and brief stage. Rooms are individually designed with fabric schemes, furniture pieces and reference imagery
Design Development – This consists of visuals of each of the spaces for our larger projects, firm schemes and final furniture selection ahead of procurement
Technical Design – The design team provides detailed drawings from which contractors can build
Construction – The build stage
How do I find the right interior designer?
There are more ways than ever to find interior designers thanks to internet searches and social media. Make sure you thoroughly research any designers you're thinking of working with before getting in touch as they all have a signature style. If you hate statement pieces and maximalism, then you probably won't love Jonathan Adler's statement designs, for instance. Also research the services on offer – it's no use asking a designer to source antique furniture for you if it's not a service they usually offer.
Recommendations are a great way to find interior designers, so ask friends or family, or pop a post on your own social media channels asking for names and contact details of trusted designers.
You can also look for professional institutes for interior designers, such as the Interior Design Society in the US, and The British Institute of Interior Design (BIID) in the UK. 'All of our interior designers have been assessed based on their education, experience, skills and professional competence, prior to being accepted for registration,'says Lester Bennett, BIID President. 'They are required to hold professional indemnity insurance, adhere to our Code of Conduct and to undertake a yearly program of Continuing Professional Development. They are also required to have a written contract with their clients to reflect the best interests of both parties.'
Many successful interior designers don't have professional qualifications, so always look at portfolios and ask to speak to previous customers before making your decision. 'I personally don't have formal qualifications in interior design and I have learnt on the job through sheer hard work and passion, says Kelly Hoppen. 'So in my view, the best way to qualify an interior designer is to carefully review their past work; does it fit with your aesthetic and have they been recognized in their industry via awards or special commendations? Equally, important are references from past clients for insights on how the designer was to work with in terms of time, costs as well as design.'
Our tips for working with an interior designer
Enjoy the process
Successful projects are the result of effective collaboration between you and your designer. 'The working relationship you establish with your designer is important – you want to enjoy the journey as well the destination,' says Lester Bennett, BIID President.
Agree a brief and budget
Agree a brief up front, so both you and the interior designer are clear on the budget, scope of work, expectations and outcomes. 'I always encourage clients to complete a very thorough briefing process and ask questions to make sure they understand the design process, timeline and challenges,' says Kelly Hoppen.
Be honest
Communication and honesty are absolutely essential. Designs evolve throughout the process and it's so important to ensure both client and designer are on the same page.
Be transparent
If you change your mind about something, then let your designer know as soon as possible. There's no point having sleepless nights over an element of the design you're not sure on. Your designer is a professional and shouldn't take changes to heart, just let them know quickly to avoid knock-on costs and setbacks.
Trust your interior designer
'I believe that it's incredibly important to trust the expert hired; they are there to do the heavy lifting for you and, if they're anything like me, they will be relentless about creating an incredible space that's perfect for users,' adds Kelly.
Sign up to the Homes & Gardens newsletter
Decor Ideas. Project Inspiration. Expert Advice. Delivered to your inbox.
Brand Development Director
En route to joining Homes & Gardens, Laura was a newspaper reporter, Editor of a regional magazine, and Editorial Manager for a travel company. She started at Real Homes in 2015 as Deputy Editor and then become Editor before taking on her current position, which focuses on video and events across all our brands, including Homes & Gardens.