Where to spend, where to save on a new bathroom
Discover where to spend and where to save on a new bathroom if you're planning a budget-sensible remodel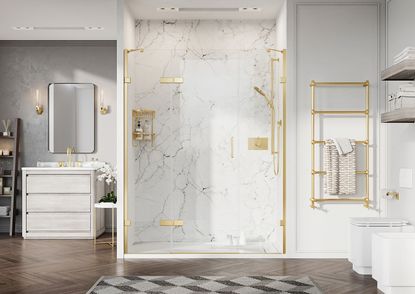 (Image credit: Roman Showers)
Sign up to the Homes & Gardens newsletter
Decor Ideas. Project Inspiration. Expert Advice. Delivered to your inbox.
Thank you for signing up to Homes & Gardens. You will receive a verification email shortly.
There was a problem. Please refresh the page and try again.
Knowing where to spend, where to save on a new bathroom is always a good idea, whether you're installing a new bathroom from scratch or revamping a tired suite in need of some TLC.
Let's face it, with so many breath-taking bathroom ideas to inspire, it's all too easy to get carried away. Even if you have a healthy budget to play with, it's always nice to make your precious pennies go as far as possible.
Follow our guide to discover when to splash out and when you can afford to be a little more frugal, without compromising your soon-to-be-beautiful new bathroom.
Where to spend, where to save on a new bathroom
Part of knowing how to design a bathroom like a pro is getting the budgeting just right. After all, learning where to spend, where to save on a new bathroom will mean that you can get the fittings and finishes you want at the right prices. Even the most budget-unconscious loves a saving, right? We asked the experts where to make savings – and where to spend on a new bathroom. This is what they told us.
1. Where to spend: brassware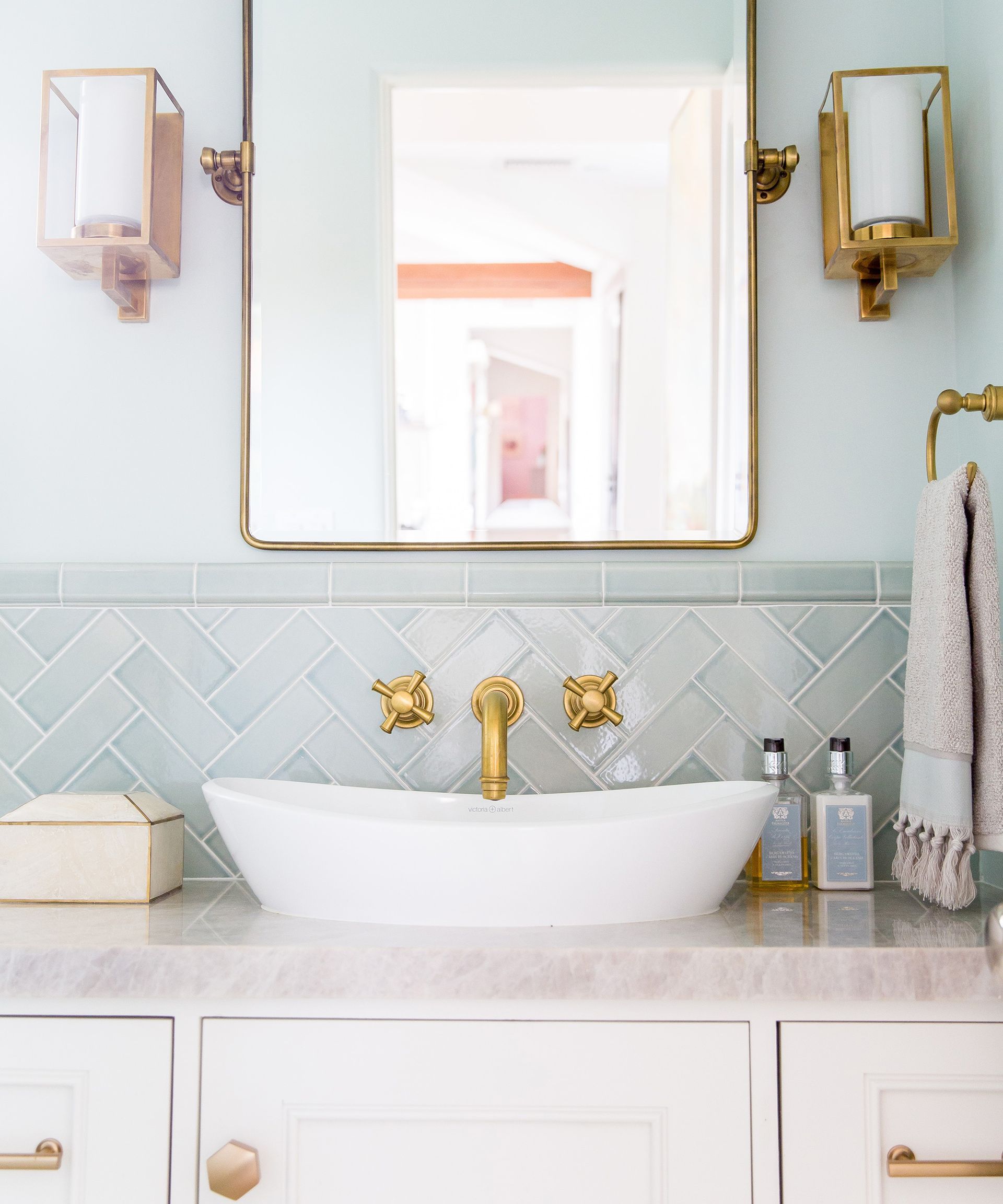 Why spend on brassware?
Taps and shower controls are the main touch points in your bathroom. If you skimp on quality, you'll feel it, literally, every time you use the bathroom.
'Low quality brassware can deteriorate remarkably quickly in the steamy atmosphere of a bathroom. Any flaws in the finish are quickly exposed, and the moving parts can seize up,' explains Emma Joyce, brand manager, Riobel at House of Rohl.
Long warranties are one of the best indications of quality. Really well-made brassware with quality internal components will be covered by warranties lasting five years or more.
How much to spend on brassware?
For a stylish monobloc basin mixer in chrome, be prepared to pay from $341/£250.
2. Where to spend: a decent bath
Why spend on a decent bath?
If you're a 'bath person' and relish long soaks, or are looking at master bathroom ideas for a luxurious remodel, the quality and comfort of your bath will have a huge impact on the experience. Cheap acrylic can flex and easily mark; well-reinforced 8mm Lucite is far superior. Better yet, go for composite stone or enamelled cast-iron, which are both reassuringly rigid and long lasting.
'The bath lies at the heart of luxury bathrooms. It can influence the entire style and design of the room,' adds Emma Joyce, brand manager, Victoria + Albert Baths/House of Rohl. 'We strongly encourage a "try before you buy" attitude – don't be afraid to get in and see how it feels. A bath needs to be comfortable and offer you a decent level of support. Look for ergonomic design details, such as a chamfered edge or slightly raised level, which support the legs and back so you can enjoy a luxurious soak.'
How much to spend on a decent bath?
For a quality freestanding acrylic bath expect to pay from $800/£600; well-made composite and cast-iron baths start from around $2,048/£1,500.
3. Where to spend: shower enclosure
Why spend on a shower enclosure?
If you are considering shower room ideas, focus on the quality of the shower enclosure. There are a lot of moving parts and potential for leaks in a shower enclosure. Cutting corners could result in costly repairs, not just in the bathroom but also in the room below, which doesn't bear thinking about. Glass thickness is a good indicator of overall quality–aim for at least 8mm.
'Spending more on your shower enclosure can save in the long run. To create a really luxurious showering space, consider high-end features such as soft close hinges, designer handles, PVD brass components, stylish bracing supports and low iron, self-cleaning glass,' adds David Osbourne, CEO of Roman Showers.
How much to spend on a shower enclosure?
Around $1,161/£850 will get you a good quality 80cm x 80cm 'frameless' enclosure with 8mm toughened glass.
4. Where to spend: layered lighting
Why spend on layered lighting?
Good bathroom lighting ideas make a real difference to what can be a small space. And while you can certainly get attractive and affordable bathroom light fittings, it's worth investing a little more on a layered lighting scheme on multiple circuits.
'A cleverly-lit bathroom turns a functional space into one you want to spend time and relax in,' says Sian Parsons, design associate at John Cullen Lighting. 'When the general lighting gets turned off, adding a secondary lower level of lighting will turn the ordinary into something special. This could include lights recessed into the wall at low level, floor washers that skim the floor finish with a soft light or add a warm linear glow of light under the vanity to create a gentle spa like effect.
'Also consider using floor recessed uplights to frame a bath or set into a window sill. For really smart, flexible schemes, the lighting can be programmed into various scenes via a control system, or simply install extra dimmer switches outside the door.'
How much to spend on layered lighting? As a ballpark, around $682/£500 for a two-layer dimmable scheme in an average size bathroom, installed.
5. Where to save: wireless technology
Why save on wireless technology?
If you are shopping modern bathroom ideas, you might be tempted by tech. Sure, there is some very pricey tech aimed at the bathroom, like waterproof TVs and shower-toilets with drying and odor-obliterating features. However, thanks to the magic of Wi-Fi and Bluetooth, there are also some bargain ways to bring a more luxurious dimension to your bathing experience.
'Installing and using products with integrated Bluetooth speakers in the bathroom – like showerheads and mirrors – is a great way to seamlessly incorporate audio in your space without the clutter of separate speakers,' agrees Jason Keller, Kohler Smart Home Lead.
Choose battery-based products to swerve installation costs and make retro-fitting tech simpler. Also check out Wi-Fi connected smart bulbs and LEDs for the bathroom (try Philips Hue), which allow you to control the color, levels, and set lighting schedules from your phone or device.
How much to spend on wireless technology?
A rechargeable Bluetooth shower speaker costs around $109/£80.
6. Where to save: heated towel rails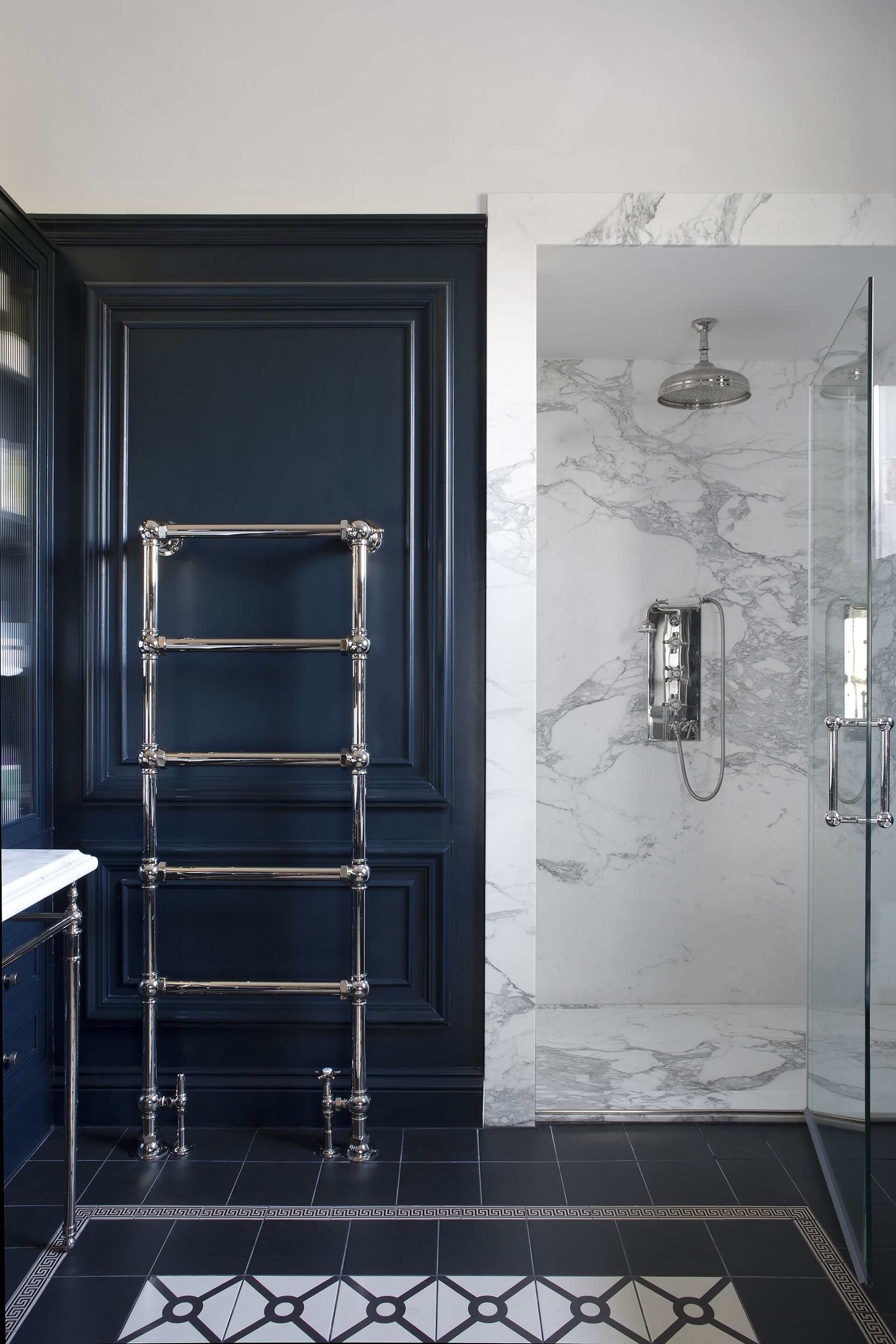 Why save on heated towel rails?
We wouldn't recommend scrimping on radiator valves, but you can pick up a smart-looking ladder style towel rail in quality steel for less than you think. The secret is to choose simple, uncomplicated designs as the labour costs will be lower in production than a fancy designer radiator.
Do check welded joints are sound before installation – any holes or weaknesses should be pretty obvious. Chrome is the most affordable towel rail finish, but you can find low-cost powder coated designs in white and black that come with a 10-year warranty for extra peace of mind.
'If you have already invested in photovoltaic panels, you can also save on the energy used to heat your bathroom by installing electric towel rails and underfloor heated mats,' says Leanne Robey, Senior Designer at Ripples.
How much to spend on heated towel rails?
Expect to pay around $68/£50 for a 40cm x 60cm flat ladder-style heated towel rail in chrome, with 10-year warranty.
7. Where to save: tile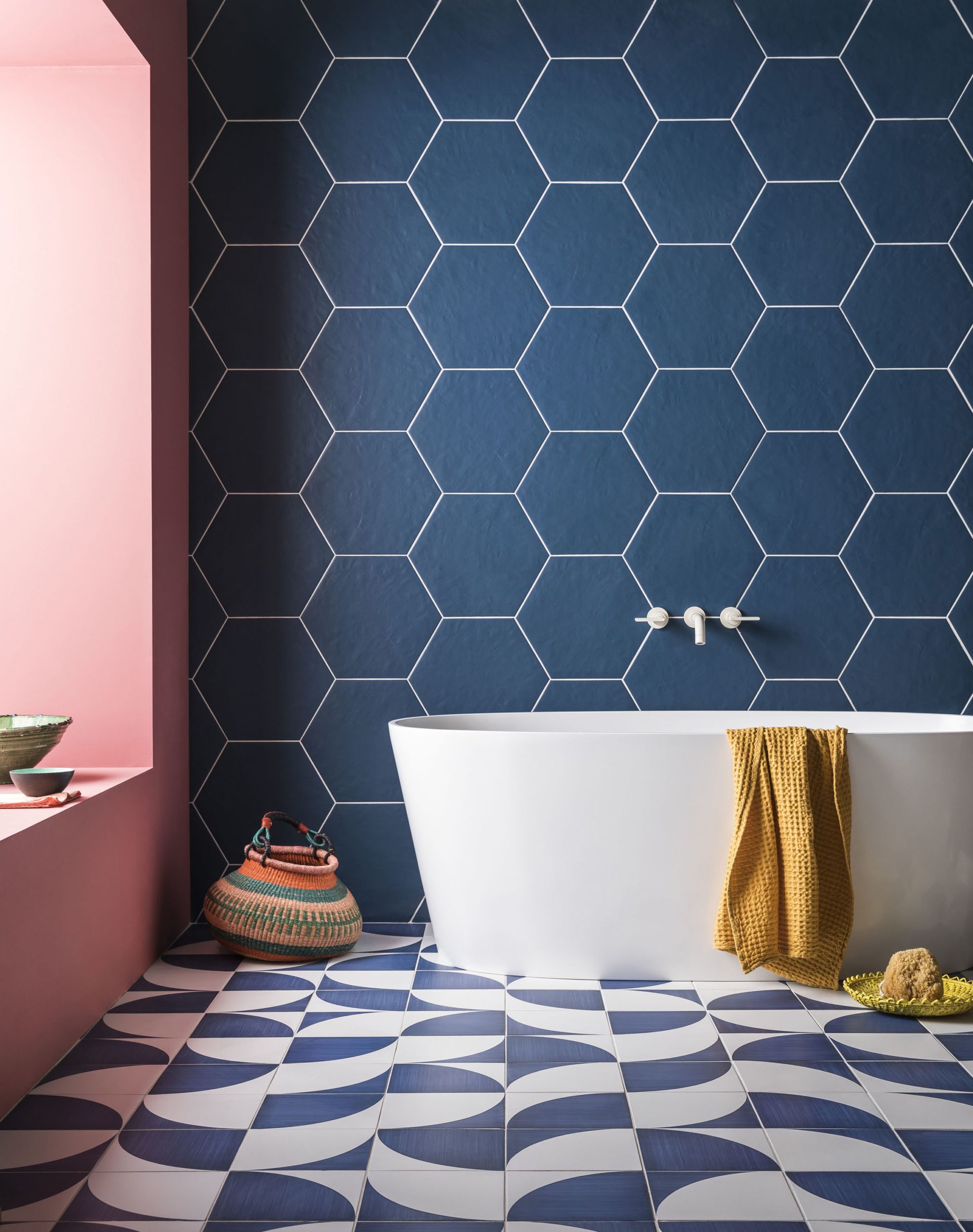 Why save on tile?
There are so many fabulous bathroom tile ideas available at affordable prices that there's really no need to go OTT on tiles.
'Start by considering the tile material. You might love the look of natural stone or encaustic, but porcelain comes in similar designs and is typically more affordable and easier to maintain, too,' says Grazzie Wilson, creative lead at Ca' Pietra.
'If you still have your heart set on expensive tiles, think about more frugal ways of using them instead. In the alcove of a shower recess, for example, or a limited amount behind a backsplash, which will add impact but won't break the bank. Also try mixing expensive tiles with more affordable options in similar sizes and tones to balance the budget.'
How much to spend on tiles
Marble-look porcelain tiles start from $34/£25sq m.
8. Where to save: decorative accessories
Why save on decorative accessories?
If you look at bathroom pictures for inspiration, you may find that the rooms you really love do use decorative accessories cleverly.
'A couple of carefully selected accessories can elevate your bathroom from a functional box to a personal retreat, and the great news is they needn't cost a fortune,' explains Gemma Tucker, founder of Balance Interior Design.
'Do invest in good quality towels and permanent fixtures like tissue holders, but make savings on decorative touches like storage baskets, ceramics and houseplants from high street brands.
'Don't be afraid to hang artwork – it is a great way to inject personality into a bathroom. I often source artwork from my favorite coffee table books, displayed in off-the-shelf picture frames. Finally, if you have some open shelves or a mantlepiece, decorate with pretty ceramics and a couple of candles.'
How much to spend on decorative accessories
Ikea's bathroom storage starts from $2.50/£2.
Sign up to the Homes & Gardens newsletter
Decor Ideas. Project Inspiration. Expert Advice. Delivered to your inbox.
Linda graduated from university with a First in Journalism, Film and Broadcasting. Her career began on a trade title for the kitchen and bathroom industry, and she has worked for Homes & Gardens, and sister-brands Livingetc, Country Homes & Interiors and Ideal Home, since 2006, covering interiors topics, though kitchens and bathrooms are her specialism.