The best living room organizers for a clutter-free zone
With the best living room organizers, you can add style and substance at the same time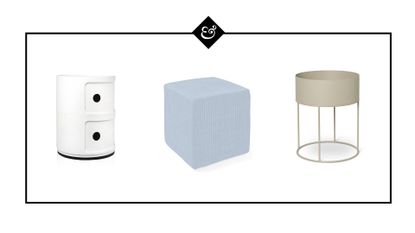 (Image credit: Future)
These living room organizers make one of the central room of your homes simply look more polished, and can add to the décor of your space with their stylish designs. From integrating space for throws, blankets or trinkets to ottomans that can double up for storage, these organizers will become your new favorite home piece.
Though your living room is likely to be one of the places where your vision for your home shines through the most, it can also be tricky to keep neat. If you love nights spent relaxing in your living room, you might be searching for a place to store your favorite magazine or remote control when you're finished with it. That's where the best living room organizers step in to make organizing a living room easy. Keep reading to find all of the high-quality, luxury look organizers you need for this space.
---
These are the best living room organizers for an elegant space
1.
2.
3.
4.
5.
6.
---
How to shop for living room organizers
In order to effectively help you tidy away your clutter, your perfect living room organizer will need to be well-suited to your particular needs. The first step of shopping for these products is to establish the mess you encounter the most, whether that's stray magazines, blankets, children's toys, or essentials like your keys and phone.
From there you can find an organizer tailor-made to your space. Pay close attention to the dimensions of any organizer that you like to make sure it's a good fit, as well as the material and color, to ensure that your crafted living room look isn't broken up by the addition of your organizer. If you have a particular use for a certain organizer, then you could even double up on your purchase and ensure tidiness in the rest of your home too.
Browse more living room organizers...
The best living room organizers are extremely varied, so if you haven't found what you're looking for just yet, then these are the retailers we would recommend:
Molly is the Ecommerce Writer for Homes & Gardens and spends her time searching the internet for the next best thing for your home, with a focus on shopping edits and buying guides. Before joining Homes & Gardens, Molly graduated from the University of Exeter with a degree in English Literature, with previous internships undertaken at The Economist in her summer breaks.