Jimmy Fallon's living room is brimming with 'quiet luxury' additions – can you spot the heroes?
The TV host uses clever tricks to make his living room so homey, it's hard to believe it's (probably) been carefully curated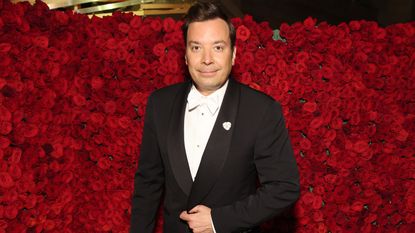 (Image credit: Getty Images / Cindy Ord/MG22 / Contributor)
Late-night talk show host is no stranger to having his home in the spotlight. Last year Jimmy Fallon's New York City house was listed on the market for $15 million.
Plus, the American comedian often uses his pet dogs to connect with fans via social media and uses his home as a stage. With this in mind, there is one particular and amusing clip starring Gary Frick, the Golden Retriever, that made us stop scrolling to watch.
In contrast to Mr. Fallon's previous penthouse bursting with bright colors, the comedian's current backdrop is somewhat subtler in pallet and a perfect example of a current favorite décor trend, namely 'quiet-luxury'.
'Understated and refined, quiet luxury is calming and subtle yet never boring; perfect for a living room design scheme. Forget beige and greige and choose a new neutral instead,' explains Helen Shaw, director of marketing, at Benjamin Moore.
To achieve the quiet luxury living room look think elegant and simple without being ostentatious.
'The living room is generally a place to relax and should bring a feeling of calm and tranquillity, and the quiet luxury aesthetic can be a great way to achieve this with its understated and timeless look. I'd suggest choosing a few key furniture pieces that will add character and personality to the room without overwhelming it,' says Sue Jones, co-founder and creative director at OKA.
The inviting living room we so love is part of the Fallon family's incredible 1800s Hampton farmhouse purchased in 2011. The neutral oversized social space masters quiet luxury with effortless sophistication.
So, how has Jimmy achieved this expensive yet lived-in look? Crafted layers of decor create an eclectic yet uncluttered aesthetic, an interior theme that provides common ground for quiet luxury living.
There are a few key characteristics to note that make the Fallon residence a 'quiet luxury' haven.
First, let us talk about original features. Traditional wood floors are polished to the max and flow seamlessly from room to room.
Double farmhouse windows are maintained in perfect original condition and flood the huge space with natural light.
The huge fireplace is suitably surrounded by a simple yet elegant white wooden mantel. If you are looking for traditional fireplace ideas, try Jimmy's mantle styling method which depicts just a few oceanic decorative accessories to inject subtle color and a gentle nod to the home's coastal location hidden in the Hamptons.
'Accessories dotted around the living room are important to ensure your space feels lived in, but when it comes to achieving the quiet luxury look, I'd recommend just a small, curated selection of decorative ornaments, vases, and cushion covers, rather than filling every surface and sofa,' continues Sue Jones from OKA.
A showstopper is the ornate doorframe that subtly divides the mansion's broken-plan living space. It's hard to tell whether the decorative addition is wooden fretwork or cast-iron lacework. Both were popular in the 1800s. The rare interlacing original feature is a priceless addition that, at first glance, may not even be noticed. Did you spot it?
Furniture is fittingly well-loved and so well-made there is a very good chance the investment pieces were a family air-loom or most definitely will be.
'If you're looking to invest in bigger pieces of furniture choose timeless and understated pieces that ooze high-quality fundamentals. The key is investing in classic pieces that are made from long-lasting materials and that will have timeless appeal and longevity,' says Lucy Mather, design expert at Arighi Bianchi.
Jimmy and Gary are perched on a huge area rug with faded patchwork detailing. This gives the living room a coating of muted texture that is both comfortable and relaxed. In the corner of the adjacent room, we also spot a stand-out vintage dresser rustically painted a soothing yet thought-provoking green.
'Quiet luxury is an authentic yet understated approach to interior design and will hold its appeal through time. And, contrary to popular belief, there are simple ways to embrace the trend without needing to completely overhaul your home. It's not about unbridled opulence and is far from ostentatious; the joy of quiet luxury is that it's the small details that make up the look as a whole,' says creative marketing manager, Catharina Björkman at Contura.
'Our homes are our havens – a place to escape the world – which is why opting for a timeless interior aesthetic like quiet luxury is so appealing.'
Sign up to the Homes & Gardens newsletter
Decor Ideas. Project Inspiration. Expert Advice. Delivered to your inbox.