The ideal area rug sizes for a living room – 5 expert rules to follow
Learn the rules so you can break them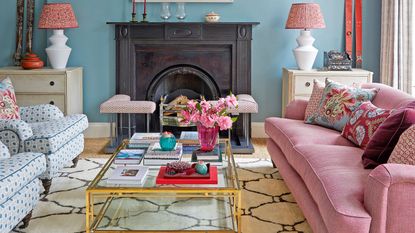 (Image credit: Future PLC)
There's a reason not a single episode of Fixer Upper doesn't involve Joanna Gaines rolling out a rug to finish off a space. Be it jute, Persian or Berber, an area rug always earns its place, ticking so many interior design boxes.
As well as offering pattern, texture, zones, and the rest, it makes any room feel more intentional, and therefore cozy and inviting. Choosing a rug and working out the right area rug sizes for a living room can be daunting, and given that it's probably not the only thing we're buying for our homes, we're easily swayed by price.
But choosing a too-small rug is a real pet peeve in the world of interiors. We turned to experts at a vintage rug company, an interior designer, and the professionals at Ruggable to help you select the right size for you so you can head to checkout with confidence.
Area rug sizes for living room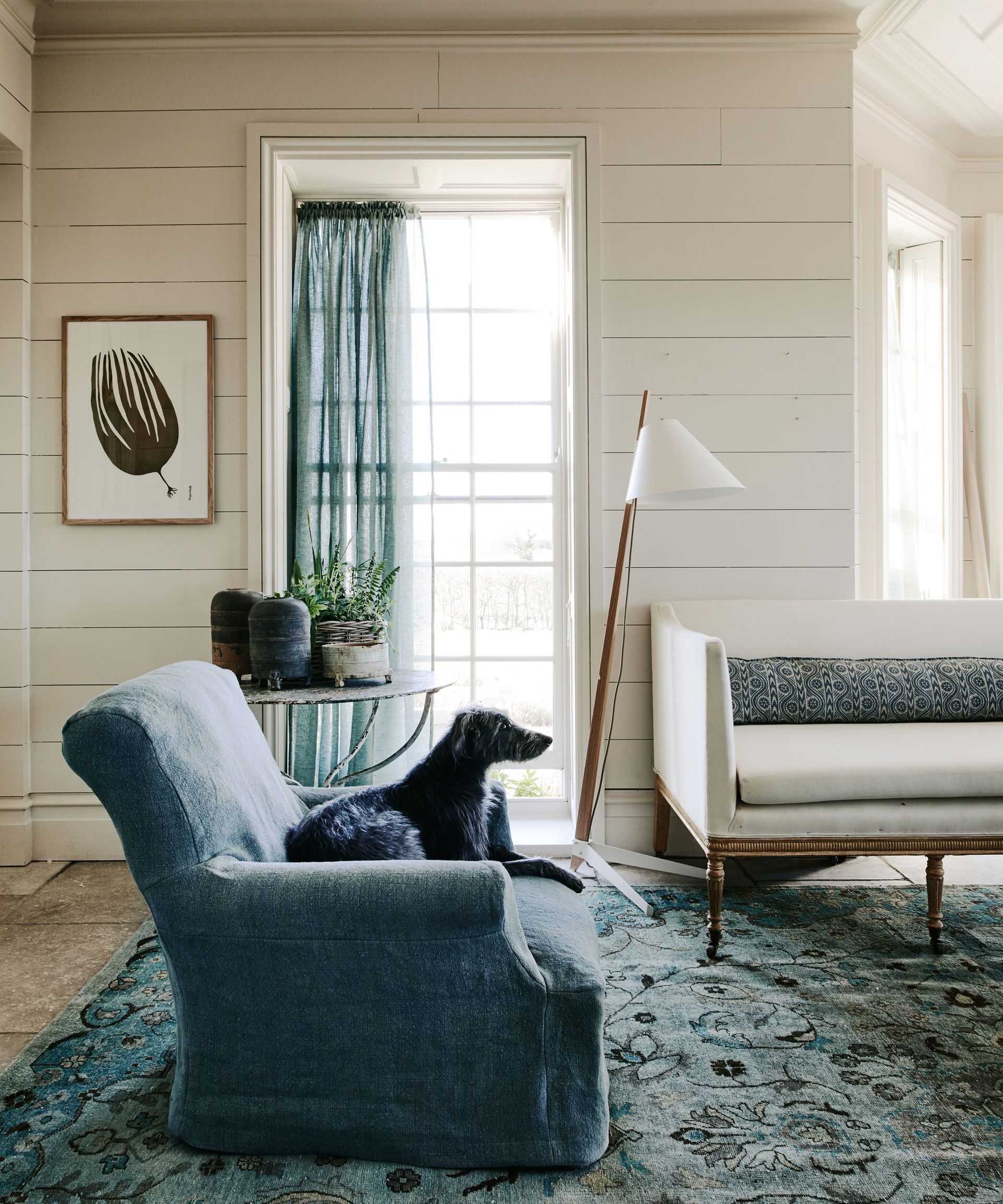 1. Leave a 12 to 18-inch border
First, we asked Claire Fitzpatrick, Chief of Staff at Ruggable, the washable rug company what she would recommend. She shared a few practical points to use as a guide when deciding on the best area rug sizes for a living room. 'The golden rule for living room rugs is to leave a 12 to 18-inch border between the rug and the walls,' she begins.
'8' x 10' rugs are best sellers for living rooms because they fit perfectly in your average-sized living room (typically around 11in x 13in).'
2. Follow the 70% rule
Lindsey Graziano is the owner of New England Loom, a curated vintage rugs company. She says the average size area rug for a living room is 9ft x 12ft, and the ideal area rug sizes for a living room totally depend on the size of the room.
'But the rug should cover at least 70% of your floor space, ideally leaving 1 to 2 feet on either side between the rug and the wall. Rug layering is a great option for when you want to use a smaller rug but also fill the floor space,' she adds. So a rug mistake can easily be rectified.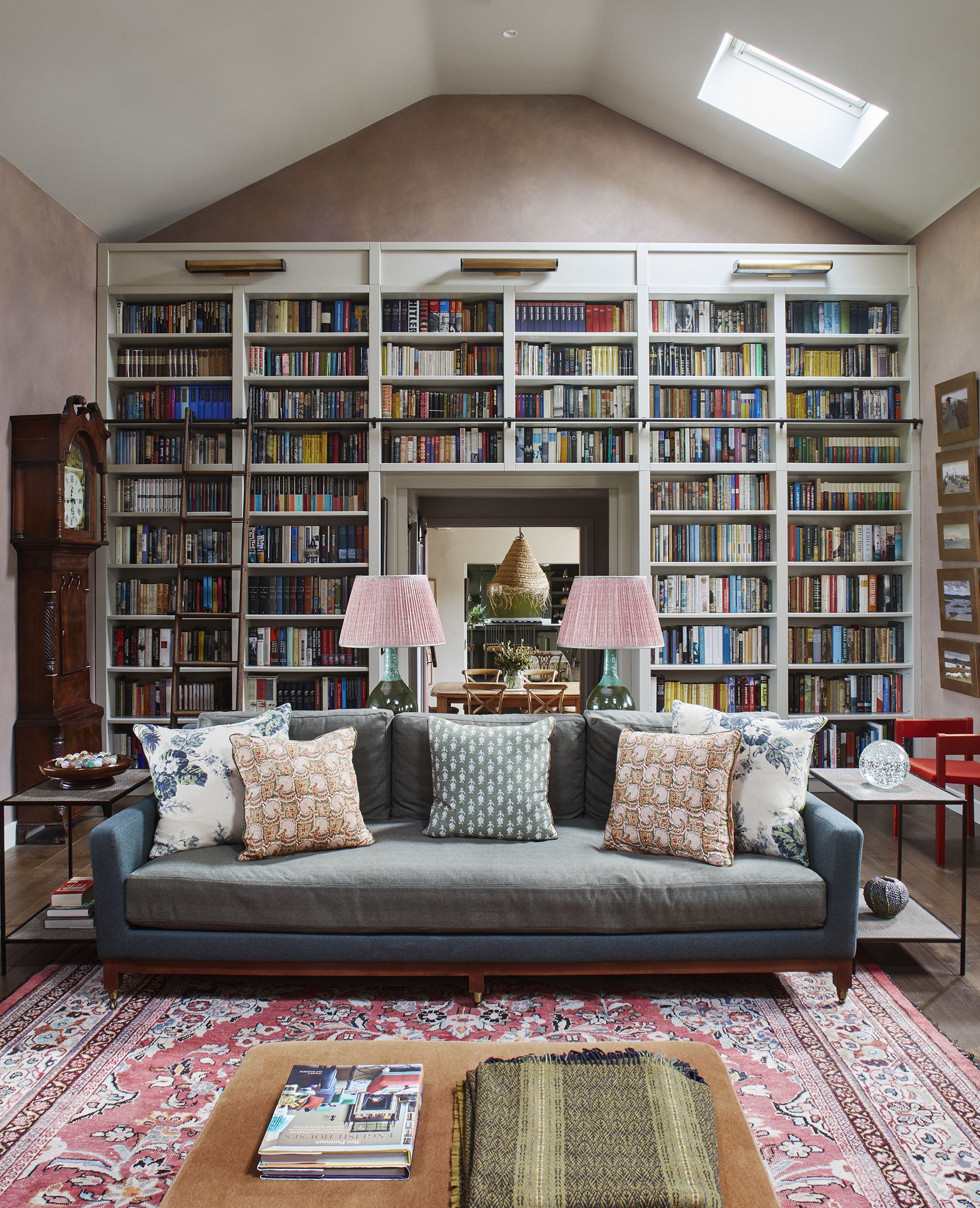 3. Measure the area under your coffee table in a small living room
For smaller spaces, it's okay to have the rug under the coffee table and nothing else, Claire says. For larger spaces, however, you'll want either two or four legs of your sofa and chairs on the rug. 'Keep it consistent across pieces!' she says.
4. Consider how you want the living room to feel
Nick Spain is the founder of Arthur's, a design studio working across interiors and gardens in NYC, Hudson Valley, and The Berkshires. He views area rug sizes as a powerful tool in creating a certain mood in a space, from friendly to formal. 'A large, oversized rug that goes almost wall-to-wall often gives the feeling of wanting to spread out and lounge,' Nick says, 'sort of like living inside a wide-armed hug.
'Whereas a smaller area rug that shows more of the floor lends itself to more clearly defined spaces and can give a room a much more formal feeling and a sense of purpose.'

Nick says that at Arthur's they do a lot of 8ft x 10ft rugs and 9ft x 12ft rugs, and sometimes layer smaller rugs on top to create more defined, programmatic space if a client wants it. 'But ultimately, the size of the rug is determined by the size of the room and the way you want to feel in the space,' he says.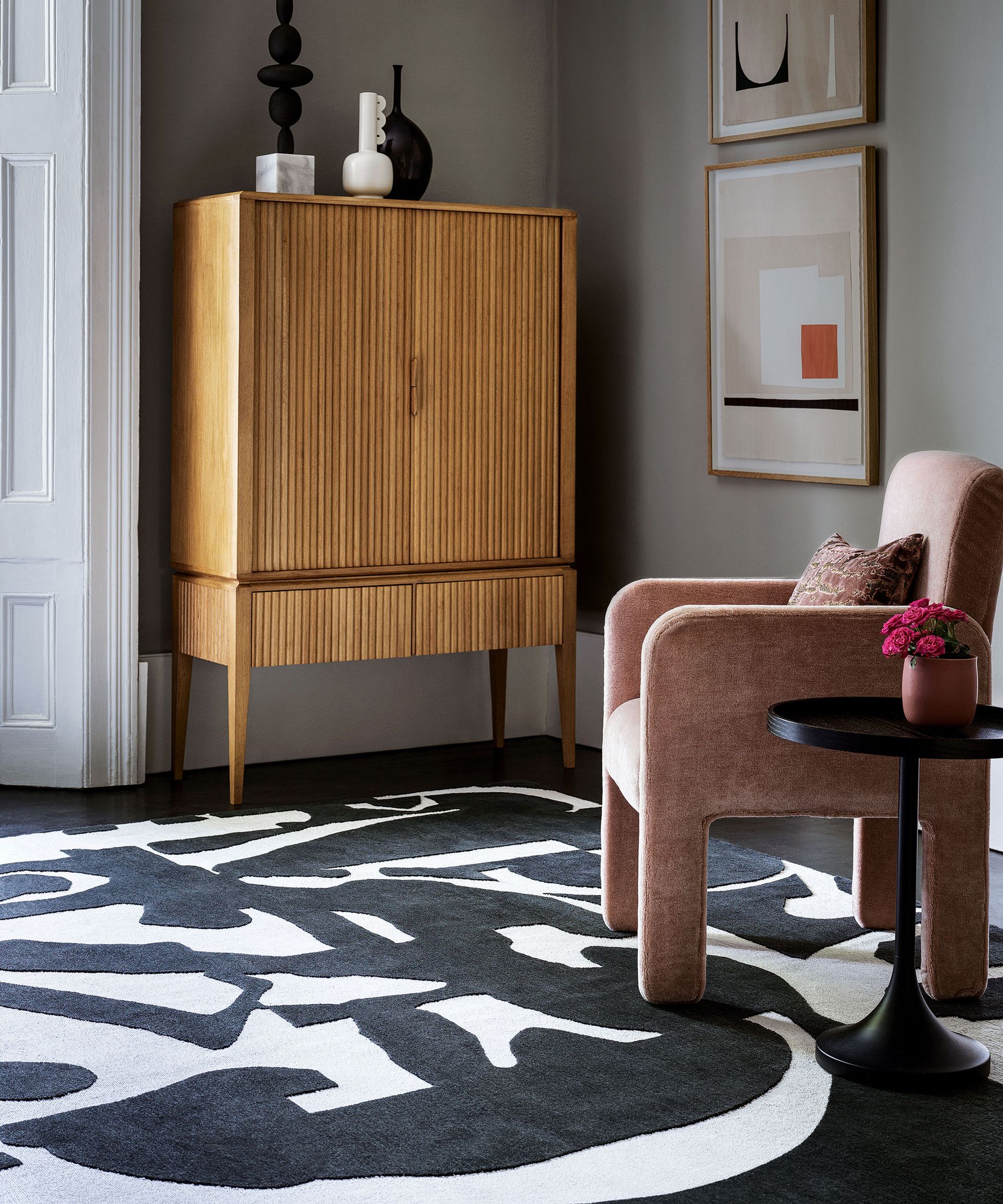 5. Size down in small living rooms
If you have a small living room, you'll want to size down on a rug, says Claire from Ruggable. Because, without that border between the rug and walls, the rug can make the room feel smaller than it actually is. 'In contrast, large living rooms or open floor plans look great with a larger rug (9ft x 12ft or bigger), as it helps define the living space from other spaces in the room,' she explains.
How far should a rug go under a couch?
'It totally depends on the placement of the couch in the living room,' says Lindsey Graziano. 'Ideally, it would go under at least the two front legs.'
Does a large rug make a room look bigger or smaller?
'One of the worst design mistakes you can make is to use too small of a rug, which will make the room look smaller!' says Lindsey. But buying the right-sized rug can make a small living room look bigger.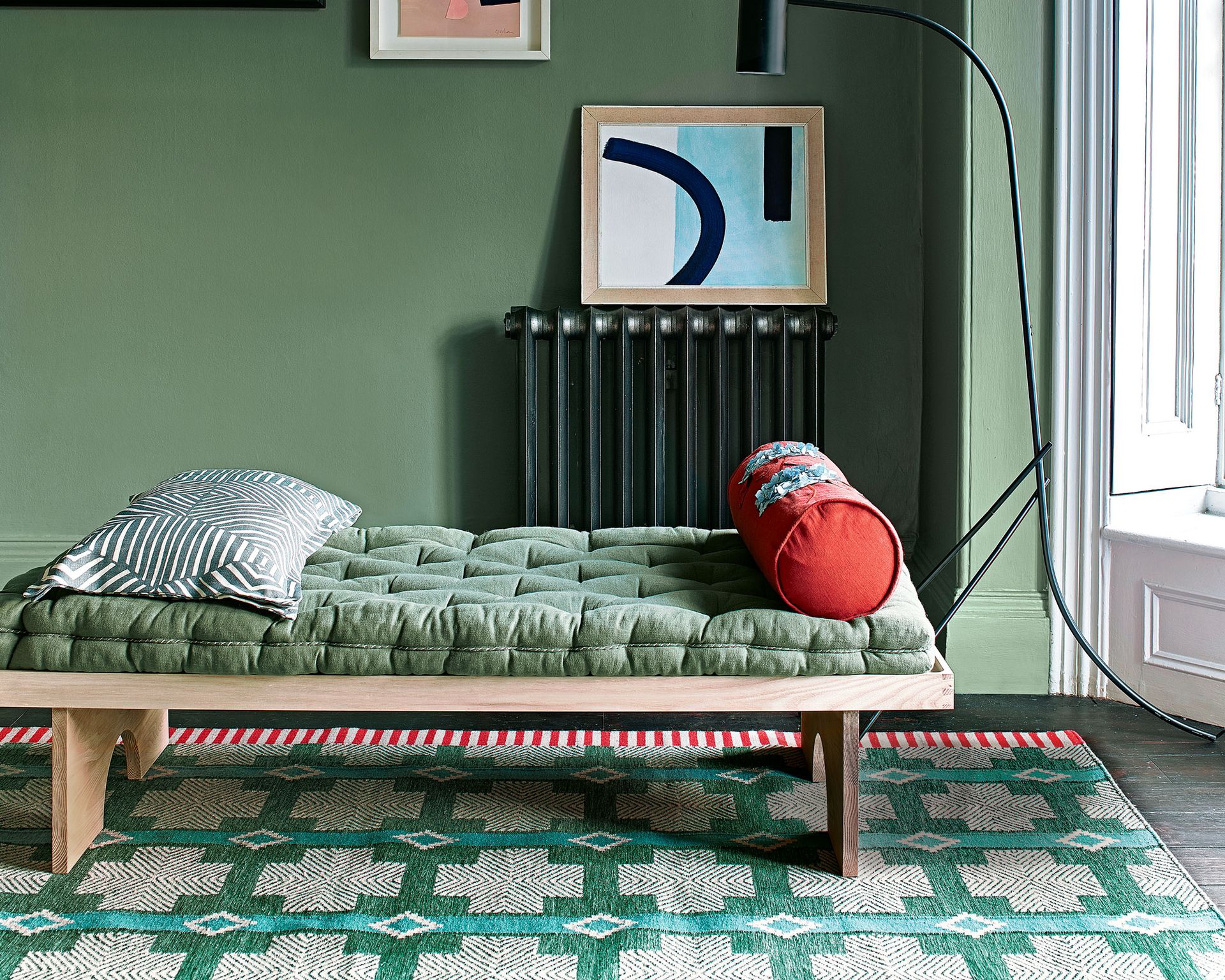 Is an 8ft x10ft rug big enough for a living room?
Lindsey says that most living room rugs she sells at New England Loom are between 8ft x 10ft to 10ft x 14ft, so 8ft x 10ft is on the smaller end of the scale. This might suit an average-sized living room. Check to see how much of a border would be left around the edge of your space and see if it's worth sizing up or look at Ruggable's rug size guide.
Sign up to the Homes & Gardens newsletter
Decor Ideas. Project Inspiration. Expert Advice. Delivered to your inbox.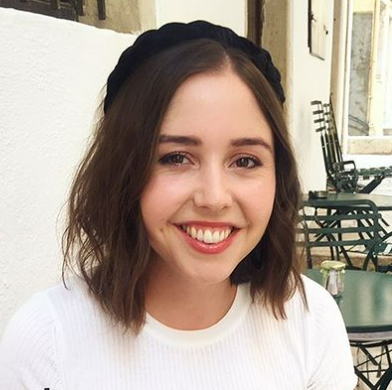 Millie Hurst is the Solved Section Editor at Homes & Gardens. She has six years of experience in digital journalism, having previously worked as Senior SEO Editor at News UK in London and New York. She then gained experience writing for women's magazines before joining Future PLC in January 2021. Millie has written for an array of homes brands including Livingetc and Real Homes and was formerly Senior Content Editor at Ideal Home before taking on the position of Section Editor with Homes & Gardens. She has written and edited countless features on home organization, decluttering and interior design and always hopes to inspire readers with new ways to enjoy their homes. She lives in Sheffield, South Yorkshire and loves to weave nature-inspired decor and nods to time spent in Italy into her own home.