Best fast-growing fruit trees – 10 vigorous fruit trees to grow
These fast-growing fruit trees will bring color, screening – and fruit – to your backyard, fast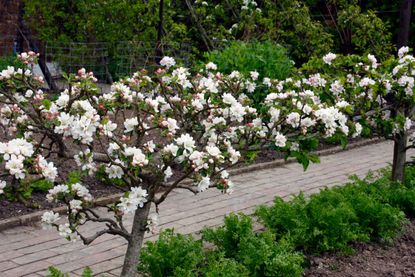 (Image credit: Alamy)
Fast-growing fruit trees fill your garden with beautiful, snowy blossom that provides food for wildlife (such as bees) in springtime. And there is no need to wait years and years to enjoy them. On top of that, plucking fruit from your own trees is not only a pleasure to do, the crop also boasts more flavor and nutrients than shop-bought produce.
Plant fruit trees on vigorous rootstock that delivers size quickly or buy ready-trained espaliers for spectacular wall fruit without the wait. Soon you can fill the fruit bowl with your own tasty plums, pears, cherries, and more. These are the best fast-growing fruit trees, according to experts.
Best fast-growing fruit trees
Just like the best fast-growing trees, these beauties inject the garden with structure and size, as well as gorgeous foliage and flowers. But these fast-growing fruit trees have the added bonus of providing you with tasty fruit.
1. Best fast-growing fruit tree for walls
An espalier apple is an apple tree trained into an elegant series of horizontal tiers, usually against a wall. Espaliers look sophisticated and beautiful, and – even better – can be bought ready-trained, so that they achieve size faster. For us, an espalier apple is one of the best fast-growing flowering trees, too.
'Rare is the person that wants to wait years for an apple to reach its mature size, but it is possible to purchase various varieties pre-trained as an espalier, and from there the possibilities are great,' says Los Angeles-based landscape designer Laura Morton, 'A seasonal fruit tree is simply a magical thing, and an espaliered apple adds the extra pleasure of watching the buds up close as they fatten up and bloom.'
Growing tips: Buy a ready-trained 1, 2, or 3-tier espalier apple on MM106 rootstock (rootstock determines a fruit tree's vigor), selecting a variety that meets your needs (for instance, 'Scrumptious' is a self-fertile, disease-resistant dessert apple), and plant against a sunny wall.
Hardiness: USDA 3-9 (UK H6).
Height: 6-15ft (2-4.5m).
2. Best fast-growing fruit tree for tasty fruit
Plum trees not only have delicious fruit, they also produce spring blossom that looks pretty and helps wildlife.
'Plum trees are the fastest growing fruit trees,' says Karim Habibi, co-owner of Keepers Fruit Nursery in Kent. 'But vigor really depends on the tree's rootstock. Any plum (such as 'Victoria' or 'Opal') grown on Brompton rootstock will grow much larger than the same varieties grown on the dwarfing rootstock VVA-1.'
Growing tips: 'Plant bare root trees (between November and March) and water the trees well in the first season to encourage the roots to establish,' says Karim. Plant in sheltered sun, after digging organic matter into the ground.
Hardiness: USDA 4-9 (UK H6).
Height: 15ft (4.5m) or more.
3. Best fast-growing fruit tree for pots
'Dwarf peaches make great garden additions,' says Ohio-based garden designer Ethan McGory. 'Their early-spring pink blooms are wonderful, the fruit is delicious, and they start to produce relatively quickly. I recommend the variety 'Scarlet Prince'.'
Dwarf peach (Prunus persica) are excellent for growing in containers. Varieties (such as self-fertile 'Bonanza') produce wonderful pink blossom in early spring and juicy fruit in late summer.
Growing tips: Plant in a large (20in/50cm) well-drained pot of loam-based compost and place in full sun. Containers must be in the glasshouse or covered with horticultural fleece to protect the early blooms from frost.
Hardiness: USDA 5-9 (UK H4).
Height: 5ft (1.5m).
4. Best fast-growing tree for unusual fruit
The Asian pear (Pyrus pyrifolia) looks like a cross between an apple and a pear, bearing apple-shaped fruits with pear-like skin, and has the crunchy texture of an apple and juicy flesh. In spring, it produces white blossom that feeds bees and hoverflies.
'Asian pear is my go-to fruit tree for any client with a small orchard,' says Connecticut-based landscape-designer Donna Christensen. 'It produces a great deal of tasty fruit early in its development.'
Growing tips: 'It does not require much in the way of spraying for leaf spot or bug damage,' says Donna Christensen. 'You will need to know how to prune pear trees for shaping, and, if you would like to increase the fruit size, you might remove some of the early pears.'
Hardiness: USDA 5-9 (UK H6).
Height: 20-30ft (6-9m).
5. Best fast-growing fruit tree for a warm climate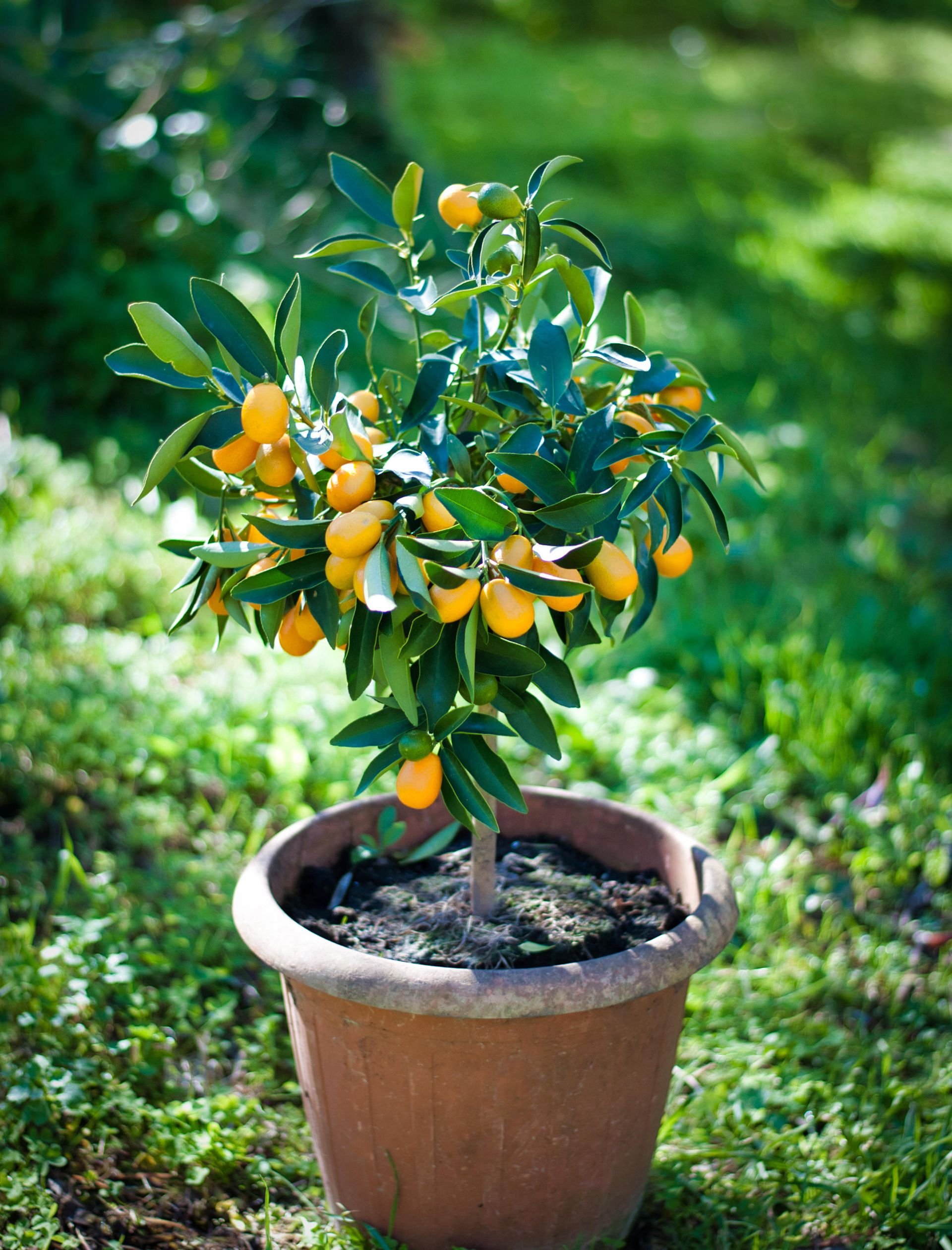 Citrus trees have lovely, glossy evergreen leaves, an attractive shape, and, of course, flavorsome fruit. In cool temperate regions, they can be enjoyed in pots that are placed on the terrace during summer and overwintered in a glasshouse.
'Most fruit trees take up a significant amount of space in warm climates,' says Florida-based garden designer Matthew Giampietro. 'So, I like to use smaller citrus trees (such as lemon and lime) in residential garden designs. They quickly become an accent in the landscape, while at the same time providing fruit.'
Growing tips: Citrus can be amongst the best trees to grow in pots. For container growing, use a pot at least 20in (50cm) wide, and fill with citrus compost or a mix of soil-based compost and up to 20% sharp sand or grit; and place in sun. In cold regions, ensure lemons and limes have a minimum night temperature of 50°F (10°C) in the glasshouse during winter.
Hardiness: USDA 9-12 (UK H2).
Height: 10-20ft (3-6m).
6. Best fast-growing fruit tree for a small garden
Apple fencing (or step-overs) consists of low-growing horizontally trained apple trees that can be used as border edging or a way to separate different garden areas. They are perfect for fitting fruit trees into smaller gardens.
'Apple fencing is a great way to add in a decorative division,' says Los Angeles-based landscape designer Laura Morton. 'It adds seasonal interest and makes it easier to harvest the fruit.'
Growing tips: A step-over consists of one tree that extends out to either side, with two long arms, forming a T shape. To create a step-over fence faster, buy trees ready-trained on M27 rootstock. Plant in sheltered sun, provide support, and prune in summer.
Hardiness: USDA 3-9 (UK H6).
Height: 20in (50cm).
7. Best fast growing fruit tree for wildlife
In spring, cherry trees are coated in fleecy blossom that provides food for pollinators and brightens the garden. You can buy sweet cherry trees (Prunus avium) for eating or sour cherries (Prunus cerasus) for cooking, as well ornamental flowering cherries that don't produce fruit. Prunus avium 'Stella' is an award-winning self-fertile eating variety that produces sweet dark red or black fruit in late July; it's also a great pollinator, if you have other cherry trees.
'For vigor, I would grow cherry trees on the rootstock F12/1,' says Karim Habibi, co-owner of Keepers Fruit Nursery in Kent. A fruit tree's rootstock determines the power of its growth.
Growing tips: Grow in well-drained moderately fertile soil. Plant sweet cherries in sheltered sun. Sour cherries can be grown in sheltered semi-shade.
Hardiness: USDA 3-8 (UK H6).
Height: 20ft (6m) or more.
8. Best fast-growing fruit tree for winter interest
Espalier pear trees create a stylish, formal garden feature that delivers spring blossom, fruit, and fantastic structure in winter. A great example is the old espalier pear at Anglesey Abbey in Cambridgeshire, England.
'We prune it annually, in July or August,' says Head Gardener David Jordan, who cares for the iconic pear. 'We reduce all of the extension growth to about 2-3 buds and try to keep the overall volume of wood well thinned to prevent placing too much weight on the relatively thin branches.'
Growing tips: 'For new espaliers, ensure there is plenty of support for the plant as it grows,' advises David Jordan. 'Put it on a west or south-facing wall, and make sure there are pollinating trees nearby to facilitate fruit production. Prune for vigor in summer and for shape in winter.' Buy a pre-trained espalier pear on Pyrodwarf rootstock and plant against a sunny, sheltered wall.
Hardiness: USDA 4-8 (UK H6).
Height: 6-15ft (2-4.5m).
9. Best fast-growing fruit tree for a large garden
Mango (Mangifera indica) not only delivers delicious, nutritious fruit, it is also a good-looking tree with a substantial shape, interesting flowers, and lanceolate evergreen leaves.
'Mango trees are a sought after fruit tree which grows very well, but I only recommend planting one if there is enough space and the conditions are suitable,' says Florida-based garden designer Matthew Giampietro.
Growing tips: Plant in full sun in well-drained soil in a humid, warm climate. In colder regions, grow dwarf mangos (such as 'Palmer') in pots that are moved into a greenhouse that keeps a minimum temperature of 50°F (10°C) during winter.
Hardiness: USDA 10-12 (UK H2).
Height: 30-100ft (9-30m).
10. Best fast-growing fruit tree for beautiful blossom
A specimen apple is arguably the ultimate garden tree. Referring to a tree as a 'specimen' means that it is planted apart, on its own, as a focal point. A specimen apple forms a characterful shape and keeps you company through the year: after the charming spring blossom that feeds bees, it gives leafy summer shade, tasty fruit, and then good winter structure.
'I like to think of apple trees as specimen trees,' says Jessica Soulliere, owner of Potager Garden Design, LLC and The Ferry Street Nursery Project in Detroit, Michigan. 'They are gorgeous when in bloom. If space allows, place your apple tree in the middle of an open space so that you can walk around it from all sides – this means there is also space to prune where needed, pick fruits, and when the petals fall, there's a beautiful pink-white carpet underneath.'
Growing tips: 'For vigorous growth, choose the right rootstock,' says Karim Habibi, co-owner of Keepers Fruit Nursery. 'You can grow nearly any apple variety on an M25 or MM111 rootstock, and they will grow larger more quickly.' If you don't have other apple trees in the vicinity, choose a self-fertile variety; decide if you want an eating or cooking apple; and speak to your supplier about the best variety for your climate.
Hardiness: USDA 3-9 (UK H6).
Height: 15ft (4.5m) or more.
Which fruit trees bear fruit fastest?
For trees that bear fruit that grows quickly, look to soft fruits, including peaches, papaya, apricots, figs and mulberries. In general, plant fruit trees like these so they get lots of sun – and decent airflow between branches to produce sweet, healthy fruit, so pruning of the trees is important.
What is the easiest fast-growing fruit tree to grow
The easiest fast-growing fruit tree to grow is the apple tree. As long as it is pruned properly to ensure healthy growth, this is a low maintenance fast-growing fruit tree that will thrive happily
Sign up to the Homes & Gardens newsletter
Decor Ideas. Project Inspiration. Expert Advice. Delivered to your inbox.
Rachel is senior content editor, and writes and commissions gardening content for homesandgardens.com, Homes & Gardens magazine, and its sister titles Period Living Magazine and Country Homes & Interiors. She has written for lifestyle magazines for many years, with a particular focus on gardening, historic houses and arts and crafts, but started out her journalism career in BBC radio, where she enjoyed reporting on and writing programme scripts for all manner of stories. Rachel then moved into regional lifestyle magazines, where the topics she wrote about, and people she interviewed, were as varied and eclectic as they were on radio. Always harboring a passion for homes and gardens, she jumped at the opportunity to work on The English Home and The English Garden magazines for a number of years, before joining the Period Living team, then the wider Homes & Gardens team, specializing in gardens.