Fast-growing flowering trees – 10 beautiful ideas
Add these fast-growing flowering trees to help curate a beautiful landscape in your backyard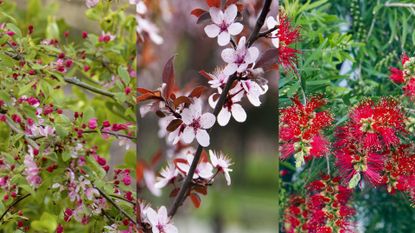 (Image credit: Getty Images)
Fast-growing flowering trees are a beautiful addition to the garden, rewarding you with beautiful blooms and an impressive stature within just a few years.
While slower growing trees are great for adding an aged character to your garden, they are not ideal if you are starting your garden from scratch and don't want to have to wait decades to benefit. Fast-growing trees, however, and particularly fast-growing flowering trees will be quicker to create a dramatic transformation – and most of these make for great trees for privacy and screening, too.
'Fast growing flowering trees provide quicker results but are often shorter lived than slower growing species,' recommends arborist Melinda Myers, 'Consider planting both if space allows. The fast growing flowering tree will provide faster results and the slow grower will remain years after the other fades' .
Fast-growing flowering trees
There are many benefits to adding fast-growing flowering trees to your garden, include providing garden privacy ideas. Fast growing flowering trees are also some of the best trees for shade, providing a cool space in which to relax during the hot summers.
'Most trees take several years to reach their optimal growth rate. The first year they adjust to the space, the second year they spend developing roots, and the third they begin to put on noticeable size. Therefore, when you read that a tree grows at a specific rate per year don't expect to see this in the first season,' Blythe Yost, CEO of the online landscape design company Tilly.
Choosing the right fast-growing flowering trees will depend on where you live and the amount of space you have available. It will also depend on which of the pretty blooms you fall in love with.
However, there are some key considerations. 'Make sure they are not invasive. Those plants labeled as easy care and fast growing often become problems. Non native invasive plants are those that leave the landscape by seed, or plant pieces, and enter nearby natural spaces,' advises Melinda Myers, 'these fast growing adaptable plants crowd out our native plants that pollinators, birds and other wildlife depend upon. Something we all need to consider when adding plants to the landscape. Burning bush, buckthorn, honeysuckle all popular landscape plants that have invaded natural spaces.'
Once you've chose which fast-growing flowering trees you want to add to your garden, it's important that you know how to plant a tree, to give it is best chance of thriving in its new home.
1. Best fast-growing flowering tree for front yards
If you want fast-growing flowering trees that make a statement, then the Crape Myrtle is an excellent choice. 'The Crape Myrtle (or as it's sometimes known, the Crapemyrtle) is a Southern staple that does just as well on the West Coast as it does down South and is also an ideal tree for anywhere else in between the two,' says Shannon Bernadin CEO of The African Garden.
Crape Myrtle grow approximately two feet per year and can survive in hardiness zones 6 to 9. 'Trim and prune to maintain desired canopy shape and fertilize monthly from early spring to mid-fall for lush growth and abundant flowers,' says Luke Kalawsky expert at Moon Valley Nursery.
These pretty trees are available in a range of colors meaning they can work well in a wide range of garden ideas. 'The Tuskegee variety is a beautiful dark pink shade while Muskogee is a pretty lavender color. If you're looking for white blooms then Natchez is perfect. Alternatively make a bold statement with Dynamite Red's deep red blooms or Catawba's stunning purple flowers,' continues Luke.
Crape Myrtle trees are also one of the best trees for front yards.
2. Best fast-growing tree for the front of your house
One of the best climbing plants, with its beautiful waterfall blooms filling the air with their perfume, wisteria is a favorite for growing up the exterior of the house.
A brilliant addition to small garden ideas, wisteria is most commonly grown up a fence, house or pergola, though it can also be grown as a standard tree. Consider learning how to grow wisteria up the front of your home to embrace cottage front door ideas.
If you're looking for fast-growing flowering trees, then Kentucky wisteria is your best option. Native to parts of North America, the fragrant Kentucky wisteria is best grown for a grafted plant and will flower within two to three years of being planted.
3. Best fast-growing flowering tree for containers
Magnolia's are seeing a real resurgence in popularity at the moment and for good reason. While some varieties, like the popular magnolia stellata, are slow growing – which makes them one of the best trees to grow in pots – the Southern Magnolia is the fastest growing variety so is great if you want to enjoy its height and floral display with minimal waiting time.
Southern Magnolia, also known as magnolia grandiflora, flowers at the start of May, with its pretty blooms continuing through June, they herald the coming summer and all its beauty. While your tree may start small, it grows around two feet per year and it will reach 'an average height and width of 30-45 feet' explains Lindsey Hyland, founder of Urban Organic Yield.
These fast-growing flowering trees also have the added benefit of being some of the best evergreen trees for gardens.
4. Best fast-growing flowering tree for shade
Named after it's pretty tulip-like flowers that bloom in spring, the tulip tree, also known as Liriodendron tulipifera, makes for a characterful addition to the garden, especially as part of cottage backyard ideas. Despite its name its not related to tulips in any way and is in fact a type of magnolia. 'The tuliptree is super fast growing and is loved for the fact it grows very straight, making a beautiful statement in the garden,' says Tammy Sons.
It's fast-growing nature is the reason that John Rogan, professor of geography at Clark University recommends it as one of the best trees for shade, 'It can grow 2ft per year, reaching up to 90ft when established, with a canopy width as broad as 30-40ft.
5. Best fast-growing for flowering tree for spring
The Kwanzan cherry, officially known as Prunus serrulata 'Kwanzan', erupts in a profusion of frothy pink blooms in spring. 'The last of the cherries to bloom,' says Blythe, 'the Kwanzan Cherry is also the most notable' and would make a stunning addition to the garden.
Growing between one and two feet per year, the Kwanzan cherry tree will reach the grand height of 40 foot with a similar spread, however, a little pruning can help to keep it as a smaller tree if you would prefer. While this may sound daunting, it's very easy once you know how to prune a cherry tree.
6. Best fast-growing flowering tree for early spring
One of the best trees for shade, the Eastern Redbud are incredibly fast-growing flowering trees which erupt in a profusion of lavender, white or magenta blooms in early spring.
Flowering when the rest of the garden is typically bare, Eastern Redbuds bring with them the joys of the forthcoming season. The Eastern Redbud is unusual for the fact that 'the blossoms bloom before the leaves making the twigs come alive with vibrant colors,' says Emilly Barbosa Fernandes, expert small space gardener and consultant at HouseGrail 'it can also reach between 25-30 feet.'
Eastern Redbud trees are also very versatile and can be grown anywhere from zones 4 through to 9.
7. Best fast-growing flowering tree for bees
The Linden tree also known as Tilia, is one of our favorite fast-growing flowering trees.
'Native to North America, the Linden tree makes an excellent shade tree. You'll frequently find them in rural towns being used to line the streets. They do not work well in cities because they don't do well in pollution,' says Emilly Barbosa Fernandes. 'The blooms open in the early summer, and bees flock to them because the flowers taste like honey. These trees can grow up to 50-80 feet tall.'
A beautiful tree in its own right, the leaves of the linden tree are also popular for those who know how to make tea as it contains 'anxiolytic, an essential oil used to treat anxiety' says Tammy Sons, founder of TN Nursery.
8. Best fast-growing flowering trees for wildlife
When looking for fast-growing flowering trees, it is also important to think about the tree beyond its flowering period. 'Consider trees that also produce fruit for added seasonal interest and bird appeal. Flowers often fade in a week or two, while fruit may persist throughout the fall and winter,' says Melinda Myers. Flowering trees can make a great addition to other wildlife garden ideas.
One such tree is the beautiful Malus crabapple tree. Erupting in pretty pink blossom in spring, its slightly more rustic look makes it perfect for incorporating into cottage garden ideas, while 'the fruits it produces in mid-summer are excellent for wildlife feeders' says Tammy Sons.
9. Best fast-growing flowering tree for color
Growing up to 30 feet tall in 30-years, Crimson bottle brush, also known as Callistemon, would make a statement.
With its brightly colored, frothy blooms, Callistemon is a great accompaniment for other tropical garden ideas and will help to transform your plot into a Mediterranean-inspired garden retreat. 'The spring bottlebrush flowers will also attract bees and butterflies to your garden,' says Tammy Sons, making them a beneficial addition to your favorite wildlife garden ideas.
10. Best fast-growing flowering tree for fruit
As with most fast-growing flowering trees, the lifespan of the Sargent cherry is relatively short, only 20-years at most. However, since it grows so quickly, it is easy to replace and re-grow. Reaching up to 60ft tall over its lifetime, this popular tree is loved for its edible fruit as well as its pretty flowers.
'The flowers on this tree are pink and bloom in the spring. The leaves have purple tones and change to green during the summer. These can grow up to 20-25 feet,' says Emilly.
What is the easiest flowering tree to grow?
Tulip trees are one of the easiest flowering trees to grow. Once you know a few things about how to grow a tree, it is relatively straightforward. Tulip trees thrive in acidic soil, prefer to be grown in full sun and are fairly resistant to pests and disease.
What is a fast growing blooming tree?
Wisteria is a fast growing blooming tree that will look stunning in your garden or climbing up the front of your house. With its cascading purple blooms, it is no surprise that these fast-growing flowering trees are some of our favorites.
Sign up to the Homes & Gardens newsletter
Decor Ideas. Project Inspiration. Expert Advice. Delivered to your inbox.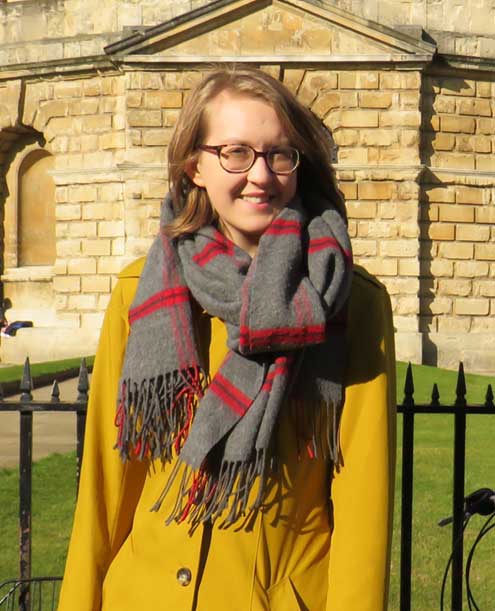 Content Editor and Sub-editor
Having graduated with a first class degree in English Literature, Holly started her career as a features writer and sub-editor at Period Living magazine, Homes & Gardens' sister title. Working on Period Living brought with it insight into the complexities of owning and caring for period homes, from interior decorating through to choosing the right windows and the challenges of extending. This has led to a passion for traditional interiors, particularly the country-look. Writing for the Homes & Gardens website as a content editor, alongside regular features for Period Living and Country Homes & Interiors magazines, has enabled her to broaden her writing to incorporate her interests in gardening, wildlife and nature.