Best magnolia trees – choose one of these magical varieties and it will light up your yard
Magnolias are one of the most strikingly beautiful trees you can add to your landscaping – we share 8 of the best varieties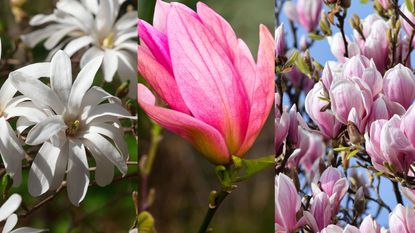 (Image credit: Kutredrig/Getty Images; John Richmond/Alamy StockPhoto; Whiteway/Getty Images)
Easy to grow, tolerant of shady conditions, and available in a range of heights to suit all spaces, these stunning trees are universally popular. One likely reason for this is their prolific clusters of showy blooms in white, pink or red, as well as the fact that many of them are beautifully scented too.
These are excellent landscaping trees, especially as they come in both evergreen and deciduous types. As well as tall and stately specimen trees, you can also get magnolias in smaller, multi-stemmed shrubby varieties, and for this reason they make it onto our list of the best trees for small gardens. There really is one to suit every space.
Magnolia trees are native throughout North America and Asia. While they're synonymous with Southern landscapes, there are many species that are suitable for colder climates too.
There are around 100 species and countless cultivars to choose from, so that's why our guide to the best types of magnolias will help you to find the perfect one for your yard.
8 of the best magnolia tree varieties
With such a wide choice, it's hard to limit it to just 8 of the best types of magnolias, but our selection covers it all. Be sure to find out how to grow and care for a magnolia tree too if you're thinking of adding one of these beauties to your yard, so you get the absolute best out of it.
If you're wondering when the best time is to plant magnolias, remember to double check what type you are planning to grow. Deciduous magnolias are best planted in late fall or winter if you live in a warmer climate, or early spring in cold climates. Meanwhile evergreen magnolias are best planted in early spring.
1. Sweetbay magnolia
USDA growing zone: 5-9
Height: 15-25 feet
Spread: 10-30 feet
Botanical name: Magnolia virginiana
This elegant variety of magnolia is a great choice to add to your landscape. It has creamy-white flowers scented with a hint of citrus, and blooms from spring into summer for many weeks.
The leaves have a spicy vanilla fragrance, and form a lovely shimmering canopy. It's a deciduous variety but if your winters are mild it will retain its leaves. For this reason it's often referred to as a semi-evergreen.
It also has red berries that feed the local bird population and butterflies love this tree too. Unlike other magnolias this variety likes wet, clay soils, and for this reason is also known as 'swamp magnolia'.
It's a great choice if you're looking for ideas on the best fast-growing trees, and will soon become a focal point in your yard.
2. Saucer magnolia
USDA growing zone: 4-9
Height: 20 feet
Spread: 20 feet
Botanical name: Magnolia soulangeana
This is the most popular magnolia tree in the US and for good reason. The stunning tulip-shaped flowers that burst open in spring are white flushed with magenta pink or purple, and make a show-stopping display. If you choose one of these it will be covered in a profusion of flowers even when the tree is young and still relatively new to your yard.
The saucer magnolia can take the form of either a large shrub with multiple stems or a small tree with a spreading branch habit as it gets more mature. The scented flowers will entice nectar and pollen-gathering insects to your yard, as well as hummingbirds.
Meanwhile the branches are a favored spot for nesting, and the seed pods in fall are eaten by many songbirds. In winter the smooth silver-gray bark offers an additional attraction in your landscape.
Like most magnolias, the saucer variety prefers moist, well drained, slightly acidic soil, plus protection from cold winds and frost. It thrives in full sun or part shade.
3. Lily magnolia
USDA growing zone: 7-10
Height: 8-12 feet
Spread: 8-12 feet
Botanical name: Magnolia liliiflora
The ornamental lily magnolia is one of the best types of magnolias if you're looking for a more compact variety that grows into a small tree or large shrub, making it ideal if space is an issue in your yard. Consider planting it as an accent, specimen, screen, or informal hedge.
In early spring, the lightly perfumed reddish-purple or pink lily-shaped flowers burst open. They typically bloom shortly before the foliage appears, and you may get repeat blooms in midsummer.
The lily magnolia is a slow-growing and deciduous variety that is native to China. It's best grown in full sun to partial shade, and in organically rich, slightly acidic, well-drained soil. It also appreciates protection from strong winds. It usually requires little pruning other than the removal of dead or damaged branches.
4. Star magnolia
USDA growing zone: 4-9
Height: 15 feet
Spread: 10 feet
Botanical name: Magnolia stellata
Star magnolia is one of the smallest magnolias, producing a showy cloud of white flowers in early spring. It's a great flowering tree in a small yard since it stays compact for many years. It makes a good specimen plant but can also be incorporated with other trees and shrubs into a planted bed.
'This slow-growing deciduous plant can be grown as a large shrub or pruned up as a small multi-stemmed tree,' says Susan Mahr, master gardener at the University of Wisconsin-Madison. 'It is denser and more compact than saucer magnolias, with a heavily branched, twiggy structure for winter interest, along with attractive smooth, silvery gray bark on the main trunk.'
The fat, fuzzy buds open in late winter before the foliage appears to produce clusters of lightly fragrant, 3-4 inch white flowers with delicate, strap-like petals. This variety of magnolia is easy to grow but the flowers will need shelter from frost and wind, which discolor the blooms.
'It is particularly nice when sited against a dark background, such as a brick wall or grouping of evergreens, which shows off the flowers,' adds Susan. 'Alternatively plant it near a patio where the scent of the flowers can be enjoyed. It also makes a good addition to the edge of woodland gardens or other partly shady areas.'
5. Magnolia 'Betty'
USDA growing zone: 3-8
Height: 12-15 feet
Spread: 10-12 feet
We love the 'Little Girl' series of cute hybrid magnolias with names like 'Betty', 'Judy', 'Ricki' and 'Susan'. They were developed at the National Arboretum in the 1950s, and are a great choice for compact yards.
'If you want to grow a smaller variety that still knocks your socks off with outstanding spring flowers, you will be thrilled to meet the 'Betty' magnolia,' say the team at Nature Hills plant nursery. 'These small, shrubby trees are cunning crosses between lily magnolia and star magnolia. They may be small, but still pack a punch with their full-sized blooms.'
The annual display of deep pink-purple flowers welcome in the new growing season in style. 'Betty' is covered with sweet pointed buds from top to bottom. The buds swell and bloom in early spring on bare branches, just as the tender new leaves are starting to unfurl. In fall, the attractive lance-shaped leaves turn bronze for another pretty display.
'Betty' blooms a few weeks later than other magnolia varieties, so it's one of the best types of magnolias for Northern gardeners who don't want to get caught out by late frosts.
Try planting a few of these close together behind your patio seating to gently screen out neighbors. Or use them to create an easy sense of privacy around the pool deck. You can buy the 'Betty' magnolia from Nature Hills.
6. Southern magnolia
USDA growing zone: 6-10
Height: 60-80 feet
Spread: 40 feet
Botanical name: Magnolia grandiflora
This evergreen variety is one of the most beautiful native trees, found in the South East US, from central Florida to North Carolina and west to Texas. But these magnolias are surprisingly hardy despite the name 'southern'.
The huge fragrant white flowers can measure up to 8 inches across and these combined with its glossy green leaves make it a popular ornamental tree. The flowers appear throughout the summer and into fall, then produce cone-like seedpods that contain large red seeds, which hang by silky threads.
It's one of the best types of magnolias if you're looking for a bigger variety too, and will add a commanding presence to your landscaping ideas when it reaches full height. How fast this happens depends on its growing situation, but you can also find more compact cultivars like 'Teddy Bear' (up to 20 feet tall), and 'Little Gem' (up to 25 feet tall), which won't grow to such large proportions.
7. 'Daybreak' magnolia
USDA growing zone: 5-8
Height: 15-40 feet
Spread: up to 8 feet
If you love pink this magnolia is the one for you. Often considered one of the best of the pink magnolias, the rosy pink blooms are a delight. In spring a profusion of exceptionally fragrant flowers opens, a little darker on the outside and paler on the inside. Another plus is that the first flowers appear on young trees, so you don't have to wait to enjoy the beautiful blooms.
It's a neat tree with upright growth in a columnar form and this means it's ideal for using as a specimen tree in a smaller yard. Or plant several together in a long row, and allow the lower branches to grow together to create a privacy screen. Just be sure your 'Daybreak' has protection from cold winds and late frosts.
'Daybreak' is best grown in organically rich, slightly acidic, well-drained soil in full sun to part shade,' according to the experts at Missouri Botanical Garden. 'This variety appreciates a root-zone mulch to help retain soil moisture. It's best to select a landscape location carefully and leave this magnolia undisturbed once planted. It usually requires little pruning other than removal of dead or damaged branches.'
You can buy 'Daybreak' magnolia here at Nature Hills if you're tempted by the idea of this pink perfection.
8. Anise magnolia
USDA growing zone: 4-7
Height: 20-30 feet
Spread: 20 feet
Botanical name: Magnolia salicifolia
Another beautifully fragrant variety, the foliage of the Anise magnolia smells like a heavenly mix of lemon and anise, and that's how it gets its name. The flowers are fragrant with this scent too, as is the bark, making it one of the best types of magnolias if scent is your top priority.
One of the earliest magnolias to come into bloom, the pure white flowers can be up to 6 inches across, and are prolific so a tree in full bloom is a breathtaking sight. Unlike most magnolias, this variety starts off as a narrow tree, eventually taking on a more broad shape, and the leaves are willow-like. For this reason it's also sometimes called willow-leaf magnolia.
Anise magnolia are easy-to-grow as long as you plant them in a sheltered position, and water them regularly until established. Like many other magnolias, they often produce multiple stems. If you want to train yours into a tree form prune all but one dominant stem to serve as a trunk. This should be done when the tree is young.
FAQs
Can I grow a magnolia tree in a pot?
There are many varieties of magnolias that will thrive in containers but it's important to use the right potting medium. Use an acid potting soil such as one that's marked suitable for rhododendrons, be sure to keep the roots moist.
When choosing the container for your magnolia tree, opt for a large, sturdy one that allows plenty of space for roots to develop. It will also need drainage holes to prevent waterlogged soil, which can lead to root rot.
Make sure you position your container in a location that receives at least three hours of direct sunlight every day to make sure your tree gets the necessary light to produce plenty of lovely blooms.
One of the best types of magnolias for containers is the star magnolia (Magnolia stellata), which also flowers prolifically from an early age so you'll soon have something to look at. Try the 'Little Girl' magnolia series too.
If you're inspired by the idea of planting more fast-growing flowering trees that bloom in spring and early summer as part of your landscaping, check out wisteria, lilac, and flowering cherry trees to fill your garden with beautiful, scented blooms.
Sign up to the Homes & Gardens newsletter
Decor Ideas. Project Inspiration. Expert Advice. Delivered to your inbox.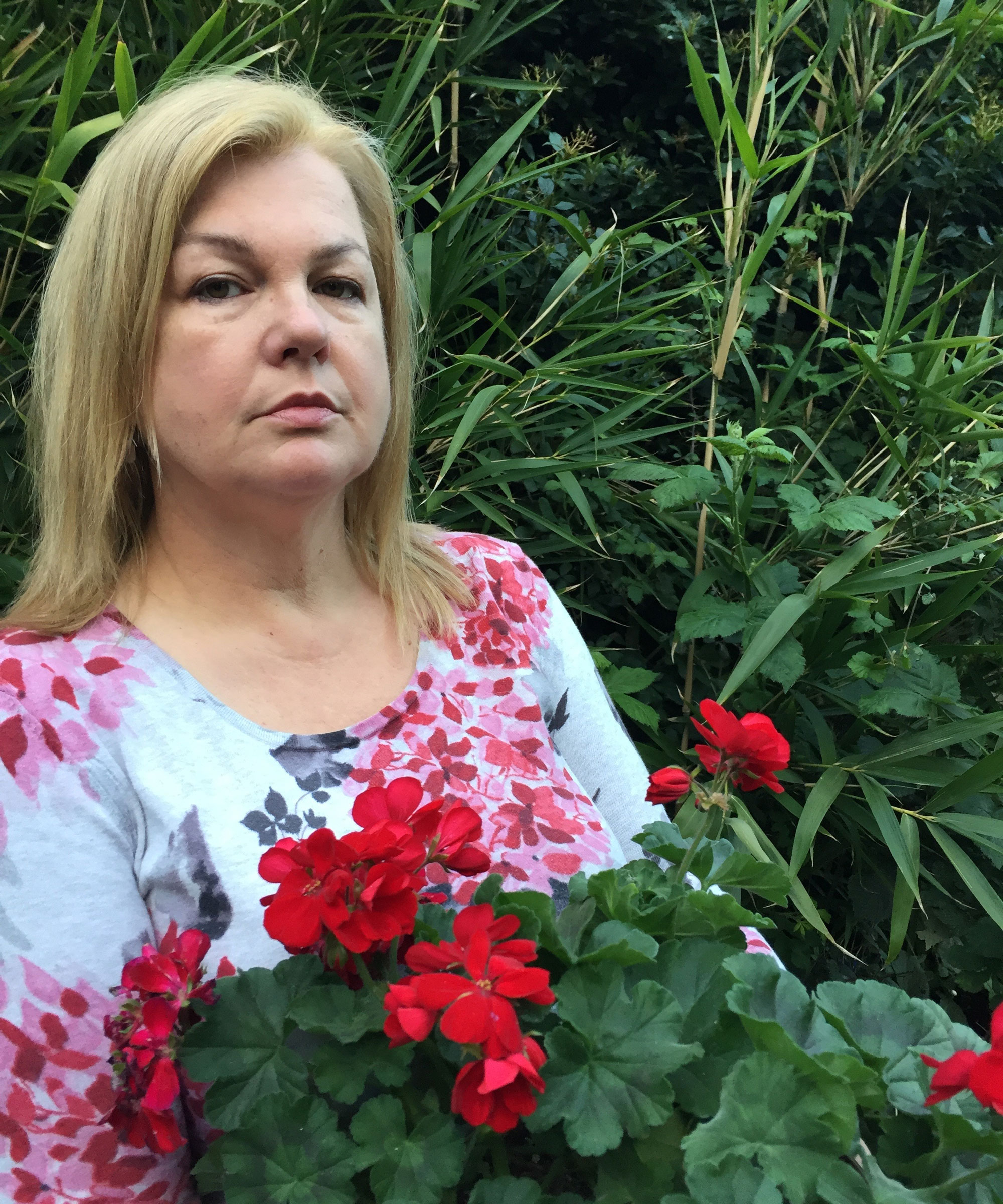 Lifestyle journalist Sarah Wilson has been writing about flowers, plants, and garden design and trends since 2015. Having already studied introductory garden and landscape design as well as a course in floristry she is currently adding to her list of qualifications with an RHS Level 2 course in the Principles of Plant Growth and Development. In addition to homesandgardens.com and livingetc.com she's written for gardeningetc.com, Modern Gardens and Country Homes & Interiors magazines.