How to edge a flower bed – elevate your borders in just 3 steps
Add the perfect finishing touch to your landscaping scheme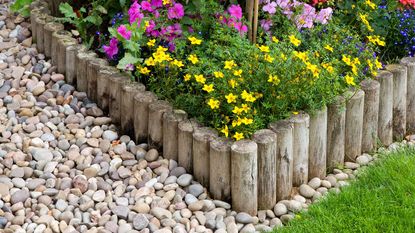 (Image credit: Jason Smalley Photography / Alamy Stock Photo)
Edging flower beds with well-defined lines immediately improves the look of a backyard. But its benefits go beyond the aesthetics – edging is practical, too.
Whether you're digging a simple shallow trench around your bed or installing a material such as bricks or curb stones, garden edging will prevent the soil and mulch on your borders from straying onto your lawn and pathways. Likewise, it can help to keep your lawn from encroaching on your plants.
If you're installing a new flower bed, or giving an existing one a makeover, a freshly cut edge will undoubtedly elevate it. The good news is, it's super simple to do.
3 steps to edging your flower beds
Set aside a sunny afternoon for this backyard landscaping job – the results are well worth it.
1. Plan where you want the edge of your beds to be
'The first step to edging a flower bed is to create a guideline using string or even something like a garden hose,' says Ryan Farley, CEO of LawnStarter. 'This is important because it gives you a chance to try out some shapes before you've started edging.' For instance, you may wish to extend the size of the border, or add a gentle curve.
'Keep in mind the plants you want to include and their growth habits,' recommends Candace Shah, a gardener and landscaper based in Richmond Virginia. You need to ensure your new or updated flower bed is large enough to accommodate them.
Candace is a passionate gardener and native Richmond, Virginia resident. She graduated from Virginia Tech with a degree in Soil and Environmental Science. With a deep love for nature and a green thumb to match, she has spent years cultivating her skills and knowledge of all things botanical.
2. Cut along the lines
Once you're happy with the guideline, it's time to dig it out.
Use a sharp, flat-edged spade to cut along the outlined shape, says Matt Hagens, landscaping expert of Obsessed Lawn. Using a shovel with a flat blade rather than a curved one makes it easier to create straight lines, adds Ryan. Alternatively, you can use a half-moon edger.
'I've found that creating a clean, even edge by maintaining a consistent depth and angle makes all the difference in the final look of my flower beds,' says Matt. If you're planning on adding an edging material, ensure the line you cut is deep enough to hold it in place, adds Candace.
You can remove the weeds and grass from the area of ground you've cut away and pile the remaining soil back onto the bed – a technique known as 'moat and mount', says Ruth Hayes, a gardening expert of Homes & Gardens.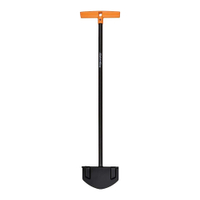 Fiskars 38.5 Inch Long-handle Steel Edger | $39.99 from Amazon
With its sharp, steel blade, this is an ideal tool for edging flower beds. The long handle, large foot platform, and light weight make it easy to use, too.
Matt has years of hands-on experience in gardening, lawn care, and landscaping, and has honed his skills in creating and maintaining stunning outdoor spaces that enhance the beauty and value of a property. His expertise spans a wide range of landscape design elements, from selecting the right plants to creating sustainable irrigation systems.
Ruth is the gardening editor of Amateur Gardening magazine, the UK's oldest weekly magazine. She is horticulturally trained and has qualifications from the Royal Horticultural Society. Ruth spends her working days writing about and photographing the gardening jobs that our readers should be carrying out each week and month, and tests many new products that arrive on the gardening market.
3. Install any edging materials
You don't have to add an edging material to your flower beds, but it will help to keep the lines neatly defined for much longer, meaning less maintenance on your behalf. And with so many options available, it can also add serious style points to a space.
'Place your chosen edging material in the trench, making sure it is level and secure,' says Candace. 'Use stakes or anchors to hold it in place, if needed. If you are using bricks or stones, use a mallet and level to ensure they are even.

'Once the edging is in place, backfill the trench with soil, tamping it down firmly. Add a layer of mulch to the bed to help retain moisture and suppress weeds.'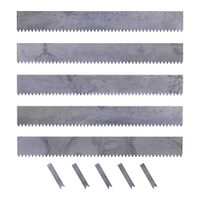 Edge Right – Hammer-in Landscape Edging | $194.99 from Amazon
Awarded 'Amazon's Choice', this weathering-steel edging develops a beautiful rusted patina over time, while still maintaining its durability. Plus, it's pliable, so you can bend it to fit your flower beds easily.
FAQs
What is the best material for edging a flower bed?
'There are a variety of materials you can use to edge your flower bed, such as stones, bricks, metal, or plastic,' says Candace Shah, a gardener and landscaper based in Richmond Virginia. 'Consider the style of your garden and choose a material that complements it.'
If you have a patio nearby, think about choosing an edging material that's the same color as the paving for a cohesive look. Alternatively, corten steel is a popular choice for modern backyards for its durable nature, industrial aesthetic, and warm-toned patina.
If you're creating an edge between a lawn and a flower bed, you could opt for a flat 'mowing strip' using pavers, which makes mowing around the area easier.
Do you need to maintain flower bed edging?
If you've installed an edging material around your flower beds, regularly check for any signs of damage or movement, and make repairs as needed, recommends Candace Shah. 'Keep the area around the edging clear of debris and weeds to maintain a neat appearance.'
If you've simply dug trenches around your beds, bear in mind that these will need re-doing from time to time (usually around once a year) to sharpen up the look.
---
Edging flower beds is one of those smaller details that's easily overlooked, but it shouldn't be. It's amazing the difference a few well-defined lines can make – so why not add it to your to-do list when preparing your garden for spring?
The garden was always a big part of Holly's life growing up, as was the surrounding New Forest where she lived. Her appreciation for the great outdoors has only grown since then; over the years, she's been an allotment keeper, a professional gardener, and a botanical illustrator. Having worked for Gardeningetc.com for two years, Holly now writes about plants and outdoor living for Homes & Gardens.