This garden expert's advice for growing carrots in containers is the secret to raising tasty crops in a pot
Carrots can happily thrive in containers as long as the pot suits the type of carrot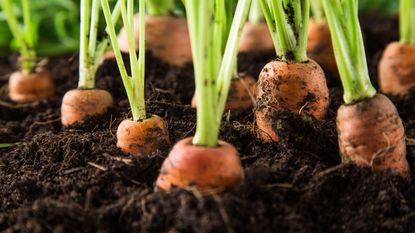 (Image credit: Getty/Kesu01)
Sign up to the Homes & Gardens newsletter
Decor Ideas. Project Inspiration. Expert Advice. Delivered to your inbox.
Thank you for signing up to Homes & Gardens. You will receive a verification email shortly.
There was a problem. Please refresh the page and try again.
Carrots are a staple crop in any vegetable garden and can also be grown in containers. It makes them a great vegetable for if you are short of space, or even have no backyard and want to grow carrots on a patio, deck, or balcony.
There is a wealth of options when it comes to growing carrots, they come in more shapes and colors than the ones you regularly see on the store shelves. Shorter-rooted and rounded carrot varieties are the most ideally suited for growing in containers as they do not need hugely-deep pots.
If you want to learn how to grow carrots in containers the key is picking the right type, finding a large pot, and filling it with good quality compost. We take a look at how to sow, grow, and maintain carrots in containers for a bountiful harvest of crunchy and tasty carrots.
Benefits of growing carrots in a container
Carrots are one of the best vegetables to grow in pots, and containers are a great solution if you are short of space but want to grow delicious homegrown crops. They are a fantastic crop for vegetable garden container ideas and work great if you only have a small vegetable garden or even no yard space.
Growing carrots in containers does have some benefits when compared to growing them in the ground as part of usual kitchen garden ideas. One of the main advantages is the fact that you control the growing medium and can fill the container with good quality light compost, eliminating some potential issues that come with growing carrots in the soil.
Ruth Hayes, gardening expert for Homes & Gardens, says: 'Carrots do best in a sunny sheltered spot in fertile soil that has been well forked over and raked and cleared of debris that can cause the roots to fork if they hit them while growing.
'For this reason, many people find it easier to grow carrots in containers of compost or in stone-free raised beds.'
Growing carrots in a container can also reduce the potential for damage from pests of varying sizes, as a control method for slugs and rabbits, and you can grow a good number of carrots in a large container.
Ruth is the gardening editor of Amateur Gardening magazine, the UK's oldest weekly magazine. She is horticulturally trained and has qualifications from the Royal Horticultural Society. Ruth spends her working days writing about and photographing the gardening jobs that readers should be carrying out each week and month, and tests many new products that arrive on the gardening market.
How to grow carrots in a container
One of the most important factors for success with carrots in containers is choosing the right size of pot. Small, early, or rounded types of carrots are the most successful for pots but still need a relatively deep pot, while you can grow traditional long-rooted varieties if you have a pot that is at least 18 inches deep.
As well as pots, you can also grow carrots in bags such as these JERIA 30 Gallon Aeration Fabric Pots, available at Amazon. These bags are portable, breathable, and reusable, as well as being 16 inches deep, making them suitable for a broad range of carrot types.
Christine Walkden, gardens expert for Homes & Gardens, claims: 'You can grow carrots in pots of around 12 inches in diameter and the same depth, or bigger.
'Cover the drainage hole with crocks and fill the pot with multipurpose compost mixed with a quarter part, by volume, grit or sharp sand. Carrots romp away in well-drained soil.'
Sow carrot seeds thinly, about ½ inch deep, and about 2- 2½ inches apart, then cover with a thin layer of soil and water
Feed the carrot plants regularly when growing in containers – such as a potassium-rich liquid feed
Place the container in a sunny spot, such as on a terrace or patio
Keep the container moist and do not allow the compost to dry out in warmer weather.
Ruth Hayes recommends sowing the seeds 'as thinly as you can' as thinning out seedlings can attract carrot root fly, which is the vegetable's main pest and can wreak havoc on a crop. She adds: 'Cover [the container] with fleece to protect seedlings from carrot fly. It will let rain in so the compost won't dry out.'
Consider taking advantage of carrot companion planting and edge the container with chives, which not only looks pretty when flowering but is a herb that can deter carrot fly.
Christine Walkden is a gardening expert who worked at The Royal Botanic Gardens Kew, based at Wakehurst Place, as well as for nurseries, and spent a period as a horticultural lecturer. Christine has appeared on many notable TV programmes in the UK, including Gardeners' World, Glorious Gardens from Above and Christine's Garden. She has also written many hugely-popular gardening books – such as No-Nonsense Container Gardening available at Amazon, and contributed to magazines, including Amateur Gardening.
Harvesting carrots in containers
The time for when to harvest carrots will depend on the variety you are growing, together with when they were sown and the weather. As you can control certain variances using pots, such as placing carrots in the sunniest position, they can be ready to harvest quicker than when grown in the ground.
Carrots come in early and maincrop varieties and that dictates how long they take to grow and when you should expect to start lifting the roots. Smaller and earlier types of carrots are some of the most fast-growing vegetables and can produce harvestable roots in under two months, while maincrop carrots are more around 14-16 weeks from sowing to maturity.
Carrot seeds can be sown from the start of March, after the last frosts and once temperatures get above 50˚F, all the way through until late in the summer. By planting carrots successionally, sowing both early and maincrop types, and using numerous pots, it means you and your household can enjoy a long harvest of carrots.
Best types of carrots for containers
Carrots are one of the easiest vegetables to grow and there are many types of carrots to grow at home in containers, coming in a range of sizes, shapes, and colors.
The smaller and early varieties of carrots, such as Early Nantes, available at Walmart, and Caracas Hybrid carrots, available at Burpee, are ideal for containers. Any of the varieties which are short-rooted, including the two mentioned, mean you don't need a hugely-deep container to grow them in and slimmer types mean you can get more carrots from a smaller space.
The other fantastic option for containers are the Chantenay varieties that grow short and stumped roots, for example the Red Cored Chantenay at Burpee and also Paris Market Round carrots that produce oval-shaped roots and can take only 60–75 days to grow. The round roots of Paris Market Round varieties also make them suitable for growing in window boxes, you can buy Parisian Market carrot seeds at Walmart.
FAQs
How many carrots can you grow in a bucket?
Buckets are a fantastic option of container to grow carrots in as they are deep, a 5 gallon bucket tends to be around 12-15 inches tall and a 10 gallon bucket between 16-18 inches tall. As with growing any plants in containers, make sure there are always holes in the bottom of a planter to aid drainage.
The number of carrots you can grow in a bucket will vary, it will depend on the variety of carrot you are growing and whether you want to harvest them as baby carrots or let them grow to full size. A 5 gallon bucket is likely to be able to hold around a dozen carrots, while a 10 gallon bucket can house around 24 carrots.
---
Growing carrots in containers is very simple and opens up a fantastic chance to grow a wide range of carrots. You can discover shapes and colors not commonly seen and you will find that homegrown carrots are far superior to any from the grocery store. No matter what space you have, there is the chance to grow the crop in containers and I encourage anyone to have a go at growing fresh carrots at home.
Sign up to the Homes & Gardens newsletter
Decor Ideas. Project Inspiration. Expert Advice. Delivered to your inbox.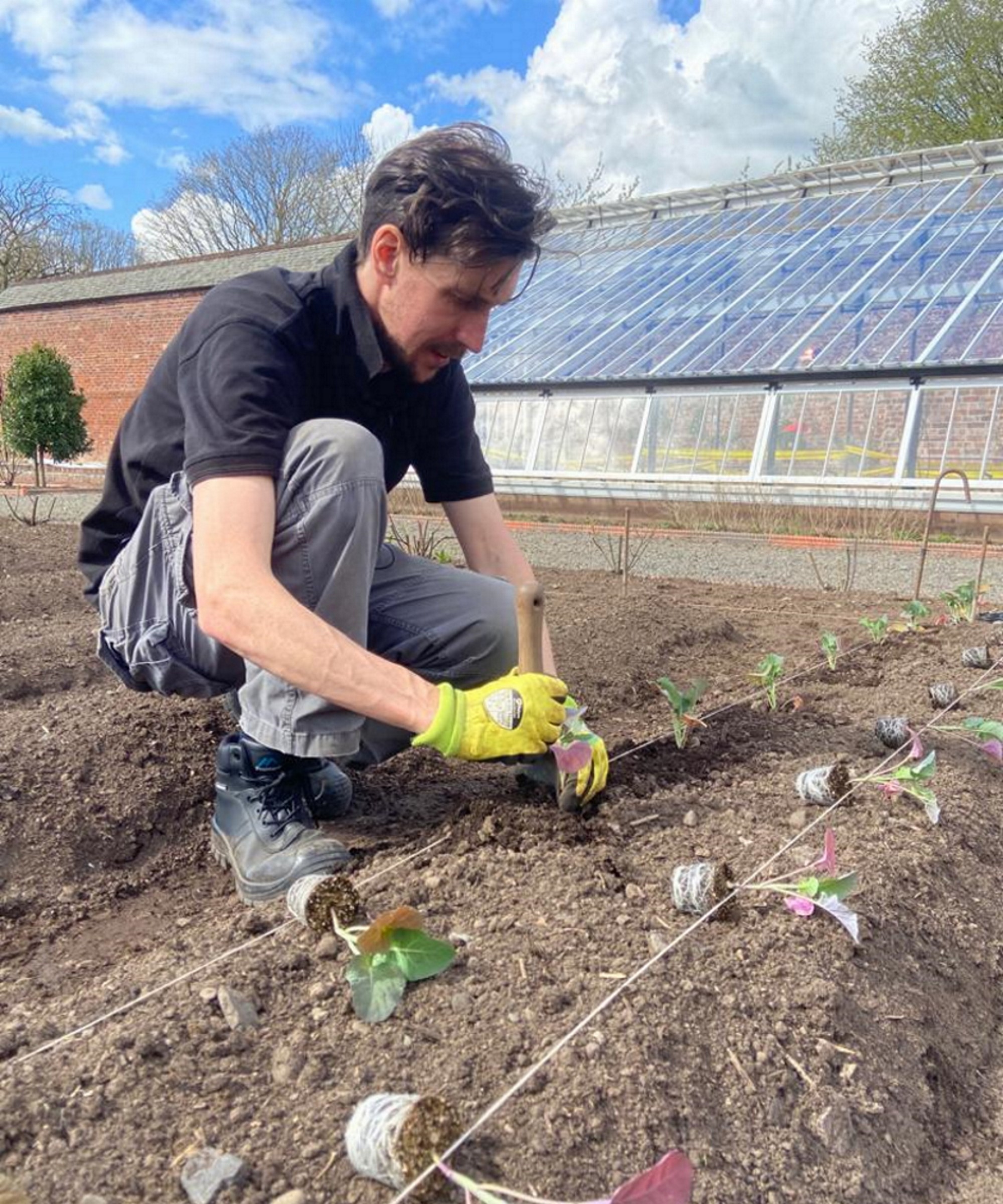 Drew's passion for gardening started with growing vegetables and salad in raised beds in a small urban terrace garden. He has gone on to work as a professional gardener in historic gardens across the UK and also specialise as a kitchen gardener growing vegetables, fruit, herbs, and cut flowers. That passion for growing extends to being an allotmenteer, garden blogger, and producing how-to gardening guides for websites.