Fast-growing vegetables: 10 top picks from a veg growing expert
Some of the fastest-growing crops can give you homegrown harvests in just a few weeks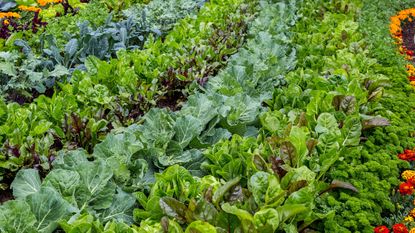 (Image credit: Alamy/Chris de Blank )
Fast-growing vegetables can give you results quickly and simply. When some vegetables can take a long time to grow, you can easily get impatient. This is where you utilize quick-growing vegetables.
If you are thinking of when to plant vegetables, planting speedy crops will give you harvests while you wait for other slower-growing crops. Also, by growing these fast-growing vegetable plants successionally it can mean a continuous supply of homegrown produce all through the season.
The likes of micro-greens, salad leaves, and radishes can give you rapid results with crops in just a few weeks and many of the fastest-growing crops are simple to grow, even for a beginner gardener. I have grown all of these quick-growing vegetables in the kitchen gardens that I worked in during my time as a professional gardener. I found it very rewarding to sow the seeds, watch them grow, and then get a harvest in such a short period of time.
10 fast-growing vegetables to add to your veg plot
These fast-growing vegetables can all give you speedy results and are simple to grow at home. As well as for growing in beds, if you are looking for vegetable garden ideas, these crops are suitable for raised garden beds and many are even ideal for vegetable container gardens.
Always follow the guidelines on seed packets and be aware that the speed of growth for all crops outdoors will be dependent on the time of year they are sown and the weather conditions.
1. Microgreens
Ready to harvest: 14-21 days
Microgreens can be grown on a windowsill and go from sowing the seeds to harvesting in as little as two weeks. They are the seedlings of plants and are packed with nutrition and flavor.
Common microgreens to grow at home include cress, radish, beets, pea shoots, and arugula. You can grow microgreens year-round and they can be added to salads or used as garnish on dishes. Sow microgreen regularly, every week or two, to ensure a constant supply of delicious and nutritious shoots.
Buy microgreen seeds from Burpee.
2. Radish
Ready to harvest: 20-25 days
Radishes are one of the fastest-growing crops and can be grown either in the ground or in raised beds, pots, or containers. Sow the seeds thinly and thin seedlings out until they are an inch apart. Water regularly and harvest when the radishes are about an inch in diameter.
Growing radishes means you can discover the wide range of colors, shapes, and flavors they come in.
3. Arugula
Ready to harvest: 20-50 days
Arugula, also known as rocket, has a peppery flavor and can give a spicy kick to salads or other dishes. Sown from seed, arugula can be harvested within a few weeks as baby leaves, which are sweeter than their fully-grown counterparts. Harvest the leaves once they get to three inches long.
Arugula grows in full sun or part shade and can be grown either in the ground or in pots in your herb garden. Plants can either be sown directly or raised indoors and planted out.
4. Lettuce
Ready to harvest: 28-42 days
There are a lot of varieties of lettuce and they are one of the fastest-growing crops you can try. When growing lettuce, sow them successionally to have a consistent supply of fresh leaves.
Sow seeds in situ where they are to grow and thin them to around five inches apart. Keep the soil moist to help prevent the lettuce bolting.
You can grow cut-and-come-again lettuce that can give multiple quicker harvests and varieties that form heads – cut-and-come-again types are ready to harvest the quickest.
5. Kale
Ready to harvest: 30-60 days
Kale is a hardy brassica that comes in many colors and sizes and can be harvested quickly as baby leaves. Young kale is very tender and packed with all the nutrition that is found in fully-grown kale.
Growing kale is easy as it can be directly sown in the ground or raised indoors to be planted out earlier. It is a crop that can be harvested over a long period by picking the outside leaves each time. Young kale leaves are ready to be picked when they are the size of your palm.
6. Tatsoi
Ready to harvest: 30-45 days
Tatsoi is an Asian brassica very similar to bok choy, which is another of the fast-growing vegetables. It grows a rosette of long leaves very quickly and can be harvested around a month after sowing.
Tatsoi is a good vegetable to grow in the shade. It is best to sow the plant in the spring and fall and water regularly to stop it bolting.
7. Baby beets
Ready to harvest: 50-70 days
Growing beets is simple and they have a long season, from early summer into late fall. There is a range of colors of beets to discover, including yellow and white as well as the usual purple varieties.
Successionally sow beets every three weeks to have a continual crop. Sow directly into the soil and thin the roots to an inch apart. Baby beets are ready in around 50 days and should be picked when they are between an inch or two in diameter.
8. Spinach
Ready to harvest: 50-70 days
Spinach is packed with vitamins, minerals and antioxidants and can be picked young to be eaten raw. To grow spinach, sow seeds around an inch apart and thin them out so plants are about spaced at 10 inches.
Leaves can be picked as 'baby' leaves with scissors by cutting off at the stem and, by taking small harvests from each plant, the plant will continue producing new leaves.
9. Carrots
Ready to harvest: 50-80 days
Smaller early varieties of carrots can be sown from early spring onwards and produce sweet and crunchy roots in under two months.
To grow carrots, sow the seeds thinly around two inches apart in a shallow trench in the soil and water well. Baby and globe-shaped carrots are the quickest to be ready for harvest, while early types such as 'Early Nantes' can be ready in around 70 days.
10. Spring onions
Ready to harvest: 60 days
Scallions, also known as spring onions or bunching onions, are quick-growing alliums that are harvested for their slender white stalks. Direct sow seeds two inches apart in rows between 12 and 18 inches apart.
When growing spring onions, water well and keep the soil moist as they grow. 'White Lisbon' is a classic type of onion to grow.
Buy 'White Lisbon' seeds at Amazon.
---
Using the fastest-growing crops offers many benefits and helps make sure any garden, even a small vegetable garden, can be productive throughout the season. Small and regular sowings of any of these fast-growing vegetables will mean a regular homegrown harvest with minimum fuss.
Sign up to the Homes & Gardens newsletter
Decor Ideas. Project Inspiration. Expert Advice. Delivered to your inbox.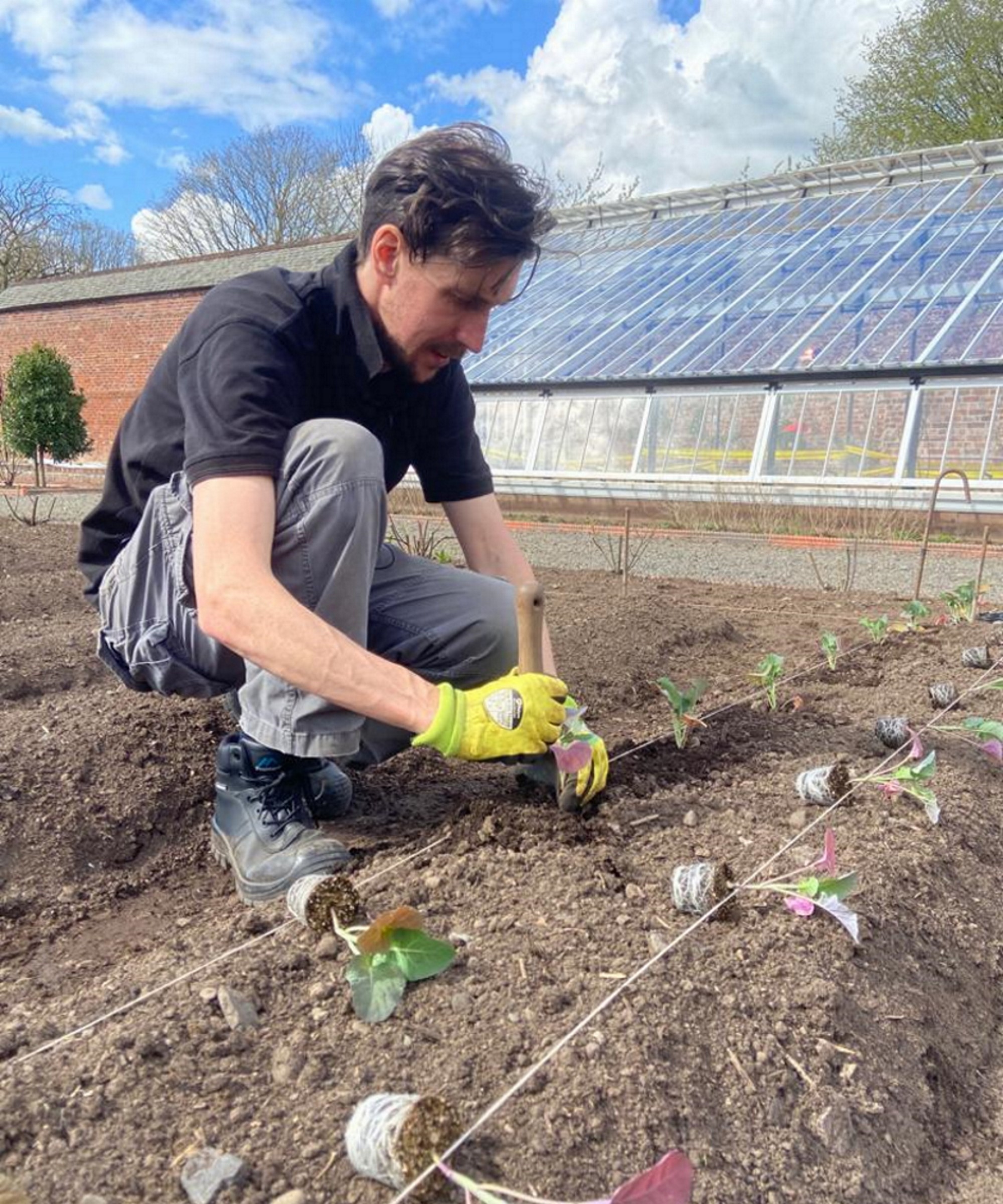 Drew's passion for gardening started with growing vegetables and salad in raised beds in a small urban terrace garden. He has gone on to work as a professional gardener in historic gardens across the UK and also specialise as a kitchen gardener growing vegetables, fruit, herbs, and cut flowers. That passion for growing extends to being an allotmenteer, garden blogger, and producing how-to gardening guides for websites. Drew was shortlisted in the New Talent of the Year award at the 2023 Garden Media Guild Awards.