How to grow spring onions – the perfect accompaniment to salad and stir fries
How well do you know your spring onions? Here's the lowdown on growing spring onions from seed for an easy and tasty crop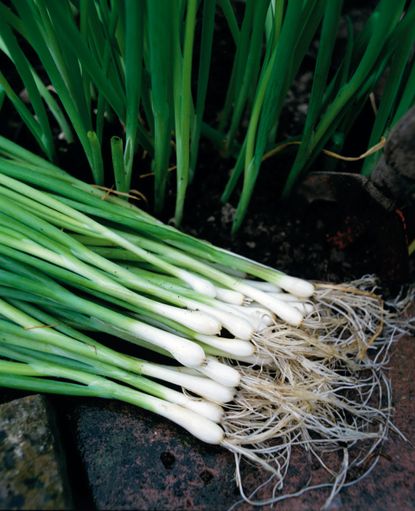 (Image credit: Future)
Want to know how to grow spring onions? These tasty stalwarts of salads and stir fries are easy to grow and look after. We've spoken to gardening experts who really know their onions and it turns out there's still time to get a crop started this growing season if you'd like to give it a try.
Spring onions are perfect kitchen garden ideas for first timers – and for anyone starting a vegetable garden in a container, since they can be grown in pots, too.
What's the difference between scallions, green onions and spring onions?
Before we talk about how to grow spring onions, let's make sure we're all talking about the same plant. Scallions and green onions are different names for the same thing: a smallish, thin plant with straight green tops that grow up to about 12in/30cm above the ground, and a white root end.
Spring onions have the same green leaves, but differ in that they grow a white bulb at their root, the white bulb will grow larger and rounder as the plant matures. All parts are edible, but most people peel away the roots and outer layer before eating.
How to sow spring onions
Here's how to grow spring onions from seeds sown directly into the ground.
Before you start, make sure the ground is free of weeds, as spring onion seedlings look confusingly like grassy weeds when they first emerge.
Break up any lumps of soil and rake the patch over to a fine tilth.
If you sow the seeds in drills 1-2cm deep, with 10cm between your rows it makes it easier to spot the difference between weeds and seedlings as they start to emerge.
Chris Bonnett of Gardening Express says, 'Be sure to sow your seeds thinly. Ideally you want to sow your seeds from March to September.'
Thin your seedlings out to allow about 2.5cm between plants as they grow - and don't discard your thinnings, these can be added to salads so that nothing goes to waste.
Are spring onions easy to grow?
Spring onions are very easy to grow and care for. Gardening expert Chris Bonnett adds, 'Spring onions are versatile and will grow in any well-drained soil, they just need to be in an open area with lots of sun available. They don't need an awful lot of water, so aim to water them in dry conditions only. You can even try mulching; this will help to lock in the moisture to prevent the crop from drying out.'
What is the best way to grow spring onions?
The best way to grow spring onions is from seed, sown directly into your vegetable patch, where they will almost look after themselves, as described above. However, most large garden centres sell spring onions in trays or as plug plants ready for you to plant out or grow in containers.
If you sow your seeds in early spring to early summer you'll be harvesting tender thin spring onions in around eight weeks. Later sowings will overwinter and produce bigger spring onions with larger bulbs by early spring.
How to grow spring onions in containers
Chris Bonnett of Gardening Express says that spring onions make perfect vegetable garden container ideas: 'Surprisingly, you can actually sow spring onions in pots too, just place them on the windowsill where they have access to the sun and make sure the pot has good drainage holes.'
Good drainage is just as important whether you're growing your spring onions inside in pots, or outside in the vegetable plot, as Chris Bonnett explains, 'A common problem that occurs when growing spring onions is a fungal disease known as onion downy mildew. This damages the bulbs and typically happens when the environment is too damp.'
Can you grow spring onions from spring onions?
It is possible to regrow spring onions from the tips of harvested or bought spring onions, provided they still have their roots.
Here's how:
Trim about 1 inch / 2.5cm off the root end of a spring onion and place the root in a shallow pot of water, with the stem just above the water line. Within just a few days you will see new growth beginning to sprout from the top. You can then plant the sprouted roots in the ground or in a container, deep enough to cover the roots and leave the new growth showing above the soil level.
Recommended varieties
Chris Bonnett says: 'There are a few different types of spring onions that you can sow. My favorite is the White Lisbon, this is the traditional spring onion, you can sow it all through summer and it matures quickly.'
Don McCulley of Swallowtail Garden Seeds recommends Evergreen White Bunching, which he describes as 'a superb bunching onion that, instead of a bulb, produces generous clusters of 12 to 16 in. tall slender white stalks with edible bright green tops. Evergreen White is very cold hardy and can be planted in the fall and overwintered, or early spring planted for late spring/early summer harvest. Wonderful sliced on baked potatoes and in salads, or grilled on the barbecue.'
Sign up to the Homes & Gardens newsletter
Decor Ideas. Project Inspiration. Expert Advice. Delivered to your inbox.
Karen is the houses editor for homesandgardens.com and homes editor for the brand's sister titles, Period Living and Country Homes & Interiors, and an experienced writer on interiors and gardens. She loves visiting historic houses for Period Living and writing about rural properties for Country Homes & Interiors, and working with photographers to capture all shapes and sizes of properties. Karen began her career as a sub editor at Hi-Fi News and Record Review magazine. Her move to women's magazines came soon after, in the shape of Living magazine, which covered cookery, fashion, beauty, homes and gardening. From Living Karen moved to Ideal Home magazine, where as deputy chief sub, then chief sub, she started to really take an interest in properties, architecture, interior design and gardening.