How to grow parsley – for salads, soups and more
For tips on how to grow this versatile herb, follow our step by step guide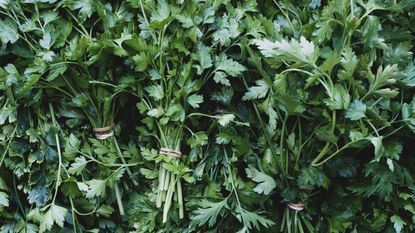 (Image credit: Getty Images)
Wanting to grow parsley at home? Use our step by step guide to bring this fresh herb to your garden and kitchen.
Parsley, also known as petroselinum crispum, is an easy herb to grow at home. It can grow in pots or in borders in your garden and thrives in sunny areas – ideal for herb garden ideas in both large and small spaces. It can also grow indoors – perfect if you want to do some home-growing but do not have room outdoors.
A common herb rich with vitamins and antioxidants, great for adding to salads and sauces, there are two types of garden parsley that are typically used in cooking: flat leaf parsley and curly parsley. Flat leaf parsley is known to have a stronger flavor, with curly parsley more decorative in appearance. Depending on the seeds you choose, both can enhance your dishes with a fresh flavor, guaranteed to taste even better knowing that you've grown the herb yourself.
How to grow parsley
Use our step-by-step guide below to ensure you're equipped with the correct conditions, equipment and knowledge to grow an abundance of fresh parsley at home.
Choose the right parsley seeds
To grow parsley at home, you will need to buy seeds. There are a few variations available, with the main two being flat leaf parsley or curly parsley, choose which one you prefer the taste and texture of, or grow both.
'Most of us think of curly or 'moss-curled' parsley, but the flavor of flat-leaved parsley (Petroselinum crispum 'French') is a little stronger, and more rounded; it is treasured by chefs for its ability to focus the flavors of other ingredients,' says Graham Clarke, gardener and author of Organic Herb Gardener.
How to grow parsley in pots
To grow in pots or trays, scatter the seeds in soil, cover with more soil and ensure they are thoroughly watered.
If you are planning to transplant these seeds outdoors, you can begin sowing in early spring.
If you are growing parsley indoors, you can do so all year round, so can be more flexible in choosing when to plant your seeds.
How to grow parsley from seed outdoors
Parsley can to be planted outdoors between March and August. If you have a greenhouse, you can plant your seeds in trays a little earlier than March in late winter to give them a head-start, then transfer the plants outside to pots or beds when it starts to get warmer in springtime.
To grow in the ground, sow the seeds in rows, 1cm deep in the soil and roughly 15cm spaced apart. Cover with soil and water.
Make sure the plants receive plenty of water and sunlight throughout the germinating and growing process.
Harvesting parsley
Parsley is one of the fastest growing herbs and is best picked when its young and fresh, ensuring you have a plentiful supply will be down to repeat sowings from March to August. It takes roughly 70-90 days for the herb to be fully grown.
Use the fresh herb in many a recipe and keep some back so it can be dried and added to your meals all year round.
Where does parsley grow best?
Parsley can grow both indoors and outdoors, making it a versatile herb that is easy to grow and harvest at home.
There are many options for growing parsley, from pots indoors or in a greenhouse, to fresh soil outdoors in borders. Depending on your garden and how much space you have, there is an option to suit all environments. As long as the plant receives plenty of sunlight and is watered regularly, it should grow well.
Does parsley need full sun or shade?
If you're planting your parsley outdoors, the herb does well in full sun, partial shade areas.
For growing herbs indoors, parsley is a great option. Plant your seeds in a pot and place on a sunny windowsill, ensure that plant gets plenty of water but does not become water-logged – find the perfect balance!
Does parsley re-grow after cutting?
Yes, during the correct season, parsley will re-grow after cutting. It is advised to frequently cut the stems when the plants are fresh as this encourages healthy growth.
Knowing when to plant herbs will ensure that you're growing and harvesting your parsley in the perfect conditions. Parsley is a biennial herb, which means it takes two years to complete its full life cycle. In the first year it forms leaves, which is what you will pick to get the fresh herb. In the second year it grows small yellow flowers and the leaves will turn bitter. After the seeds have been fully produced, the plant will then die.
Sign up to the Homes & Gardens newsletter
Decor Ideas. Project Inspiration. Expert Advice. Delivered to your inbox.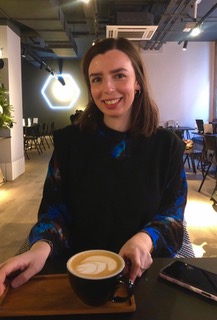 Zara joined Homes & Gardens in February 2022 as a Content Editor. After studying English Literature at University, she worked as an Ecommerce Website Editor, Content Writer and Buying Intern at multiple independent businesses within the luxury retail and lifestyle sectors. Her role at Homes & Gardens unites her love, experience and passion for the world of design and desire to create inspiring written content. She enjoys nothing more than discovering new trends, brands and products, whether that be in fashion, interior design or lifestyle.