Perennial onions – discover the low-maintenance alternative to traditional onions
8 of the best perennial onions for flavor year-after-year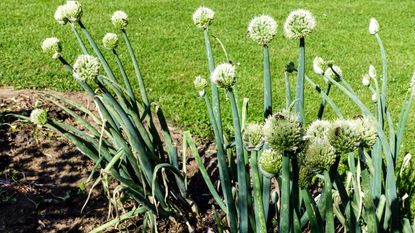 (Image credit: Alamy/Botany vision )
Sign up to the Homes & Gardens newsletter
Decor Ideas. Project Inspiration. Expert Advice. Delivered to your inbox.
Thank you for signing up to Homes & Gardens. You will receive a verification email shortly.
There was a problem. Please refresh the page and try again.
Onions are a staple in vegetable gardens and kitchen cupboards around the globe. They are a hugely versatile crop and come in a variety of forms, including the lesser-known perennial types.
Most gardeners grow onions as an annual crop, however perennial onions can give you a crop year-after-year and there is a wide range of these edible plants to discover.
If you are discovering how to grow onions, or want to branch out into new varieties of onions on offer, then perennial types offer a real alternative to the norm and we highlight eight fantastic perennial onions to consider for your yard.
Drew is a journalist and former professional kitchen gardener and has spent years working in productive gardens growing vegetables for chefs. He is passionate about homegrown produce and has spent over a decade growing edibles, both in the gardens he worked in and at home.
8 perennial onions to discover
Perennial onions are grown around the world and differ from traditional onions as they can give you an onion harvest every year, rather than needing to be grown and planted each season.
There is a wide range of perennial onions to choose from. Some are grown for their bulb and some for the stalks or foliage, indeed with many the entire plant is edible. They offer a very interesting alternative to the annually-grown types of onions that people cultivate in vegetable gardens every year.
Lina Cowley from TrimmedRoots.com claims that each variety of perennial onion 'offers something a little different' and the plants are 'incredibly low-maintenance and don't require much attention'.
'I'm a huge fan of perennial onions because they're so easy to grow and look after,' she adds. 'If you're looking to add some long-lasting flavor to your garden, look no further than perennial onions. Perennial onions are an easy way to add spice and flavor to your dishes without having to replant them each year. Plus, they're an eco-friendly option that helps reduce the amount of water and energy used to replant them each season.'
1. Egyptian walking onions
Other names: Walking onions, tree onions, top-setting onions
Grown for: Bulbs and tops
How to grow: From division or bulbils
Egyptian walking onions are prolific perennial onions that spread around the backyard in quite a unique way, all thanks to the clusters of tiny onion bulbs they put out on stalks. All parts of the plant are edible, from the main bulb at the base, to the stems, to the top tiny onion bulbs. Egyptian walking onions can either be grown by dividing the main plant, or by the top sets. The plant likes full sun, fertile soil and is cold hardy down to -40˚F.
John Thomas, owner of backyardgardengeek.com, says: 'This unique onion produces clusters of small bulbs at the top of the stalk, which can be harvested and replanted to produce more onions. They'll even fall over on their own and self-seed in your garden, producing more plants. They generally have a mild, sweet flavor and are great for adding to all kinds of dishes.
Egyptian walking onion bulblets are available from Amazon or Etsy
2. Potato onions
Other names: Nesting onions, mother onion, multiplier onions
Grown for: Bulbs
How to grow: From bulbs
Potato onions are closely related to shallots and multiply each year to make more bulbs. The small onion bulbs are around half an inch to two inches in size and are commonly harvested annually and replanted.
They are planted from bulbs in fall or spring and will grow through spring and summer. The onions start to separate in the summer and divide into a cluster of edible bulbs. The bulb is harvested when the tops fall and need to be divided ready to be used, stored, or replanted. Potato onions are renowned for their strong and sweet flavor.
Alex Tinsman, from HowToHouseplant.com, hails potato onions as a great option for a perennial onion, hailing their 'low maintenance requirements and exquisite taste'.
You can Potato Onion seeds and bulbs on Etsy.
3. Ramps
Other names: Wild leeks, wild spring onions
Grown for: Leaves, stems, and bulbs
How to grow: Bulbs, seeds
Ramps is a plant that is commonly foraged for its delicious stems and leaves, however it is now becoming a more regular sight in backyards. With a flavor reminiscent of scallions and garlic, it is commonly seen as a woodland plant. They like a shaded spot to grow that has moist soil full of organic matter.
Kelly Martin, founder of the gardening website Urban Garden Gal, recommends ramps as 'one of the easiest types of perennial onions to grow', adding: 'They're cold tolerant to -40˚F and they grow well in partially shaded areas and underneath trees. The leaves and bulbs are edible and they have a sweet, garlic-like flavor. The plants can be left to self-seed and they will slowly spread out in the garden.'
4. Welsh onions
Other names: Welsh bunching onion, Japanese leek, stone leek
Grown for: Stems and leaves
How to grow: Division or seed
Welsh onions are a perennial non-bulbing onion that are grown for their stems that have a mild chive-like taste. They like rich and fertile well-draining soil. Leaves can either be snipped as required or the entire plant pulled when the stems are pencil-thick and around 4 inches tall.
Any bulbs not required can be planted and they will continue to grow and clump up. This will give the crop the following year.
Welsh onion seeds are available to buy from Walmart and Etsy.
5. Prairie onion
Other names: Autumn onion
Grown for: Flowers, bulbs, stems
How to grow: Division
A plant native to North America, the prairie onion has been used in cooking throughout history. The whole of the plant is edible. Bulbs can be cooked or eaten raw and the stems can be used in the same way as chives.
The plant puts out tall stems in July or August that are topped with pink to light purple blooms. After flowering, the prairie onion produces thousands of tiny seeds, however it can take several years for any seedlings to form bulbs. Planting bulbs or division is more recommended to add the plant to your yard.
Prairie onion seeds are available from Walmart and Etsy.
6. Chives
Other names: Oriental garlic
Grown for: Leaves, flowers
How to grow: Seed, division
A great option for your herb garden, chives are a perennial herb that are closely related to onions and both the leaves and flowers are edible. The leaves have a mild onion flavor and are harvested throughout the spring and summer months.
At the end of the season the plant dies back and then re-sprouts come the following spring. When growing chives, clumps can easily be lifted and divided to be spread around a yard.
You can buy chive seeds from Burpee and Amazon.
7. Babington Leek
Other names: Wild leek
Grown for: Leaves
How to grow: Bulb, bulbils
Babington leeks are native to parts of south-west England and coastal Ireland and are ancient perennial plants. They are simple to grow and are harvested by cutting their thin leeks at the base, as the bulb will regrow when left in the ground.
The plant puts out a tall flowering spike that holds small bulbils. It is a hardy plant down to -4˚F and the bulbs or bulbils can be planted at any time of the year.
8. Everlasting onions
Other names: Perpetual onion
Grown for: Bulbs
How to grow: Division
Everlasting onions are a clump-forming perennial onion that continue dividing into new small onions. All you need to do is remove the onions from around the sides as needed in the kitchen and the plant will keep dividing and producing more.
It is a very hardy plant that is tolerant of most soil types and requires little maintenance. The clump can be divided to start new plants that will continue to grow, produce, and divide.
---
Perennial onions are highly under-rated crops that can offer so much, with only a little bit of maintenance required. There is also a real variety of plants out there as well to discover. Whether you are after greens, bulbs, or both, there is a perennial onion that is worthy of a place in your vegetable garden or backyard.
Sign up to the Homes & Gardens newsletter
Decor Ideas. Project Inspiration. Expert Advice. Delivered to your inbox.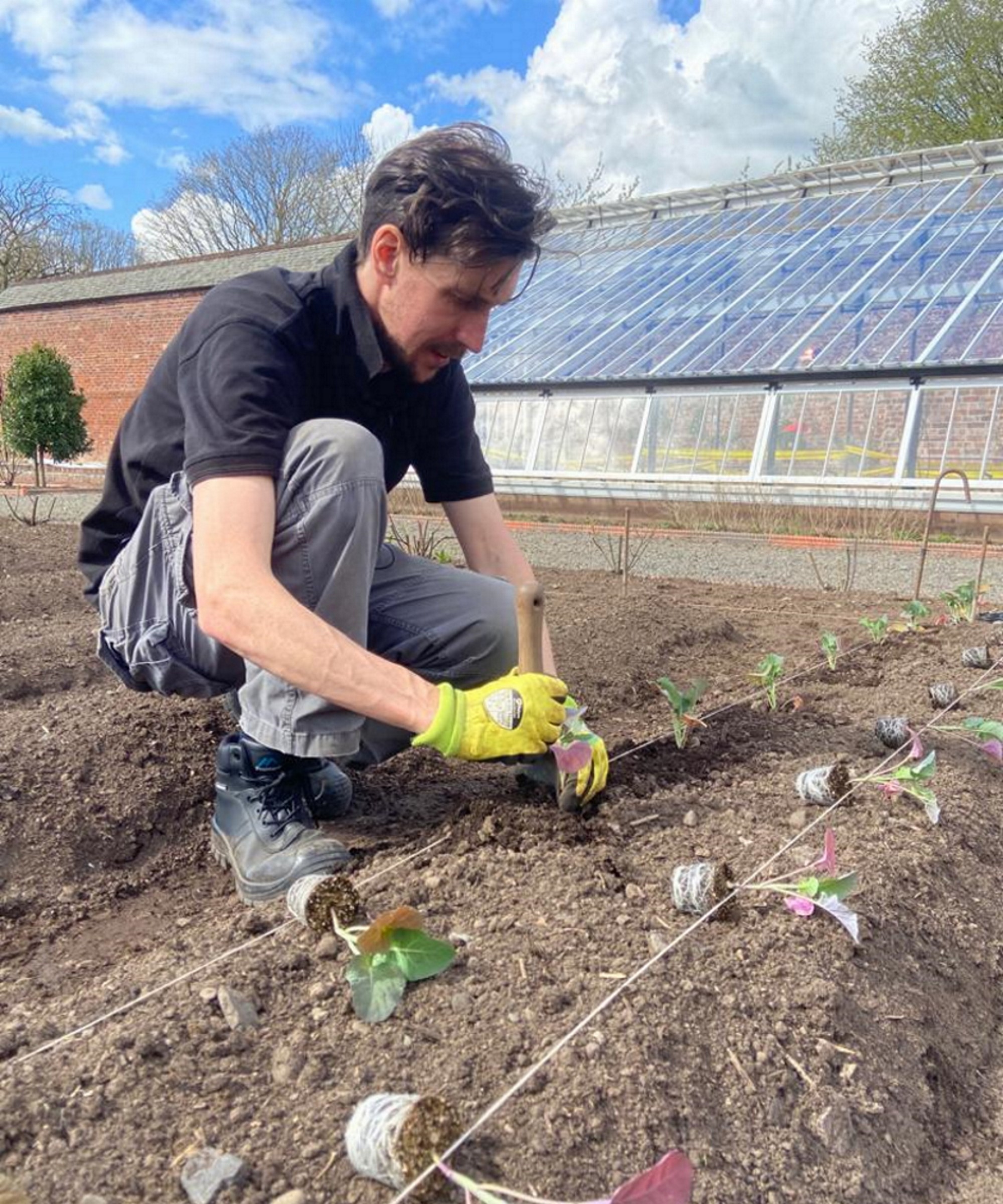 Drew's passion for gardening started with growing vegetables and salad in raised beds in a small urban terrace garden. He has gone on to work as a professional gardener in historic gardens across the UK and also specialise as a kitchen gardener growing vegetables, fruit, herbs, and cut flowers. That passion for growing extends to being an allotmenteer, garden blogger, and producing how-to gardening guides for websites.