How often should you water hanging baskets? The experts explain, and share their top watering tips
Keep your containers up high happily hydrated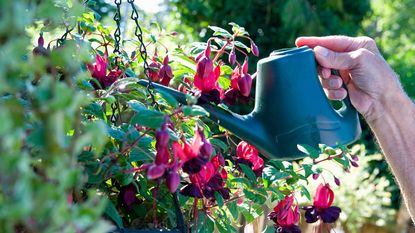 (Image credit: David Burton / The Image Bank / Getty Images)
Sign up to the Homes & Gardens newsletter
Decor Ideas. Project Inspiration. Expert Advice. Delivered to your inbox.
Thank you for signing up to Homes & Gardens. You will receive a verification email shortly.
There was a problem. Please refresh the page and try again.
Does your patio, porch, or balcony include some beautiful hanging baskets? Then knowing how to water them properly is essential, especially in the summer heat. Otherwise, the plants can quickly flop – sometimes beyond repair – leading to a spoilt display and a feeling of disappointment.
As they're suspended up high, hanging baskets are a little more effort to keep hydrated than the rest of your container garden. But remembering to give them a drink will reward you with healthy, happy blooms that'll brighten your yard for weeks – even months – on end. However, it's possible to overdo it, so it's important to get the balance right.
How often to water hanging baskets
As a general rule, plants in containers need watering more frequently than those planted in the ground. And hanging baskets are no exception, particularly as they're often more exposed to direct sun and wind.
According to the Royal Horticultural Society, you need to check them daily throughout summer. 'Stick your finger about an inch into the soil and assess its moisture content,' says Becky Decker of Gardeninghood.com. 'If it feels dry, it's time to water.'
Another good way to quickly gauge if they need a spot of TLC is to check their weight, adds the RHS – if they feel very light, it's probably time to hydrate.
In cooler weather (or indoors), hanging baskets won't dry out as quickly. But you'll still need to keep an eye on them and aim to keep the compost moist. Watering them two to three times a week should suffice, says gardening expert Tonya Lawson.
How to water hanging baskets
You can use a long-reach watering can or, to make life really easy, invest in a watering wand, such as this Green Mount one from Amazon. Whichever tool you use, try to aim the water at the soil rather than the plants themselves. Harvested rainwater is generally better for plants than tap.
'Ideally, watering should take place in the early morning or late evening to prevent evaporation during the hottest part of the day,' Tonya adds.
A common garden watering mistake is to kill plants with kindness – in other words: to water them too much. Waterlogged soil can suffocate roots and lead to problems with root rot, which can be fatal.
A way to avoid this common hanging basket mistake is to ensure that they have proper drainage from the bottom. This will prevent your plants from sitting in excess water. And, remember, if your hanging baskets feel heavy and the soil feels wet to the touch, leave them for another day or so.
FAQs
How can I rescue an overwatered hanging basket?
If your baskets are showing signs of stress after overzealous watering, it may not be too late to help them recover, says gardening expert John Negus. 'Start by removing the plants and reset your charges in fresh compost,' he says, recommending a mix of two-thirds potting compost and one-third coarse grit. Work in slow-release fertilizer granules, and don't line the baskets with paper, as it may trap moisture, he adds.
'Consign your baskets to the greenhouse to become established. Then, when they are looking perky, gradually harden them off before positioning them outdoors.'
John has been a garden journalist for over 50 years and regularly answers readers' questions in Amateur Gardening magazine. He has also written four books and has delivered many talks over the years on horticulture.
How can I make my hanging basket less maintenance?
Not everyone has time for daily watering. Luckily, there are a few ways to help your hanging baskets go for longer without a drink. 'Look for flower types that are drought-tolerant and can go several days without water, even on the hot days,' suggests Anna Ohler, Owner of Bright Lane Gardens nursery. 'Portulaca, strawflower, and any succulent varieties are usually pretty drought-tolerant and can handle drying out for a few days.'
You can also find self-watering containers, such as these SwinDuck 10-inch hanging pots from Amazon, which hold water in a reservoir for hydrating the plants as and when needed.
Finally, you could consider an irrigation system. These can range from simple watering orbs which you fill up and push into the soil, or more sophisticated setups, such as the Orbit hose-end hanging basket watering kit from Amazon, attached to a timer.
Anna is an avid plant hobbyist and the Owner and Operator of Bright Lane Gardens, a boutique plant nursery in Northern Michigan. With over a decade of experience in gardening and landscaping, she takes every opportunity to share her knowledge on all things plant related.
---
Whether it's petunias, pansies, or pelargoniums in your hanging basket, these watering tips will ensure they look their best. But remember, a good plant care routine goes beyond proper hydration. Deadheading is also a key part of looking after these container displays, to keep them blooming for longer.
Sign up to the Homes & Gardens newsletter
Decor Ideas. Project Inspiration. Expert Advice. Delivered to your inbox.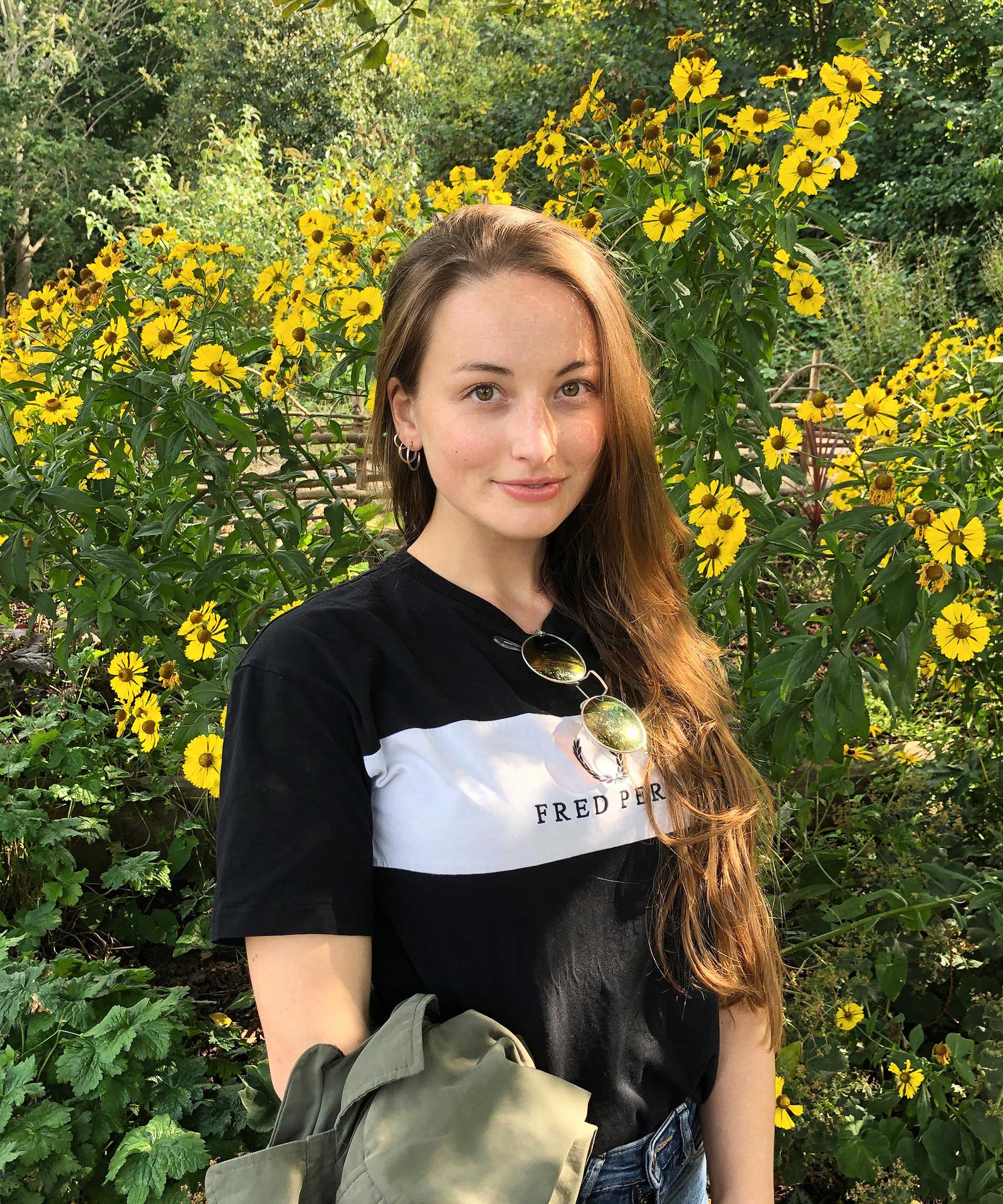 The garden was always a big part of Holly's life growing up, as was the surrounding New Forest where she lived. Her appreciation for the great outdoors has only grown since then; over the years, she's been an allotment keeper, a professional gardener, and a botanical illustrator. Having worked for Gardeningetc.com for two years, Holly now writes about plants and outdoor living for Homes & Gardens.