When to plant peonies – for a wonderful early summer show
Discover when to plant peonies to add their beautiful, plump blooms to the backyard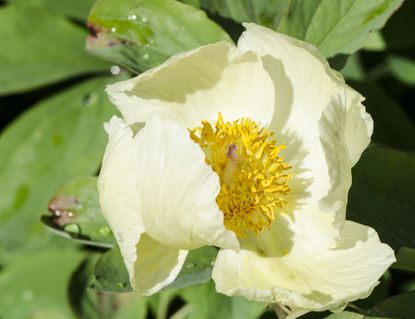 (Image credit: Getty)
Asking when to plant peonies so you can bring flowers like the ruffled layers of a wedding dress with a mass of silky pink, white, or magenta petals – sometimes up to 300 – to your backyard?
Voluptuous, romantic peonies produce their richly scented blooms in May and June so, once you're in the know about how to grow peonies, understanding when to introduce them to your yard is crucial.
Our guide has the lowdown on when to plant peonies to enjoy their generous flouncy flowers opening the door to summer year after year.
When to plant peonies
The answer to when to plant peonies is that potted herbaceous and intersectional peonies can go in the ground at any time of year, but are best planted in late April or May or September. Bare root herbaceous and intersectional peonies can be planted in fall; likewise, potted or bare root tree peonies also perform well if planted during fall.
Hailing from China, the most widely grown herbaceous peony (Paeonia lactiflora) is long-lived and, as part of your flower bed ideas and for an unashamed show of hand-on-brow romance and femininity in the backyard, plant roses with it. Peonies are also great if you're planting a cottage garden border; in this case grow foxgloves and bellflowers with them. And they also work well in contemporary borders.
'I like to see peonies emerging from a bank of ornamental grasses such as Liriope spicata or Carex oshimensis 'Everillo' or intermixed with spring bulbs,' says Oregon-based landscape architect and garden designer Bethany Rydmark.
When to plant potted peonies
The traditional herbaceous lactiflora peonies and the more modern intersectional forms can go in the ground at any time of year if you buy them containerized. The optimum planting time is mid to late spring or early fall when the weather is mild. However, potted peonies can go in the ground at any time of year, if need be.
'Once peonies are established in their pots they are able to be planted at any time of the year,' says Alec White, owner and head nurseryman at Primrose Hall Peonies. 'The sooner you plant your peony in the garden, the quicker it will root. For mature plants this means they will bloom in their next flowering season. All our plants are at least five years old, which means they are at flowering maturity.'
Avoid planting during very hot or very cold weather or when the ground is waterlogged.
When to plant bare root peonies
As for when to plant peonies in bare root form, be aware of how these are cultivated. 'Bare root peonies are lifted from the field in fall and kept in cold storage, and it is best to plant them as close to lifting as possible,' says Alec White.
'This is because the bare roots deteriorate as soon as they are out of the soil. The fine white hairy roots on the tuber start to die back after lifting and for this reason we would advise not to buy or plant bare root peonies beyond November depending on the ground conditions.
'We have noticed a number of bare roots available to purchase during spring – be aware that those bare roots will have been in storage since fall and will not establish in the garden until the following season at least.'
Soak the roots for half an hour to an hour before planting in well-drained, retentive, rich soil in sun.
When to plant tree peonies
Both containerized and bare root tree peonies (shrubby peonies with woody stems) are best planted in fall, so that they can establish a healthy root system over winter, ready for the spring growing season.
However, it is also possible to plant in winter (as long as the ground is not frozen or waterlogged) or early spring. But avoid planting during very cold weather and never plant during the heat of summer.
Bare root plants are cheaper, but not as reliable. Soak the roots for half an hour to an hour before planting.
Tree peonies dislike being waterlogged, so ensure they have a free-draining soil by digging in organic matter and grit, if necessary, before planting.
When to plant species peonies
There are several lovely species peonies available – including soft-yellow P. daurica subsp. mlokosewitschii (Molly the Witch), pink P. cambessedesii (Majorcan peony), and red P. tenuifolia (fernleaf peony) – and they are best planted in late spring. However, they can be expensive, so it's worth trying to grow them from seed in the fall.
When to sow peony-flowered plants
Peonies can take time to establish. If you're impatient, there are several plants that have similar flowers:
Peony-flowered opium poppies (Papaver somniferum Paeoniiflorum Group), such as 'Scarlet Peony' and 'Black Peony', have peony-like double flowers above blue-gray foliage in summer. Sow direct in April or May for flowers this summer or sow direct in early fall for flowers next year.
Double hollyhocks (such as Chater's Double Group and 'Peaches 'n' Dreams') have peony-like flowers on tall stems in summer. They are short-lived perennials grown as biennials and can be sown in spring or early fall, or bought as potted plants and planted between May and October.
Gorgeous double tulips (such as soft-pink 'Angélique' and crimson 'Antraciet') produce peony-like blooms in April and May. Plant them in late October or November for flowers the following spring.
Rachel is senior content editor, and writes and commissions gardening content for homesandgardens.com, Homes & Gardens magazine, and its sister titles Period Living Magazine and Country Homes & Interiors. She has written for lifestyle magazines for many years, with a particular focus on gardening, historic houses and arts and crafts, but started out her journalism career in BBC radio, where she enjoyed reporting on and writing programme scripts for all manner of stories. Rachel then moved into regional lifestyle magazines, where the topics she wrote about, and people she interviewed, were as varied and eclectic as they were on radio. Always harboring a passion for homes and gardens, she jumped at the opportunity to work on The English Home and The English Garden magazines for a number of years, before joining the Period Living team, then the wider Homes & Gardens team, specializing in gardens.