Design house: A Toronto family home gets a functional and long-awaited renovation
The owners have lived in this house near Toronto for almost two decades, but only now has it finally become the home their young family needs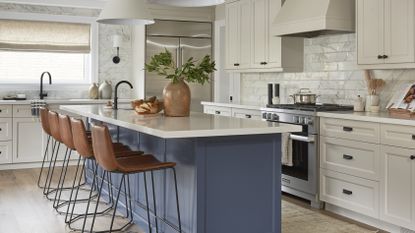 (Image credit: Tiffany Leigh Design/Lauren Miller)
Having lived in their Ontario home for almost 20 years, its long-awaited renovation was an emotional experience for both the owners and Toronto-based Tiffany Leigh Design.
'We all shed a couple of tears on the big reveal day!', said the team. 'They purchased the home as newlyweds in 2002 and have been saving for this renovation for years.'
For a family with two school-aged children, function was just as important as aesthetics, with storage, space (the renovation included an extension to the kitchen) and the ability to entertain all high up on the clients' 'must-have' list. 'They made it clear early on that they live in their house hard, aren't precious and weren't interested in living in an all white house,' explained Tiffany Leigh Design.
The end product is an inviting family home that boosts the warmth of its neutrals with ochre-tinged natural browns, cools them delicately with smoky blues, and uses white sparingly to lighten the spaces.
See: World's best homes – tour the globe's most beautiful houses
Foyer
A warm welcome is just what you'd expect from a house like this. Its foyer provides just that, with an open format that uses a large, but subtly framed mirror to bounce light around the space and make it feel even bigger. Relaxed woven baskets and a rug suitable for both indoor and outdoor use make it known that this is a house for living in comfortably.
Mudroom
'We wanted this mudroom to be a true workhorse', said the team. Storage space is the name of the game here, with a closet taking up a full wall of the room in Benjamin Moore's Van Deusen blue, and housing individual 'lockers' for each member of the household. A durable porcelain flooring has been employed to take on the elements, while a bench offers yet another practical touch to allow winter entrants to take off their boots with ease.
Powder Room
'We love splurging a bit on materials in powder rooms because you need so little,' said the team. There's fun to be found in this petite powder room: as well as a gallery wall made to house family photos, mosaic marble floor tiles add a flourish of pattern, which is carried through more subtly in the vertical shiplap wall panelling.
Kitchen
Arguably the heart of this home (and at least the focal point of the renovation) is the sprawling kitchen, extended by Kingsgate Construction. Tiffany Leigh Design has made it a highly functional space, with extensive storage embedded across both the perimeter units and the central navy blue island, all tucked neatly behind closed doors, finished with modernizing black fittings.
See: Kitchen ideas – decor and decorating ideas for all kitchens
The use of greige (grey-beige) for the cabinets offers a warmer alternative to white, while the calacatta marble subway tiles lend freshness and modernity.
Alongside warm brown leather bar stools providing seating at the island, the kitchen also houses a relaxed breakfast 'nook', where the marble's tones are reflected in a white-supported bench and powder grey upholstery, made with leather-look vinyl for easy cleaning.
Dining room
Things take a darker turn in the dining room — but that's not necessarily a bad thing. A space for grown-up entertaining, this room is painted in a darker greige shade and punctuated by darker woods, particularly notable in the 'barn' door, made from black wood and glass.
The use of black inflections across the kitchen is extended to a more dominant chandelier over the dining table, while the flatwoven rug is heavily patterned to perhaps hide any late-night drink spills.
See: Dining room ideas – inspiration for decorating and furnishing your space
Living Room
The living room is a lesson in how to make a smaller space feel cosy rather than compact. A light base palette is peppered with warm accents both big and small, from a brown leather recliner to woven footstools, which among the items in the house sourced from Tiffany Leigh Design's vintage store TLD Curated.
The large rug patterned with blue cools the palette but helps warm toes in front of the fireplace, while the Samsung Frame above the marble mantle doubles as both a TV and a space to display digital art.
See: Living room ideas – clever ways to decorate living spaces
Master Bedroom
'This master bedroom feels like a little retreat,' the team said. Dream-inducing smoky blues take precedent in the master bedroom, where a bespoke navy headboard has been designed to feel like an oversized pillow, ripe for sinking into.
Large bedside tables help minimise distracting clutter, while a daybed offers a bonus venue for rest and relaxation.
See: Bedroom ideas – designs and inspiration for beautiful bedrooms
Master Ensuite
'The bluestone marble used in the washroom feels so special, and a bit different from everything else we are seeing lately', said Tiffany Leigh Design. The team reconfigured the ensuite to be able to encompass both a tub and a large shower, as well as a double vanity unit.
A milking stool is among the wooden accents adding a natural touch, also reflected in the inclusion of a well-groomed tree and landscape artwork.
See: Bathroom ideas – stylish decor ideas for all bathrooms
Family Bathroom
This bathroom is all about the kids — or at least tackling the inevitable mess they leave behind in a playful, stylish way. The chevron tiles add graphic punch to the room, while the classic subway wall tiles have been used for ease of cleaning. Each child also has their own sink and storage spaces to minimise both clutter and squabbles.
Interior design: Tiffany Leigh Design
Photography: Lauren Miller
Construction: Kingsgate Construction
Ailis started out at British GQ, where a month of work experience turned into 18 months of working on all sorts of projects, writing about everything from motorsport to interiors, and helping to put together the GQ Food & Drink Awards. She then spent three years at the London Evening Standard, covering restaurants and bars. After a period of freelancing, writing about food, drink and homes for publications including Conde Nast Traveller, Luxury London and Departures, she started at Homes & Gardens as a Digital Writer, allowing her to fully indulge her love of good interior design. She is now a fully fledged food PR but still writes for Homes & Gardens as a contributing editor.