A central London apartment showcases a crafted contemporary interior
Chic furnishings and sumptuous touches add character to this art collector's serene city home, transforming it into a masterpiece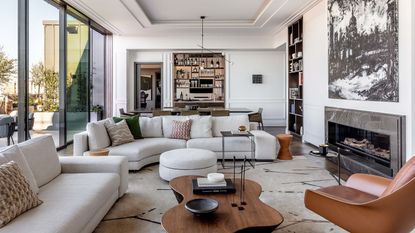 (Image credit: Taran Wilkhu)
Introducing personality was key to this central London penthouse, now one of the world's best homes. Located in a former office building, it had already been fitted out and fully furnished as the show home in a development of 23 units. 'In typical show home fashion, it was pleasant and contemporary but did not reflect the client's personality or lifestyle,' says Michelle Sweeney, Design Director at KSR Interiors. The project required a complete rethink and appropriate redesign, weaving new elements into the existing interior.
The owner is an art collector and philanthropist, and KSR had undertaken previous projects for him that had largely been blank canvases. 'This redesign required a delicate understanding of how to enhance and adapt an existing shell and add atmosphere,' says Michelle. 'We were required to carefully work with the existing building, structural limitations, and the client's ambitions to create a new home for him, his family and his unique lifestyle.'
The client wanted 'to create a space that felt luxurious yet comfortable and textural, where one felt stylish but relaxed enough to put your feet on the sofa,' says Michelle. 'We discussed combining timeless pieces with high-quality natural materials for a fresh and contemporary feel. Drawing on our client's South African roots and impressive art collection, we were inspired to include natural forms and dark tones while open, light spaces served to focus attention on the artworks.'
Design Director Michelle Sweeney, who heads up the KSR Interiors team, has more than 15 years' experience working over a variety of design disciplines. An all-round designer, she enjoys working closely with clients to develop new and exciting concepts and seeing them come to life on site. 'With this project, we had the exciting challenge of adapting what many would consider to be a "completed" design – a show home ready to move into – and injecting it with the vivacity of the homeowner.'
Entry
The penthouse has a grand entrance for welcoming guests. A skylight floods the space with daylight. Michelle's hallway ideas include a rug made to a bespoke shape and size to complement the oval shape of the room, which adds warmth to the polished Pietra Gray marble flooring. A crafted console injects texture and a cozy touch.
Living room
The most significant challenge was redesigning the main living space. 'The room we inherited was formal and inflexible with a symmetrical furniture layout, typical of a traditional design. Treating this space as a blank canvas, we analysed how it could be best used for both entertaining and everyday life, incorporating a flexible modular design. Whether hosting a large dinner party, enjoying sports, or relaxing, the space needed to be adaptable yet flow as one,' says Michelle.
Large windows fill the room with natural light and offer dramatic views of the London skyline. Living room ideas involved creating a light and fresh, welcoming space by introducing a natural color palette with the warmth of timber and textures. Neutral pieces that are modular, comfortable and timeless are combined with beautifully crafted objects and furniture for a relaxed yet sophisticated feel.
This is definitely a space for entertaining, with connections to the large terrace. A bespoke bar provides a focal point in the room and is enjoyed by the client as a showpiece when hosting dinners and events. Use of smoked glass creates subtle reflections of the room. The space is welcoming yet luxurious and sophisticated, with a beautifully curated mix of unique furniture and objects.
A flexible seating arrangement ensures there is plenty of space for entertaining guests.
Dining area
In the open plan area, a large table is perfect for hosting dinner parties. Other dining room ideas include bespoke joinery in dark stained oak with a bronze trim detail and feature lighting to display the client's books, drinks collection, family photos and beautiful objects. 'Inspired by the earthy tones of the client's art collection, we designed bespoke joinery with mottled and unique finishes and with warming tones to further enhance the space for entertaining,' says Michelle.
Kitchen
The existing kitchen was reconfigured and enhanced. Dark stained oak cabinetry is teamed with metallic finished doors that complement the light oak island, bringing attention to the room's centerpiece.
Kitchen ideas included reconfiguring the long island with an open-end seated area to visually connect the kitchen and the family dining room, allowing the two rooms to flow as one. The stools were selected to create a casual relaxed seating area.
Kitchen diner
The connection to the east-facing family terrace floods the space with natural light.
The oval dining table, made with end grain wood and paired with comfortable upholstered chairs, is ideal for informal family meals.
A beautiful but simple console is the perfect place to display objects, while also being functional during dinner.
Office
Home office ideas include a bespoke desk, made in fumed oak, that allows the client to position himself either looking out over the terrace to the panorama beyond or facing into the main living room where he can enjoy direct views to his feature art.
Michelle introduced display shelves that allow the space to be personalised and fun while still functional. Warmth is created with a soft textured wallpaper and a large graphic rug over the traditional timber flooring.
Main bedroom
The main bedroom is decorated in a minimal and relatively pared back interior style with similar soft gray hues, while a rich orange accent color was introduced for depth and warmth.
The profile of the room was lowered to bring focus to the bottom half of the bedroom. Bedroom ideas include a bespoke upholstered feature headboard that spans the full length of the wall, creating a contemporary and clean look. Dark bedside tables inject contrast.
Guest bedroom
Creating a new connection from the guest bedroom to the family TV lounge allows this area to become a guest suite when needed. As it's a smaller room, it was important to keep the space bright. Pocket doors were used to take up less space – it means they can be left open when not in use, allowing the room to feel bigger and lighter. Wall-mounted reading lights save space on the bedside tables.
The bed orientation allows guests to enjoy views out to the stunning London skyline.
Art was carefully placed to inject a touch of color to the room.
Bathroom
Bathroom ideas include a focal point elegant slipper tub, while marble clad walls provide a sumptuous backdrop.
Terrace
Two large terraces provide precious outdoor space in the heart of London. 'The east/ west orientation and connectivity to the terraces allows the penthouse to enjoy daylight from sunrise to sunset,' says Michelle. 'Each terrace provides a different experience. The large fully glazed doors to the western terrace allow it to become an extension to the main living room, perfect for hosting events. The eastern terrace is more intimate, connecting the family living space and kitchen to the barbecue area, which becomes the center for family gatherings.'
Interior design/ KSR Architects & Interior Designers
Photographs/ Taran Wilkhu
Sign up to the Homes & Gardens newsletter
Decor Ideas. Project Inspiration. Expert Advice. Delivered to your inbox.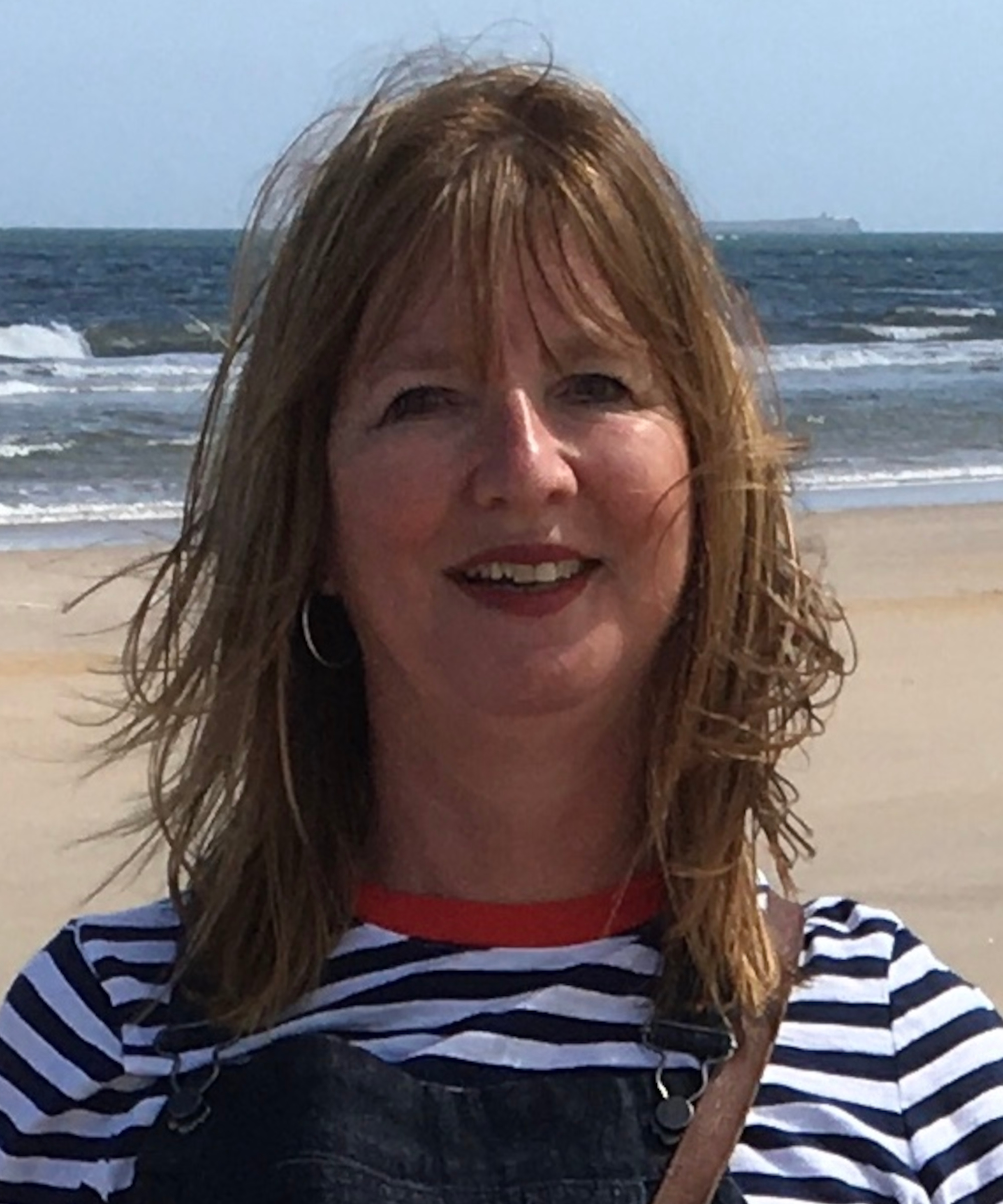 Interiors have always been Vivienne's passion – from bold and bright to Scandi white. After studying at Leeds University, she worked at the Financial Times, before moving to Radio Times. She did an interior design course and then worked for Homes & Gardens, Country Living and House Beautiful. Vivienne's always enjoyed reader homes and loves to spot a house she knows is perfect for a magazine (she has even knocked on the doors of houses with curb appeal!), so she became a houses editor, commissioning reader homes, writing features and styling and art directing photo shoots. She worked on Country Homes & Interiors for 15 years, before returning to Homes & Gardens as houses editor four years ago.