Landscaping around trees – 10 stunning ideas
Discover the best ideas for landscaping around trees and add interest and character to your garden scheme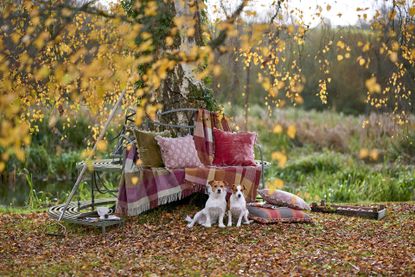 (Image credit: Susie Watson Designs)
Landscaping around trees has seen a real progression in recent years. Gone are the days of simply edging your tree with bricks or covering the exposed soil with gravel. Instead, there are plenty of colorful and architectural ideas to add character to your backyard ideas, rather than just dressing with stones, slate or bark.
If you're wondering where to start, these 10 ideas for landscaping around trees are sure to spark inspiration.
Landscaping around trees
Whether you're looking to add landscaping interest around large trees – such as some of the best trees for privacy and screening – or simply want to add color to trees grown in pots, there are so many options. These are our favorite ideas for landscaping around trees.
1. Underplant trees with bulbs to create seasonal interest
Landscaping around trees can add interest even when the tree is bare. In fact, early bulbs will grow before the tree is in full leaf so you don't need to worry about battling with shade. Of course, underplanting a tree is not straightforward as there's a concern for damaging the tree's roots.
Before you start, be sure to throughly mulch the base of the tree with organic matter, this will give you space to plant the bulbs without damaging the roots.
'To have a succession of different bulbs from January to May, plant a variety, from the early blooming snowdrops, winter aconites and crocuses, through snowflakes, fritillaries and narcissi, to tulips, alliums, and camassias.' advises garden expert Leigh Clapp 'Muscari or grape hyacinths naturalize well under trees and shrubs. Mix with primroses, daffodils, pansies and early tulips for a pretty combination'.
Once planted, your bulbs will continue to grow, multiply and reappear each year, making them a low-maintenance way to add floral landscaping around trees. Plus, as the bulbs disappear back underground once they've finished blooming, you can still mulch, feed and water your trees as needed.
2. Create a relaxing spot by adding a bench
Adding a circular bench around a large tree not only invites a shady spot to rest in but also provides a point of visual interest to the whole garden scheme. A fairly straightforward idea for landscaping around trees, there are many companies that craft beautiful benches for trees, from wooden designs that add classic country charm to ornate cast-iron designs that have an antique-feel and add traditional elegance to your space.
You can even get personalized designs that make for a beautiful gift and are sure to stay in the family for generations.
3. Use the shade provided by trees for an al fresco dining space
If you're looking for garden shade ideas that are useful as well as attractive, utilize the shade a tree provides by creating an al fresco dining space underneath.
'Your outdoor space should be a place for you, your family and your friends to enjoy. With this in mind, treat your garden like you would your home and fill your space with accessories that reflect your personality. Think about your concept, furniture and accessories to create a space that feels like a room,' Scarlett Blakey, interior design expert at Ophelia Blake.
4. Frame trees with hedging for an natural yet ordered look
Create a sense of order in your garden by landscaping around trees with a low hedge border. Neatly manicured, it frames the space and harks back to formal parterre designs.
Framing your trees with box or privet hedging will add visual interest and serve to contain the bed into which your trees are growing – particularly if you've used a loose mulch like bark chippings or slate to suppress weeds.
This look works particularly well if used over a larger area – rather than around one specific tree – and to disguise the seam between two different ground materials, such as lawn and plant border or path and plant border.
5. Contain planting by adding a raised border
Constructing a border around your tree will mean that you can raise the level of the soil around the trunk. Doing this not only provides valuable nutrition to the tree but also allows you to underplant without damaging the roots of the tree. What's more, it creates an organized aesthetic that works well with a manicured lawn or alongside a gravelled drive.
6. Build a patio around the tree
Patio areas have been increasingly popular additions to our gardens, offering a low-maintenance space for al fresco dining, entertaining and relaxing. If you are looking for patio ideas, considering adding or extending a patio, then it is good to know that you can incorporate large trees into your design.
However, there are a few things to bear in mind. Your trees roots will run under the area you are planning on paving. If your tree is old and its roots system well established, then the roots are unlikely to cause you any serious issues. However, it the tree is younger, be aware that they may cause disturbance to the patio in the future as the roots grow. Consider raising the level of the patio by lining with a few inches of extra sand to help buffer the roots.
Pavers are also a better choice when building a patio over tree roots as they are more flexible than alternatives like poured concrete. This way if there is any movement, the pavers can easily be relaid, something that is more difficult with concrete patios.
7. Incorporate the tree into your decking
Deck ideas are great for landscaping around trees; in the long-term they are also the lowest maintenance, too. Adding a decked area to your garden opens it up to a whole host of design opportunities. A softer alternative to paving, it harmonizes with trees and planting to create the perfect space for relaxing.
By surrounding the base of the tree, you don't have to worry about weeds, while the added height of the deck also means that the tree's roots are very unlikely to have an impact on the stability of the deck as they grow.
8. Consider landscaping around espaliered trees
Espaliered trees are trained to grow against a wall and as such have a large, rectangular border around the base. Since the tree is flat to the wall, the area beneath it is less shaded than under a conventional tree.
Opt for plants with shallow roots for landscaping around trees as they will not disturb the root system of the tree. Lavender, zinnias, pansies and marigolds are all great choices for underplanting trees.
9. Create a peaceful oasis by positioning a swimming pool under your tree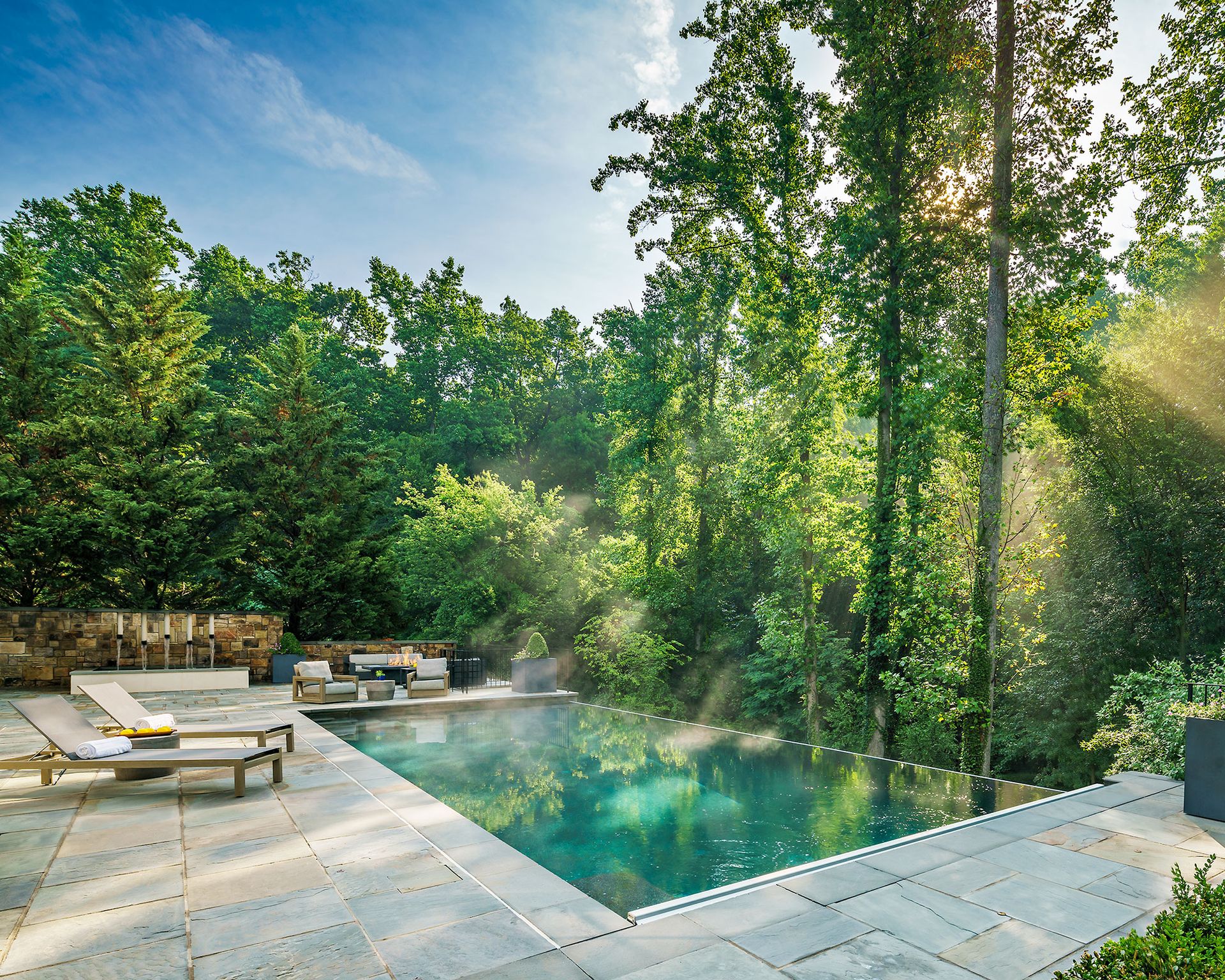 Embrace the serenity of the natural world and create your own spa at home by using tall trees to frame an infinity pool. Landscaping around trees this way provides pool landscaping ideas that are private and shaded, and also offers a relaxing backdrop to your leisurely swim.
10. Welcome nature by encouraging a meadow to grow under your trees
Cutting grass under trees is a challenge, often requiring you switch off the mower and cut it by hand. However, letting the grass grow longer at the base of your trees eradicates this struggle while also giving back to nature. Why not go a step further and make wildflower seeds bombs to scatter underneath? Pick a seed mix that comprises poppies, sweet alyssum, cosmos and evening primroses, it will quickly transform your backyard into one packed with wildlife garden ideas.
What is the best thing to put around the base of a tree?
Shade loving plants or bulbs are the best thing to put around the base of a tree for an easy and instant fix. Hostas, dicentra and primoses are all shade loving plants that will add a burst of greenery below your tree, plus will all produce stunning flowers. Alternatively, ferns are an evergreen choice that will create a rustic, woodland feel to your garden. Interplant with erythronium to add colorful blooms come summer.
'When planting beneath trees, remove any weeds and scratch the surface of the soil with a garden fork, as the soil can be very compacted, taking care not to damage any roots,' advises PL garden expert Leigh Clapp, 'select shade-loving plants with compact root systems so they don't compete with the tree for nutrients and pay attention to watering and fertilising as plants establish.'
What to put around trees to prevent weeds?
You can put everything from a gravel or bark mulch to building a decking around a tree to prevent weeds.
While weed suppressant fabrics are good for preventing weeds, they make it difficult to feed and fertilize your tree, so it is not a good idea if your tree is young and still needs lots of support to grow. Alternative options for young trees include top dressing with bark chippings which will decay over time and provide the tree with nourishment. Another option is to allow a wildflowers meadow to grow as when the wildflowers meadow is established, it will naturally suppress the weeds.
For larger trees, you can afford to cover their root system a little more as they won't be as dependent on fertilizer and organic mulch (though this is still good for them from time to time). Consider building a decking or patio around the base of the tree to create a relaxing space that will also be weed-free.
Sign up to the Homes & Gardens newsletter
Decor Ideas. Project Inspiration. Expert Advice. Delivered to your inbox.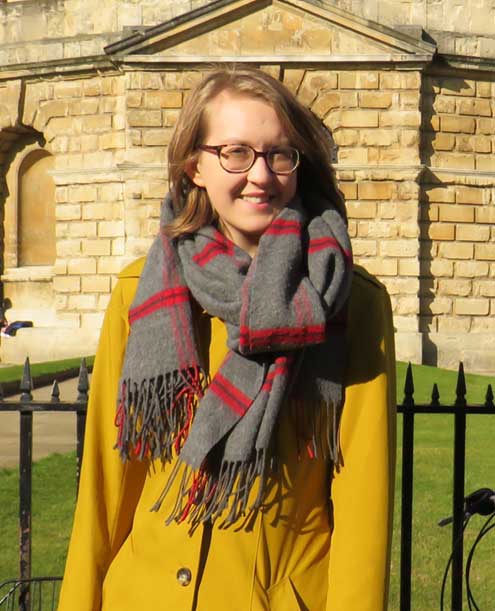 Content Editor and Sub-editor
Having graduated with a first class degree in English Literature, Holly started her career as a features writer and sub-editor at Period Living magazine, Homes & Gardens' sister title. Working on Period Living brought with it insight into the complexities of owning and caring for period homes, from interior decorating through to choosing the right windows and the challenges of extending. This has led to a passion for traditional interiors, particularly the country-look. Writing for the Homes & Gardens website as a content editor, alongside regular features for Period Living and Country Homes & Interiors magazines, has enabled her to broaden her writing to incorporate her interests in gardening, wildlife and nature.