How to maximize storage in a small or shared dorm room, according to pro organizers
Find out all the hidden storage zones you might never have noticed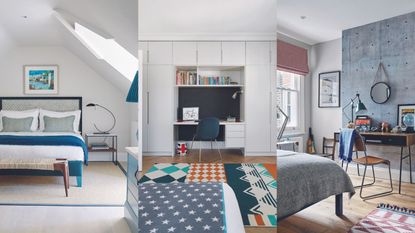 (Image credit: Future)
Sign up to the Homes & Gardens newsletter
Decor Ideas. Project Inspiration. Expert Advice. Delivered to your inbox.
Thank you for signing up to Homes & Gardens. You will receive a verification email shortly.
There was a problem. Please refresh the page and try again.
While every dorm is different, most come equipped with the same elements. There's always a bed, a desk, and a dresser for each roommate, as well as a closet. The space in a dorm room is usually tight, and storage is usually limited.
Luckily, if you plan ahead and pack accordingly, you can maximize the space to fit a lot more than you might think.
The key to this, of course, is to consider all your creative storage solutions.
Dorm room storage ideas for small and shared spaces
In an effort to round up some excellent solutions for increasing storage in a dorm room, we turned to a few of our favorite organizing experts. Here's what they had to say.
1. Make the most of your closets
One of the most important spots for maximizing your dorm room storage is definitely your closet. According to Mary Kathryn LaVallee, owner of OrderUp Design, the best way to do this is by swapping out your dorm-issued hangers.
'Slim, matching hangers, at Amazon are key to organizing and saving space in any closet!' she says. When space is limited, particularly in small dorm room closets, having these hangers is a game changer.'
LaVallee notes that these hangers don't just change the function of your closet and how much you can fit into a tight space, they also create a more cohesive-looking closet, which makes it much easier to sort through when you get ready.
Amanda Wiss, founder of NYC-based home-organizing company Urban Clarity, wholeheartedly agrees. Along with also suggesting slim hangers, she has some great tips for how to really design a smart closet. First, she suggests placing all of your long, hanging clothing on one side of the closet and then organizing the rest by color and style.
'Then you can place a small set of drawers that sit below your shorter hanging clothing,' Wiss explains. 'You can use the additional drawer space for clothing items, toiletries or school supplies AND you can also use the top of the set of drawers as another surface for storage.'
MK LaVallee started her professional organizing business, OrderUp Design, in May of 2018. Thought it started purely as a part-time dream job, LaVallee discovered just how many people need help in the area of organization. With years of professional organization experience plus a background in social work with Understanding and Treating Hoarding Disorder training, helping people get organized is LaVallee's true passion.
Amanda Wiss is the founder of Urban Clarity, a home organizing company awarded NY Magazine's Best of NY 2023. She is also the founder of home staging studio Urban Staging, whose design-savvy team gets homes market ready, to intrigue brokers and buyers alike. The two companies work in conjunction to do full move management, getting their clients completely unpacked and beautifully settled, while minimizing stress.
2. Add under-the-bed storage solutions
While plenty of people suggest lofting your bed and creating a space underneath for either your desk or a separate seating area, LaVallee disagrees. Instead, she advises people to raise their beds, allowing for discrete storage space that can be filled with wheeled or stackable drawers and covered with a bed skirt.
'If you need more space for clothes and want an aesthetically pleasing look then try adding a cube unit under the bed that will allow for cubbies to store clothes,' suggests LaVallee. 'Deep drawer units will maximize your space and are great for shoes, cooking items, clothes, and more.'
LaVallee isn't the only one who prioritizes under-bed storage in dorm rooms. Meredith Goforth, professional organizer and founder of House of Prim, agrees.
'I always recommend going with clear plastic or labeled bins for more visibility and utility,' she says, noting that you might want to measure first. 'It's important to ensure the bins are compatible with the measurements of the bed and utilize all the space underneath.'
Goforth also notes that stackable bins are going to be your best friend here. 'If you are using bed risers, make sure to utilize the extra vertical space they provide by opting for stackable bins or options with more height,' she says.
Meredith Goforth has a passion for stylish organizing. Before founding House of Prim, Meredith was a Bookings Editor for magazines, where she planned, produced, and executed cover shoots and fashion stories, making sure every detail was picture perfect. A former New Yorker, she now lives in Westport, CT with her family. With three boys being born within three years of each other, and having moved house six times in five years, Meredith says the only way to stay sane was to become truly organized.
3. Use every little space
The real key to increasing dorm room storage is making sure you're using every possible space. This can be tricky if you're thinking you only have closet space and surface areas to work with. Luckily, there are plenty of hidden storage zones, too.
'Don't forget about the back of your closet door!' says Wiss. 'You can get over-the-door storage for shoes, hats, or other accessories.'
Command hooks, available at Amazon, are another great way to add hanging storage, and they won't tear up your walls like other hooks or nails.
4. Get this one secret storage weapon
Of all the items LaVallee suggests bringing for college, she says there's one thing that's incredibly versatile. According to her, every room needs a three-tiered rolling cart, at Wayfair.
'Rolling carts are great to hide away when not in use and can create an additional storage solution for a variety of needs,' she says. 'I've used them for coffee and snack storage, makeup storage, office supply storage, and even a rolling video game cart!'
How do you fit everything in a dorm room?
It's true that dorm rooms are notoriously cramped, and the thought of splitting an already small space with someone else might feel like an impossible task. In reality, your room comes with the biggest necessities: your bed and your desk. Ensure that everything else you add to the space is an absolutely necessity, or serves multiple purposes. If possible, start the year by bringing less and add items as you go.
---
Whether you want things on wheels or items that always stay tucked away, the biggest takeaway is that in a small dorm room, every space counts.
Sign up to the Homes & Gardens newsletter
Decor Ideas. Project Inspiration. Expert Advice. Delivered to your inbox.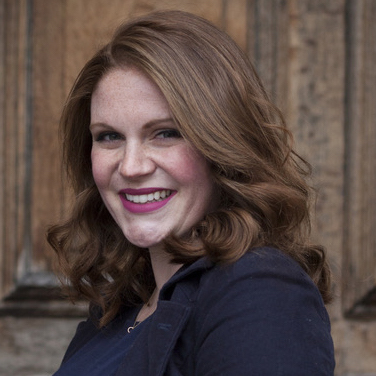 Ashley Chalmers is a freelance writer for Homes & Gardens with over 10 years' experience as a digital writer and content creator. Ashley started her career in entertainment and fashion PR in New York, before moving to the French countryside and taking up travel blogging. Now, Ashley lives in London. Her passion for travelling is only matched by her love of making her house feel like a home, and she loves to include her finds from around the world in her decor.