I'm a recent college graduate – and these 5 small dorm room storage tricks saved my sanity
My dorm room was tiny, but these five realistic storage solutions made the room both practical and pretty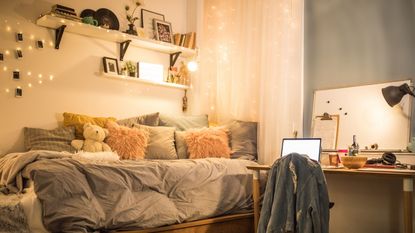 (Image credit: Getty Images)
Sign up to the Homes & Gardens newsletter
Decor Ideas. Project Inspiration. Expert Advice. Delivered to your inbox.
Thank you for signing up to Homes & Gardens. You will receive a verification email shortly.
There was a problem. Please refresh the page and try again.
I have been at college for the last three years, moving from one small dorm room to another, trying to fit my ever-growing pile of stuff into each without making the spaces look cramped. This situation was only made worse by the fact I was working with pre-existing mismatched dorm furniture.
Having graduated last year, I wanted to share the storage tricks I learned with new and current students, from using vertical space to letting go of organizing rules, so that you can elevate your dorm room ideas without compromising on style and space.
Here are the five smart small dorm room storage solutions I discovered while living in dorms, and how you can recreate similar problem-solvers in your own space.
Small dorm room storage
When it comes to small-space living, it is important to decide which are good things to have in a dorm room, and which items could be left at home. I was someone who massively over-packed at first, and my parents had to take a lot home when I couldn't fit it in.
Try to prioritize your essentials and then add extras later down the line.
1. Make the most of the existing furniture with dividers
Dorm room furniture tends to be pretty basic, with a bed, a desk, a closet, and a set of drawers (maybe two). As a result, your established storage options are pretty limited. I found that the best way to make use of these was to use dividers to break up the space and effectively double the storage spots in my room.
Shelf dividers, such as these from Amazon, allowed me to stack more on my closet shelving without it all toppling over and make more space in my drawers for other things.
When organizing drawers, a sock drawer divider was also helpful to keep all my delicates together, and to prevent them from getting lost too. These types of dividers can also double up as cord management in drawers too, and with space tight, I found that one divider held both socks and chargers at the same time.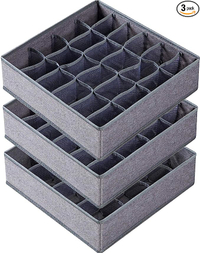 Sock Drawer Organizer | $16.98 at Amazon
I used drawer caddies such as these from Amazon to help keep my smaller items held together and tidy. The small individual holders also made it simple to quickly put things in the drawer and still keep them neat, without having to delicately fold or separate them – perfect after a long day of classes.
2. Don't limit existing furniture to their 'designated' uses
There can be a temptation to limit each piece of storage furniture to its 'designated' purpose. Only keeping clothes in a closet and dresser, or only keeping stationery on a desk. I learned pretty quickly that homogeneity was not an option when it came to small space storage. As a result, I had to give up on everything looking Pinterest-perfect.
As I mentioned, a sock divider became a cable tidy, but I also used the extra drawer space I gained by using closet shelving to store snacks next to notebooks, and unopened hygiene products with my towels. The trick was to prioritize practicality over having everything perfectly placed and labeled. There is more than enough time for that when you graduate.
3. When adding storage, opt for closed doors, not open shelving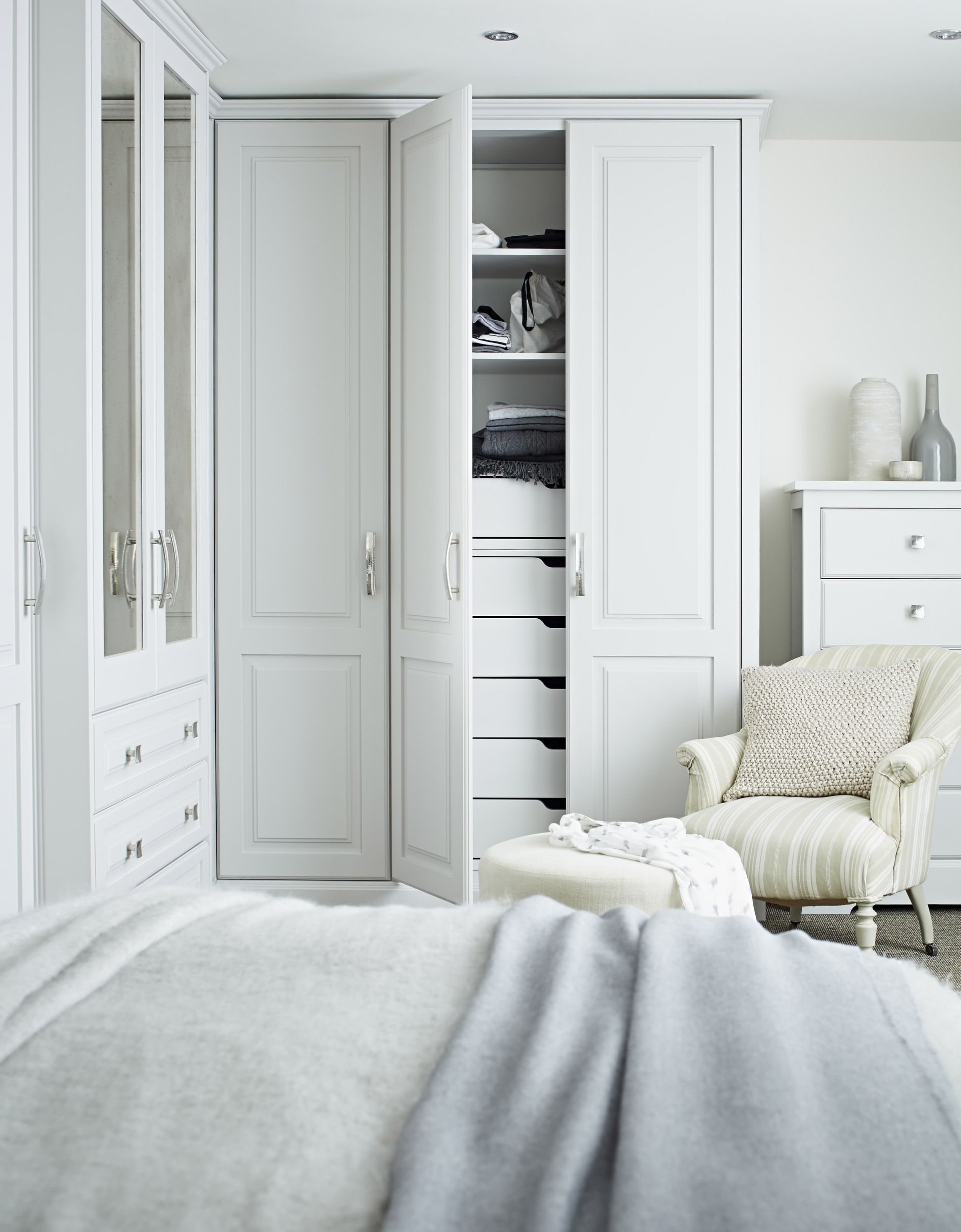 If you and your dorm partner agree on some new furniture for your space, then it is best to opt for multi-purpose pieces that offer bedroom storage, such as ottomans and cabinets that are closed-door to conceal your belongings.
I made the mistake of trying to style open shelving throughout my room and I can assure you, with a busy study timetable, you will not be able to keep them perfectly neat and organized.
Although you may often hear that open, breezy furniture is better for small bedroom storage, being able to close the doors on your clutter will allow you to have a selection of affordable baskets filled with hidden clutter without having to worry about the aesthetics of it all.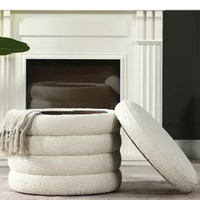 Round Storage Ottoman | Was $273.99, Now $159.99 at Ashley
This storage ottoman stool is perfect for a small dorm room, offering a little extra space to store unused blankets and pillows while also offering a convenient place to sit and get ready or do some light reading.
4. Use a hanging laundry bag
In a small dorm room, laundry piles up rapidly – especially when there are two or more of you in one room. I went to college with the expectation that my split laundry basket for pre-sorting my washing would make me the most practical person on the floor – until the bulky baskets didn't fit in my room practically, that is.
As a result, I found that hiding a laundry basket was the better option, and turned to hanging two laundry bags on the inside of my closet door, one for light and one for darks, using removable Command Hooks (available at Walmart). These also helped when I wanted to take my laundry home!
If you have a good relationship with your dorm mate, you could also share these bags to help laundry pile up more quickly and make it more worth putting a wash on.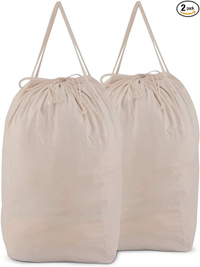 Washable Laundry Baskets with Handles | $11.99 at Amazon
These lightweight laundry bags are perfect for dorm rooms, with long handles for hanging and carrying, and a sealable top to help with transporting your laundry – whether that is to the laundry room or back to your parents!
5. Add height to your desk with standing shelves
Not being allowed to screw or nail anything to your dorm room walls is arguably the worst part about staying in communal or rented spaces. As a result, using vertical space can be tricky outside of using Command Hooks for jackets and bags.
Before college, my dad and I made some custom standing shelves to fit nicely on my dorm room desk to help with organizing the desk and to hold some of my notebooks and stationery. This helped to make my desk a little bit more practical and gave me some valuable storage real estate.
Luckily, you can also easily buy similar pre-made shelving units to make the most of your workspace, such as this desk shelving unit from The Container Store.
FAQs
Where should toiletries be stored in a dorm?
It is best to try and keep toiletries together in your dorm room so they are easy to grab and go. If you have a sink in your dorm room, consider storing all your products in a caddy with a handle underneath. If you don't have a sink, then placing the caddy on a shelf within easy reach to be slid on and off as needed is your next best bet.
How can I make my dorm room less cluttered?
You can limit clutter in a dorm room by only keeping what you use (for instance not stocking up on excess products), and by investing in multipurpose furniture to help store items but also offer alternative uses. A storage ottoman, for instance, can store surplus items while also offering a place to sit.
---
When storing item in a small dorm, vertical space is really useful. Making use of it is the best way to really cram everything you and your dorm room partner need into the limited square footage. Something else I did in my dorm room was to use the space under my bed thanks to my ottoman-style bed, but you can also loft your dorm bed and place drawers or other storage units beneath to help add that little extra underbed storage space.
Sign up to the Homes & Gardens newsletter
Decor Ideas. Project Inspiration. Expert Advice. Delivered to your inbox.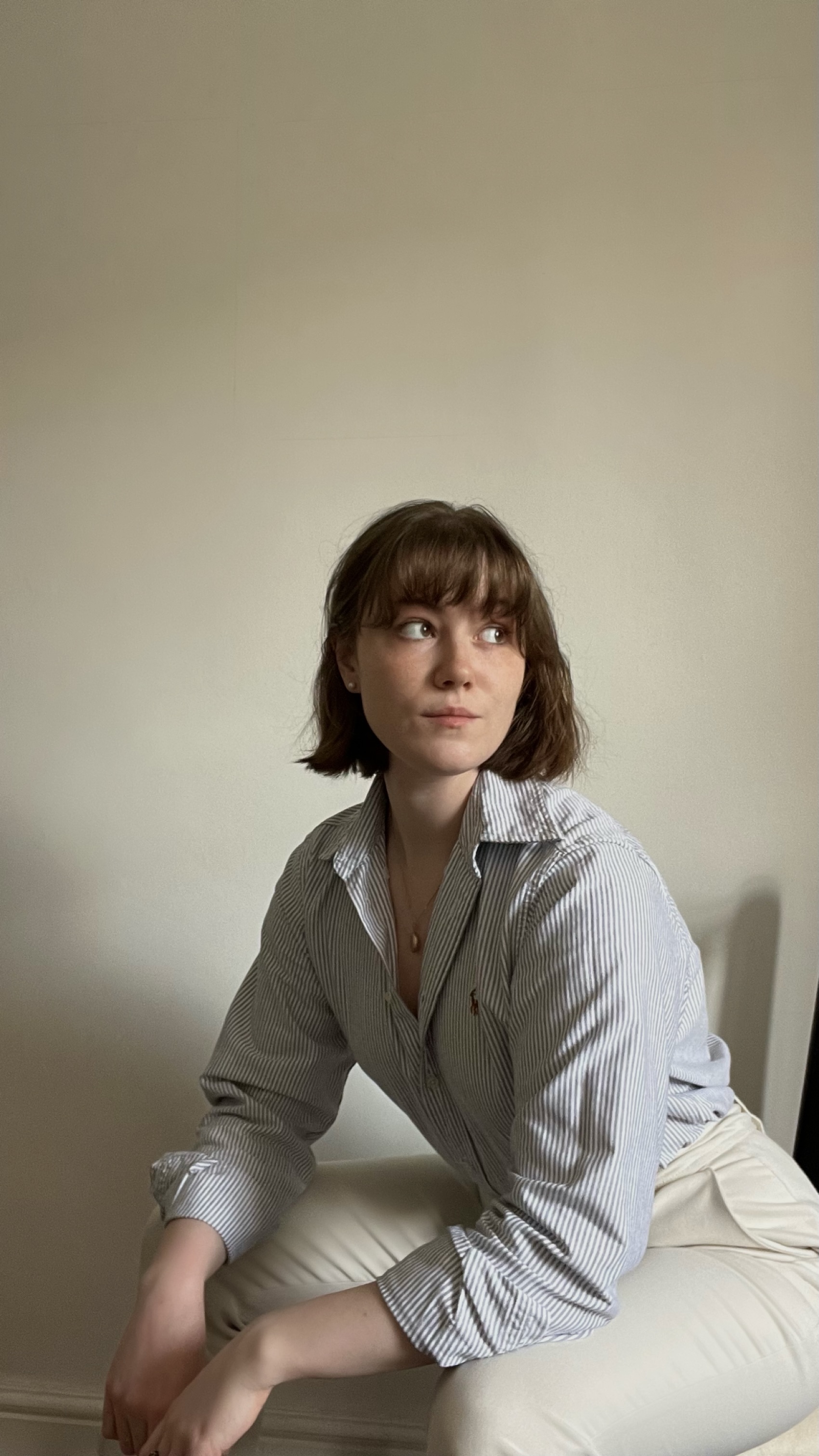 Chiana has been at Homes & Gardens for a year, having started her journey in interior journalism as part of the graduate program. She spends most of her time producing content for the Solved section of the website, helping readers get the most out of their homes through clever decluttering, cleaning, and tidying tips – many of which she tests and reviews herself in her home in Lancaster to ensure they will consistently deliver for her readers and dabbles in the latest design trends. She also has a first-class degree in Literature from Lancaster University.