5 things in your bedroom to get rid of right now, according to pro organizers
These are the top things in your bedroom to get rid of immediately, according to experts...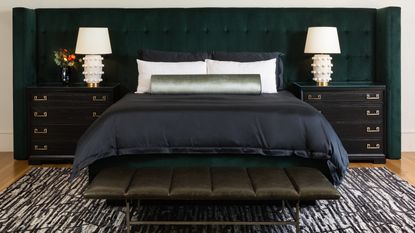 (Image credit: Maestri Studio/Jenifer McNeil Baker)
Sign up to the Homes & Gardens newsletter
Decor Ideas. Project Inspiration. Expert Advice. Delivered to your inbox.
Thank you for signing up to Homes & Gardens. You will receive a verification email shortly.
There was a problem. Please refresh the page and try again.
Your bedroom is a sanctuary that should be a restorative space to rest and relax. Streamlining your bedroom will help to create that tranquil retreat.
'Your bedroom should be a calming place to escape from the chaos, relax your brain, and get a restful night's sleep,' says Michelle Urban, founder of The Organized House.
'Unfortunately, one significant factor that will impede this is having a cluttered bedroom. Research has found that an untidy and unkept bedroom can wreak havoc on our brain's function, affecting our sleep cycle, mood, and mental health. To give your brain a boost, start by clearing the clutter, simplifying and organizing a bedroom.'
The decluttering tips below will help you to navigate a quick bedroom storage clearout.
5 things in your bedroom to get rid of right now
'Depending on the size of your home or family dynamics, sometimes your bedroom has to do double duty,' comments Caroline Roberts. 'Focus on having as many things out of sight as possible.'
She continues: 'Ideally, your bedroom will be a sanctuary that allows you to rest deeply. It's amazing how our belongings can "talk" to us.
'Clutter reminds us of to-dos, makes us feel guilty for not doing one thing or another, and distracts us from what we actually need to be doing. Therefore, I love everything in the bedroom to support sleep, rest, and relaxation.'
Below we've rounded up five things in your bedroom to get rid of right now to help support healthy sleep as well as create a visually pleasing oasis.
Caroline Roberts is a KonMari consultant and founder of home organization company The Simplified Island. She and her team help clients declutter their belongings. Then they find the best places for your items so that their family members can find things and put them away.
1. Piles of clothes on the floor
Learning how to declutter your bedroom doesn't have to be complicated. To give your brain a boost, clear the clutter and simplify your bedroom — starting with the floor.
'The quickest way to declutter a bedroom is to get everything off the floor,' says Michelle Urban, founder of The Organized House. 'If a dirty pile of clothes is lying on the floor, put them in a laundry basket. If clothes are piling up at the end of the bed, hang them up on hangers in your closets.
'Then, dedicate 5-10 minutes every night before going to bed to pick up and put away what is lying on the floor.'
2. Paper clutter
'Paper clutter is something that almost everyone has struggled with,' says Michelle Urban. 'Before you know it, it takes over all our surfaces and drawers. Unfortunately, it can also be one of the hardest things to organize because we accumulate so much of it every week, and it can all pertain to so many different things.
'When you're motivated to declutter the piles of paper, start with something easy and purge out everything you don't want. This can include stacks of magazines, old newspapers, junk mail, books, greeting cards, old letters, and owner's manuals.'
And Caroline Roberts, the founder of The Simplified Island, agrees that excess clutter is something in your bedroom to get rid of immediately.
She says: 'Our bedrooms should prepare us for sleep when we enter the bedroom, and excess clutter (whether collections, piles of magazines, little tasks, or to-dos) will stimulate your brain and prevent you from going to sleep as easily.'
A stackable file box, at The Container Store, is a great way to get your paperwork in order and is something that you can hide in a closet.
3. Old trinkets on dressers, shelves and nightstands
Bedroom decluttering rules suggest that you shouldn't let junk build up on your furniture. Nightstands and dressers can be a breeding ground for clutter, says Michelle.
She says: 'Pare down what's on top and inside your nightstand and dresser and only keep the contents that pertain to the bedroom essentials; find a better home base for the items that have made their way into the bedroom.'
She continues: 'Take the less is more approach with your styling decor. Remove the unloved and unwanted trinkets that take up space on your dressers, shelves, and nightstands.
'This can include old perfume bottles, used-up candles, dead plants, dried flowers, old artwork, and anything that does not bring you pure joy.'
Keep only what is necessary, like your current book, a table lamp, and one of the best candles.
4. Excess furniture
'A messy room makes for a messy mind, and one thing that adds to that chaos is too much furniture,' says Michelle. Organizing a bedroom can be as simple as taking away any item that isn't adding a practical or pretty element to the space.
'Remove the furniture pieces that do not serve a purpose and function in a practical way,' advises Michelle. 'It could be a chair, vanity, bench, desk, nightstand, or cabinet. Ask yourself if you need and love the piece or can the contents be stored someplace else?'
5. Dust catchers
Streamline your space so you don't have excess items collecting dust around the bedroom. 'Excess pillows, heavy curtains, and a lot of stuff under the bed can be dust collectors and affect your breathing,' says Caroline Roberts.
Removing dust catchers will not only create a more inviting aesthetic but may also improve your sleep quality. If there are items under your bed that you simply can't part with and have nowhere else to store, try to organize them and put them in storage boxes.
This rolling storage box, at Target will make it easier to access your items thanks to its handy wheels.
How can I declutter my bedroom in one day?
If you want to declutter your bedroom in one day it's a good idea to ask for help, says Michelle Urban, of The Organized House.
She explains: 'It took you years (maybe decades) to accumulate your items, so allow ample time to declutter. But to help speed up the process, it's okay to ask for help. This could be from a friend, a relative or hire a professional organizer to help lend an extra hand.'
Another top tip on how to declutter your bedroom quickly? 'Set a timer,' says Michelle. 'Putting a time limit on chores helps you stay on task - you won't get sucked into something else or lose focus. For example, if you're organizing the nightstands, give yourself 45 minutes to complete the task. If you run out of time, just set your time to an additional 15-30 minutes.'
And, says Michelle, when it comes to bedroom storage ideas, pick these up last. She comments: 'Buy organizing products last. You don't know what you'll need to buy until you see what you have and where the home base will be. Sometimes we are so eager to start the organizing process that we purchase the wrong things, which end up not working, and more stuff accumulates.
'When you save the buying for last, it helps you pinpoint the size, shape, placement, and usage, and often you realize you can repurpose and use items you may already have.'
Caroline Roberts suggests following Marie Kondo's guide for a thorough and efficient bedroom declutter.
She says: 'Decluttering your bedroom in a day may be a stretch for some, but with the right foundation, it's possible. Before you touch the first item, you must know exactly how you want to use your bedroom. What is your vision for the space? Maybe even write down your vision on paper if you think decluttering will be challenging. For extra motivation, create a mood board with images of bedrooms that you love. I promise the prep work will be worth it.
'Then, I highly recommend using Marie Kondo's categories for decluttering. The order of categories will guide you from the easiest items to declutter to the most difficult, generally speaking. The order is: clothing, books, paper, komono (miscellaneous items), and sentimental items.'
She continues: 'Pull out each item category by category, hold it in your hands, and decide if it brings you joy, serves you in the bedroom (or at all), or needs to be tossed or donated.
'Once you've gone through all the belongings, you will be left with only the things you love. If any outliers snuck through, they will stand out clearly among the things that really do belong.'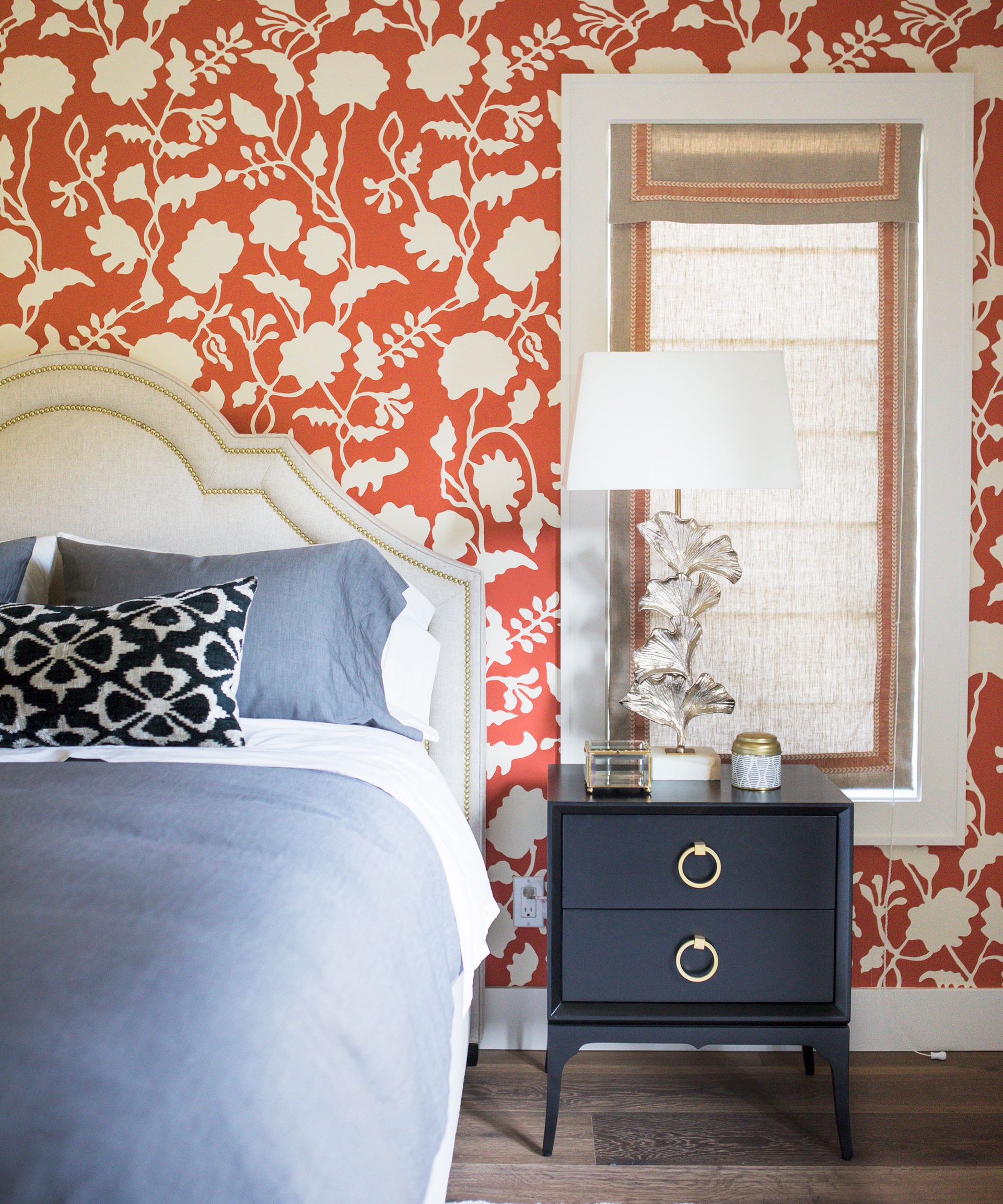 What should you not declutter in a bedroom?
There are certain things that you should not declutter in a bedroom —including anything that brings you joy.
Michelle says: 'If you love something and it brings you joy, you should keep it. And if your space allows for it, display it. I work with my clients to find thoughtful ways to display items they love and admire. This could include framing postcards, cards, and letters and displaying them on a gallery wall. Or taking advantage of vertical space and installing floating shelves to display collections of purses, perfume bottles, or vintage shoes.'
She adds: 'Your home and the things in it should inspire and make you feel happy — not weigh you down. Your home is a beautiful embodiment of you, and if you are holding onto things that don't represent you, it might be time to let them go.'
Sign up to the Homes & Gardens newsletter
Decor Ideas. Project Inspiration. Expert Advice. Delivered to your inbox.
Ruth Doherty is an experienced digital writer and editor specializing in interiors, travel and lifestyle. With 20 years of writing for national sites under her belt, she's worked for the likes of Livingetc.com, Standard, Ideal Home, Stylist and Marie Claire as well as Homes & Gardens.