Bedroom decluttering rules – 9 simple steps professionals swear by
These nine bedroom decluttering rules come straight from professional home organizers' playbooks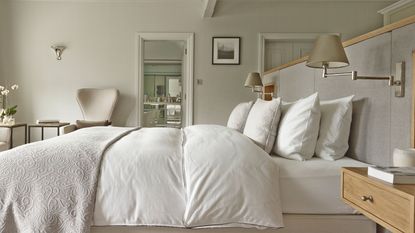 (Image credit: Sarah Kaye)
Sign up to the Homes & Gardens newsletter
Decor Ideas. Project Inspiration. Expert Advice. Delivered to your inbox.
Thank you for signing up to Homes & Gardens. You will receive a verification email shortly.
There was a problem. Please refresh the page and try again.
Clearing our bedrooms of clutter is a common goal, but there are some bad habits that mean our rooms often return to their original state.
Missing excellent storage opportunities, using the wrong organizers, or storing the wrong items all make decluttering a bedroom more difficult.
The following nine bedroom decluttering rules are straight from professional home organizers' playbooks and guarantee refreshingly pared-back bedrooms in any home.
Bedroom decluttering rules
Neglect bedroom storage solutions at your peril, as tidiness is the first step to a strong design scheme.
1. Only keep items related to sleep and dressing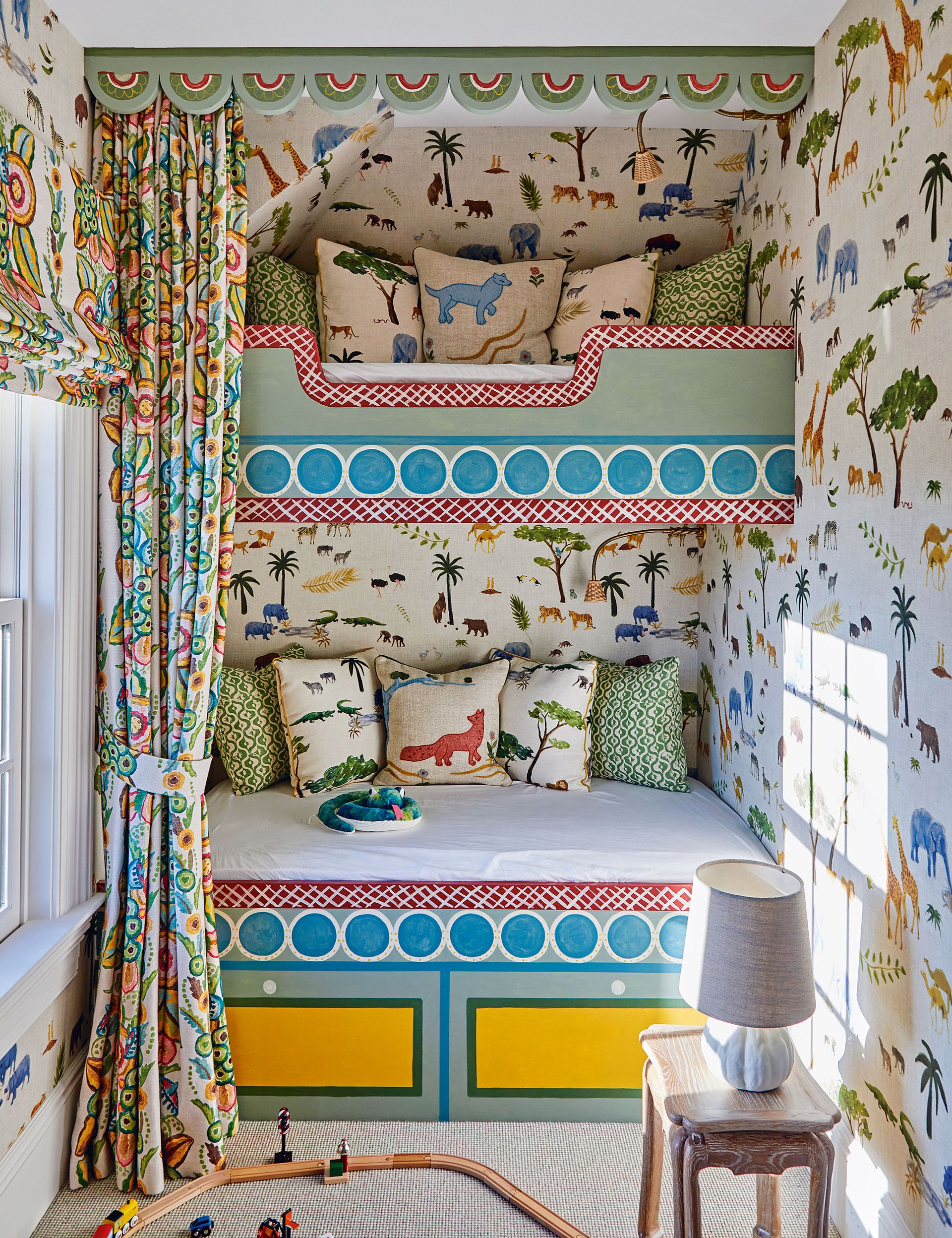 When organizing a bedroom, experts suggest that keeping only items related to sleep and getting dressed in the space can promote good sleep and improve relaxation.
'Many people end up storing things in their bedroom that belong in other rooms or should be decluttered. This happens because they're not sure what to do with the items or don't have room for them in the rest of their home,' explains Susan Santoro, professional organizer and founder of Organized 31.
'You have to make a firm commitment to only keeping items you need for getting dressed or sleeping in your bedroom. That commitment benefits your mental and physical health because clutter impacts your sleep and health negatively.'
A veteran, parent educator, and mother of three, Susan is also a certified organizational specialist helping people to declutter and downsize, and organize homes in tough times.
2. Use uniform storage products – not small trinket holders
'A mistake I see a lot in cluttered bedrooms is people adding small pieces of storage piecemeal. They will buy one piece at a time, just to have a place to store a few things,' begins Lucy Wahl, professional organizer and founder of LMW Edits. 'What ends up happening is a lot of mismatched, small pieces of shelving, drawers, and other storage that look extremely visually distracting even if they hold an organizing system that works relatively well.
'Instead, I recommend that people zoom out and look at the entire space holistically. What are you trying to store there? Is there too much stuff for the space? What storage infrastructure will store everything you have?'
Homes & Gardens has rounded up some of the best bedroom organizers to invest in for a coherent and clutter-free space so that some of the hard work is done for you.
Lucy Milligan Wahl originally created LMW Edits for her successful friends to help them get their homes as organized as her own. She has since developed her company to help busy high achievers living in smaller urban spaces achieve the organized home of their dreams alongside their demanding careers.
3. Invest in good under-bed storage
To this day, many of us are underutilizing the space under our beds when under the bed is one of the best small bedroom storage locations. This can help to remove essential clutter from bedroom closets and drawers, or even help to empty out an overstuffed linen closet, without getting rid of anything.
'Always utilize space under your bed and invest in some good storage that's easy to push in and out to ensure that you continue to use it,' suggests Gillian Gudgeon, APDO member and founder of Restore the Calm.
Gillian helps her clients declutter her home with peace and calmness in mind, curating a functioning home that helps them to find order in everyday chaos.
Underbed Zippered Storage Bag Natural
Depend on this smart, durable storage bag to keep seasonal items protected and out of sight until needed
Grey Under Bed Storage Bag
Keep off-season clothing or spare linens in our soft-sided Grey Under Bed Storage Bag for easy, out-of-the-way storage
4. Religiously rotate seasonal clothes and shoes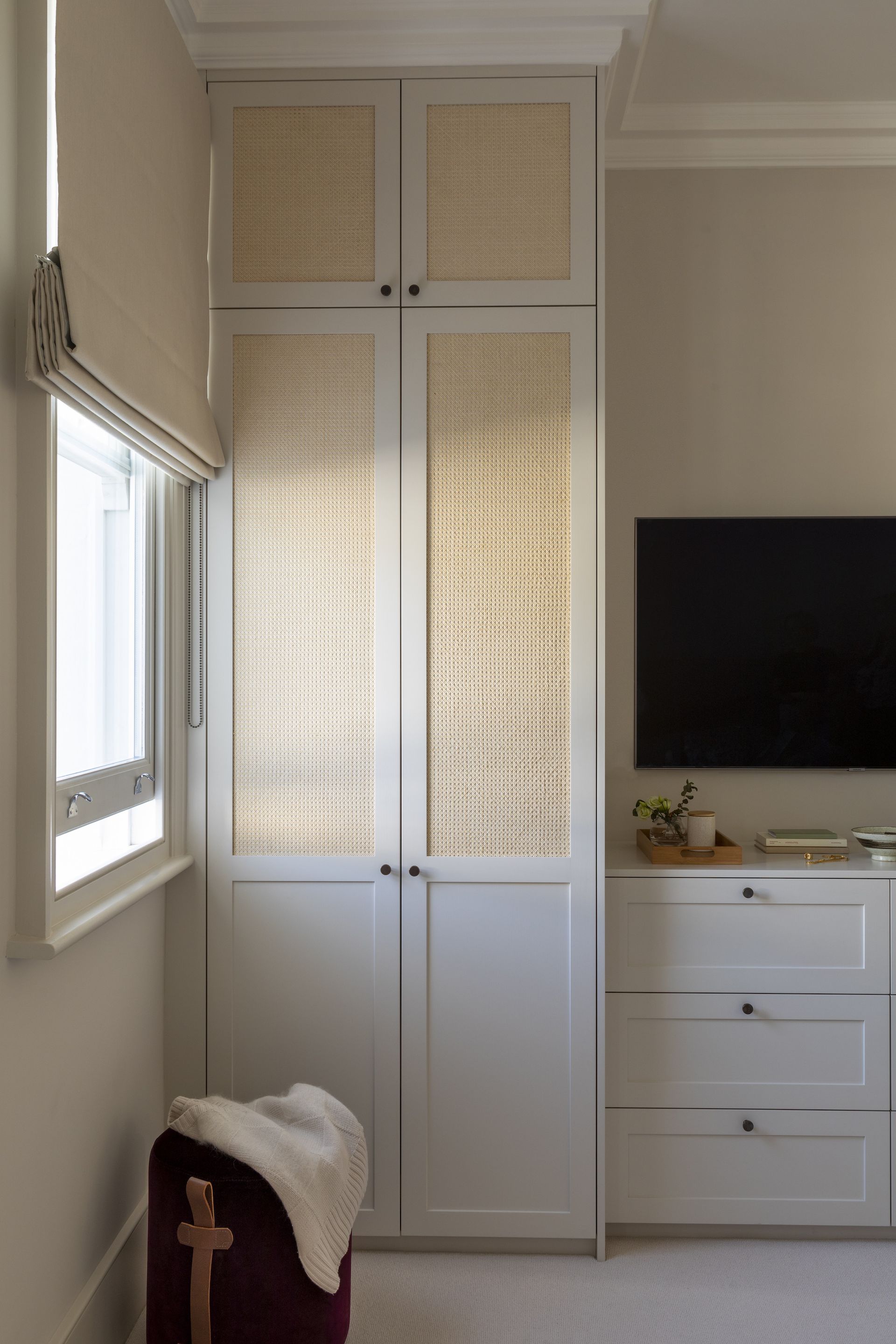 A cluttered bedroom closet is the most common challenge professional organizers face as, without efficient closet organizers, the storage unit can quickly become overwhelmed with 'stuff' within months of clearing it out. Despite this, decluttering a closet doesn't have to mean cutting down your collections.
'Piles of shoes and clothes can make any space feel more cluttered,' says Katherine Lord, founder of More to Organizing. 'Always make sure to seasonally rotate clothes and shoes so you have less "in use" at any one time,' she suggests.
For clothes you are not currently using, consider sealing them in vacuum storage bags like these from Amazon, or folding them into under-bed storage crates like these from The Container Store. This keeps them within easy reach while also out of sight.
Katherine helps busy parents organize their homes and routines with their children in mind. Not only an organizational expert, but Katherine is also a childcare expert too and has published a book, More To Organizing [available on Amazon], on organizing with children too.
5. Make space for worn, not-yet washable clothes
We are all guilty of having a pile form somewhere in our rooms of clothes that we have worn once or twice and could be worn again before being put in the laundry. This is often one of the more difficult areas of a bedroom to tackle on our own. 'Having chairs, ottomans, and valets in the bedroom can encourage things to be strewn across them, such as lightly worn clothes,' advises Gillian Gudgeon, founder of Restore the Calm.
'If you can't be disciplined, remove the temptation and consider assigning one end of a wardrobe for these garments, or hang a hook on the back of the bedroom door, or behind it.'
'You could also make a designated drawer for them and plan to wear them over clean items if you have the space,' adds Katherine Lord or More to Organizing. If you find yourself continuously gravitating to fresh items throughout the week, throw anything from the drawer or pile it into the laundry basket to be put away properly.
6. Always utilize the backs of doors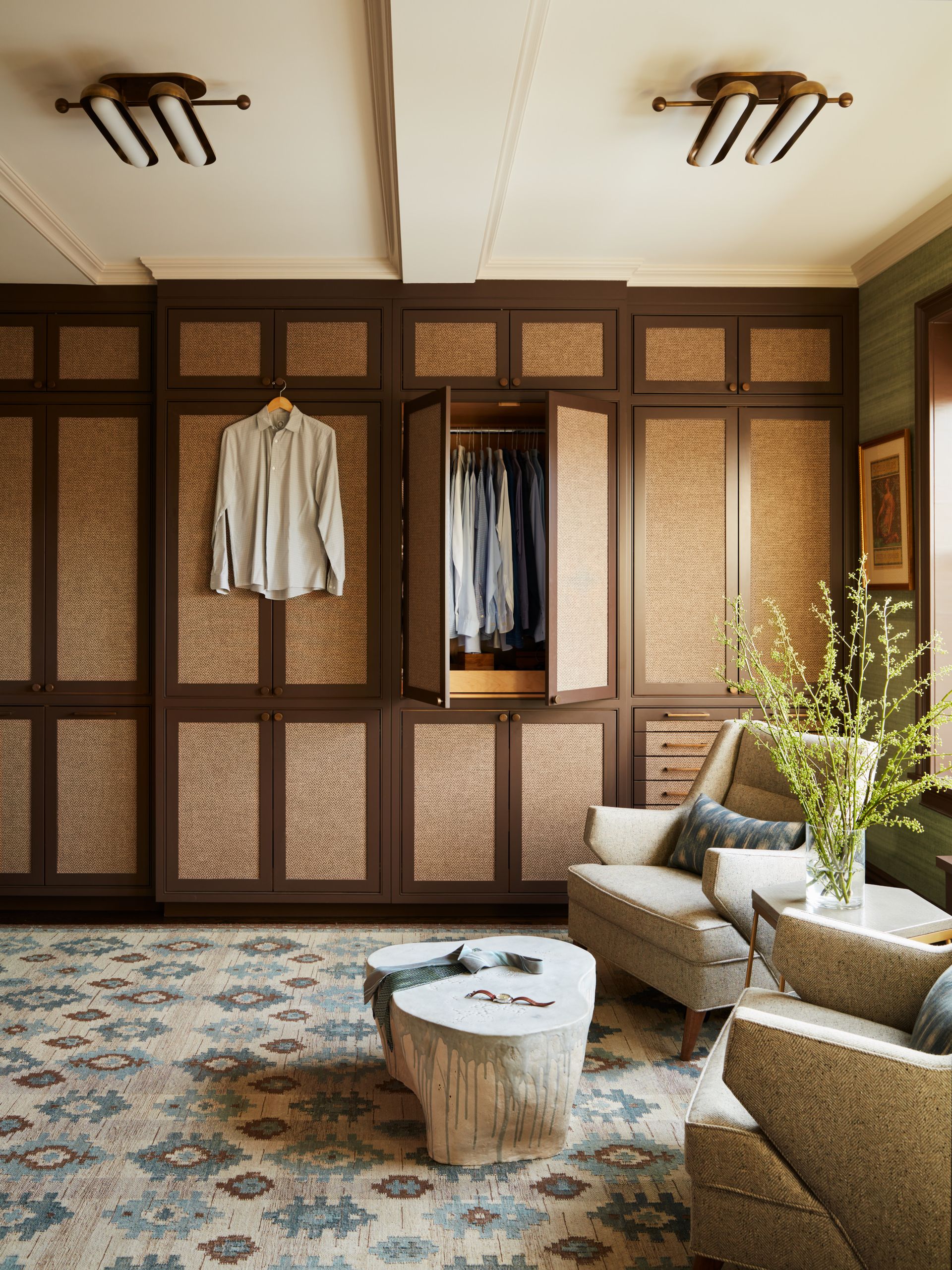 There is a misplaced fear of using door-hanging storage in case it makes a room feel or look more cluttered, but professionals believe that the right organizers can prevent this.
'Not using the back of doors to store things is a fatal mistake,' says Ryen Toft, founder of Simply Luxe home organizing. 'It's untapped potential and can even be a makeshift vanity, or additional storage when your home doesn't have a hall storage closet too.' Consider a universal door hanging unit that you can customize with different add-ons to help personalize the hanger to your needs.
Ryen Toft, the founder of Simply Luxe, is on a mission to spread the love of organizing throughout California and beyond. Using consulting, hands-on organizing, and innovative products, she's helped countless clients including celebrities like Christina Haack and Hannah Godwin obtain the clutter-free homes of their dreams. She has been featured in Good Morning America, FOX, Martha Stewart Living, People, and more!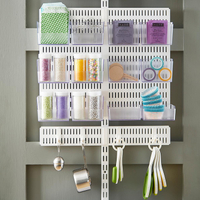 Large Universal Over The Door Rack | $149 at The Container Store
Carve out new space with this fantastically spacious over-the-door rack. There are bins and baskets attached in an array of sizes, so you can store a range of items in any room with full customization.
7. It's worth investing in the best closet and hangers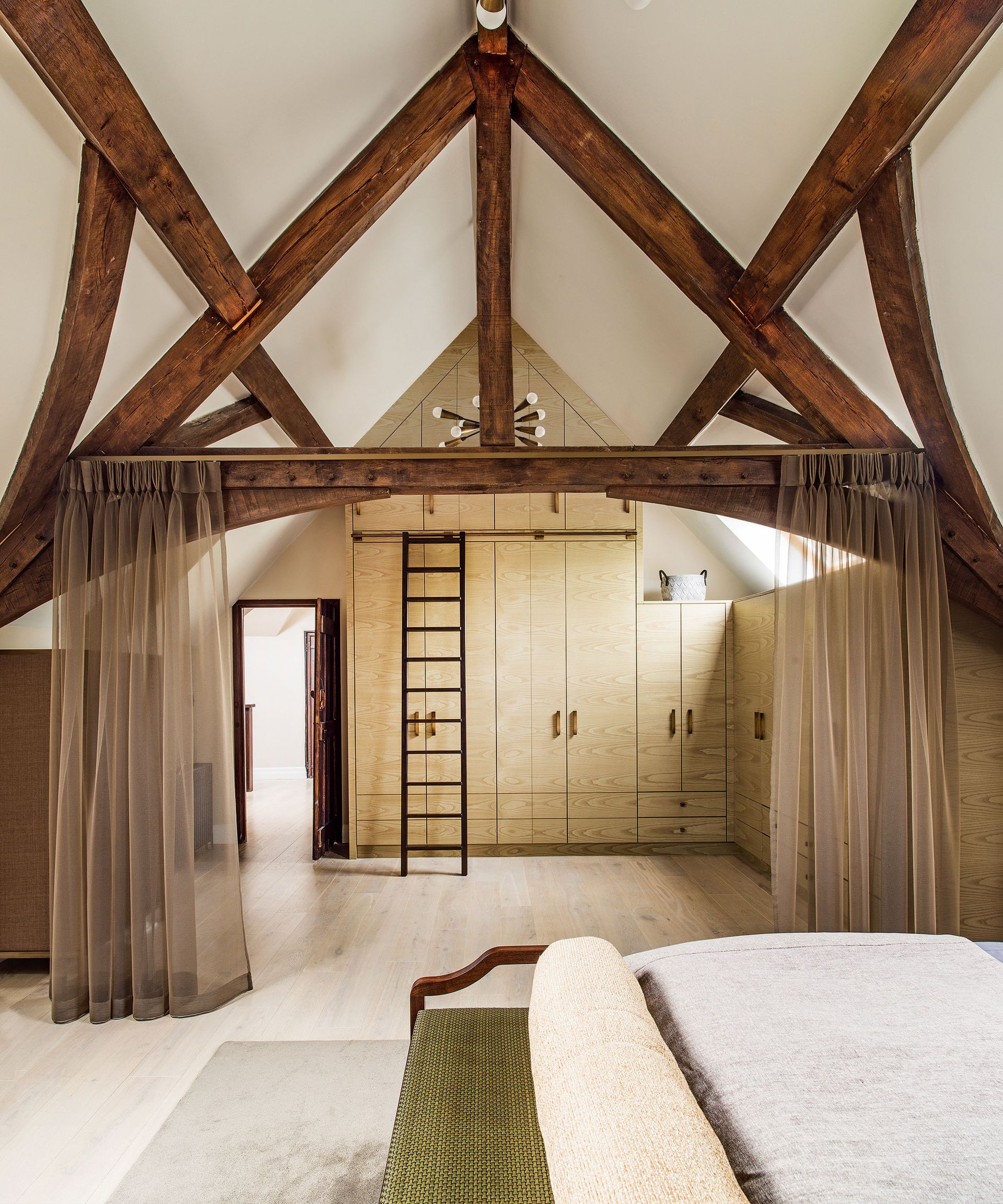 There is more to closet organization than cutting back on clothes, reminds Gillian Gudgeon of Restore the Calm. 'Buy slim-line flocked velvet hangers for wardrobes and learn how to fold and roll (there are lots of tutorials out there!). If you do need a larger wardrobe, there are some brilliant modular styles available that you can customize to suit your needs and you'll be able to locate a local handyman to assemble it if DIY is not your thing.'
'If you still cannot fit all of your garments in your wardrobes and drawers then you probably have too many and it is time to be ruthless and get rid of things you don't wear, that don't fit or you've never worn,' Gillian adds.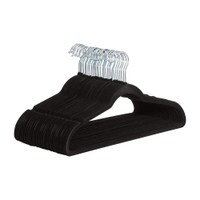 Slimline Hangers | $18.74 at Amazon
These hangers have a durable metal construction with a non-slip velvet texture surface, keeping items in place and prevents them from shifting and slipping.
8. Keep your bedside table relatively clear
There are plenty of gorgeous images online of perfectly styled and staged bedside tables. However, having a lot of decorative pieces on show can make these purposeful surfaces far from functional.
'Bedside tables should have a relatively clear surface,' advises Gillian Gudgeon of Restore the Calm. 'You should only have a lamp, book, and coaster with a photo or memento or two.'
Another nightstand design mistake to avoid is choosing tables that are too small for your storage needs. Many nightstands have larger drawer units that are perfect for storing night clothes or other bedroom essentials like pillow sprays, bookmarks, and reading glasses out of your line of sight.
9. Keep cosmetics tucked away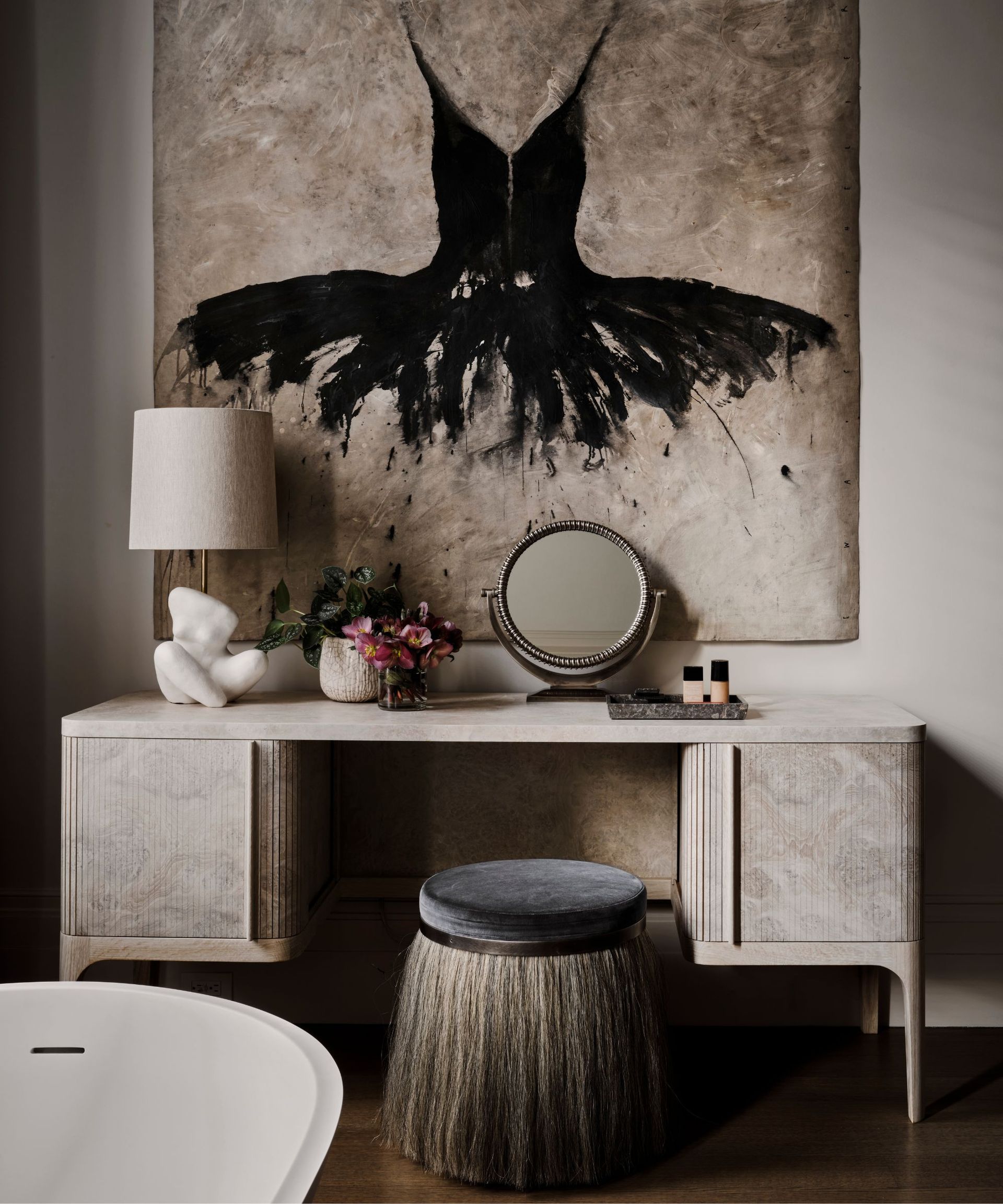 Whether your vanity or dressing table is in your bedroom, or you have a surplus of makeup or skincare, it should be kept out of your direct sightline in vanity organizers to prevent clutter and to prolong their lifespan.
'Toiletries and cosmetics need to be contained and put away out of sight; find space in bathroom cabinets and drawers and keep spares together somewhere,' recommends Restore The Calm's, Gillian Gudgeon. 'These should be kept in a cool and dark space anyway to prolong their life.
'These small jars, bottles, and products laid out on top of a cabinet are one of the quickest ways to make your bedroom look very cluttered and they are difficult to clean around.'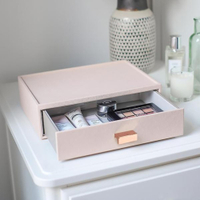 Stackers Makeup Drawer | From $39.99 at The Container Store
Elegantly designed and beautifully constructed, Stackers Makeup Drawers let you sort and store your entire collection for everyday access.
Sign up to the Homes & Gardens newsletter
Decor Ideas. Project Inspiration. Expert Advice. Delivered to your inbox.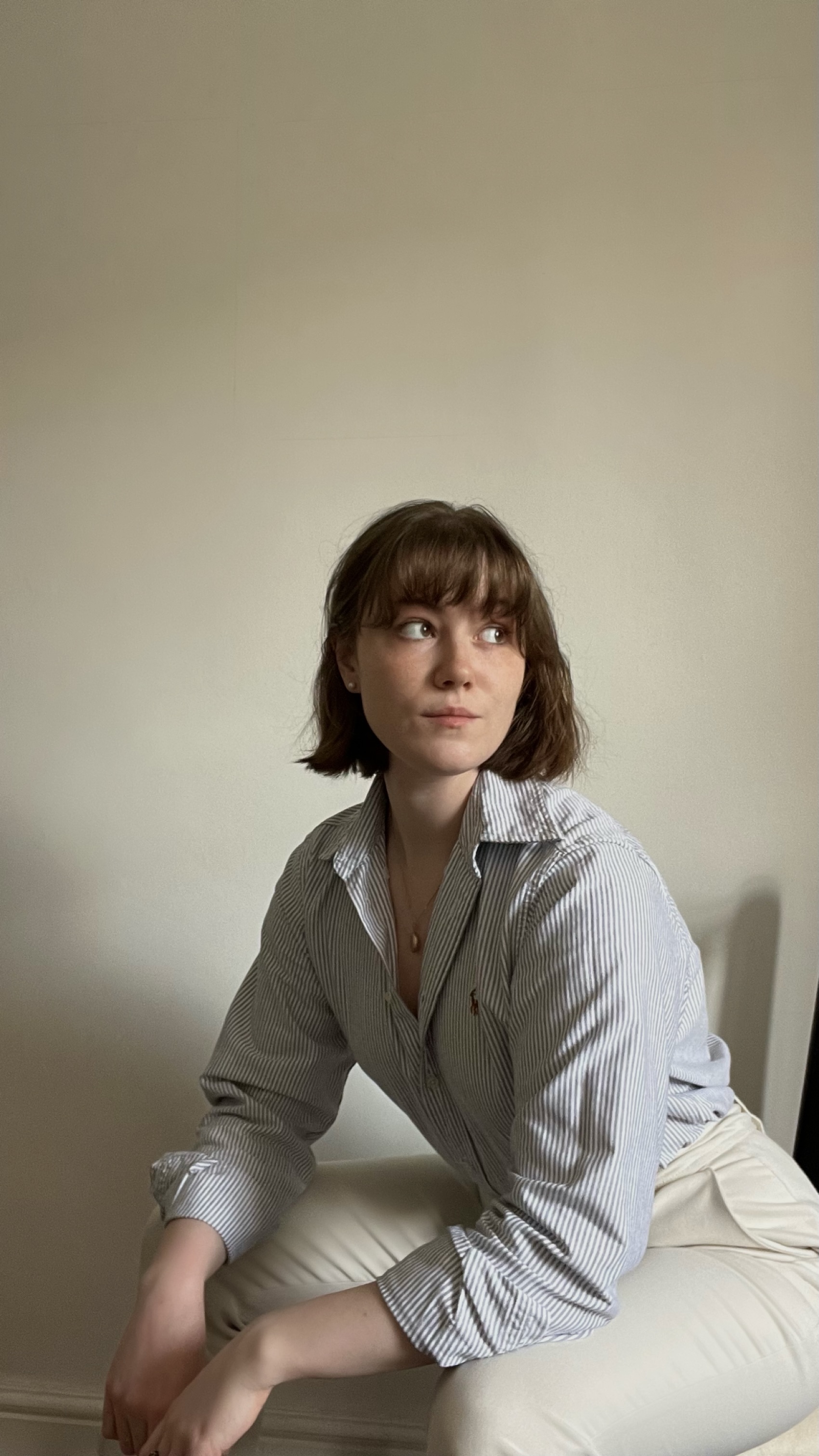 Chiana has been at Homes & Gardens for a year, having started her journey in interior journalism as part of the graduate program. She spends most of her time producing content for the Solved section of the website, helping readers get the most out of their homes through clever decluttering, cleaning, and tidying tips – many of which she tests and reviews herself in her home in Lancaster to ensure they will consistently deliver for her readers and dabbles in the latest design trends. She also has a first-class degree in Literature from Lancaster University.