Bedside table ideas – 15 looks for rooms of all shapes and sizes
We've rounded up bedside table ideas for all sorts of spaces, guaranteed to add both style and function to your bedroom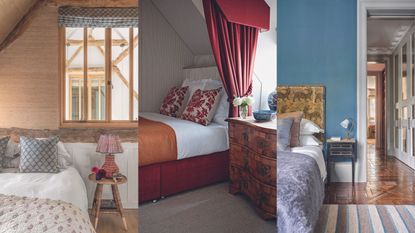 (Image credit: Future)
Sign up to the Homes & Gardens newsletter
Decor Ideas. Project Inspiration. Expert Advice. Delivered to your inbox.
Thank you for signing up to Homes & Gardens. You will receive a verification email shortly.
There was a problem. Please refresh the page and try again.
Bedside table ideas can range from a traditional pair of matching nightstands to a set of vintage bureaus or an eclectic combination like a writing desk and a footstool.
Whatever style you go for, it's important to consider this bedroom idea from both the standpoint of looks and function. The right choice will complement your decor while serving a purpose.
'You want to make sure that there's enough space to hold a lamp and nighttime essentials, such as a book or a glass of water,' advises Mary Patton, designer at Mary Patton Design.
When it comes to aesthetics, you can take more creative liberty. 'You don't necessarily have to match your table with the bed frame or headboard, it can be a pop of color, a matte finish or even a natural material to bring an organic look,' she says.
15 beautiful bedside table ideas
To leave you feeling inspired to star your own bedroom design refresh, we 've gathered a dozen of the most beautiful bedside table ideas we could find, below.
1. Keep it simple in a small room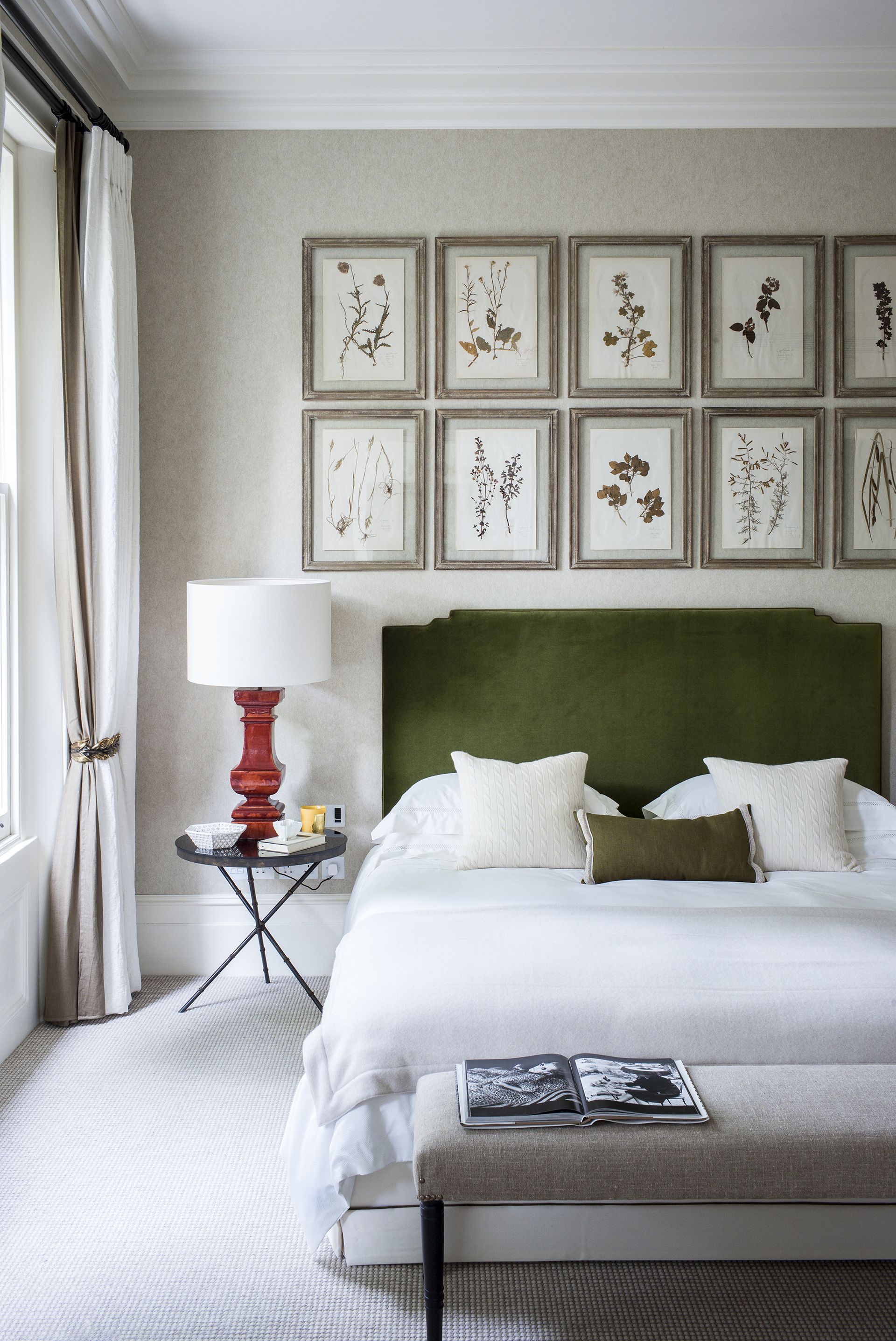 If your bedroom is on the smaller side, you might want to consider a bedside table that fits beautifully and neatly in a small bedroom. Think slimline legs, simple mid-century modern design, and a neutral or monochromatic color scheme. Here, this perfectly-portioned bedside table does not distract from the overall tailored scheme and can be moved easily as the bedroom design changes and evolves.
2. Consider your proportions
'When selecting a bedside table, think about the proportions as it relates to the height of the bed so they complement each other,' say Patton.
If you have a tall, upholstered headboard, your nightstand should stand up to the visual weight of your bed. In other words, a low-profile midcentury end table wouldn't work, but a taller mid-century chest of drawers would.
Patton did just that in a client's main bedroom, above. 'We recently used a pair of vintage burl wood bedside tables that worked wonderfully in the space,' she says.
3. Invest in a design that serves two people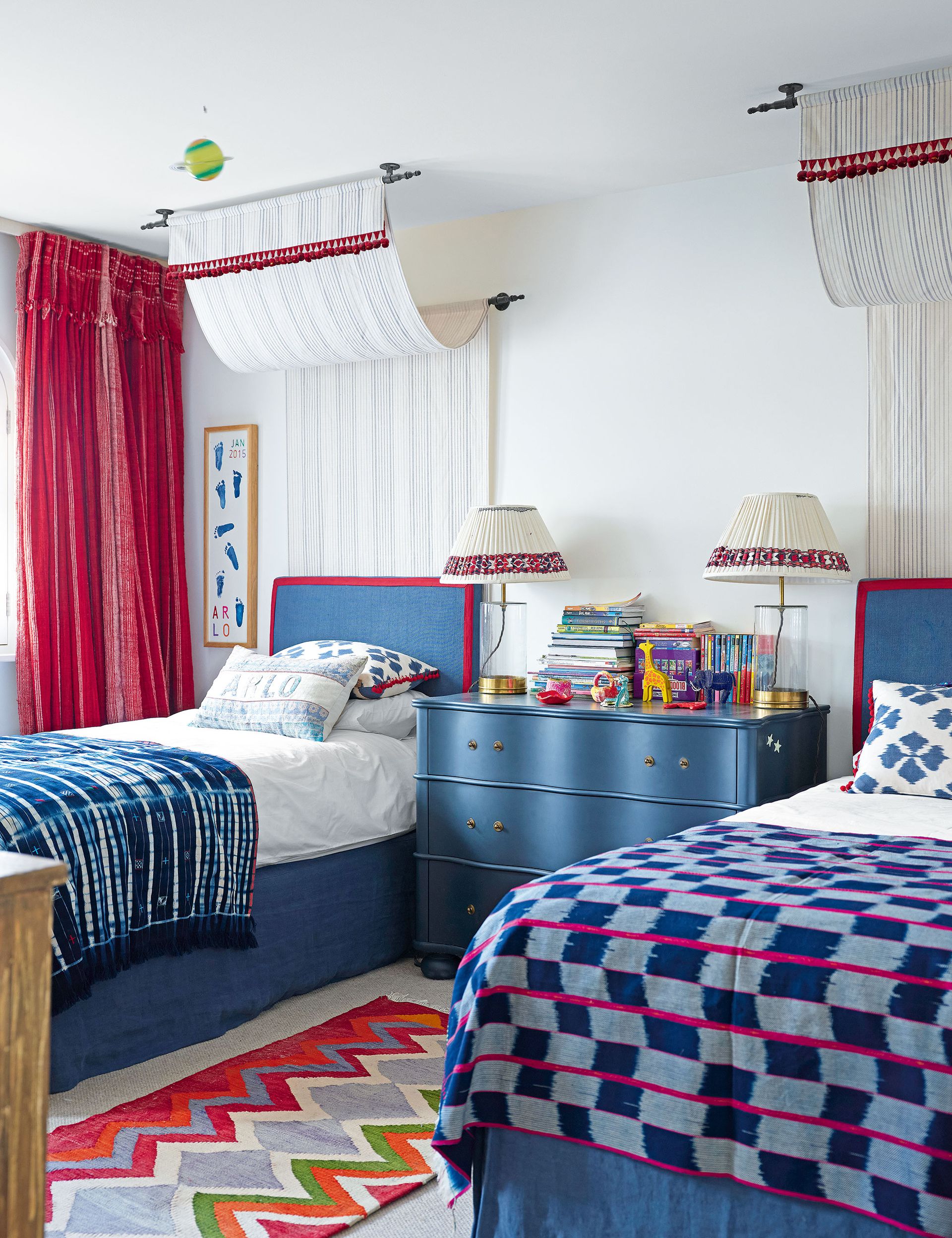 If your shared bedroom is for two people, think about positioning a bedside table – one that is big enough for two – in-between twin beds. Invest in a design that coordinates beautifully with the rest of the room for a cohesive and tailored scheme that fits perfectly.
Here, a bedside table that doubles as bedroom storage not only saves space but works to anchor and divide the two 'zones' in the kids' room.
4. Choose the right light for your bedside table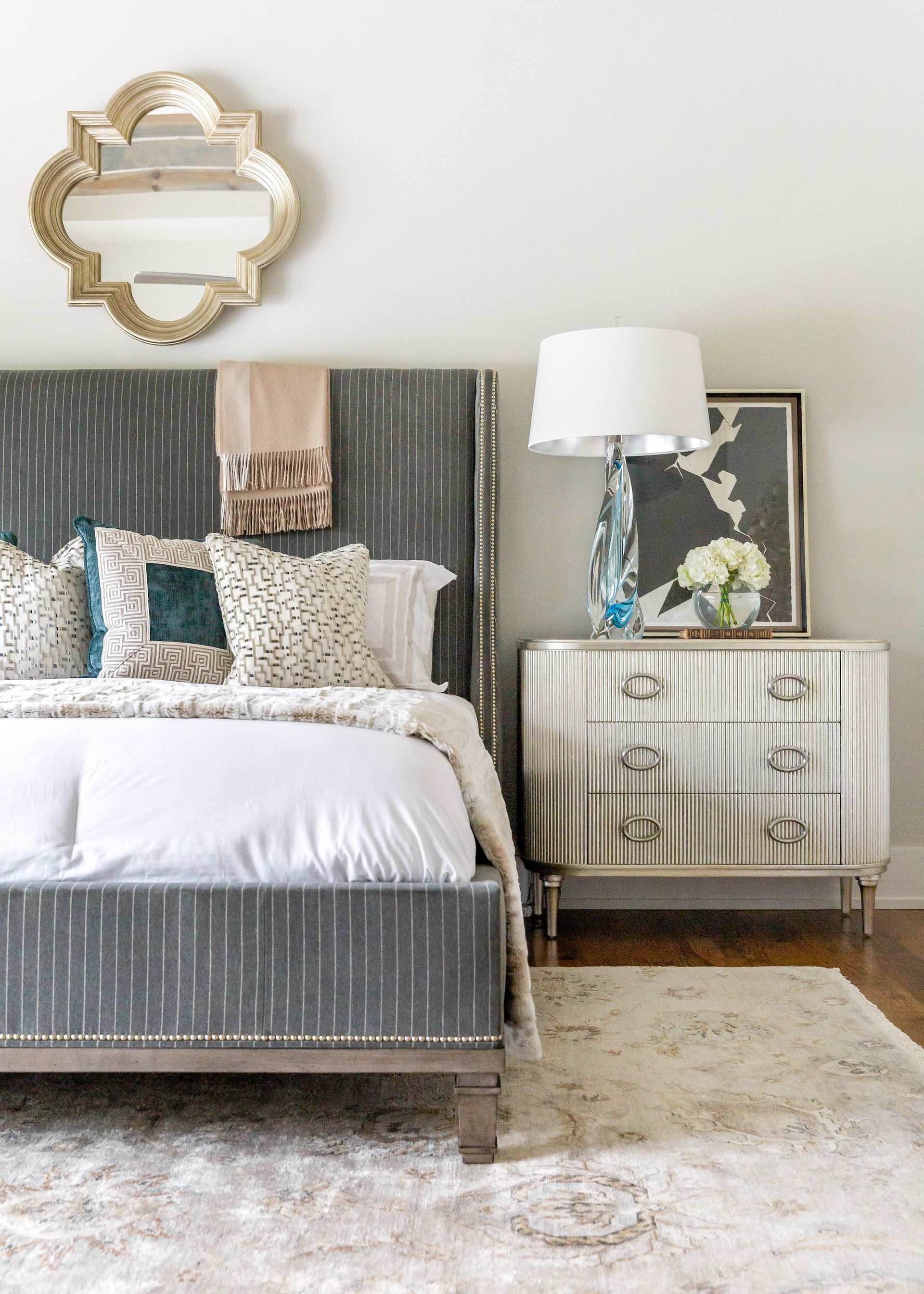 Choosing the right lamp for your bedside is really important, as Lance Thomas, principal designer at Thomas Guy Interiors explains:
'The key is balance! Consider the dimensions of your bed and nightstand and choose a lighting concept that doesn't overpower and is easy to reach to turn on or off. It should combine aesthetic form and utilitarian function and make sure there's room for everyday items, such as a book, glass of water, reading glasses, etc..' he says.
As far as design goes, Guy suggests taking cues from the details and dimensions of your nightstand.
'You want to consider if there's any hardware on your nightstand, such as a knob or pull which will complement the aesthetics of the bedside lights,' he says. 'A common mistake is selecting a lamp that doesn't balance well with the parameters of the nightstand and bed. The lamp shouldn't be higher than the bed frame and should be more or less taller than the height of the nightstand.'
When it comes to selecting the lampshade, lighter shades will filter the most light, but darker shades or colored options can be a good choice for moody spaces, or for a chance to add a pop of color. 'Dimensions-wise, the shades should be two-thirds the height of the lamp,' Guy says.
5. Mix wood and metal for an organic modern look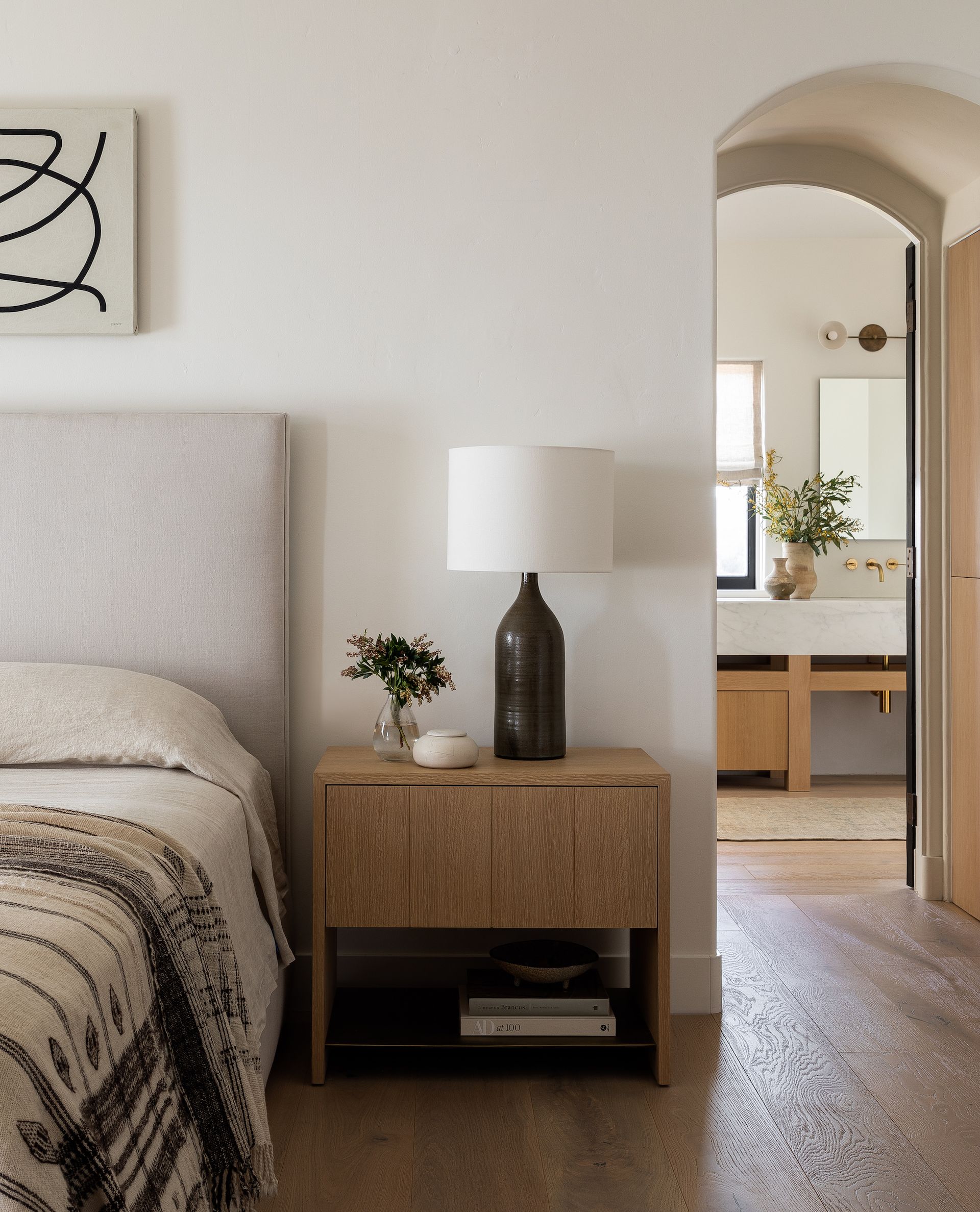 The juxtaposition of natural, pale wood tones and sleek metal emphasizes the texture of both and creates the coveted organic-modern bedroom trend. Streamlined silhouettes complement the pairing perfectly.
'These bedside tables had me at the brass shelf and groove door detail… and my client at the large drawer!' says Katie Hodges, principal designer and creative director at Katie Hodges Design.
6. Or consider all metal for an industrial style bedroom
For the loft look (or for a tiny bedroom idea) a simple metal bedside table adds function without taking up too much room, physically or visually.
'Bedside tables needn't be all about vintage wood and a chunky design, this sleek metal number is for those who love the minimalist feel and don't want to clutter. Narrow designs are great for small bedrooms too and the fact that it doesn't have a back and you can 'see through' it makes it even more appealing,' says Lucy Searle, global editor in chief, Homes & Gardens
7. Look for a design that follows the shapes in the room
While contrast can be nice in some instances, your bedside table ideas will feel more cohesive if they play off of the shape of the bed.
'In this apartment bedroom we used a one-sided curtain to maximize the light from the window. Also, a bespoke headboard that wasn't too high so art could be placed above to make the ceilings feel even higher. Circular side tables connect with the curved headboard above the bed. The colors are warm and in keeping with the other tones in the property,' says Rosie Ward, creative director at Ward & Co.
8. Keep it light with blonde wood
Light-colored wood helps set a more soothing and relaxed vibe than heavy, traditional tones like cherry and walnut. Plus, blonde wood is a natural transition from light colors to dark ones.
'If your scheme plays with light and dark then add a middle ground with pale blonde wood. This nightstand adds that extra dimension and texture, the tapered legs keep the design light visually and the width is useful for those extra items like a good sized lamp and vase of flowers,' says Jennifer Ebert, digital editor, Homes & Gardens.
9. Source retro pieces for individuality
To fill your room with personality, try this bedroom styling tip: Instead of shopping new for your bedside tables, try sourcing them from a vintage or antique shop. Your results will be more unique, and more sustainable, too.
'We often find antique tables or smaller chest of drawers on our travels that work as bedside tables, but as long as there is space in the room we prefer them to be as wide as possible, we do not like using really small bedside tables unless there is no choice,' says Louisa Greville Williams, director of Vanrenen GW Designs.
10. Invest in a leather-covered design for a luxe look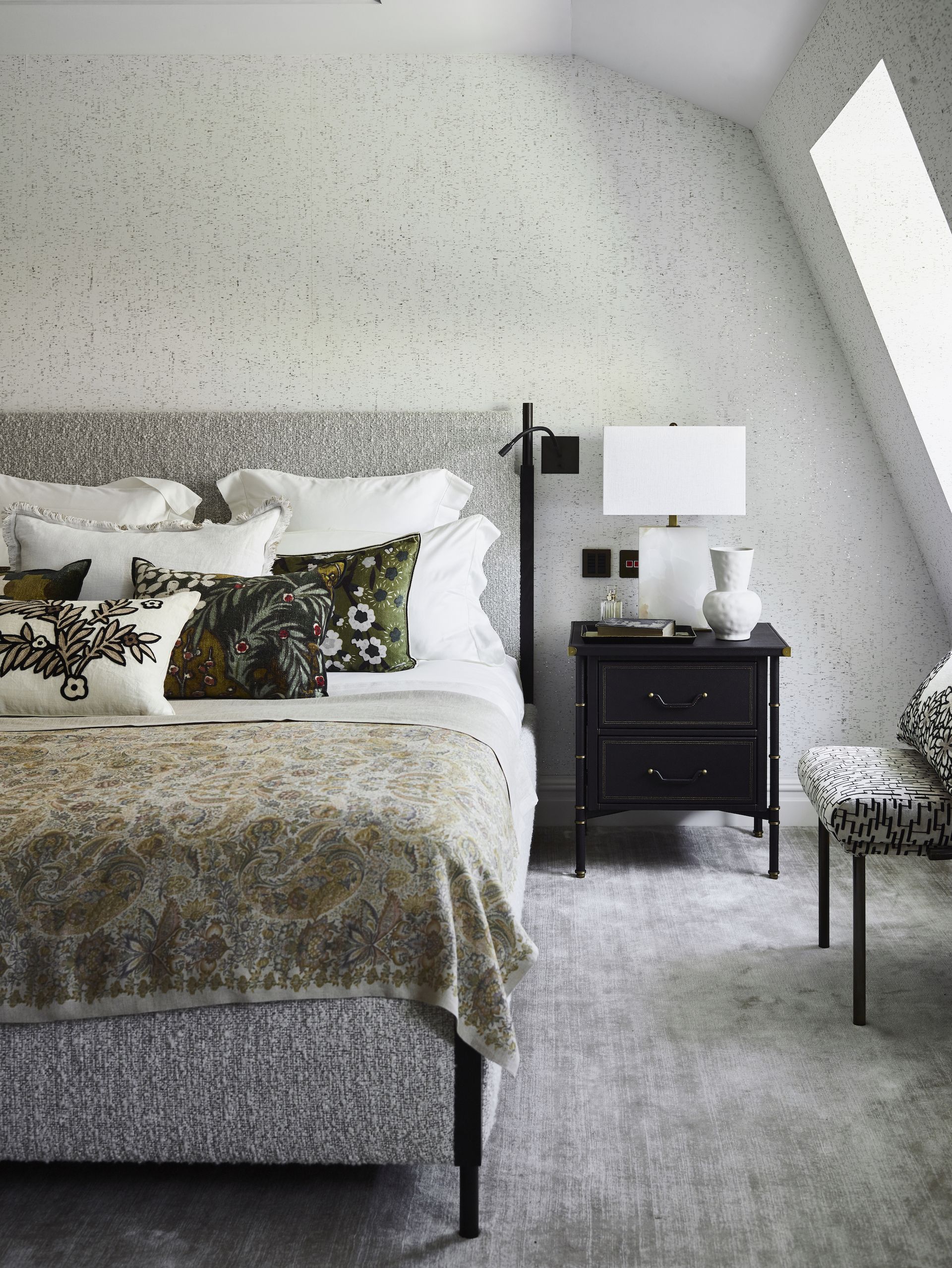 Leather accents add a sense of luxury to bedside tables.
'This Julian Chichester bedside table is a go-to of mine because of its excellent quality. The proportions are perfect for a two-foot tall bed, and they come in two widths to suit most room sizes,' says Lucia Caballero, interior designer at Lucia Caballero. 'They are covered in dark blue leather and have beautiful brass ring details on the leg adding such a luxurious feel to what is otherwise a simple design. The handle is also covered in leather and has intricate stitched details. The drawer interior is made of cedar wood which gives a lovely smell, keeping books good as new, and protecting from moths etc.'
Caballero paired this tables with Philip Jeffries Cork Wallpaper and a poster bed covered in a beautiful Pierre Frey two-tone boucle fabric to add warmth to the room.
11. A scalloped edge is pretty and practical
Going for a neo-traditional or Grandmillennial look? Scalloped edges are a must.
'Bedside tables are ultimately practical, but can and should be good looking too, it's somewhere to put a pretty lamp, a vase of flowers, a carafe of water and obviously books. We have designed our own bedside tables with a scalloped raised edge to make sure nothing falls off and these have useful drawers as well,' says Louisa Greville Williams, director of Vanrenen GW Designs.
12. Vintage pieces work well with layered schemes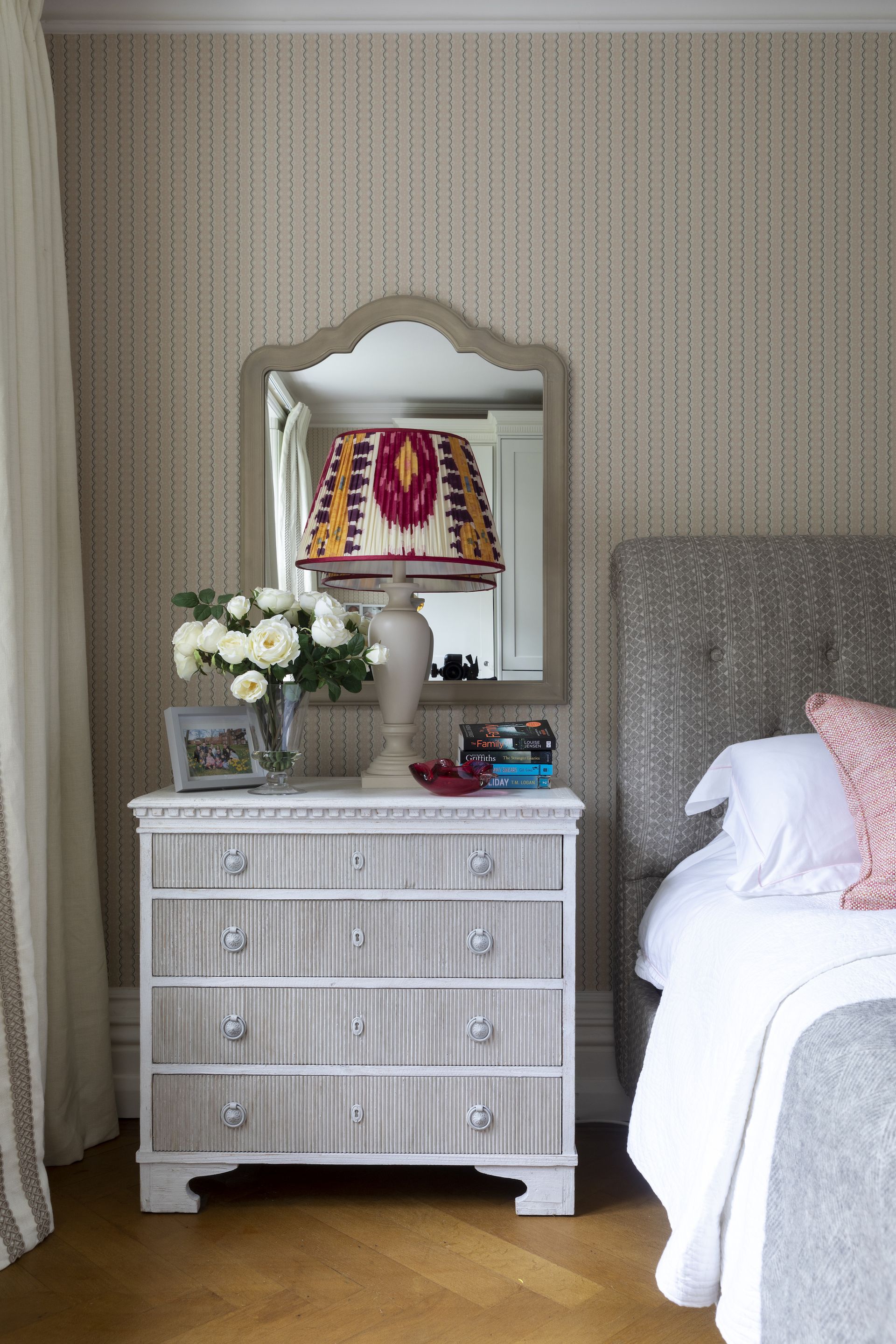 When it comes to choosing a bedside table, you want to pick something that is functional as well as beautiful, notes. Emma Deterding, founder and creative director, Kelling Designs. Before you purchase anything, think about how you'll use your bedside table, and what you need from it to help you narrow down the best choices.
'If you need storage at the bedside, then maybe a cabinet design or a drawer unit is suited best as it'll allow you to store things away with ease, keeping the bedroom clear and free of clutter,' Deterding says. 'If however, it's more ornamental, then a modern design with open shelving to display your favorite photographs, a lamp and other personal touches works best.
As always, before splurging on new furniture, look at the pieces you have and make use of any antiques or vintage furniture, similar to the one in this scheme which was an existing piece. You can always upcycle tired and dated pieces and give them a new lease of life, bringing character and charm to the room.'
13. Slimline for small bedrooms
'Size does matter when it comes to bedside tables, and if you aren't a book reader then you can afford to go for a narrower option – less is more right? However, if your bedroom is small then a tall and slim option will work wonders, this white painted design is ideal and it has a drawer, which is always a bonus!' says Andrea Childs, editor, Country Homes & Interiors.
Still need lighting? Forgo the lamp for wall-mounted sconces.
14. Look out for unusual shapes
'Shape is key – round or oval will soften and flow whereas square and rectangular will create a more linear and geometric design. Within a bedroom scheme it's good to have a mix of shapes for interest, and of course, a bedside with a shelf is always top of our lists,' says Melanie Griffiths, editor, Period Living
15. Go for a small-scale design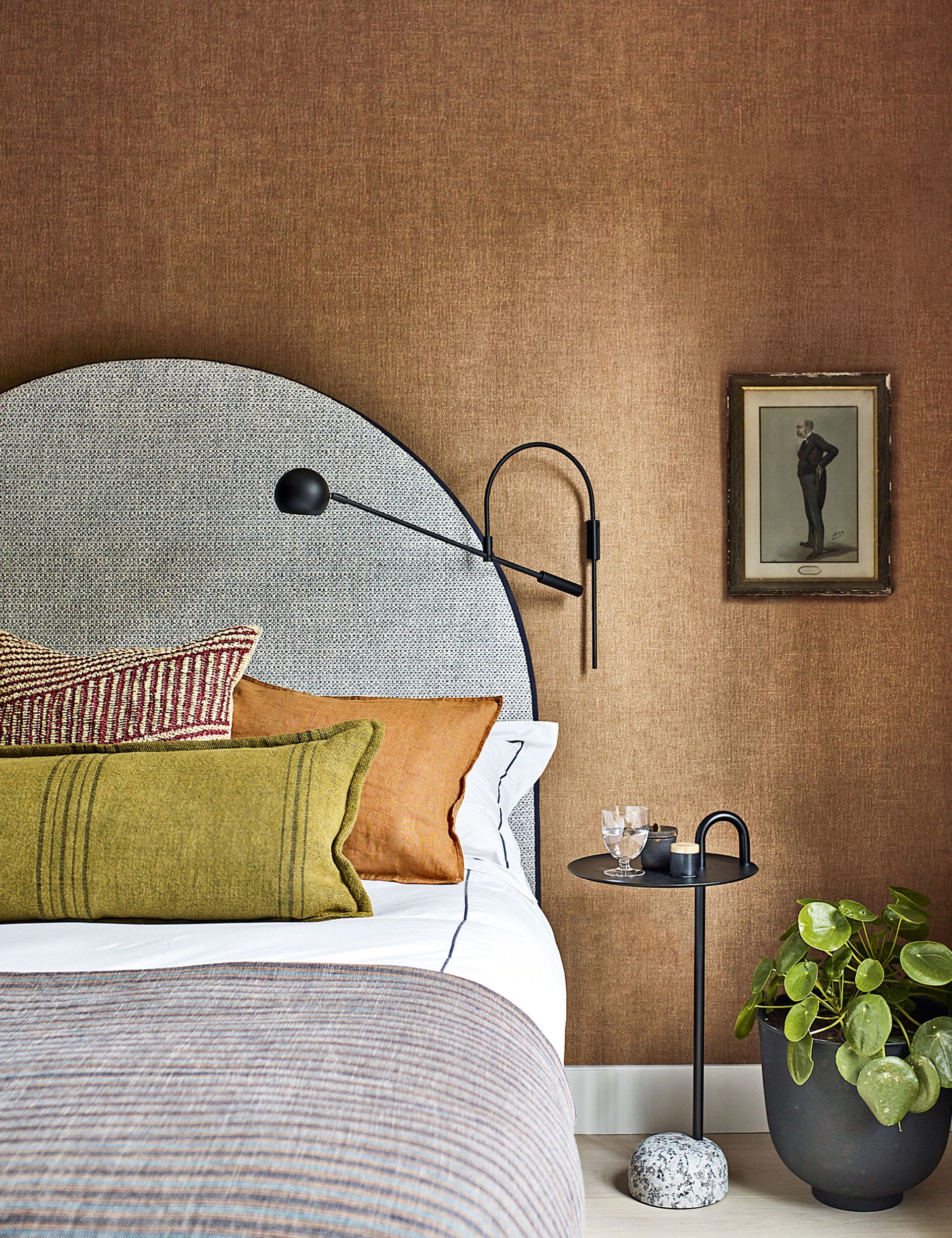 Sometimes bigger isn't always better, as this slimline, barely-there bedside table shows. This compact design blends beautifully with the tailored simplicity of this modern bedroom. Having a small bedside table might sound like a negative, but in fact, this minimal look will ensure that you keep clutter and chaos to a minimum.
What can I use instead of a bedside table?
The furniture you use as your bedside table is only limited by you creativity - truly! As long as the piece serves the function you need it to, in that it offers enough surface area, ample storage, and is the correct dimensions, it's bedside table material.
Some common substitutes for traditional nightstands include:
Dressers or small chests
A writing desk
A stool or hard-topped ottoman
A living room end table
A bench or dining chair
A steamer trunk
Cube storage
A wall-mounted shelf
Sign up to the Homes & Gardens newsletter
Decor Ideas. Project Inspiration. Expert Advice. Delivered to your inbox.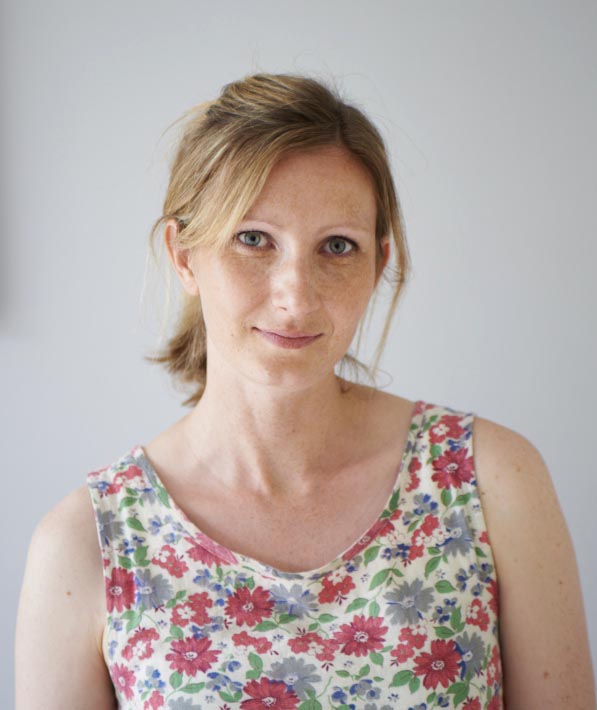 Sophie has been an interior stylist and journalist for over 20 years and has worked for many of the main interior magazines during that time, both in-house and as a freelancer. On the side, as well as being the News Editor for indie magazine, 91, she trained to be a florist in 2019 and launched The Prettiest Posy where she curates beautiful flowers for modern weddings and events. For H&G, she writes features about interior design – and is known for having an eye for a beautiful room.