8 closet decluttering tips to steal from professionals
Expert home organizers explain how you can ruthlessly clear out your closet with these eight failsafe closet decluttering tips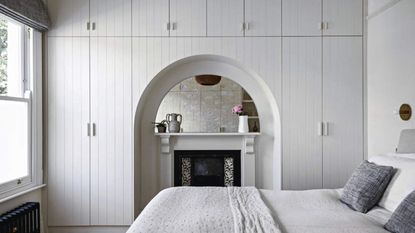 (Image credit: ANNA STATHAKI)
Keeping a closet clear of clutter is perhaps one of the most difficult organizational tasks in your home. It is so easy to put your clothes away haphazardly and close the doors then forget about them for another day. But what happens is that you tend to wear the same things again and again, buy items nearly identical to what you already have but have forgotten about, and take items out to wear, only to find they're creased or have simply become invisible. If any of this sounds familiar, you may need some professional closet decluttering tips.
Whether you have some closet organization ideas in place already or not, decluttering can be difficult to wrap your head around. It is easy to become sentimentally attached to clothes, or feel bad if something doesn't quite fit like it used to – it is arguably the most mentally draining decluttering activity. What's more, decluttering clothes is only one element of decluttering a closet because it tends to hold all your accessories, including shoes, too.
Here, professional organizers explain how they help their clients declutter their closets so that you can get a start on your home organizing ideas.
8 ways professionals declutter a closet
Picking up expert closet decluttering tips and implementing them frequently can help to build positive habits that prevent your belongings from getting out of hand again.
Here are eight of the best closet decluttering tips professionals offer.
1. Pick your approach – categorize or all-in-one
There are two main approaches to decluttering a closet: split it into categories or tackle it all in one go.
The method you use will depend on the size of your closet, whether you have a small closet or a walk-in closet, for example, and the type of declutterer you are – this last one is particularly important if you wonder how to declutter your home when you feel overwhelmed.
If you have a large closet or prefer to declutter slowly and methodically, it may be best to work in sections.
'Choose which sections you want to tackle in your closet/wardrobe, suggests Victoria Bance, APDO member and creator of Declutter & Organise with Victoria. 'Try not to take on too much otherwise it can feel overwhelming. Start small at first and remove all the items from each section – it will certainly start to look worse before it looks better!' she warns.
'Begin by sorting into categories, ie, jackets, tops, pants, jeans, dresses, skirts, socks, underwear, etc. Once in categories, go through each category and decide what you want to keep, what you want to donate, what you want to sell, and what you want to let go of.'
If you have a smaller closet, doing it all in one go may be better suited to you.
'The best way to declutter a closet is to pull everything out of the space and sort everything into piles of like items,' suggests Jamie Hord, CEO, and founder of Horderly Professional Organizing.
'It's much easier to let go when you are looking at your items in a different way than you see them every day. This is why flipping through your closet and pulling things here and there is not as effective. When you're making decisions of what to keep and what to donate, ask yourself hard questions like "do I have better or similar?", "is it true to my style?", "Would I buy it in a store today?", "does it currently fit and is it comfortable?".
'Be sure to stay true to who you are now and avoid thinking too much about the past or the future. For example, "I hope to fit into this one day", "I might need this one day", or "This was my favorite sweater 4 years ago".'
Regardless of the approach you take, Victoria recommends four questions to ask yourself when removing pieces from your collection:
Do you wear it? If you do then keep it, if you don't, let it go.
When was the last time you wore it? If you can't remember then what's the reason for holding onto it – is it sentimental or just in case you might wear it?
Do you love it? If you do – keep it, if you don't then it's time to let it go.
Does it fit? Clothing that is either too big or too small can sometimes leave you feeling uncomfortable or conscious when you wear it – maybe consider letting it go and replacing it with something that makes you feel fabulous!
2. Use different organizers for different items
'Use different methods for organizing and an array of the best bedroom organizers and closet organizers such as drawer dividers, shelf dividers, hooks, folding or rolling of items, and use velvet slimline hangers to allow more items to be stored in your closet,' Victoria Bance suggests. 'Always ensure items used every day are stored near each other and are easy to access.'
'Before putting anything back remember to clean your clothes closet by vacuuming and wiping the surfaces,' she adds. 'For the items you want to keep, decide how you want to organize them, for example by color, season, occasion, type, etc, and then start to organize your clothes back in your closet in a way that makes getting ready each day quicker and easier.'
3. Consider the reverse hanger technique
One of the best ways to avoid decluttering mistakes is to implement long-lasting methods that will help you manage your belongings in the long term.
'The reverse hanger technique is my favorite!' Laura Pearson, APDO member and founder of Intentional with Laura enthuses. 'Face all of your coat hangers backward in your closet. Every time you wear and wash an item, place it back in your closet facing the correct way. Doing this allows you to clearly identify which clothes you haven't worn.
'I personally review this every few months and then declutter accordingly by taking them to a charity shop,' she says.
4. Use the one in one out technique to keep clutter down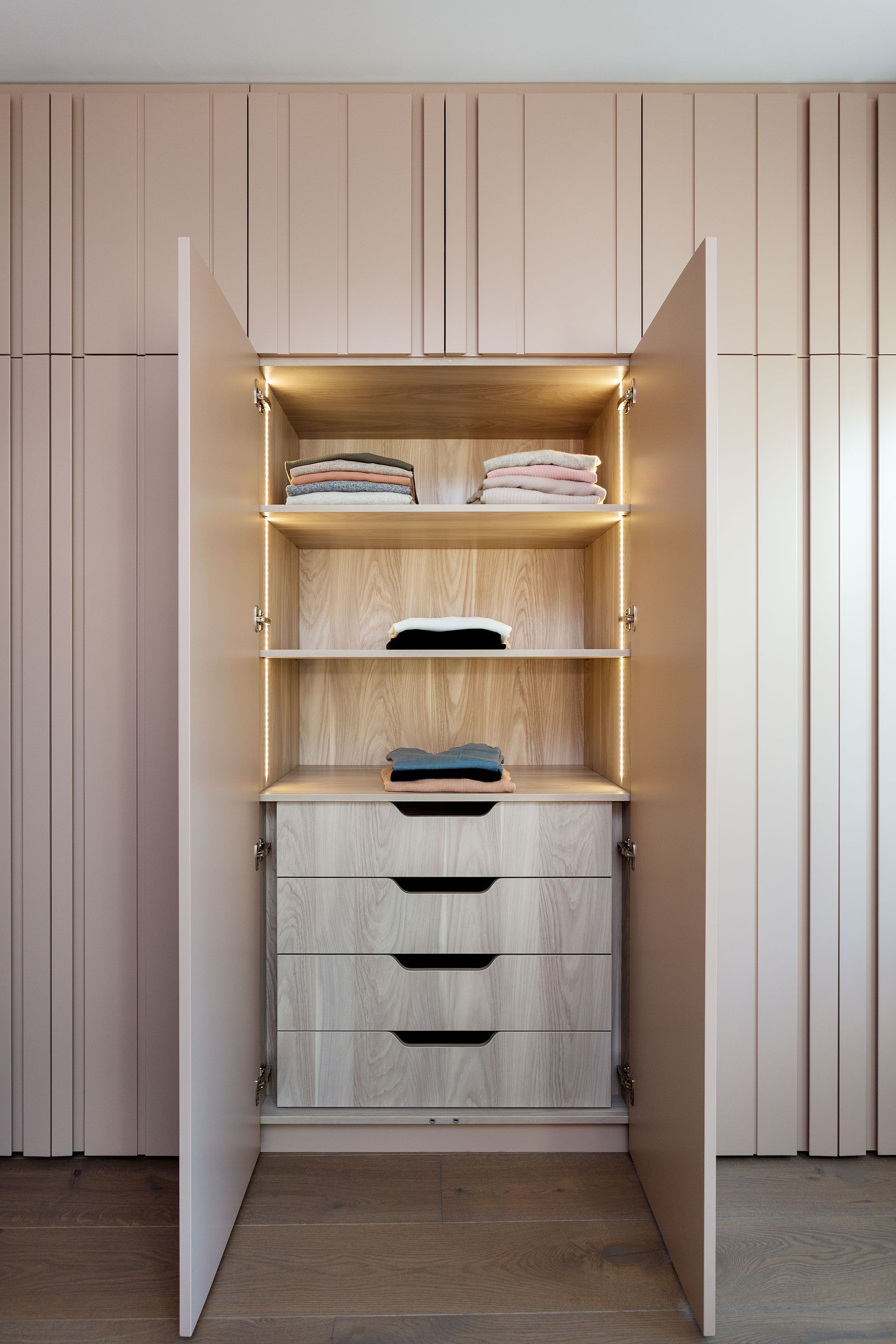 'My best advice is to stick to a one-in-one-out policy, so always have in mind when you shop or find something you like, that something else will have to make way for it,' explains Gill Gudgeon, APDO member and founder of Restore the Calm. 'Think of it like a bathtub, that if you continue to fill it, it will eventually overflow everywhere.
'When picking the item(s) to go (I do it as soon as I get home!) I'll start by looking at similar garments to what I've just purchased otherwise, I'll look at garments that haven't been worn for a while.
'Excluding occasion wear, if something hasn't been worn for at least a year the likelihood is that it won't be worn again. If you're no longer seeing the garment or considering wearing it, then you really aren't going to miss it – out of sight, out of mind!'
5. Work during the day
The chances are that your closet may not have the best closet lighting ideas to illuminate your dressing area. This can make seeing what you have and decluttering what you need much harder.
'If possible choose a space to sort with good daylight or other excellent lighting,' advises Mimi Bogelund, The Spark Joy Collective member. 'Look for permanent stains and if it's worn out and tired looking.'
6. Take items out that aren't to do with getting dressed
'Very often people have a mish-mash of items in their closet, with many items having nothing to do with getting dressed!' The Spark Joy Collective member, Jane Fern points out. 'The first thing I do when clearing out a closet is to empty it out completely so that you can see everything that has been kept in there.
'As items are taken out of the closet start to categorize them into piles. Take one category at a time and choose the items of clothing that make your heart sing, and discard the ones that don't.'
7. Deal with ill-fitting clothes appropriately
When it comes to organizing clothes, getting rid of items that you may have once fit in but no longer can be difficult to come to terms with. Trying to be as ruthless as possible while also allowing yourself some leeway is the best approach to take if you find this process hard.
'If it doesn't fit but you absolutely love it, keep it only if it's one size either way of your current size,' The Spark Joy Collective member, Mimi Bogelund recommends. 'Don't allow anything to be downgraded to be worn around the house. That kind of thinking won't give you any more free space in your closet.'
8. Learn to work around sentimentality
'You also have to remove sentiment from the process; you may have once loved a garment and worn it a lot, but that doesn't mean it deserves to stay and consume space,' Gill Gudgeon says.
'Don't be afraid to look at purchases that you've barely, or never, worn. It being in your closet is a constant reminder of the error and it's best to move it on. Make sure that you're not hanging onto anything tatty, holey, or misshapen, and you only need one set of clothes for decorating or gardening.'
'For any items you are donating or letting go of, try to not leave bags hanging around, make it a mission to deliver them within a few days,' Victoria Bance adds.
What should you not put in your closet?
You should not put clothes that do not fit you, clothes that are damaged or irreparably stained, or clothes that you do not like in your closet. These items will take up space that could be used for nicer, better fitting clothes and clog up your space making it more difficult to see the items you do want to keep.
How can I declutter my closet fast?
The best way to declutter your closet fast is to assign a set amount of time to get the job done and be ruthless as you go. Take everything out of your closet at once and only put items back in that you know you will 100% wear again.
Sign up to the Homes & Gardens newsletter
Decor Ideas. Project Inspiration. Expert Advice. Delivered to your inbox.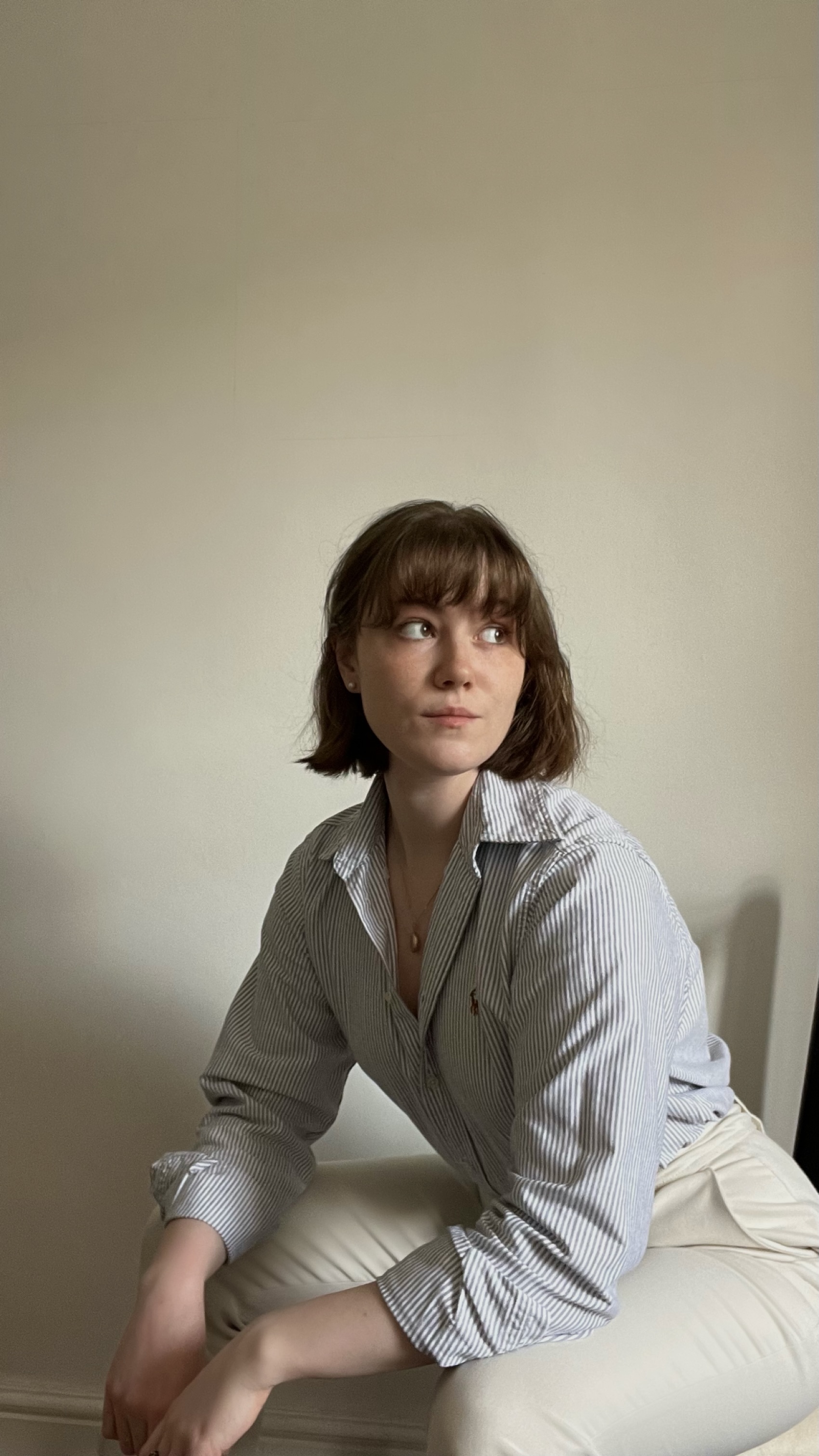 Chiana has been at Homes & Gardens for a year, having started her journey in interior journalism as part of the graduate program. She spends most of her time producing content for the Solved section of the website, helping readers get the most out of their homes through clever decluttering, cleaning, and tidying tips – many of which she tests and reviews herself in her home in Lancaster to ensure they will consistently deliver for her readers and dabbles in the latest design trends. She also has a first-class degree in Literature from Lancaster University.