How do I declutter my clothes fast? The top 10 strategies organizers swear by
Clothing collection getting out of hand? Experts offer their advice to help speed up the decluttering process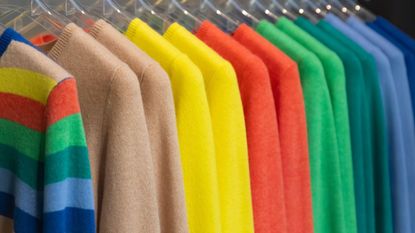 (Image credit: Alamy)
If you're struggling to close your closet doors, or you've got sweaters and socks spilling out of dresser drawers, 'how do I declutter my clothes fast?' will likely spring to mind. If you're at this point, it might be time to swap the 'slow and steady' approach for something a little more ruthless.
Decluttering is one of the best things you can do when it comes to organizing clothes. The fewer clothes you have, the easier it is to locate and access the ones that make you feel and look your absolute best. And if that's not a reason to look for closet organization ideas quickly, we don't know what is.
If you're wondering how to declutter clothes fast, rest assured – being ruthless with your decluttering isn't as hard as it sounds. In fact, it's fairly straightforward when you know how. Below, we share the speedy strategies experts swear by; you'll be done in no time.
How do I declutter my clothes fast?
The first step towards successfully decluttering clothes is accepting that the job needs doing in the first place. 'If you can go more than one to two weeks without doing any laundry then you have too much stuff', says professional organizer Brenda Scott of Tidy My Space.
We've all been there, so no judgment from us. However, it's worth bearing in mind that 'having fewer clothes means less to pick up, less washing to do and less laundry to put away', says Brenda. If that sounds appealing to you, read on for expert tips on how to get the job done – and done quickly, at that.
1. Declutter clothes in situ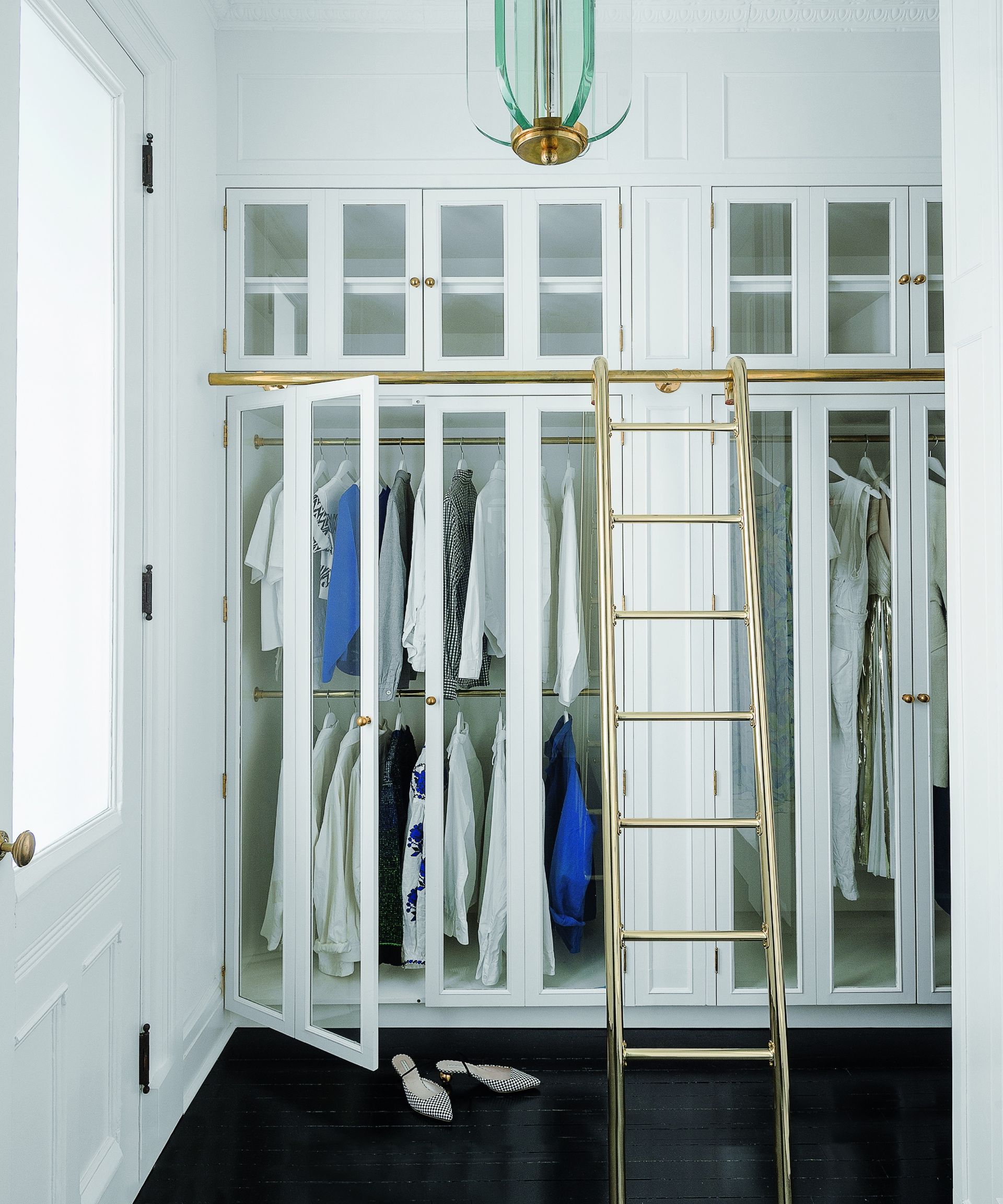 Whether you're shopping for new clothes storage ideas or looking to shop for bedroom organizers, it's a good idea to take everything out piece by piece. However, if decluttering clothes fast is the priority, it's perfectly possible to get the job done efficiently by leaving items where they are.
'Start by moving similar items and colors together on the clothes rod or in the drawer, then look at each group and choose your favorites (remember they can't all be the favorite!). Remove the items that are stained or damaged, don't fit, are uncomfortable or don't create an outfit; if you have a blouse but no skirt or pants to wear with it, let it go', says professional organizer Susan Santoro of Organized 31.
2. Allocate a time frame for decluttering
It's easy to put off making decisions if you feel like you've got all the time in the world. If you want to declutter clothes fast, set a timer for yourself – literally.
'Whether it's 15 minutes, 30 minutes, or an hour, knowing that you have a set time limit in which to declutter can sometimes help you move through decisions faster', says organizing and design expert, Ashley Jones Hatcher.
3. Make quick decisions
When decluttering clothes, give yourself five seconds to make a decision. 'Whatever your first impression is of a piece of clothing, go with it. Trust your instincts', says Grace Baena, Curator of Kaiyo.
4. Put clothes on there and then
If you're still struggling to make a decision, put the item of clothing on right there and then. How does it make you feel? Does it still fit? Could you wear it comfortably for the rest of the day? If you find any reason to take it off (or you feel the need to ask someone else for their opinion on it) you likely don't love it or need it as much as you think you do.
This technique doesn't work for everything; special occasion clothing or swimwear for example – we can understand you not wanting to wear those for the rest of the day! But it's a good way of speeding up decisions on your day-to-day clothing. It also highlights what you wear most, so you know what to prioritize in terms of accessibility when putting items back; handy for organizing clothes efficiently.
5. Create a set of rules – and stick to them
By deciding on a set number of items in advance, you're forced to be very particular with the items you keep. If you're organizing a small closet and there's no room for 'maybes', the decision-making process becomes a lot simpler – and quicker. Alternatively, forgo a specific number and create a set of rules for yourself instead. Just be sure to stick to them – no exceptions.
'If something doesn't fit (too big or too small) remove it. If it needs to be fixed, remove it. If you haven't worn it in more than one or two years remove it (unless it is a special occasion outfit). Always instil a bedroom storage rule, too – you can only keep what you have room to easily put away.' says professional organizer, Diane Quintana of Release, Repurpose, Reorganize.
6. Make peace with letting go
If it's sentimentality that's holding you back, thinking about how to deal with those emotions and shifting your mindset in advance of your declutter will make the process quicker, not to mention easier to cope with, on the day.
For example, if you're planning to donate items, professional organizer Jessica Litman founder of The Organized Mama, recommends thinking about where they're going prior to sorting. 'This allows you to visualize others enjoying and benefitting from them, which makes it easier to part ways,' she says.
7. Drop the 'just in case' excuse
One day these jeans will fit again'... 'One day this top will be back in fashion'... 'Maybe my daughter will want this dress one day'... keeping things 'just in case' is a surefire way of building clutter, so be aware of the excuses you're making and drop them.
'If there's no emotional attachment to the clothing (unlike say your wedding dress), and it doesn't fit you any more, ask yourself why you're really keeping it. There's no shame in acknowledging that you aren't going to be a size 8 again, so why are you hanging on to those jeans? If you do become a size 8 again, treat yourself to new jeans!' says 'Decluttering Queen', Carolyn Creel.
8. Keep only what brings you joy
Decluttering expert Marie Kondo preaches that you should only keep or buy items that bring you joy; particularly relevant when decluttering clothes, we think. After all, there's nothing worse than wearing clothes that don't make you feel good.
'"I spent a lot of money on it" or "I bought this on sale" are two of the worst reasons to hang onto clothes that don't work for you. You deserve to look and feel great in every article of clothing you own', says Sarah Giller Nelson, founder of Less is More Organizing Services.
9. Ask for help
Whether you seek help from a friend or a professional declutterer, asking for help from someone who doesn't hold emotional attachments to the items you're sorting is sure to speed up the process.
'An outsider's perspective will help you to put emotion aside and be more critical about what you really need, making the process a lot quicker in general', say Brandie Larsen and Ryan Eisland, celebrity organizers and founders of Home Sort.
10. Allow yourself a 'maybe' box
Sometimes the fear of being too ruthless can actually hinder rather than help. Rather than waste time 'umming and ahhing', set aside a maybe box (limit yourself to just one) for items that you're really struggling to make a decision on.
Once you've finished sorting, set it aside, somewhere where it's not taking up prime storage space (the garage or attic, for example) and live without the clothes for at least a month. If you haven't needed or wanted them in that time, you know you've made the right decision, and you can find them a new home.
How can you be ruthless when decluttering clothes?
Being ruthless when decluttering clothes ultimately comes down to making quick decisions. This can be an emotional process, so it's important to ensure you're in the right mindset before you start organizing a bedroom. To help with this, experts recommend pre-planning where you want your discarded items to go, so you can start thinking about it in a positive light.
'Imagining the joy that someone else will get out of that item that you no longer wear will help you to release the emotional attachment you have to that item of clothing', says professional organizer Carolyn Creel.
Another way to take emotion out of the decision-making process is to set yourself ground rules in advance. Does it fit? Is it broken? Have you worn it in the last year? Whatever you decide, be sure you stick to them – no exceptions. Setting a timer can help, but ultimately it comes down to trusting your gut instinct, it's usually right!
How do you sort through too many clothes?
Regardless of amount, the best way to sort through clothes is to gather up everything you own – it's much easier to work out what you want to keep/what you have too much of when you can have it all in one place. Assign two categories, 'keep' and 'donate/throw', and work your way through each item, one by one. Be really honest with yourself: does it still fit? Is it in good condition? Have you worn it in the last year? If the answer is no to any of those, put it in the 'donate/throw' pile.
While some experts advise against having a 'maybe' pile, others believe it can speed up the process, handy if you've got lots of clothes to sort through. The theory is you're less likely to waste time making decisions on items you're not sure on, if you know it's not a 'final' decision just yet. If you do decide to go down this route, be sure to limit yourself to one just one 'maybe' box, and store it outside of your closet. Set yourself a time frame, ideally one month – if you haven't wanted for anything, move it on to a new home.
Sign up to the Homes & Gardens newsletter
Decor Ideas. Project Inspiration. Expert Advice. Delivered to your inbox.
For 10 years, Tara King worked as a Content Editor in the magazine industry, before leaving to become freelance, covering interior design, wellbeing, craft and homemaking. As well as writing for Ideal Home, Style at Home, Country Homes & Interiors, Tara's keen eye for styling combined with a passion for creating a happy – and functional – family home has led to a series of organization and cleaning features for H&G.