Top 10 decluttering mistakes – the howlers organizers are urging us to avoid
Don't make the process harder than it needs to be… take note of these top decluttering mistakes, and how to sidestep them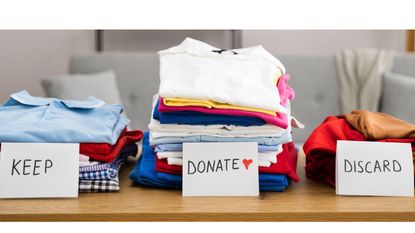 (Image credit: Alamy)
Falling victim to these top decluttering mistakes can make organizing your home feel far more overwhelming than it should. Luckily, with the right advice, they can be avoided easily enough – and the satisfaction you'll feel at getting the job done is well worth it.
With so many effective decluttering tips and home organizing ideas to choose from, it can be tricky to know which ones will work best for you and your home. For this reason, it's often easier and simpler to focus on what not to do, instead.
Top decluttering mistakes
Why learn from your own decluttering mistakes when you can take heed of those made by others? Save yourself the hassle and get it right the first time around, that's what we say. We've spoken to the experts to find out the top decluttering mistakes – and how best to avoid them.
1. Beginning without a goal in mind
If you're looking for ways to declutter your home, the chances are you've not done it in a while. Getting stuck straight in may feel like a productive – and necessary – method, but it can have the opposite effect, leaving you feeling completely overwhelmed and wondering why you started the job in the first place.
To avoid this, begin by asking yourself what you want to achieve – is it to declutter the whole house or just one room? Perhaps you'd like to free up some space with clever storage ideas, or streamline your morning routine with closet organization ideas. Whatever the goal, knowing it in advance will help you stay focused on the task in hand.
2. Starting organizing before you've finished decluttering
While decluttering and organizing often go hand in hand, it's important to remember they're not the same thing. Organized clutter is still clutter, so decluttering must come first.
'Too many people get carried away buying storage that isn't necessary, or doesn't do the job they need it to. This can hinder space rather than enhance it, and undo all your decluttering efforts', says professional organizer Vicky Silverthorn of You Need a Vicky.
Only once you've completed the decluttering process fully are you best-placed to work out the most suitable organization methods – and storage ideas – for what's left.
3. Letting sentimentality get the better of you
Whether it's an heirloom coat or a cherished childhood toy, we've all got items that we no longer use but couldn't bear to part with, and that's okay. Decluttering doesn't mean you have to get rid of absolutely everything, but you do need to be a little strict with yourself, and keeping more than you can house is one of the top decluttering mistakes you can make.
'Keep in mind that your home is not a museum and memories are not in physical objects, so you should be able to remove them from your home without feeling guilty', say the decluttering experts at The Classy Home.
Try to limit yourself to just one storage box per room for those items you can't bear to part with. That should help you to be selective about what you really want to hold on to. It may be tempting, but try not to create a 'maybe' pile. If you start one of these every time you declutter, you'll often find it's the biggest of the lot and you're no better off than when you started!
4. Decluttering for children without involving them
Decluttering for others full stop is a big no-no, but children in particular can find it very stressful if their things are taken away without their knowledge. Professional organizer Brenda Scott of Tidy My Space emphasizes the importance of involving them in the process.
'Children need to have a say in what toys or books they no longer want. Let them know that those items aren't going into the garbage – that's a recipe for a meltdown – instead, they're being donated to others who will love and play with them', she says.
If they're struggling to let go, suggest they take pictures of the things they're not keeping, and emphasize the importance of donating and sharing. While it can be frustrating, try not to push them too hard – it can be emotional for adults, let alone little ones! Try to work in small bursts to stop them from becoming too overwhelmed.
An exception to this rule is children under the age of three – while they may think they know best, you know what they truly love to play with. If you're unsure of something, you can always set it aside for a while to ensure it won't be missed.
5. Throwing away items that can be reused or recycled
If you know you're going to be throwing away a ton of items, it's worth hiring a waste removal company in advance, but don't make the common decluttering mistake of consigning everything you don't want to the garbage. Take the time to assess whether they can be recycled or reused by somebody else, first.
This includes checking use-by dates. As well as food, items such as skincare products, makeup, medicines, paint and cleaning products all have these. Unused items can sometimes be donated to shelters or local charities (as long as they're sealed), while there's plenty of good causes that can make use of old items, so be sure to research options in your local area.
6. Tackling too much at once
Decluttering an entire house is a massive undertaking, particularly if it's not something you've tackled in a while. Trying to take it all on in one go would be extremely overwhelming, and you'd likely find yourself giving up before you'd even begun.
To make it feel more manageable, break it down into rooms, then into areas of that particular room – a bedroom closet, or kitchen drawers, for example. 'Some folks find it easier to use a timer – give yourself 20 minutes a day to tackle decluttering, so you make progress across short sharp bursts', says August Gawen, founder of Minimalist Living.
7. Starting with the hardest decluttering tasks
It may feel like a good idea to tackle your biggest decluttering challenges head-on, but according to Catharina Björkman, Scandi lifestyle expert at Contura, starting with the easier tasks is a much better way to build momentum.
'Start by setting yourself small challenges that can be crossed off quickly, such as reorganizing your spice rack, organizing a desk or organizing a drawer. It will only take you 10 minutes or so, but you'll feel a great sense of accomplishment.
'Starting small like this will build your confidence in tackling bigger tasks, such as clearing out the attic or garage, for example, making for a more efficient – and enjoyable – experience overall', she says.
8. Delaying getting rid of things
You've gone to all the effort of decluttering, only to leave the bags of stuff you no longer want lying around. Not completing the job doesn't only lessen the feeling of satisfaction, it also increases the likelihood that you'll start rethinking your decisions.
Once you've decided what you're doing with the items you no longer want – whether it's recycling, donating to a charity, taking to the tip, or something else entirely – do it. It helps to move the bags somewhere visible, such as by the front door or in the front seat of the car.
9. Letting the clutter build up again
So you've completed your decluttering session, now you're done, right? Wrong. Probably the biggest decluttering mistake people make is believing that it's a 'once and done' job.
'Decluttering is like fitness – you need to keep on top of it', says professional organizer Kathryn Lord of More to Organizing. 'I call them 'resets', they are not as big as the first declutter session, but the good news is the more you do it, the easier it gets'.
In order to keep on top of things, a change in habit may also be required – rethinking what you bring into your home, for example.
'Adopt a 'bouncer' attitude to your home and allow for a 'one in, one out' policy', says professional organizer Lucy Mansey or Organised by Lucy. 'If you buy something, think about what may need to be donated or given to a friend to ensure items don't build up'.
10. Feeling like you're on your own
'Some of us struggle with decluttering more than others, and that's okay. In fact, all of us could use a little help with it sometimes. Enlisting friends and family to help is one way to make the task feel more manageable, or for some, employing a professional organizer can be a helpful step', says August Gawen of Minimalist Living.
Catharina Björkman of Contura agrees, and suggests that the same goes for keeping up the good decluttering habits, too.
'All family members should contribute to regular clear outs; keeping shared spaces tidy is everyone's responsibility. It can even be fun! Put on some feel-good music and get everyone involved – you'll get a far better response from children if they're allowed to make decisions, too. Take regular breaks for snacks and keep up the sense of camaraderie; you're all in it together', she says.
How do you declutter without regrets?
The best way to be ruthless when decluttering is to set yourself a goal. Don't set yourself up to fail – make it something that's easily achievable. Go through each item and ask yourself the following questions: is it still functional? Do I still need/use it? Does it bring me joy? If the answer is no to any of these questions, get rid. No exceptions and without regrets.
Once you've made your decisions on what items are going, and where they're going to, make sure you do it. Don't leave bags of stuff sitting around the house; you're far more likely to start second-guessing your decisions. It may feel ruthless, but getting things out of the house quickly is essential if you want to complete the process.
What should you not throw out when decluttering?
The one thing you shouldn't attempt to declutter first is your entire house. If there's one thing that's going to demotivate you, it's feeling overwhelmed, so approach the process on a room-by-room basis.
Which room you start in is really up to you (although some experts recommend organizing a closet is a good starting point, particularly if you're organizing a small space), but it is essential you be sure to focus on the smaller tasks to begin with; a medicine cabinet, your sock drawer or a bookshelf are all good examples. Ticking these off as successes will increase your confidence, so you'll feel well placed to take on bigger challenges, such as organizing a pantry or organizing toys in a kid's bedroom… you'll certainly need to feel brave for that!
Sign up to the Homes & Gardens newsletter
Decor Ideas. Project Inspiration. Expert Advice. Delivered to your inbox.
For 10 years, Tara King worked as a Content Editor in the magazine industry, before leaving to become freelance, covering interior design, wellbeing, craft and homemaking. As well as writing for Ideal Home, Style at Home, Country Homes & Interiors, Tara's keen eye for styling combined with a passion for creating a happy – and functional – family home has led to a series of organization and cleaning features for H&G.