How to clean a clothes closet – an expert guide for your seasonal clothes organization
Tackle dust, moths, mold and more to give your closet a clean sweep for fall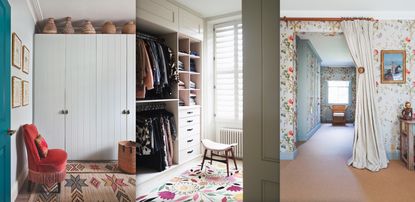 (Image credit: Studio Peake/Alexander James/Future)
Cleaning out closets and dusting drawers is the first step in the seasonal switch-up as we swap spring and summertime fashion for cooler weather clothes.
If you've been wondering how to clean a bedroom so it looks its best, then it is essential to start with the best closet organization ideas and expert ways to declutter clothes fast.
Get this task in hand as part of the essential home organizing ideas you need to keep your living space looking good and functioning for you and your family.
Why you need to clean your closet
Packing away one season's clothes and shaking out the wardrobe of outfits you'll be wearing for the next few months is a twice-yearly ritual in spring and fall.
Even if you don't physically fold and store away your summer or winter clothes, the change in weather is a great opportunity to reorganize your storage and bring season-friendly fashion front and center.
But before you start planning what to wear, take the opportunity to deep clean your closets and chests of drawers for a fresh start to the new season.
Here's how to give your cupboards a clean sweep before you go on to consider the next stage of defining your closet organization ideas. Together, they'll give you the perfect set-up to keep your refreshed closets and dresser drawers neat and tidy, so you can find your favorite outfit any time.
We spoke to expert Sara San Angelo, aka The Cleaning Lady, for her must-do closet clean-up tips.
Start by emptying your wardrobe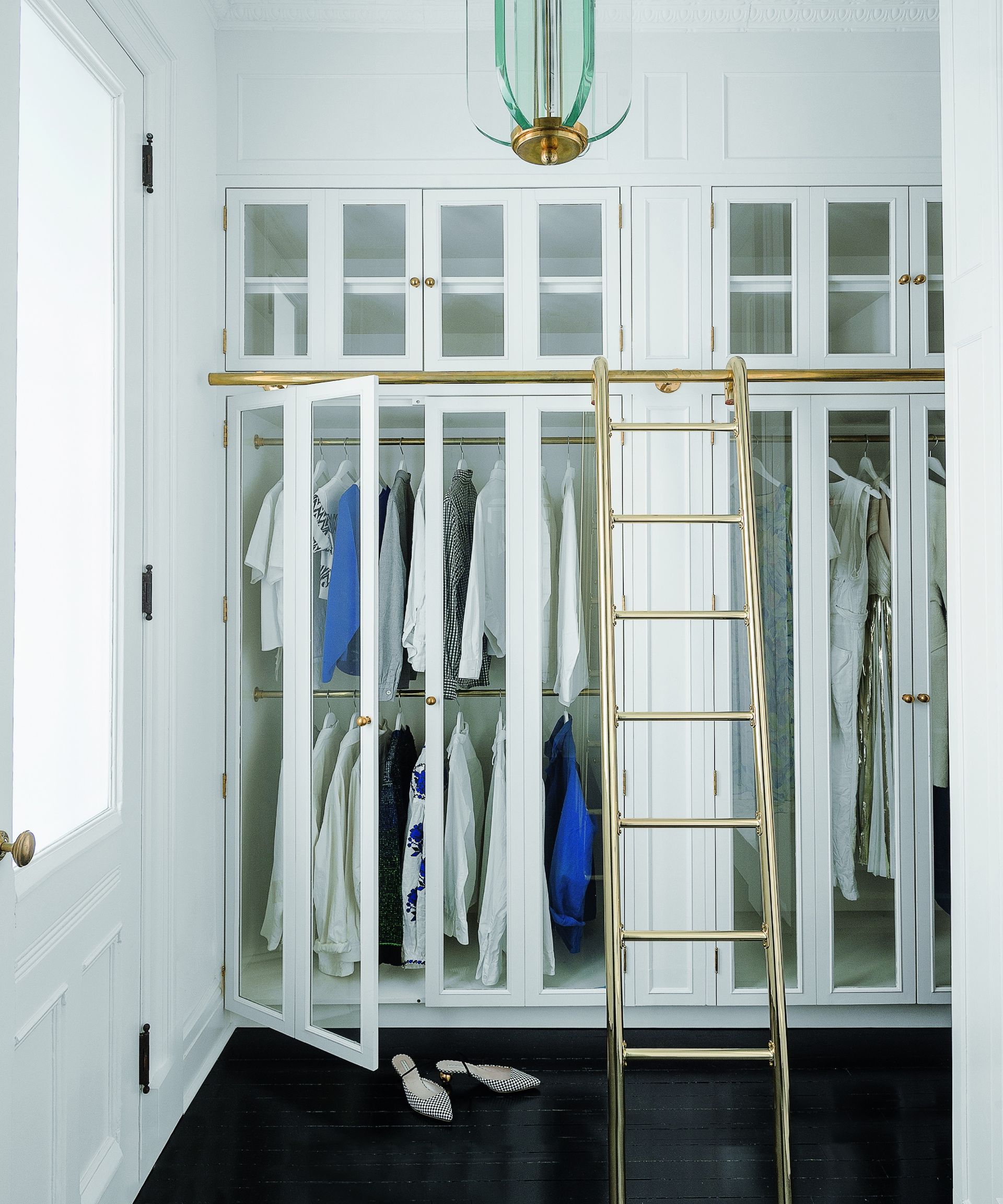 Set enough time aside to clear out a single closet or dresser at a time. Start by emptying it completely, organizing items into piles as you go. Keep these expert decluttering tips in mind to help you sort, rethink and reorganize the clothes you own.
You don't want to get bogged down in this task, so use strategies to help you declutter your clothes fast.
Decide what you'll want to return into your cupboards now, what can be stored away or put to the back of your wardrobe until next season, and what you can give away, sell or discard.
Clean and repair items before packing them away, so you're not storing up frustrations (and wardrobe malfunctions) for when you want to wear them again. Use closet organizers to showcase outfits and maximize storage options.
Focus on dusting next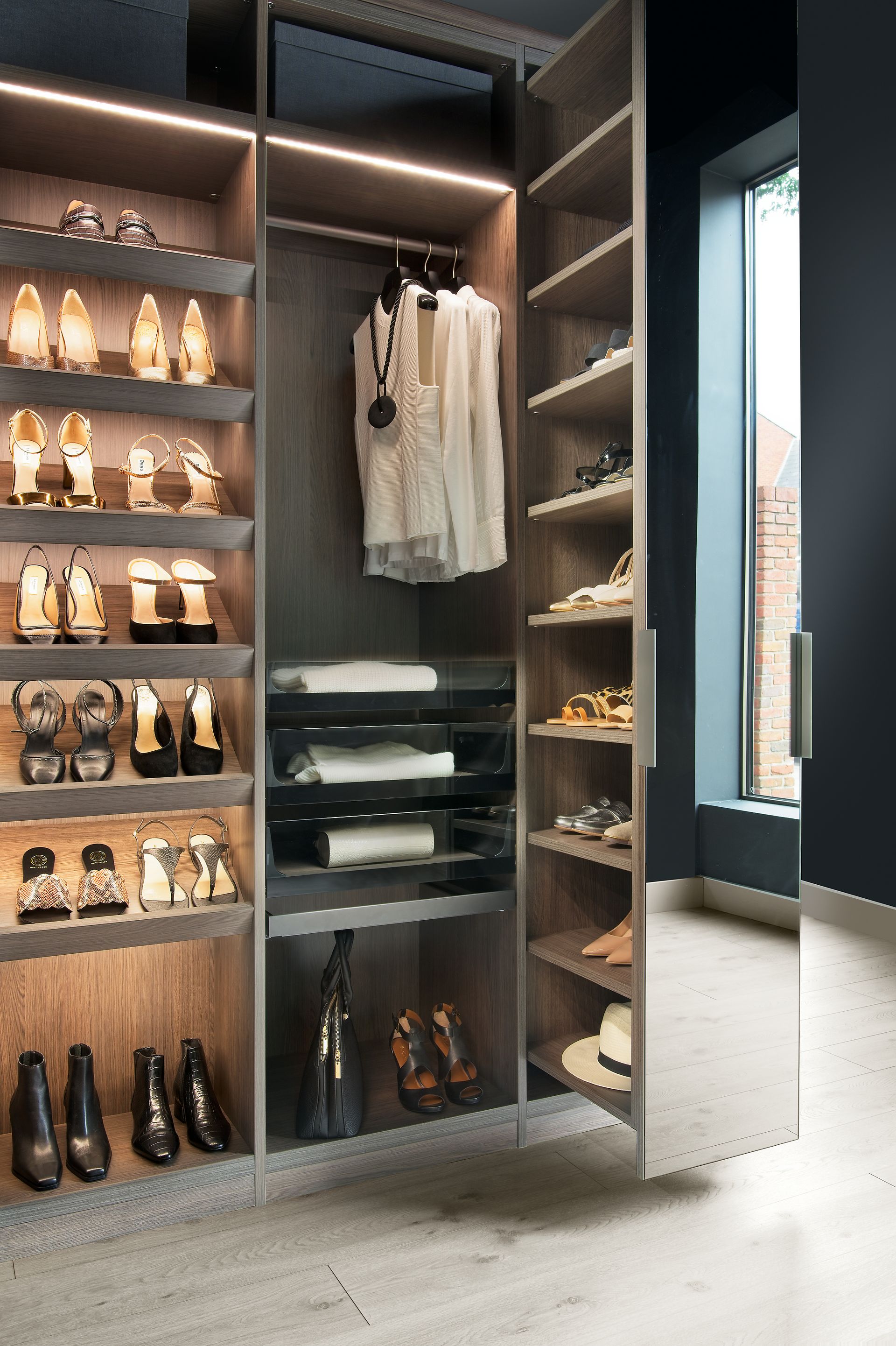 You'll probably find your closet's nooks and crannies – and the clothes themselves – are surprisingly dusty, with the dust coming from carpet, upholstery and clothing fibers, dirt brought into the house on shoes and bags, and even skin cells. It doesn't look good but it can also trigger breathing problems if you live with asthma or bronchitis.
'Dust will settle on any flat surface, even in your closet, especially if you have a fan in your bedroom or an air vent in the wardrobe kicking up dust already in your home,' explains Sara San Angelo. Don't just stop at the closet; discover how to clean a bedroom and take the opportunity for a full refresh of your sleeping space.
'If you have clothes folded on the top shelf of your closet, the top piece of clothing may accumulate dust. Items on hangers will accumulate dust on the collars and shoulders. Shoe racks or shelves, or the floor of the wardrobe, will collect dirt from dirty shoes.
'Dust cupboards and drawers from top to bottom. I like using the extendable Swiffer duster as it extends 3 feet and the pads trap dust and don't just move it around.
'If you have a vacuum with a hose and attachments this would work well too. You can wipe your shelves with a damp cloth and cleaner (depending on what material your shelves are made from) after you dust them.'
Check for damage and mold
Now that everything is clean, you can inspect your closets for any damage, including fixing any loose shelves and tightening hinges and screws. Scuffs on shelves and walls usually come off with magic erasers.
'If there is mould or mildew on the shelves (or if you found any on your clothes) you may have a moisture problem,' Sara says. 'Regular mildew can be removed with a wet cloth and bleach if it is a non-porous surface. For porous surfaces such as wood, use straight white vinegar. Bleach will only kill the mould spores on the surface, while vinegar will penetrate to kill the mould and mildew at the root, preventing it from regrowing.'
The advice on using bleach to clean mold is to leave it to the experts unless you're confident you can handle the corrosive substance safely. Cleaning with vinegar can be a less difficult option for when you want at DIY approach to beating mold.
If you have a large wardrobe or dressing room, or a major moisture problem, you can use an electric dehumidifier that sucks the moisture out of the air. 'For small spaces like drawers and wardrobes, dehumidifier bags or containers work well,' Sara suggests.
If you see black mould or notice a musty smell, consult a specialist at dealing with damp problems.
Protect against moths
'Moths can be a problem, too,' says Sara. 'It's the larvae of the Casemaking Clothes Moth and the Webbing Clothes Moth that do the damage, eating holes in clothes and decimating your wardrobe in a matter of weeks depending on your infestation.
'Moth larvae only feed on animal fibers including wool, silk, feathers and leather – so your yoga leggings may be safe but the Member's Only leather jacket you still have from the 1980s is fair game.'
If you detect moth damage, freezing the affected clothes will kill the larvae. If you're packing them away for the season, store them in moth-repellent bags. To deter moths, use dried lavender bags, natural essential oils such as clove bud, thyme, May Chang and lemongrass, or cedarwood balls and hanging blocks.
Alternatively, make your own natural moth repellent that smells good and is sustainable, too.
What is the fastest way to clean out a closet?
The fastest way to clean out a closet is to empty entirely so you can see any scuffs and dirt, and reach all the areas where dust can collect.
Once your clothes closet or dresser is empty, dust with a microfiber duster or vacuum up any dust and lint. Follow up by damp dusting any shelves, cubbies and the floor of your closet.
Finally, clean off any scuffs using a magic eraser or a gentle cleaning product. Test this on an unobtrusive area first to check it won't damage the surface of your closet.
How often should I clean my closet?
'It's really good to do this every six months, ideally in spring or fall when you are switching over your wardrobe anyway,' explains cleaning professional Sara San Angelo. 'This way you can catch problems before they occur and completely ruin your clothes.'
In closets that house a lot of dirty boots and shoes, or damp outerwear, you may want to clean more frequently. Then use professional declutters' tips to organize shoes and keep the area clean and neat.
Sign up to the Homes & Gardens newsletter
Decor Ideas. Project Inspiration. Expert Advice. Delivered to your inbox.
Andrea has been immersed in the world of homes, interiors and lifestyle since her first job in journalism, on Ideal Home. She went from women's magazine Options to Frank. From there it was on to the launch of Red magazine, where she stayed for 10 years and became Assistant Editor. She then shifted into freelancing, and spent 14 years writing for everyone from The Telegraph to The Sunday Times, Livingetc, Stylist and Woman & Home. She was then offered the job as Editor on Country Homes & Interiors, and now combines that role with writing for sister title homesandgardens.com.