How to clean a bedroom – in five easy steps
Discover how to clean a bedroom efficiently and enjoy a hygienic and relaxing place to rest your head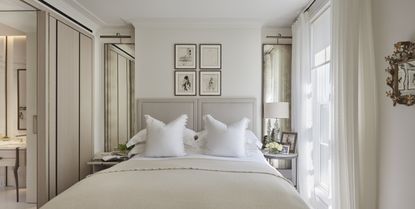 (Image credit: Louise Bradley Interiors)
Wondering about how to clean a bedroom to ensure it remains the sanctuary it should be and the place you go to unwind and rejuvenate at the end of a busy day?
An efficient routine is the best way to ensure it's hygienic, has a relaxing atmosphere, and a stylish look, without the task taking more time than it should.
We've put together cleaning tips that include just five steps that'll see the job done quickly and thoroughly, and asked the experts to contribute their advice, too.
How to clean a bedroom
'An untidy bedroom can add stress, cause anxiety and even interfere with your quality of sleep,' says Chris Wootton, managing director of domestic cleaning business, Poppies. 'By having a clean and clutter-free bedroom, it will help you to recharge and revive, improving chances of a good night's sleep.'
The answer to how to clean a bedroom doesn't require specialist tools but it's worth gathering everything you need before you start, to avoid repeat trips downstairs. Bring up the vacuum cleaner, including the nozzle and brush attachments, plus at least one damp cloth and two microfiber dusting cloths.
In terms of cleaning products, just use your usual multipurpose cleaning spray and glass cleaner. Alternatively, you can make up your own cleaning spray using one part white vinegar to nine parts water, plus a squirt of dish soap.
1. Tidy up
Before you can start cleaning a bedroom, you'll need to have a good tidy up and decluttering of your room. Begin by gathering any items that don't belong in there and returning to their proper location. We're talking water glasses by the bedside, old newspapers and magazines you've finished reading, and any coats or footwear that should be in the mudroom or entryway. Empty the trash can.
Next put away any clean clothing that has been left out. Clothes that have been worn once or twice and are still clean can also go back in the closet. It's worth allocating one area – perhaps a couple of hangers to the right or a drawer – for such items so you can keep track of usage. Put any dirty items in the laundry basket.
2. Do the dusting
Always start dusting from the ceiling downwards when cleaning a bedroom. Use the nozzle of your vacuum, or a long handled duster, to get into cobweb strewn corners. You can also use the vacuum on its lowest power with the brush attachment to tackle pleated light shades and curtains and pelmets.
'Use a damp microfiber cloth for hard surfaces like metal light shades, Venetian blinds, picture frames and baseboards,' says Sarah Dempsey, cleaning expert at MyJobQuote. 'Lastly, wipe over and buff mirrors and windows using a vinegar-based spray and dry microfiber cloth.' Don't forget to wipe down light switches and outlets; these frequently used touch points can harbour significant germs and bacteria.
3. Strip the bed
It is wise to strip the bed after you've finished dusting when cleaning a bedroom, so particles don't settle on your exposed mattress. Vacuum the mattress, on the lowest setting so as not to damage any fillings, bearing in mind that cleaning a mattress thoroughly will be needed periodically, as well as washing a mattress cover. 'This is a great opportunity to flip or turn your mattress, if required. It's also a good idea to let the mattress air with no sheets on for at least half an hour,' says Kate Henderson, duty manager at Daffodil Hotel.
Wash bed sheets and wash a silk pillowcase if you've invested in this luxurious option. Be mindful that, from time to time, you should also wash a weighted blanket. Asking can you wash an electric blanket? The answer is you may be able to but check the tag.
While the bedding is off, take the opportunity to vacuum or wipe down the headboard, including any gaps between the headboard and mattress. Do consider if it's time to wash pillows and wash a down comforter, too. 'Research shows that if your comforter isn't washed the recommended number of times – every two to three months – it can harbour around 20,000 dust mites and their faeces, making you more susceptible to allergens and irritants,' explains Martin Seeley, sleep expert and CEO of MattressNextDay. 'Check the label of your comforter before washing but ideally, you want to wash it on a high setting of 60 degrees to kill all germs and bacteria.'
4. Get vacuuming
Now turn your vacuum up to full power and tackle the floor, getting as far under the bed and any leggy furniture as you can reach. 'Forget advice about starting at the furthest corner of the room and vacuuming your way out and instead vacuum as you enter the room and vacuum as you exit, that way you hit the high traffic spots twice,' says Kate Henderson of Daffodil Hotel.
If you have hard flooring, you may also need to mop afterwards. And if they're not too heavy, take any rugs outside to beat the dust out of them, which will remove more dirt than simply vacuuming over and allow you to vacuum the floor below.
5. Remake the bed
After you're done cleaning a bedroom, gather up fresh laundered bedding, and make the bed. It's worth having a backup set for the days when you're doing a deep clean of the bedroom. 'Often your regular set of sheets aren't out of the dryer by the time you're ready to remake the bed so a standby set will get the job completed faster,' adds Chris Wootton.
Finally, add a little spritz of pillow spray to help you drift off to sleep in your clean, clutter-free space. A fresh vase of fragrant flowers is another nice touch that will help start each day with a smile.
How often should I clean my bedroom?
You can get away with a light dusting and vacuum of bedrooms once a week. Change bedsheets, too. Schedule a deeper clean that includes washing and tumble drying a duvet and washing pillows in the washing machine (if their filling allows) and even cleaning area rugs roughly every three months or so. 'When cleaning machine-washable pillows, do two at a time on a delicate cycle with a small amount of detergent,' adds Lisa Williams, executive housekeeper at The Grand, York. 'Then tumble dry on low with a couple of tennis balls to give them back their cloud-like volume.'
What's the fastest way to clean a bedroom?
It's possible to clean a double bedroom in around 15 minutes; the key is to do it regularly. The longer you leave it, the longer the job will take. It also helps to tidy your bedroom at the end of each day, putting away clothing you've tried on in a hurry and discarded, and returning empty mugs to the kitchen. For a quick clean, simple wipe down the main surfaces with a damp cloth and run the vacuum around.
How do you clean a makeup bag?
When tidying your dressing table in readiness for cleaning the bedroom, it's easy to find yourself stuffing all your beauty products back into your makeup bag or drawer, without considering the state of its interior. 'Researchers discovered that up to 90 per cent of makeup bags had been contaminated with superbugs such as E. coli due to people not properly cleaning their makeup bags or products. You should, therefore, be cleaning your makeup and its storage bag every month,' says Martin Seeley. 'This includes removing all products and wiping those down, as well as inside and outside the bag. However, make sure you allow it to properly dry before you zip it up, as moisture creates a perfect breeding ground for more germs and bacteria.'
Sign up to the Homes & Gardens newsletter
Decor Ideas. Project Inspiration. Expert Advice. Delivered to your inbox.
Linda graduated from university with a First in Journalism, Film and Broadcasting. Her career began on a trade title for the kitchen and bathroom industry, and she has worked for Homes & Gardens, and sister-brands Livingetc, Country Homes & Interiors and Ideal Home, since 2006, covering interiors topics, though kitchens and bathrooms are her specialism.