How to make a bed the right way? This expert guide will give you a hotel finish
This is how design experts get that sublimely stylish look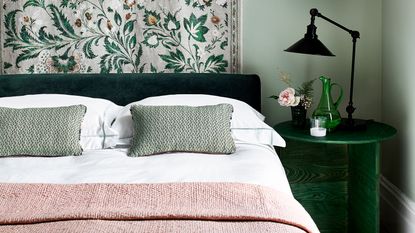 (Image credit: Future PLC )
Sign up to the Homes & Gardens newsletter
Decor Ideas. Project Inspiration. Expert Advice. Delivered to your inbox.
Thank you for signing up to Homes & Gardens. You will receive a verification email shortly.
There was a problem. Please refresh the page and try again.
Q: How do I make a bed the right way? I've just stayed in a hotel where the bed was beautifully made every day and I want to recreate the look at home.
This simple question is one we are regularly asked at H&G. Making a bed the right way is the basis for styling a bed like those you see in the best hotels.
How you make your bed is, like many aspects of interior design, a personal choice. However, there are a few tried and true designer-approved ways that ensure a chic and elegant finish.
How to make a bed
1. Prepare the bed
If you're making the bed from scratch and are using freshly laundered linens, make sure the bed is ready by washing or shaking out mattress protectors, pillow protectors, or anything on the bed that might have lint or stray hairs on it. A handheld vacuum can sometimes make easy work of this job.
2. Put on the bottom sheet
Now you've removed any bits of lint from the bed, you can put on your bottom sheet.
'There's nothing more satisfying than a well-made bed,' says Marie Flanigan, of Marie Flanigan Interiors. 'First, I start with a high-quality neutral sheet. Choose a weave that suits your personal preference. However, I do suggest investing in a good set of bed sheets, as it's something you'll use daily.'
A fitted bottom sheet is always the easiest option (always remember to measure the mattress height so you get the right depth of sheet before buying). Simply pop the fitted corners over the corners of the bed and make sure it's tucked in all the way around.
If you have a flat sheet instead of a fitted sheet, a hospital corner is the smartest way to fit it.
Arrange the sheet so that it is aligned with the mattress and leave an equal amount hanging over each side of the bed and the bottom (around 12 inches should be fine).
Then, tuck in the sheet tightly at the bottom of the bed. Take a corner and lift up the loose sheet in a triangular format and place it on the bed. Tuck in the sheet that is left hanging. Then bring down the fold so that it forms a 45-degree angle and then tuck it in, and continue tucking along the side. Then repeat the process on all corners.
You can use this method for your top sheet (if you are using one) and will only need to do the bottom two corners if so.
3. Add a top sheet (optional)
If you're putting on a top sheet, now's the time to do it. Place the sheet evenly on the bed so that it lines up with the mattress. You can leave some excess sheet at the top to fold over the comforter, or leave it so that it's flush with the mattress edge at the head of the bed (as above).
Tuck the sheet in tightly at the bottom of the bed and then proceed to do hospital corners on the bottom corners. You can then choose to tuck in the top sheet tightly (this is common in a lesser used space like a guest bedroom), or leave it a little loose so it's easier to get into, or if you're a fan of the lived-in look.
4. Pop on a duvet or comforter
Lay your duvet evenly over the top sheet and proceed to fold the excess bit of top sheet you left out at the top of the bed back over the duvet.
If you're not using a top sheet, at this point you can simply put a comforter or duvet evenly over the bottom bed sheet and, if you like the folded back look, you can do that with the duvet alone.
You can also create a stylish look without folding your duvet back and taking it up to the head of the bed before popping your pillows over it.
Placing pillows
Now you can position your pillows on the bed in the style of your choosing. There are a few options here, and there's no wrong way to do it, it's simply a matter of personal preference. We've listed some of our favorite choices below:
1. Put pillows on the bottom sheet
There are various ways to do this:
Put your pillows directly onto the bottom sheet above a folded back duvet leaning against the headboard (with or without top sheet).
Place your pillows directly onto the bottom sheet above the folded back duvet piled on top of each other. Again, you can create the look with or without a top sheet.
2. Lay pillows on to a comforter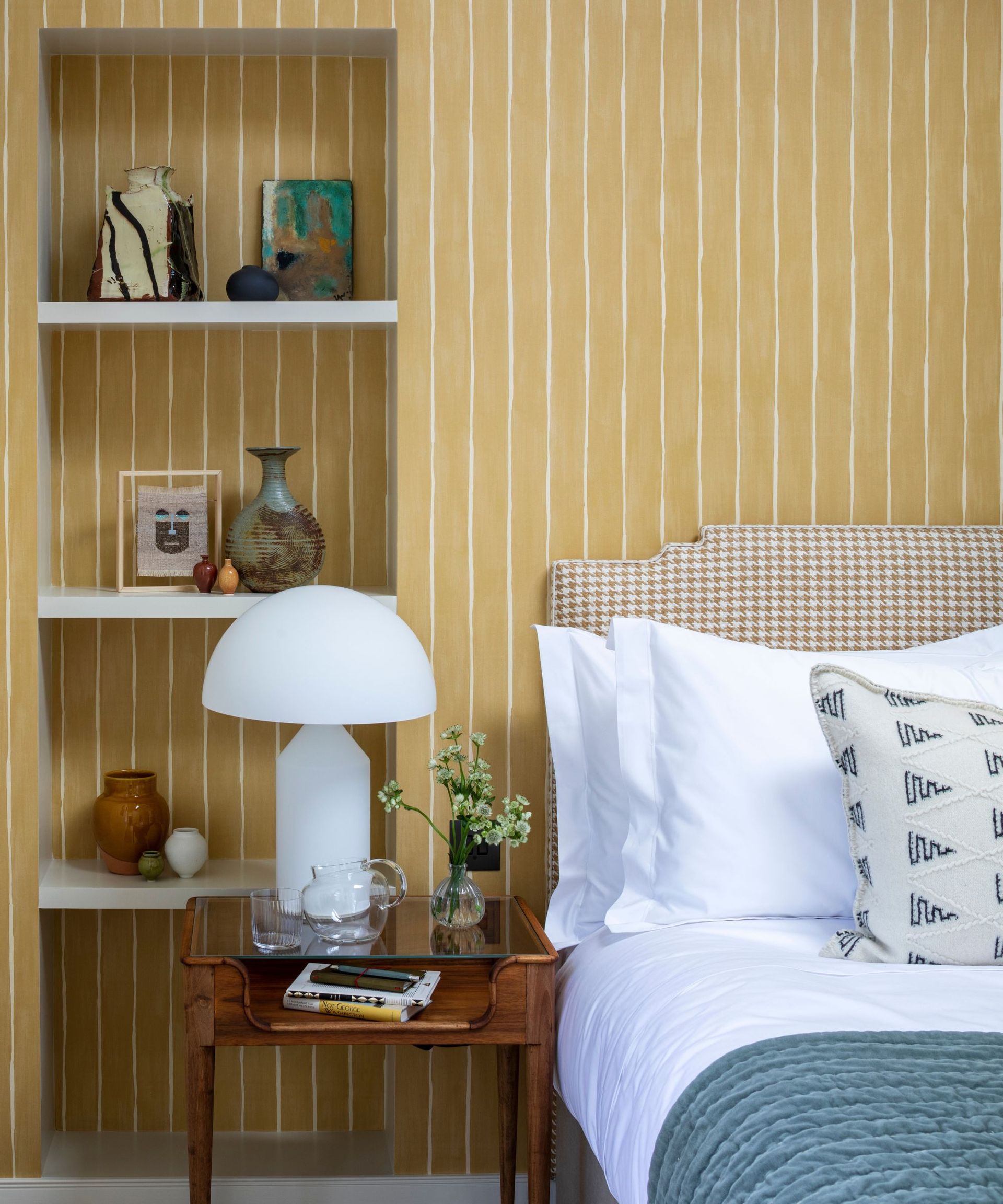 Lay your pillows directly onto a flat comforter/duvet leaning against the headboard. You can either choose to tuck your duvet in at the sides or leave it hanging.
Or, place your pillows onto a flat comforter/duvet laid on top of each other. You can use this option with or without a top sheet, too.
Or you can pull the duvet up over the cushions. Cover around half of the cushion, and you can do this with or without a top sheet.
3. Introduce decorative pillows (optional)
To create a really inviting, restful, enveloping space, add decorative pillows for extra warmth. An important part of making a bed, they can be an easy way to introduce color or pattern into your bedroom ideas.
Lumbar pillows are a great option for bedroom styling. Pop a longer one in front of your pillows, or try adding two smaller ones, one on each side in front of your pillows.
'For pillows, I like to keep it simple,' says Marie Flanigan. 'Depending on the bed, I choose either two queen or two king decorative shams with a beautiful lumbar pillow in front. I typically choose a lumbar pillow that's a different color or texture from the rest of the bed. With this minimal method, you're not taking off a pile of pillows each night.'
Add a blanket layer
1. Drape a blanket over the end of the bed
A blanket at the end of the bed is optional, but is recommended for a well-finished look, especially for a guest room.
You can create a laidback look by draping a wool or cotton throw across the end of the bed. 'As a bonus layer, drape a throw blanket over the bed,' says Marie Flanigan. 'Drape is the keyword, as this layer is just to add depth to the bed. Changing your throw is also an easy seasonal tweak throughout the year.'
2. Tuck in a quilted blanket
For something sleeker looking, use a quilted blanket or stiffer throw across the bed, and tuck it in around the duvet for extra hotel-smart points.
You can also choose not to tuck it in but lay it out flat and neatly for a more formal look than the casual draping but less formal than tucking.
3. Bring the blanket up to the pillows
Your throw blanket can sit at the lower third end of the bed, or come right up to the edge of the decorative pillows (as seen below), depending on the look and feel you're trying to achieve.
4. Layer blankets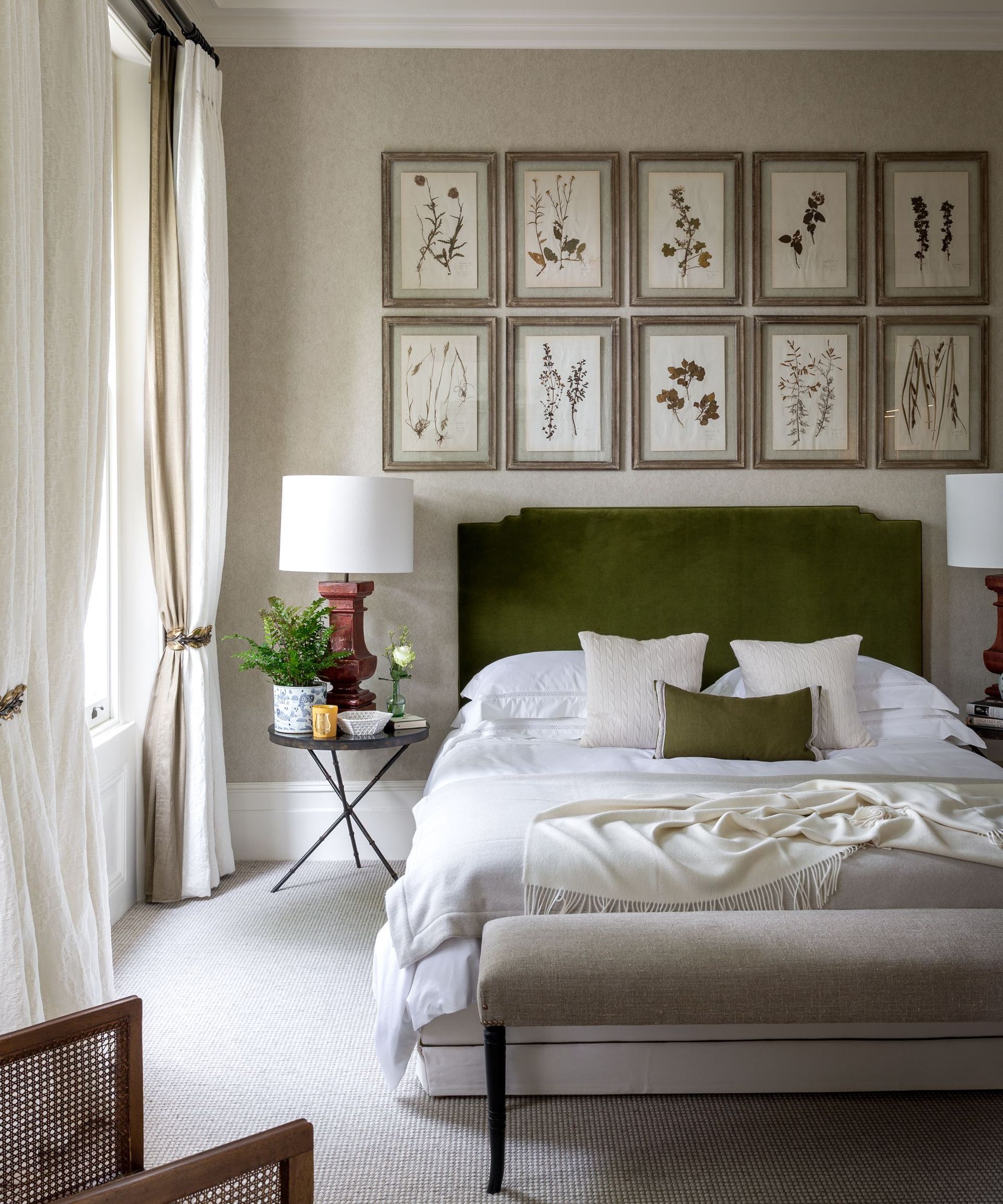 Lastly, you can also layer your blankets and throws for an even cozier vibe. Try popping a draped wool throw over a thicker blanket for a really warm and inviting look (below).
FAQs
How do you properly lay a bed?
Learning how to properly make a bed seems easy, but it's no simple task to style it with the right balance of color, texture, and proportion,' says Keren Richter of White Arrow.
'When it comes to bed sheet types, depending on the style and aesthetic you're after, percale bedding lends itself a crispness and feels hotel-like. I also love linen for a more relaxed and casual look.
'Either way, it's great to layer in a mix of sleeping pillows, accent pillows, decorative pillows in various textures or patterns, a duvet, and a quilt or throw. We'll use three euro shams, four stacked sleeping pads, and a long bolster or two larger accent pillows for king-size beds. I also add something to the foot of the bed to bring in texture and color, such as patterned antique quilts or rich and nubby throws.'
Keren adds that mininalists can still enjoy a perfectly made bed, explaining: 'I've also seen a move towards bedcovers that hide the pillows and eliminate additional quilts and texture to create a clean and simplified line. This style is a more streamlined and vintage look akin to what you'd find in the 1950s and 1960s homes.'
Do you need a mattress pad on your bed?
You do not necessarily need a mattress pad on your bed, but it adds an extra level of comfort whilst also protecting your mattress from sweat and body oils. It's also a lot easier to take off and clean than cleaning the mattress itself.
A mattress pad goes on top of the mattress and under the bottom sheet.
What is a top sheet and do I need to use one?
A top sheet is a large flat sheet that goes between your and your duvet. It works as a protective layer to keep your duvet or comforter cleaner for longer, but is not an essential part of a bedding set up.
In warmer climates, many people use a top sheet in place of a duvet, and it can be used as an extra layer to keep warmer in winter. Its primary function, though, is to protect your duvet or blanket from the dirt and oils our bodies shed at night.
Any cons? If you move around a lot in the night you can end up tangled in your top sheet, which puts many people off using them. They're also an extra item you need to wash when you launder your sheets.
How often should I clean my sheets?
As we shed dead skin cells that can attract dust mites and bed bugs, it's recommended you wash your bed sheets at least once every two weeks for a hygienic and cozy sleep sanctuary.
People who suffer with allergies may want to up the frequency.
Sign up to the Homes & Gardens newsletter
Decor Ideas. Project Inspiration. Expert Advice. Delivered to your inbox.
Ruth Doherty is an experienced digital writer and editor specializing in interiors, travel and lifestyle. With 20 years of writing for national sites under her belt, she's worked for the likes of Livingetc.com, Standard, Ideal Home, Stylist and Marie Claire as well as Homes & Gardens.