How often should bed sheets be washed? Experts uncover the risks of getting it wrong
Don't leave laundry day too long: experts uncover how often you should wash your bed sheets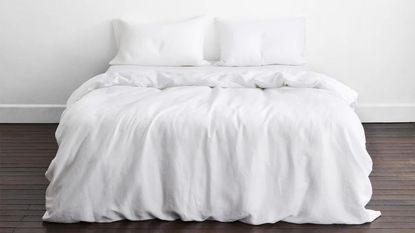 (Image credit: Brooklinen)
We spend around one-third of our lives in bed, so making sure our sheets are clean is essential for sleep hygiene. Our beds will gather dirt, body oils, dead skin cells, sweat, and more every night – especially if you let your kids, or pets in bed. Yes, different sleep routines, lifestyles, and bed sharers can alter how often you should wash your sheets.
However, washing bed sheets is one of life's little labors that I love to put off. I don't leave it longer than ten days (generally), but stripping the sheets, putting them in the laundry, and making up the bed again is a chore I'd skip if I could.
However, we all know there's no better feeling than fresh sheets. However, there's more at stake. The experts all agree that you cannot leave it until you can see visible signs or they start to smell, because unwashed bedding runs serious health risks. need to wash your bed sheets regularly, once a week.
How often should you wash your bed sheets?
As I say above, you should wash your sheets weekly. Bedding experts are unanimous and on this: the bottom line is that you should wash your sheets once a week. In fact, they advise you should wash your bed sheets as part of your weekly bedroom cleaning routine.
Depending on your sleep situation, you could perhaps 'wash your bed sheets every two weeks, to keep them, and your health, in good condition' explains Katie Elks, Brooklinen's director of design and product development. But if you are prone to overheating at night, and waking up in hot sweats, then Elks suggests putting them in the washing machine more frequently. Bed Threads founder Genevieve Rosen Biller agrees: 'You should ideally be washing your bed linen once a week.'
'Part of your sheet set, pillowcases should be washed the most often' says Elks, 'they generally absorb more sweat and face oils, and wear in faster due to direct contact and the weight on top of them'. You should clean your pillowcase a minimum of once a week, and more often than that if you have sensitive skin or suffer from acne.
Katie is the director of design and product development at Brooklinen. a graduate of the Apparel Design program at Cornell University, she has worked in design and product development in New York City for Everlane, MM LaFleur, Tracy Reese, J.Crew, Calvin Klein, and The Row.
What happens if you don't wash your bed sheets?
A survey by a textile company found that '44 percent of Americans wash their sheets only once or twice a month,' says Becca Fair, certified sleep science coach and editor of MattressNerd. Since the experts advise washing your sheets weekly, what happens if you delay the wash day?
'The reasons for laundering bed sheets are based on restoring the appearance, reducing the risk of deterioration of the textiles from the buildup of oils, soils, dust, and dust mites, and reducing the number of microbes such as bacteria, fungus, and viruses,' explains board-certified dermatologist and functional textile expert Erum N Ilyas, CEO and founder, AmberNoon.
If you don't wash your bed sheets, not only will your bedding become worn and damaged, but you run the risk of various health issues from poor sleep hygiene. This includes skin breakouts, inflammation, acne or eczema. A build-up of dust mites can also contribute to allergies and asthma.
How to wash sheets
When it comes to washing bed sheets, the material and its color can alter how often you wash them. 'Obviously, white or light sheets show soil and contamination more than a darker linen,' says Wayne Edelman, CEO of high-end dry-cleaning service Meurice Garment Care. However, if you have darker sheets you shouldn't wait to see any stains or visible signs of dirtying to wash them. Your bedding material itself can affect your sheets, too.
'Oils can be more attached to some fibers such as polyester,' says Erum N Ilyas. 'Some fibers may actually add to warmth while sleeping leading to more sweat produced.' To avoid getting hot at night, you could get bedding made from natural materials, like linen, as 'these can be washed less frequently than synthetic materials,' says Biller. 'Linen sheets are moisture-wicking, lightweight and cooling'.
Elks explains you should 'alternate between different sets to increase longevity'. If, like me, you want to do as little laundry as possible, these are the best cooling bed sheets for a sweat-free sleep (and less frequent washing):
Best eucalyptus bed sheets
Sijo AiryWeight Eucalyptus Sheet Set
Sizes: Twin, twin XL, full, queen, king, California king
Material: 100% TENCEL™ Lyocell Eucalyptus
OEKO-TEK certified: Yes
+ Cool to the touch
+ Great price
- Prone to wrinkling
If you're a hot sleeper, eucalyptus bed sheets are a must. Eco-friendly and made from natural materials, they have sleep properties that go beyond their silky smooth feel. Moisture-wicking and naturally antimicrobial and breathable, these vegan sheets are cool to the touch to keep you from sweaty during the night.
Best bamboo bed sheets
Ettitude Signature Sateen Sheet Set
Sizes: Twin, twin XL, full, queen, king, California king
Material: Bamboo lyocell
OEKO-TEK certified: No
+ Great eco-credentials
+ Luxurious sateen finish
- Silky look isn't for everyone
Using bamboo for bedding is becoming more popular. Naturally cooling, temperature regulating, and of course eco-friendly, they're a more sustainable alternative to cotton and actively work to keep you cool at night. The best part? They're incredibly soft – a comfortable night's sleep, guaranteed.
Best linen bed sheets
Piglet in Bed Luna Stripe bed sheets
Sizes: Twin, twin XL, full, queen, king, California king
Material: 100% linen
OEKO-TEK certified: Yes
+ Breezy and breathable
+ Softens with every wash
- Expensive
Piglet in Bed are known for their luxurious quality linen sheets. Breezy, cool to the touch and breathable, linen is the best summertime material. Forget it being scratchy though as this bedding set gets softer with every wash. I reach for this one more than any other set; it's certainly worth the investment.
FAQs
How often should couples wash their sheets?
Since the bed is shared by two people, it's good to think of it as double the amount of potential dirt buildup. You should wash the bed more frequently washing if one of you is a warm sleeper or has an oilier skin type, for example. Whether individuals sleep naked and have direct contact with their bed sheets will result in more necessary washing too. You may want to consider spot-cleaning your sheets before washing them in the machine for the freshest results.
Can you get bed bugs by not washing sheets?
Unwashed sheets won't bring bed bugs into your home. However, frequent sheet washing will give you the chance to spot an infestation and call in the professionals to rid your home of these pests. Keep your bedroom as uncluttered as possible and don't put bags and other items down on the bed to help avoid an infestation.
---
Where experts suggest once a week is how often you should be washing your sheets, make sure to consider any need for extra washing. Whether you enjoy your morning cup of coffee still tucked under the sheets, sleep in your makeup, or are partial to eating takeout in bed, you should look to wash your sheets when fits.
Louise is your eCommerce Editor and sleep specialist to help you wind down well. A connoisseur of the mattress world, Louise previously covered sleep and wellness (as well as the occasional organizational buy) at Real Homes, and has tried, tested, and reviewed some of the buys for your bedroom. With an MA in International Journalism and PR experience, Louise brings bags of bedding expertise and enjoys nothing more than helping readers find solutions and products that best suit their sleep needs.